The 10 Best Facial Massage Tools That Promise Brighter Skin
Brighten up and rejuvenate your facia; skin with the right skincare tools in your vanity.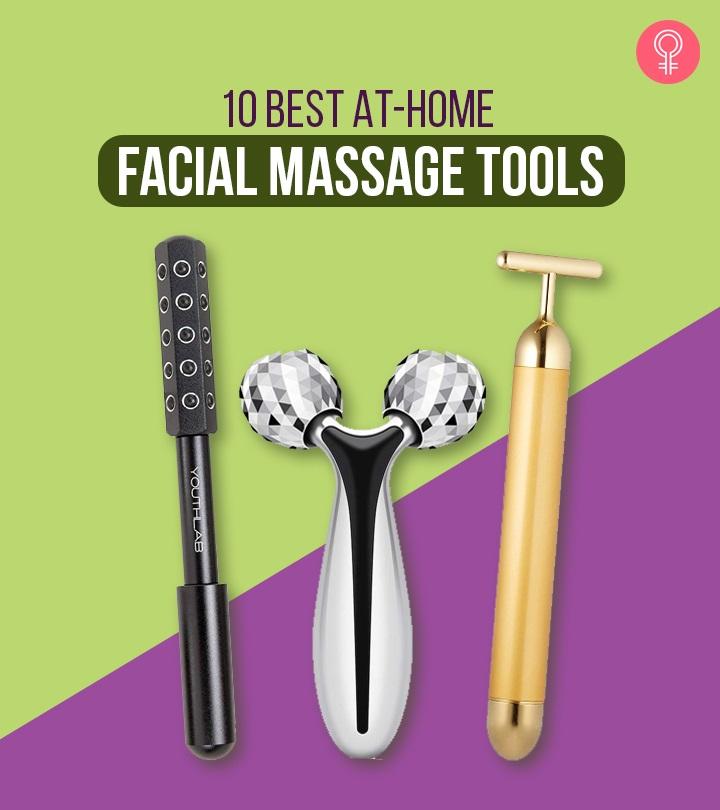 Apart from the variety of skin care products in the market today, the best facial massage tools are the latest talk of the town. These help accelerate smooth lymphatic drainage and aid in a healthy detox. It is not just your regular massage tool, as it benefits you in many different ways. Your skin becomes more healthy and supple, allowing products to seep in and wash out easily. Another great benefit would be sculpting those cheekbones and jawlines for angular features. Don't worry, and we won't let you miss out on these fantastic tools as we have compiled the 10 best ones for a popping and glowing face. So go ahead and check them out right away!
10 Best Facial Massage Tools To Relax At Home
Jade rollers have been used in the Chinese skincare and healing system since the 17th century. They are known to detoxify your skin and promote lymphatic drainage while bringing peace and harmony to your life. The Blue Jade Roller from Bulax, carved from natural jade stone, obtained from the Himalaya's, brings these benefits to your skin care routine. This dual-ended roller offers gentle massage to calm, depuff, and tighten your skin in a few seconds. It eliminates muscle strain while smoothing wrinkles and fine lines to reveal better and healthy skin. You can use the large-sized stone for cheeks, jawline, neck, and forehead, whereas the smaller-sized stone is for under-eye treatment.
Pros
Natural jade stone
Multipurpose use
Dual-sided
No irritants
Chemical-free
Cons
Stones don't roll smoothly.
Price at the time of publication: $8.99
This easy-to-use Youth lab's Radiance Roller is a gentle massage wand. This dual-ended roller has a textured side embedded with tiny germanium stones that massage the pressure points of the face to improve lymphatic drainage. Its rounded side gently reduces puffiness, wrinkles, and fine lines from the skin. It enhances the skin's elasticity while promoting and renewing the skin texture.
Pros
Easy to use
Durable quality
Ergonomic design
Portable
Cons
Germanium stones fall off the wand.
Price at the time of publication: $29.99
This luxurious set of gold massage rollers from Amrice comes with an electric T-shaped roller and a 3D roller neatly packed in a box. They gently massage the skin to improve blood circulation around the skin. Plus, they help relieve anxiety and de-stresses the skin. The 3D V-type roller produces 6000-7000 vibrations per minute to tighten the skin naturally, while the T-bar massages and relaxes the skin. Together, these rollers help in sculpting and toning your face by fading wrinkles and fine lines.
Pros
Waterproof
Versatile
Portable
Comes in a storage bag
Effective results
Battery operated
Easy to use
Easy to clean
Cons
Price at the time of publication: $18.99
The Gua Sha Massage Tool helps in activating lymphatic drainage to eliminate fluid stagnation and support lymph nodes to release toxins. This four-piece gua sha stone massage kit eases muscle tension and offers relief from stress, exhaustion, and fatigue. The pack includes four boards with distinct shapes and sizes to provide optimum massaging in and around different areas of the body. The natural stones fitted in these tools are delicately carved and polished to mold into the desired shape. Its dual beveled edges are smoothened and rounded off to prevent scratching your skin.
Pros
Easy to use
Easy to carry
Versatile use
Natural quality stone
Cons
Price at the time of publication: $9.99
This face roller is made of real volcanic stone. It massages the skin, soaks up excessive oil, mattifies the skin, giving you an oil-free look. The twist-lock system makes the roller easy to use. The gentle face roller can be used on clean skin or over makeup. Valerie Aparovich, a certified cosmetologist and aesthetician, says, "In theory, all massagers can be used with makeup… But it's not a good idea, as sebum can be smeared over the face, mix with the foundation, clog pores, and cause inflammation. Plus, the makeup will sooner of all be ruined. Matting paper wipes are a better solution for oily skin when wearing makeup." If you want a detailed review of the product, make sure to take a look at this video.
Pros
 Easy to use
 Twist-lock system
 Reusable
 Washable
 Easy to hold and clean
 Made from real volcanic stone
Can be used on plain skin
Cons
 Might not be very effective on super oily skin
Price at the time of publication: $26.28
This 3D roller massager comes with an impact structure that simultaneously lifts and gently pinches the skin continuously to mimic massage by hands. It increases the skin's ability to absorb skincare products and improves blood circulation. In addition, regular massage with the wand enhances lymphatic drainage and removes puffiness and toxins, making the skin plump and radiant. You can use this massager for body and facial massaging.
Pros
Waterproof
Easy to use
Multipurpose use
Non-invasive
Portable
Cons
Not a good fit for sensitive and acne-prone skin
Price at the time of publication: $13.99
Give your face a 10-minute workout with the Dangshan Beauty Bar 24k Golden Pulse Facial Massager. This T-shaped roller produces 6000 vibrations per minute to rejuvenate, restore, and firm the skin. It boosts skin elasticity and cell metabolism to prevent premature skin aging. The easy-to-use 24k gold surface treatment tool enhances blood circulation, giving you smooth and healthy skin. This professional-quality massager has a waterproof design that prevents wrinkles from forming and skin from sagging.
Pros
Waterproof
Easy-to-use
Portable
Battery operated
Professional quality
Cons
Sarah Chapman's Skinesis The Facialift Sculpting Roller is a precision massager that replicates facial massage movements like pinching, rolling, and tapping to improve oxygen flow into the skin. It comes with 8 massaging heads and 48 nodules that refine and reshape the skin gently. They work together to remove toxins, reduce puffiness, and enhance blood flow to tone and firm. This tool offers a deep and precise workout for the tissues rejuvenating the skin. 
Pros
Professional quality
Portable
Easy to use
Effective
Cons
Price at the time of publication: $51.27
These tiny icy globes from Cibluty offer a cool treatment to your skin to remove puffiness, and combat wrinkles and fine lines while smoothening, tightening, and brightening the skin. This fast-cooling, firmness-boosting facial roller is safe and easy to use. The soothing icy massaging roller activates blood circulation and oxygenates the skin to relax facial muscles for better product absorption and reveal radiating skin.
Pros
Easy to use
Portable
Multipurpose
Quick cooling
Long-lasting
Freeze proof borosilicate glass
Cons
Too big for some target areas
Price at the time of publication: $17.95
The PfefeCryo Sticks are the secret to flawless skin. It reduces wrinkles, fines lines, puffiness, acne, and pores while enhancing skin elasticity and firmness to reveal youthful skin. These lightweight sticks are ergonomically designed and offer a comfortable and relaxing massaging experience. The sticks are made from 304 stainless steel and filled with a non-toxic cooling gel. It is durable, safe, and won't leak easily.
Pros
Easy to use
Set of two
Durable
Non-toxic gel
Safe
Ergonomic design
Portable
Cons
None
Price at the time of publication: $18.99
Why Trust StyleCraze?
The author, Shiboli Chakraborti, is a certified skin care expert. She loves to experiment with various skin care tools that are convenient and keep the skin youthful and radiant. She went through thousands of online reviews and customer feedback to compile a list of the best facial massage tools that address numerous common skin concerns. The tools she listed in this article aid in lymphatic drainage, tighten the skin, and add a healthy glow to it.
Frequently Asked Questions
Do facial massage tools really work?
If used correctly, facial massage tools really work. They offer a sculpted appearance, tone your jawline, and tighten your skin.
What is the face massage tool called?
There are many face massage tools like jade rollers, derma rollers, and face sculptors.
Is Jade or Rose Quartz Gua Sha better?
Rose Quartz Gua Sha is better. It is more durable and sturdy than a Jade Gua Sha.
How often should you massage your face?
Massage your face twice or thrice a week for best results.
Does face massage get rid of wrinkles?
Yes, face massages improve the appearance of your skin and reduce fine lines and wrinkles.
Do electric facial massagers work?
Yes, the vibration in the electric facial massagers reportedly improves the appearance of premature aging signs.
Can face massage change your face shape?
No, face massages cannot change your face shape.
How long does it take for Gua Sha to work?
It depends on your usage but Gua Sha massagers show visible results after two wee
Recommended Articles: