11 Best Facial Oils For Acne-Prone Skin In 2022 That Are Soothing
Flaunt the most gorgeous skin of your skincare goals with the help of these skincare essentials.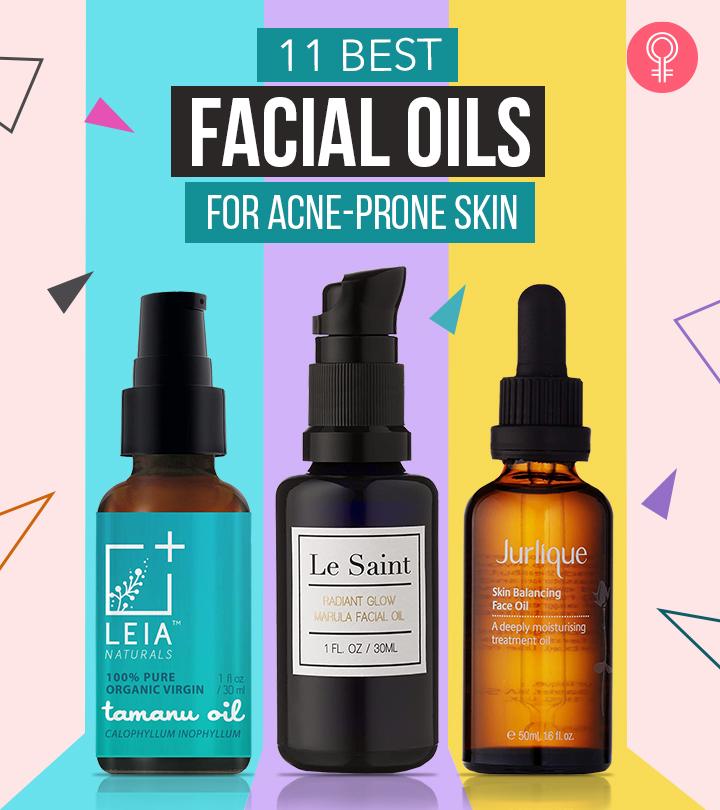 It's a common misconception that any oil might cause more acne or worsen acne for acne-prone skin. The best facial oil for acne helps diminish blemishes, brighten your skin, and fade out acne and acne scars. In addition, these facial oils can also soothe irritated skin and prevent further breakouts. Dr. Ahmad Fayyaz Chaudhry, MBBS, RMP,says,"Apply just a few drops of oil to clean your skin and massage the affected area. You can also add a few drops of oil to your regular moisturizer or foundation for an extra boost of hydration."
Let's have a look at the list of the 11 best facial oils for acne-prone skin. Keep scrolling!
The 11 Best Facial Oils For Acne-Prone Skin In 2022
The White Thera Balancing Herbal Face Oil is formulated with organic oils and herbal extracts that remove dirt, unclog pores, and reduce acne and breakouts. It moisturizes and nourishes your skin. This facial oil contains rosehip oil, argan oil, goji berry, calendula, and green tea to rejuvenate your skin. It can also be used with skin toners, exfoliating scrubs, tea tree lotion, or cleansers. This cruelty-free product does not contain petroleum, preservatives, parabens, PCB, sulfates, toluene, and artificial colors and fragrances.
Pros
No added preservatives
Cruelty-free
Sulfate-free
No artificial fragrances
No added colors
Petroleum-free
Paraben-free
PCB-free
Sulfate-free
Toluene-free
Cons
None
The Mink Oil Concentree is a natural and chemical-free facial oil that helps prevent breakouts and imparts a glow. It is enriched with vitamin E that fights wrinkles and fine lines, minimizing scars marks. The gentle formula combats free radical damage and treats severe skin conditions like eczema and psoriasis. This product is free of additives and artificial fragrances.
Pros
Reduces fine lines and wrinkles
Long-lasting
Gentle formula
No additives
No artificial fragrances
Cons
None
The SUNDAY RILEY U.F.O. Acne-Treatment Face Oil removes blemishes and adds glow to your skin. It contains salicylic acid that helps remove blackheads and product buildup. The gentle formula also contains tea tree and black cumin seed oils that shrink enlarged pores. Licorice helps fade old acne scars and dark spots, while chamomile and neroli soothe the skin. This facial oil is vegan, cruelty-free, and non-irritating. It does not contain sulfates, parabens, soy, phthalates, and artificial fragrance. Click here to check out this YouTuber's unbiased review.
Pros
Gentle formula
Non-irritating
Non-greasy
Vegan
Cruelty-free
Sulfate-free
Paraben-free
Soy-free
Phthalate-free
No artificial fragrances
Cons
None
The NeoVeda Acne Reduce Pure Essential Oil removes blackheads, acne, and pimples. It soothes and heals your skin without irritation or dryness. This cruelty-free facial oil contains lavender that acts as a natural stress buster and helps reduce acne. Tea tree, almond, and grapeseed rejuvenate your skin and keep it healthy.
Pros
Non-drying
Non-irritating
Cruelty-free
Cons
None
The LEIA Naturals Tamanu Oil is certified by USDA and ECOCERT. It accelerates healing, fades blemishes and scars, and promotes skin tissue formation. This oil is rich in fatty acids and antioxidants with antibacterial and anti-inflammatory properties that treat skin conditions like psoriasis and eczema. This product is safe and does not contain any harmful additives. It is lightweight, cruelty-free, and absorbed easily into the skin.
Pros
Lightweight
Absorbed easily
Cruelty-free
Cons
The Le Saint Radiant Glow Marula Oil for face and hair contains 94% marula and 6 % added romantic essential oils. It contains antioxidants and omega fatty acids that help hydrate the skin. The vegan formula can be used as an effective black spot remover.
This facial oil has anti-inflammatory properties and helps reduce acne scarring, fine lines, redness, and blemishes. Chia seed oil maintains your skin's moisture, and pomegranate seed extract regenerates your skin. Sunflower seed oil protects your skin against environmental damage, while black currant seed oil has anti-inflammatory effects. Crambe oil protects aganist dehydrated skin. This product is vegan, non-toxic, and cruelty-free.
Pros
Vegan
Non-toxic
Cruelty-free
Cons
None
The Jurlique Skin Balancing Face Oil is lightweight and helps nourish the skin. It is rich in safflower oil, rosehip oil, avocado oil, macadamia seed oil, and shea butter. Safflower oil acts as an acne-fighter, and rosehip oil prevents wrinkles. Avocado oil fights sun damage, dryness, and inflammation. Macadamia oil and shea butter moisturize and regenerate the skin.
Pros
Lightweight
Long-lasting
Adds glow
Cons
The Herbivore Lapis Facial Oil addresses acne, blemishes, and redness. It contains squalane, anti-inflammatory German blue chamomile, oil-balancing blue yarrow, and jojoba. These ingredients help balance your skin's oil production. This product is vegan, cruelty-free, and lightweight. It does not contain parabens, SLS, phthalates, fillers, mineral oils, and petroleum. Here's a personal review video to help you get a better understanding of the product.
Pros
Lightweight
Vegan
Cruelty-free
Paraben-free
SLS-free
Phthalate-free
No fillers
Mineral oil-free
Petroleum-free
Cons
The Glowing Cactus Clarity Organic Facial Oil is natural, organic, and cold-pressed. It contains black cumin seed oil, oregano, blue tansy, tamanu oil, hemp seed oil, rosehip seed oil, grape seed oil, and rosemary extracts. This facial oil minimizes blemishes, brightens your skin, and even tones your skin. The essential fatty acids and potent antioxidants help fight free radicals and moisturize your skin. This product is vegan, lightweight, and non-comedogenic. It is free of parabens, mineral oils, artificial colors, fragrances, and added preservatives.
Pros
Lightweight
Vegan
Non-comedogenic
Non-greasy
Paraben-free
Mineral oil-free
No artificial colors
Fragrance-free
No added preservatives
Cons
None
The Biossance Squalane + Tea Tree Balancing Oil is lightweight and enriched with tea tree oil. It helps reduce the appearance of blemishes, enlarged pores, and other skin imperfections. Squalane and sugarcane hydrate, soften, and smoothen the skin. This product is free of synthetic fragrance, parabens, phthalates, and mineral oil.
Pros
Lightweight
No synthetic fragrance
Paraben-free
Phthalate-free
Mineral oil-free
Cons
None
The Beauty By Earth Balance & Restore Facial Oil soothes and hydrates the skin. It helps treat breakouts, acne, and rosacea. This face oil contains jojoba oil, olive leaf extract, argan oil, and rosehip seed extract. It smoothens fine lines, eliminates crow's feet, and prevents wrinkles. This vegan product can also be used as a makeup primer.
Pros
USDA certified
Vegan
Can be used as a makeup primer
Cons
None
Will facial oil make your acne better or worse? Check out our next section for the answer.
Are Facial Oils Bad For Acne?
No. We often think that acne-prone skin can be treated better when dry. But if your skin is devoid of moisture, it will end up producing more oils to keep itself hydrated. The excess oil accumulates in your pores, clogs them, and causes breakouts. Thus, acne-prone skin needs a good facial oil to balance the oil production.
Facial oils for acne-prone skin contain tea tree oil, jojoba, and olive-derived squalane oils. They can be directly applied to your skin after cleansing and toning. You can also mix facial oils with your daily moisturizer. They have antibacterial and anti-inflammatory properties that help balance your oily, acne-prone skin without being greasy.
Why Trust Stylecraze
The author of this article, Oyendrila Kanjilal, a certified skin care coach, recommends using facial oils to combat acne and other skin issues. She has a thorough understanding of different skin types, the challenges of acne-prone skin, and how formulations work to prevent or exacerbate the conditions. She has researched and compiled a list of the best facial oils for acne and reviewed each product in this article. These can help diminish blemishes, fade out acne, and brighten and soothe the skin to prevent further breakouts.
Frequently Asked Questions
Does applying oil on your face cause pimples?
No, facial oils do not cause pimples. However, if you have oily skin, use non-comedogenic facial oils suitable for your skin type.
Recommended Articles