13 Best Fall Jackets And Coats For Women That Are Stylish (2023)
Experiment with different outfits to level up your fashion game according to the seasons.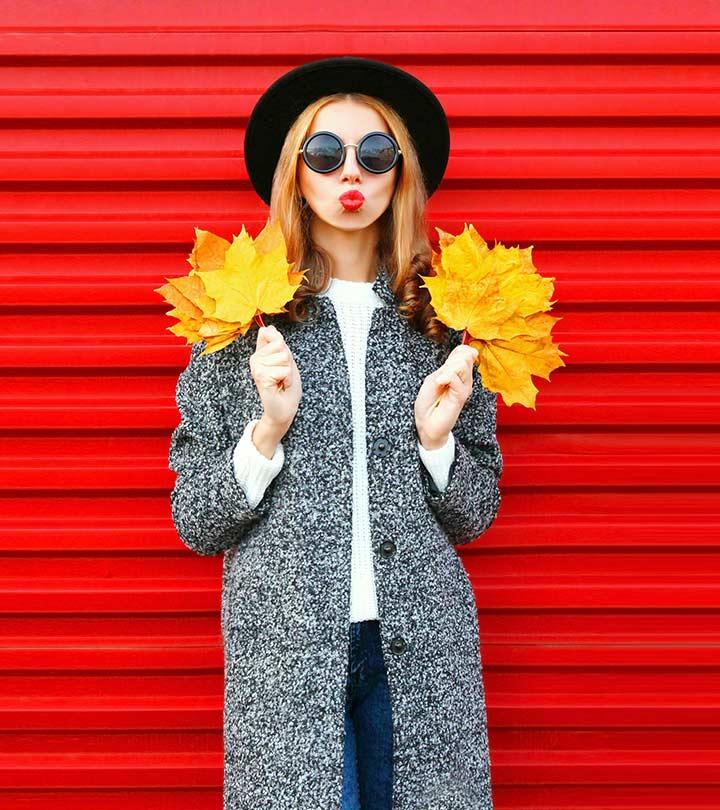 We have just what you need if you have been looking for the best fall jackets for women. Every wardrobe deserves a jacket that is neither too cold nor too hot. It is something to slide your sleeves in when it's too hot to wear an overcoat but too cold to just depend on your tee. Not to mention the untimely drizzle that threatens to give you a sore throat! Fall jackets are something that keeps you covered through the autumn months and also can be used as a style statement if you want to cover up your sleeveless top before heading out. As popular as these are, shopping for them might not be as easy as it seems. Finding something of the suitable material that does not make you too sweaty or too heavy is crucial to finding the right jacket. If you are not sure about where to start, we are here to help you out. Here are the 13 highest-rated jackets specially crafted to make you look stylish through all seasons.
13 Best Fall Jackets For Women That Pack Comfort And Style
Welcome fall season in style while staying warm with this stylish yet lightweight down jacket from Wantdo. Made to battle strong winds, it features a full zipper that helps pack in heat, while the 2 zippered pockets keep your hands warm and also are ideal to store your phone and wallet. This jacket is made from 100% checker nylon taffeta and boasts a waterproof layer to keep you protected during a slight snow or drizzle. With 90% duck down filling, it is extremely lightweight for a jacket that packs optimum insulation. The cuffs feature elastics in order to lock in warmth to keep your arms just as insulated. While these puffer jackets offer heavy-duty protection from winds, they are extremely convenient to carry along when traveling.
Pros
Windproof
Fully zippered
Lightweight
Features 2 zippered pockets
2 interior pockets
Machine washable
Available in many colors
Cons
The sleeves may be too long.
Price at the time of publication: $66.97
Rain or shine, nothing can stop you from living an active lifestyle when you invest in one of the fall jackets for women by Charles River. Made from 100% polyurethane, this jacket is both windproof and waterproof, keeping you protected from chilly gusts of winds and a downpour. The drawstring closure adds an element of style to this jacket, making it easy to pair it with your favorite denim pants. The inner lining features gray-colored mesh, along with underarm vents and front yoke that help with air circulation. With that, this jacket allows unrestricted movement— thanks to the 2-way zipper, and the full-length windflap makes it a complete winner, keeping you protected from all the weather elements.
Pros
Waterproof
Windproof
Heat-sealed seams
Allows air flow
Available in many colors
Cons
Price at the time of publication: $54.44
This extremely cozy yet chic Turn-Down Shawl Coat by Chicwish is what every woman would wish to have in her closet. Boasting a long silhouette with a wide turn-down shawl collar and a removable belt at waist, this coat is crafted to fit every body type. The check print in earth tone just adds to its aesthetics, making it an ideal choice for work, dates, and vacations. This coat features 60% wool and 40% polyester material, and this ensures that you keep warm when days get colder. This lightweight jacket deserves brownie points for its 2 functional pockets that allow you to store your valuables or simply take a stroll in style with your hands in them.
Pros
Stylish design
Side-inserted pockets
Elegant-looking
Fully lined
Cons
Price at the time of publication: $89.9
Thoughtfully made for the fall season, the SaphiRose Hooded Rain Jacket not only keeps you protected in the rains but does so in style. It offers a casual fit and offers enough room to allow free movement. It comes with a cotton-plaid liner which makes this jacket soft on the inside, and the polyester layer is skin-friendly, breathable, and windproof— offering optimal warmth suited for the fall season. The drawstring waist design allows you to adjust its fitting, and you can choose to button it up or zip it up as it comes with both buttons and a zipper front closure. With all these features plus the 2 front flap pockets, this cute fall jacket for women can't get any better.
Pros
Long jacket
Water-resistant fabric
Features an adjustable drawstring
2 front flap pockets
Can be machine-washed
Cons
The sleeves may run short.
Price at the time of publication: $52.99
Fleece-lined jackets are wardrobe staple if we're talking fall, and if you've not yet added a fleece jacket to your closet, this might be a good place to begin with. Featuring taslon nylon, this jacket offers superior protection from elements such as wind and rain with its water-resistant lining. The hood is removable, which means on normal days, you can even wear it like a regular overcoat, and when it's rainy, you can simply carry the hood along and use it as soon as it starts to rain. The drawstrings at the waist allow you to loosen or tighten the jacket as per your preference, so you can achieve the look that you have in mind with this amazing casual jacket for women.
Pros
Features a removable hood
Drawstrings around the waist
Extremely lightweight
Machine-washable
Cons
Sizing may be inconsistent
Price at the time of publication: $84.99
Made to help you transition into the fall weather effortlessly, this Columbia Women's Benton Springs II Hoodie Jacket is crafted from 100% polyester and is made to last you several years. This jacket fits snugly, which is why make sure you follow the measurements before ordering. This fleece jacket has a long form cut silhouette and Columbia also incorporates 250 gm fleece for added softness. It also features 2-way zipper closure to offer you ample convenience. The hoodie and 2 side pockets make it a completely fall-friendly fashionable women's jacket that's worth some space in your wardrobe.
Pros
2-way zipper
Zippered hand pockets
Shell made from 100% polyester
Available in 5 colors
Cons
The underarm may run tight.
Price at the time of publication: $106.7
You always need to keep a waterproof jacket handy for those unexpected fall showers. But raincoats are not the most stylish piece of clothing. This rain jacket is here to change your mind with its range of colors and amazing fitting. Featuring 2 drawstrings right above the waist on both sides, this jacket can easily be paired with your jeans or even shorts while you look fab. With a mesh lining and roll-up mesh sleeves, this jacket is truly comfortable and easy to wear and feels extremely light in weight. It comes with a hood to keep you completely covered during rains. When it gets colder, you can even wear a turtleneck pullover and sport this as an overcoat to keep warm.
Pros
Lightweight
Waterproof
Comes with a hood
2 side pockets
Available in many colors
Cons
Price at the time of publication: $39.99
Levi's is a cult-favorite brand for its jackets and denims, and this field jacket with a hood testifies this. This classic denim jacket gives you all the liberty to style it as you please— whether you decide to keep the zipper and buttons open to use it as a cool overcoat, pull up the zip to pack warmth on a colder day, or simply put on the buttons when that's what you want to do. The drawstrings around the waist in this full-zip jacket let you control the fitting, and the button cuffs make it even more comfortable to wear.
Pros
Comes with both zipper and buttons
Adjustable drawstring hood
Adjustable cords at waist
Can be machine-washed
Cons
Price at the time of publication: $79.97
This fitted fall jacket for women features a shell made from 94% polyester and 6% spandex that gives it unparalleled softness, while the 100% polyester lining is made to be durable. It comes with a zipper closure, and the jacket is crafted to be worn during fall as well as winters when the winds get chilly. While it helps lock in heat and keep you warm when you're out, it is also extremely breathable when you wear it indoors. The fabric is treated to repel water, so step out worry free when it drizzles. Other noteworthy features are its super soft microfleece lining, longer-than-usual length that makes it an impressive overcoat, and the 2 convenient side pockets for your hands.
Pros
Windproof
Breathable features a removable hood
Dries quickly
Comes with fleece lining
Machine-washable
Cons
The sleeves may run long.
Price at the time of publication: $61.99
If your choice of fall jacket is one that is form-fitting, look no further than this Camel Softshell Fleece Jacket. With a waterproof shell on the outside and an inner fleece lining, it keeps you protected from rains while keeping you warm from the inside. One unique feature of this jacket is that it comes with hook-and-loop closure and elastic cuffs that prevent the water (or wind) from making its way into your sleeves. It also has a detachable hood that you can use as per your need. The zippered pockets make this jacket absolutely irresistible— keep your phone, card, or money or just dig your hands in to keep them warm.
Pros
Drawstring closure
Fleece-lined inner
Waterproof shell outer
Elastic cuffs
Detachable hood
Cons
Not available in many colors
Price at the time of publication: $29.99
This pretty yet practical jacket in purple mélange can be a fashionable addition to your wardrobe. It features a soft shell that is made from 94% polyester and 6% spandex, with a 100% polyester fleece lining. This jacket has a certain amount of stretch to it, which makes it easy and comfy to wear, enabling the jacket to move with you. Whether it rains outside or gets windy, you have nothing to worry about when you wear this jacket. Coming from a brand that specializes at creating travel and adventure gear, expect this jacket to be useful when you're out on your travel and hiking adventures. It comes with a removable hood, 2 hand zippered pockets, and 2 inner pockets that run deep. The drawstring waistband helps optimize fitting, while the 2-way zipper gives you complete convenience when wearing the jacket.
Pros
Features a drawstring waistband
2-way zipper
2 hand zippered pockets
Comes with fleece lining
Cons
May not be great as a casual wear
Price at the time of publication: $59.99
Made to offer you a flattering fit, this rain jacket for fall weather makes for a perfect choice when you're expecting rains. The outer shell of this jacket is made to be waterproof and windproof to offer maximum protection. It also features a drawcord that allows you to adjust the hem, while the zipper closure on the front lets you lock in warmth when it gets chilly. And with that, the zippered pockets allow you to safely store your phone, money, keys, etc., making this jacket a perfect fall choice.
Pros
Features bonded cuffs
Water and wind-resistant shell
Zippered pockets
Machine washable
Cons
The pocket may be awkwardly placed.
Price at the time of publication: $59.99
Imagine a trench coat with the comfort of a detachable hood— sounds like a dream, doesn't it? This trench coat by Chrisuno comes with that and a lot more. Featuring a high-density shell that is constructed to be windproof and water-repellent, you can now beat the rain in style. This classic trench coat is very easy to maintain as it is made from lightweight, anti-wrinkle fabric that has been treated to be anti-static and anti-pilling. It features several buttons on the front along with a belt that add to its looks, making it a suitable choice for when you go to work, shopping, or on a date.
Pros
Anti-static and anti-pill design
Features 2 side pockets
Comes with a removable hood
Versatile jacket
Cons
Price at the time of publication: $55.99
Now that you have ample options in stylish jackets for women to choose from, here's a little helpful guide as to what all features you should look for when shopping for the best fall jacket for women.
How To Choose The Best Fall Jacket For Women?
Fall season is that time when the weather starts to transition from pleasant to cold. And this is when you can expect chilly winds. So, it would be a good idea to invest in a jacket or coat that offers optimum warmth and comfort so as to keep you protected. Fuzzy fall jackets and faux leather jackets are great options too. However, make sure that the jacket is not too thick as this may cause you to sweat.
When you step out during the fall season, there are chances that you might be caught off-guard in the rain. However, if you're going to meet friends or to work, it may not always be convenient to carry an umbrella or a raincoat. This is when a waterproof fall jacket that checks both looks and functionality can help a great deal.
A hooded fall jacket is always a preferable choice as it keeps you protected from both winds and rains. If the jacket features a detachable hood, it can be even more convenient.
Pockets are always a welcome feature in jackets, and we can't really imagine a jacket without pockets and call it perfect. Your jacket should come with at least 2 pockets that allow you to keep your hands warm or store your phone and other valuables when it gets rainy.
Why Trust StyleCraze?
Shreya Viswanathan, the author of this article, is a fashion enthusiast who likes to explore and recommend styles that last for ages. Her opinion is based on her research and several user reviews on various online platforms. This carefully curated list contains stylish and warm fall jackets for women that are comfortable to wear and allow unrestricted movement.
Frequently Asked Questions
Can I wear a wool coat in fall?
A wool jacket or coat may seem a bit early to wear for fall since it does not get that cold around that time of the year. Moreover, fall season demands something that keeps you protected from unpredictable showers and gusts of winds, and a wool coat may not help so much.
How long should a fall jacket be?
While this entirely depends on one's own personal preference, a fall jacket should not be too short. Longer jackets are a better choice.
Do people wear coats in the fall?
Yes. People wear coats in the fall season to warm up their bodies and maintain style.
How should a fall jacket fit?
A fall jacket should not be too fitted or too loose. The back panel of the jacket must end just below the seat and be parallel to the ground.
How should a jacket fit on the shoulders?
The shoulder width of a jacket should be slightly wider than your shoulder bones. The shoulder seams must meet the top of the jacket sleeves without developing any wrinkles.
Are jackets supposed to be big?
Yes. Invest in a jacket one size bigger than you. This will allow you to layer it over other clothing pieces and warm your body.
Recommended Articles