15 Best False Eyelash Glues That Will level Up Your Look – 2022
Gently stick your favorite falsies to your lash line and draw the most attention!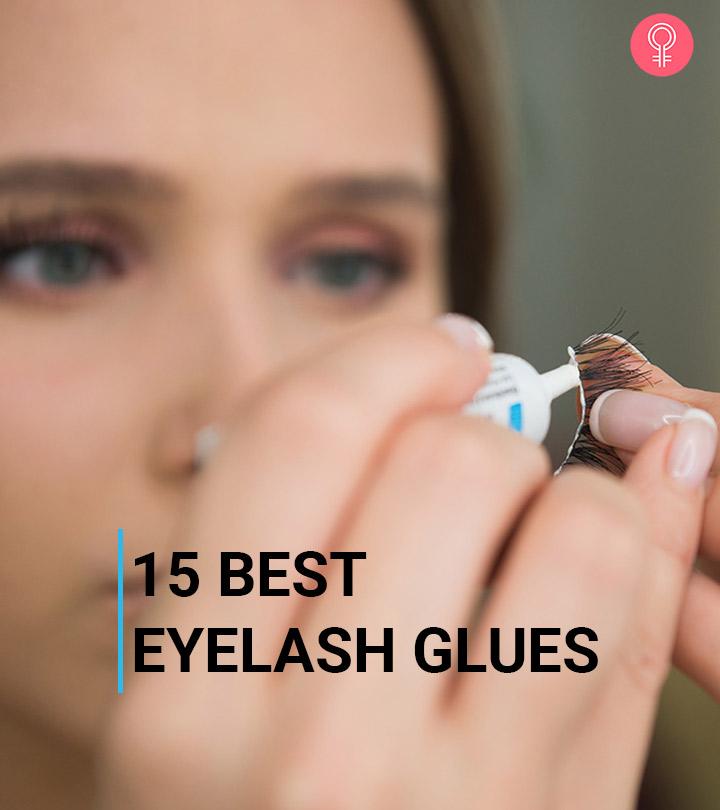 Something about doing the right eye makeup can instantly transform you into a diva. Once you start practicing getting the perfect eye makeup, the next thing you will need is false lashes to enhance the look. To ensure the lashes stay on, you must invest in the best false eyelash glue. Eyelash glue will help you stick your lashes, so they won't come off while staying in the right place regardless of any activity. To help you pick the perfect one, here are the 15 top-rated glues you must try!
Top 15 False Eyelash Glues Of 2022
This eyelash glue is a clear-gel adhesive that can be applied in thin and precise strips. It is infused with aloe vera that is gentle on your skin. The glue secures your lashes for the entire day. The tube features a tapered brush for precise and easy application. You may check this video for a better understanding of this product.
Pros
Hypoallergenic
Long-lasting
Water-proof
Dermatologist approved
Infused with aloe vera
Latex-free
Odor-free
Formaldehyde-free
Cruelty-free
Cons
None
The Duo Brush-On Strip Lash Adhesive is dark-colored and blends with black or brown eyelashes easily. It provides a long-lasting, secure hold and is easy to remove, without tugging or irritating your natural eyelashes. This glue is designed like a liquid eyeliner, and the ultra-thin brush makes the application precise and smooth. It is suitable for all lash styles – dark color, thick, and voluminous – and is perfect to finish a smokey-eye. This video review will help you learn more about the product.
Pros
Hypoallergenic
Long-lasting
Dries quickly
Water-proof
Formaldehyde-free
Latex-free
Easy to remove
Easy to apply
Cruelty-free
Cons
None
The Esqido Companion Eyelash Glue is a gentle formula that claims to be safe for sensitive eyes. It is easy to apply using the precision brush tip and dries clear, remaining invisible. To remove, run an oil-free makeup remover along the lash band until the glue starts to dissolve. The professional-grade adhesive can be used with all types of false eyelashes – mink, strip, etc. This video will help you make an informed decision about your purchase.
Pros
Hypoallergenic
Latex-free
Formaldehyde-free
Suitable for all types of false eyelashes
Paraben-free
Easy to remove
Long-lasting
Cons
The Muselash Eyelash Adhesive is a safe choice for sensitive eyes as it is free of irritating odors, latex, and formaldehyde. The wand applicator features a precision brush for ease of use. The glue is white and dries clear, so you can apply makeup without your lash glue looking too obvious.
Pros
Latex-free
Formaldehyde-free
Odor-free
Water-proof
Easy to apply
Easy to remove
Dries quickly
Money-back guarantee
Cons
The Tinge Shine False Eyelash Glue comes packaged in an adorable pink tube that discreetly fits in any purse. It has an allergy-tested formula with mild ingredients that do not irritate your skin. Whether you are a pro or a novice in the false eyelash game, you will find the Tinge Shine glue exceptionally user-friendly. It dries transparent and is hardly visible under makeup.
Pros
Latex-free
Odor-free
Allergy-tested
Long-lasting
Sweat-proof
Water-proof
Easy to apply
Easy to remove
Cons
The Lastview Precision Lash Adhesive is a vegan formula that claims to be safe and gentle on sensitive skin and eyes. It comes in a lightweight, travel-size tube that caters to your on-the-go touch-up needs. It has strong holding power that lasts all day. It is water-proof and offers a lifetime money-back guarantee on the product if it does not meet expectations.
Pros
Sulfate-free
Gluten-free
BPA-free
Cruelty-free
Latex-free
Formaldehyde-free
Water-proof
Suitable for sensitive eyes
Cons
The Bepholan Eyelash Adhesive comes from the land of K-beauty. Its gentle formula is free of harsh chemicals and suitable for sensitive skin and eyes. This quick-drying glue turns tacky within seconds, dries invisible, and is easy to apply. It is also sweat and water-proof and lasts for a long time.
Pros
Latex-free
Vegan
BPA-free
Sulfate-free
Gluten-free
Affordable
Suitable for sensitive eyes
Cons
As the name suggests, the Stacy Lash Extra Strong Evolution Professional Eyelash Extension Glue is designed for the pros. The black adhesive has a super quick drying time of 1-2 seconds and offers retention up to eight weeks. This maximum bonding product is specifically recommended for certified lash extension technicians. Its thin consistency does not clump or drag on your natural lashes.
Pros
Fast-drying formula
Long-lasting
Low fumes
Non-irritating
High elasticity
Low viscosity
Cons
Expensive
Requires experience to use.
The Davocy Eyelash Glue provides a long-lasting hold, so you can flaunt your gorgeous eyelashes all day long. This glue has a gentle formula and is safe for application on sensitive skin and eyes. It dries quickly and gets invisible, giving your eye makeup the flawless appearance you desire. The wand applicator comes with a precision brush tip that lets you apply the right amount without any mess.
Pros
Hypoallergenic
Water-proof
Latex-free
Formaldehyde-free
Long-lasting
Easy to apply
Cons
Strong odor
Not easy to remove.
The Ardell LashGrip Clear Adhesive for Strip Lashes is a big name in the falsies world. It comes in a tube applicator, dries up clear, and holds your lashes for a long time. It blends well with various strip lashes without getting noticed. The smooth and fluid consistency makes it easy to apply flawlessly for an all-natural look.
Pros
Easy to apply
Easy to remove
Long-lasting
Travel-friendly
Fast-drying formula
Affordable
Cons
Contains latex
Contains formaldehyde
The Noon's Up Eyelash Glue is packaged in a safe PE tube with a precision brush tip applicator. It offers extra holding power that lasts up to 24 hours. It is water-proof and stays flawless through rain and tears. This glue is formulated using an advanced ceramide technology that replenishes the skin's moisture barrier and keeps it hydrated to prevent aging.
Pros
Formaldehyde-free
Water-proof
Easy to apply
Easy to remove
Hypoallergenic
Long-lasting
Hydrates the skin
Clinically-tested
Cons
The Forabeli Strong Eyelash Extension Glue is a favorite among both new and experienced lash extension technicians. It has a short drying time of 2-3 seconds, with long-lasting retention of up to six weeks. This adhesive is easy to apply and works best with 2D, 3D, and 4D eyelash extensions in the new, classic, and dramatic volumizing full-lash techniques.
Pros
Dries quickly
Long-lasting
Latex-free
Formaldehyde-free
Cruelty-free
Cons
The House of Lashes Eyelash Adhesive is a dark-colored eyelash glue that blends seamlessly with your eyeliner, giving you a flawless look. It has a strong holding power, ensuring that your falsies stay in place all day. This gentle formula is free of harsh chemicals like parabens and phthalates and irritants like latex and formaldehyde.
Pros
Latex-free
Cruelty-free
Formaldehyde-free
Paraben-free
Phthalate-free
Easy to apply
Long-lasting
Cons
The Velour Eyelash Glue is a white eyelash adhesive that dries clear and is hardly noticeable under makeup. It comes with a precision brush-on applicator that allows for mess-free application. This latex-free formula is safe for sensitive skin and gentle on your eyes and eyelashes. It is compatible with luxury lashes and can also be used for multiple wears.
Pros
Hypoallergenic
Latex-free
Safe for sensitive skin
Gentle on natural lashes
Mess-free application
Cons
Not long-lasting
Might peel and flake.
The container and brush that come with the Tarte Tarteist PRO Lash Adhesive make it easy to line your falsies without clumps or mess. It latches your fake lashes quickly onto the eyelids and stays there the whole day. The formula is free of latex or formaldehyde, so you can apply it safely without worrying about allergic reactions.
Pros
Safe for contact lens wearers
Dermatologist-tested
Ophthalmologist-tested
Long-lasting
Easy to remove
Latex-free
Formaldehyde-free
Cons
Expensive
Might leave residue.
Why Trust StyleCraze?
Sakshi Bahal, the author, is passionate about makeup. She loves to create new looks by experimenting with different makeup and cosmetics. For this article, Sakshi went through hundreds of online reviews and curated a list of the best eyelash glues available on the market. The glues allow you to create the desired dramatic eyes effortlessly. Her recommended products are long-lasting, dry quickly, and chemical-free.
Recommended Articles