The 14 Top-Rated FARMACY Beauty Products Of 2023
Enjoy the goodness of botanical extracts that are infused in these skin care products.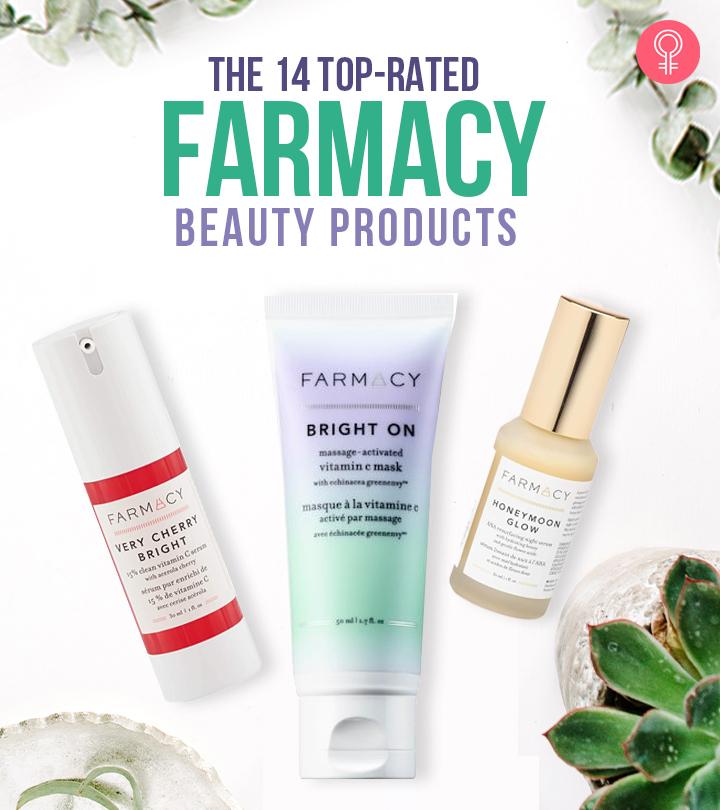 Have you ever imagined how it would be to have your skin treated with the goodness of natural farm-grown ingredients? FARMACY is a company that specializes in exactly that. The best FARMACY products are made using the rawest and purest natural ingredients.
This skin care line collaborates with local, organic farmers to create eco-friendly, science-backed products. Their products are ethically made without animal testing. Echinacea GreenEnvy, an amazing component that has 300% more antioxidants in its roots than the original echinacea plant, is also included in their products. The brand's powerful botanical ingredients are gentle on your skin and provide great results. In addition, they don't use petroleum, mineral oil, sulfates, parabens, phthalates, formaldehyde donors, GMOs, TEA, MEA, DEA, or synthetic scent in any of their products. Scroll down to know all about their organic range!
14 Best FARMACY Products You Will Be Obsessed With
The FARMACY Makeup Meltaway Cleansing Balm removes makeup, oil, dirt, and everyday pollutants from your skin in one go. It is enriched with a blend of essential oils derived from sunflower and ginger root, Echinacea GreenEnvy, and papaya extracts for gentle exfoliation.
This cleansing balm removes the boldest eye makeup and long-wear foundation without drying your skin or leaving any residue. The turmeric and moringa extract help eliminate impurities and sunscreen residue. The lime, bergamot, and orange essential oils smell like summer and revitalize your senses. Check out the review of this product for more information as well as the reviewer's experience with it.
How To Use: Massage on dry skin using your fingertips in upward and outward circular motions. Rinse with water or wipe off with a warm, damp washcloth.
Key Ingredients: Sunflower oil, Ginger root oils, Turmeric extract, Moringa extract, and Papaya enzymes
Pros
Suitable for daily use
Suitable for all skin types
No polyethylene microbeads
Cons
The FARMACY Clean Bee Ultra Gentle Facial Cleanser is formulated with naturally-derived ingredients like coconut, sugar, hyaluronic acid, botanical extracts, and amino acids. It has a pH level of 5.6 that is suitable for all skin types.
The Echinacea GreenEnvy Honey is full of potent natural antioxidants that maintain the skin's natural moisture barrier. Hyaluronic acid and glycerin lock in moisture and make the skin soft and supple. The turmeric, chamomile, calendula, aloe, and licorice root reduce visible redness and soothe the skin. This gentle and innovative formulation lifts away excess oil, impurities, and makeup. If you want to know more about the benefits of this product and the reviewer's experience with it, check out this quick review on YouTube.
How To Use: Massage the product on a wet face in a circular motion and rinse with warm water.
Key Ingredients: Coconut, Sugar, Amino acid, Hyaluronic acid, and Proprietary honey blend
Pros
Softens the skin
Balances pH levels
Suitable for all skin types
Soothes redness
Moisturizes the skin
Cons
None

The FARMACY Honeymoon Glow AHA Resurfacing Night Serum hydrates, resurfaces, and rejuvenates dull and dead skin. It contains 14% AHA & BHA, gentle flower acids from hibiscus that imparts a youthful glow. This 3-in-1night serum treats hyperpigmentation and visible signs of aging. Hyaluronic acid makes the skin feel plump and supple, while salicylic acid helps minimize the appearance of pores, fine lines, and wrinkles.
Note: AHAs may increase the skin's sensitivity to the sun and the possibility of sunburn. Use sunscreen before sun exposure.
How To Use: Apply 1–2 pumps on clean skin at night, avoiding the eyes and lips. Use it 2–3 times a week.
Key Ingredients: 10% AHA blend, 1% BHA, 3% Flower acids blend, Hyaluronic acid, and Proprietary Honey Blend
Pros
Rejuvenating effects
Adds glow
Fades hyperpigmentation
Improves fine lines and wrinkles
Suitable for all skin types
Cons
None
The FARMACY Dew It All Total Eye Cream hydrates and nourishes your under-eye area and removes the signs of fatigue and stress. It is enriched with hyaluronic acid, Echinacea Green Envy, algae, rosehip extracts, chamomile, and calendula. This eye cream enhances under-eye firmness while reducing dark circles and puffiness. The chamomile, aloe, and calendula extracts help soothe tired-looking eyes. Hyaluronic acid enhances visual elasticity and moisturizes the skin around the eyes while the algae, rose hip, and baobab fruit oil smoothen fine lines.
How To Use: Apply above and around the eyelids and under the eyes gently in inward sweeping motions to avoid stretching
Key Ingredients: Algae, Rose hip extract, Baobab fruit oil, Hydrolyzed hyaluronic acid, Chamomile, Aloe extract, and Calendula extract
Pros
Hydrates the under-eye area
Ultra-hydrating formula
Removes signs of fatigue and stress
Eliminates dark circles and puffiness
Cons
None

The FARMACY Honey Savior All-In-One Skin Repair Salve repairs dry and cracked skin and calms and soothes irritated skin. It is loaded with the goodness of 132 nutrients, including amino acids, vitamins A, B, C, antioxidants, and royal jelly that renew your skin for a healthy glow.
This cream repairs, nourishes, and provides intense hydration to your elbows, cuticles, lips, legs, and feet. It also soothes sunburns and tames flyaways. Its proprietary honey blend with soothing, antioxidant, and humectant properties moisturizes and cures dry skin.
How To Use: Massage on clean skin until fully absorbed. Use on the targeted areas as needed.
Key Ingredients: Proprietary honey blend, Propolis, and Royal jelly
Pros
Treats dry skin
Adds glow
Soothes sunburns
Tames flyaways
Cons
None
Get glowing skin with the award-winning FARMACY Honey Potion Renewing Antioxidant Hydration Mask. It contains Echinacea GreenEnvy Honey, royal jelly, and essential B vitamins. This mask revitalizes and moisturizes your skin. The glycerin-infused formula gives you a spa-like feel in the comfort of your home.
How To Use: Spread a thick layer on a clean and toned face gently, avoiding the lip and eye areas. Massage for 1–2 minutes while it warms and transforms into a white cream. Leave it on for 10–15 minutes and rinse off.
Key Ingredients: Proprietary honey blend and Glycerin
Pros
Hydrates the skin
No artificial fragrance
Adds glow
Cons
None
The FARMACY Sleep Tight Firming Night Balm gives you firm and young-looking skin as you wake up. It contains South African Acmella plant that stimulates collagen production and blackcurrant seed, balloon vine extracts, and sunflower seed oil that protect the skin's moisture barrier. It contains antioxidants like vitamin C and cichoric acid that fight free radical damage. The product not only improves skin texture and tone but also illuminates the complexion. It is not tested on animals.
How To Use: Warm a small amount between your palms and apply a thin layer on a clean face. Blend in upward and outward motions.
Key Ingredients: South African Acmella plant, Blackcurrant seed, Balloon vine extracts, and Sunflower seed oil
Pros
Absorbed quickly
Evens out the skin tone
Cons
None
Is your skin exposed to harmful environmental pollutants daily? Try the FARMACY Green Screen Daily Environmental Protector. This sunblock lotion with titanium dioxide and zinc oxide deflects the harmful UVA and UVB rays. It has anti-aging benefits that make your skin healthy and young-looking.
This lotion contains Echinacea GreenEnvy, cichoric acid, and natural antioxidants that boost natural collagen production and even out your skin tone. The SPF 30 creates an invisible shield on the skin and guards it against environmental pollution. This non-greasy formula is photo-flash friendly and prevents photoaging by protecting against free radicals emitted from smartphones, tablets, and computers.
How To Use: Apply daily over your moisturizer or under makeup.
Key Ingredients: Echinacea GreenEnvy, Cichoric acid, Black chokeberry, and Marigold extract
Pros
Non-greasy texture
Contains SPF 30
Adds glow
Photo-flash friendly
Cons
None
Get a non-greasy, oil-free glow on your face with the FARMACY Honey Grail Ultra-Hydrating Face Oil. It improves the appearance of fine lines and wrinkles while intensely hydrating your skin.
This face oil is enriched with soothing honey, antioxidant-rich sea buckthorn, and a blend of nourishing flower oils. It gives you a replenishing and soothing effect while protecting your skin from damage. This multitasking product can be used alone, with your moisturizer, or blended with your foundation.
How To Use: Apply on the face or targeted body areas as needed in the morning and night.
Key Ingredients: Buckwheat honey, Sea buckthorn oil, and 5-Flower oil blend
Pros
Non-greasy
Reduces signs of aging
Non-comedogenic
Cons
None
The FARMACY Very Cherry Bright Vitamin C Serum contains acerola cherry that gives you radiant and youthful-looking skin. It is a combination of four forms of vitamin C, four forms of hyaluronic acid, and soothing peptides that visibly brighten and firm your skin without irritation. This serum is lightweight and reduces saggy skin, dark spots, blemishes, dullness, and fine lines.
How To Use: Apply to the skin twice a day.
Key Ingredients: Acerola cherry extract, 3-Glyceryl ascorbate, 3-O-Ethyl ascorbic acid, and Ascorbyl tetraisopalmitate
Pros
Brightens the skin
Non-irritating
Reduces dark spots and fine lines
Cons
Treat your sun-damaged skin with the FARMACY Green Defense Daily Mineral Sunscreen. It's broad-spectrum SPF 30 acts as a shield and protects your skin from the harmful UVA and UVB rays. It does not leave a white cast on your face.
This non-greasy sunscreen contains marigold and black chokeberry with antioxidant properties that guard your skin against pollution and blue light emitted from smartphones, tablets, and computers. It helps reduce skin aging and can be used under your makeup.
How To Use: Apply daily over your moisturizer or under makeup 15 minutes before sun exposure. Reapply every 2 hours for effective results.
Key Ingredients: Titanium dioxide, Black chokeberry extract, and Marigold extract
Pros
Protects against pollution and blue lights
Contains SPF 30
Non-greasy
No white cast
Cons
None
The FARMACY Honey Butter Beeswax Lip Balm is a 100% natural lip balm and lip primer that gives you even-textured lips. It is enriched with 3 Cs – coconut oil, cocoa butter, and cupuacu butter – honey from Echinacea GreenEnvy, and superfood oils, including jojoba oil that smoothens and conditions your lips.
Beeswax forms a protective barrier on the skin to lock in moisture. Honey is a natural humectant and potent antioxidant that soothes and hydrates the lips. Vitamin E softens dry lips, royal jelly contains amino acids that nourish the lips, and propolis calms and heals chapped lips. This non-greasy formula smoothens fine lines and wrinkles and creates a base for other lip products.
How To Use: Apply on the lips in the day and overnight. You can also apply it on the lips before using lipstick to create a smooth, supple base.
Key Ingredients: Proprietary honey blend, Beeswax, Cupuaçu butter, and Cocoa butter
Pros
Moisturizes the lips
Smoothens fine lines and wrinkles
Heals chapped lips
Creates a base for lipstick
Cons
None
The FARMACY Brightening Coconut Gel Sheet Mask contains coconut water, antioxidant-rich Echinacea Green Envy, purple broccoli extracts, and plant-based collagen that impart a healthy- glow in 15 minutes. This nourishing face mask targets specific skin concerns like loss of firmness, elasticity, dullness, and uneven skin texture.
This product contains hyaluronic acid and natural cucumber extract that soothe dry skin. The hyaluronic acid also holds up to 1000 times its weight in water and moisturizes the skin. The plant-based ingredients firm the skin and make it young-looking. The purple broccoli extract with chlorophyll, vitamins, and minerals brighten and clarify the skin.
How To Use: Unfold the mask, remove the blue protective mesh, and place it on a clean face. Either side of the mask can be applied to the skin. Once on the face, remove the second layer of blue protective mesh. Leave it on for 10–15 minutes and massage any remaining essence onto the skin.
Key Ingredients: Coconut water, Hyaluronic acid, Plant-based collagen, and Cucumber extract
Pros
Adds radiance
Makes the skin soft and smooth
Cons
None
Detoxifying your skin is now a relaxing process with the FARMACY Bright On Massage-Activated Vitamin C Mask. Packed with antioxidants and AHAs, it effectively improves skin texture and tone by removing impurities and dead skin cells. The dual-action formula does not dry out your skin or cause breakouts and provides a virtually poreless finish.
The vitamin C capsules burst as you a massage. They turn from lavender to green and clarify your skin instantly. This clay mask treats dull skin and is suitable for all skin types. The fruit-derived AHAs resurface the skin gently and promote cell turnover. The mineral-rich kaolin and bentonite clay balances oil production and visibly reduces the appearance of pores. This mask also contains aloe and a special blend of superfoods that help cool, soothe, and moisturize the skin.
How To Use: Massage on clean skin in circular motions, avoiding the eye area until it changes color. Leave on for 5–10 minutes and rinse off. Use it 2–3 times a week.
Key Ingredients: Micro-encapsulated vitamin C, Kaolin clay, Bentonite clay, Aloe and superfood blend, and Fruit-derived AHA blend
Pros
Brightens the skin
Improves skin texture
Minimizes pores
Cons
None
FARMACY products are a go-to if you want to explore the goodness of organic formulas. However, consider a few things before picking any FARMACY beauty product.
Things To Consider While Buying A FARMACY Beauty Product
Skin Type And Ingredients
Pick a beauty product that suits your skin type, else you may end up with more skin issues than relief. The clean beauty brand caters to various skin concerns which suit specific skin types. A serum or cream that suits dry skin, may not be suitable for combination, oily or acne-prone skin, and likewise.
If you have matured skin or are looking to eliminate fine lines or wrinkles, a product with AHA and BHA would work wonders. Whereas, for dry skin, try formula with vitamin C, honey, collagen, or hyaluronic acid. If you are looking to treat dark circles or puffiness, focus on ingredients like rosehip extracts, chamomile, calendula, hyaluronic acid, echinacea green envy, or algae. To reduce pores, pick a product which is formulated with vitamin C, kaolin clay, bentonite clay, or aloe. Focus on your skin type and skin concern so that the product works the best for you.
While FARMACY products are made using the purest natural ingredients, it still does not hurt to check the labels. Ensure that the product has a clean and transparent ingredients list that is Free from harsh chemicals. Avoid formulations that contain harmful toxins like alcohol, paraben, SLS or SLES, mineral oil, petroleum, formaldehyde releasers, DTA, MEA, or TEA.
Ditch any product that has synthetic dyes, artificial, or overpowering fragrances as it may lead to clogging of pores or acne breakouts. Opt for ingredients that are dermatologically tested and always do a patch test to avoid any side effects or allergies.
No matter what FARMACY product you pick, ensure that the formula is hypoallergenic, oil-free, non-comedogenic, non-acnegenic and must contain antibacterial, anti-inflammatory, antifungal, and antioxidant properties. This is the only way to ensure your skin remains healthy, clean, and oil-free.
The Bottom Line
Why Trust Stylecraze?
Oyendrila Kanjilal is a certified skin care coach who loves to try out different skin care brands, her all time favorite being FARMACY skin care products. She loves using products from this brand because they are made of farm-grown ingredients. She has carefully gone through multiple reviews online and included some of her go-to products in this list. According to her, the best part about this skin care line collaborates with local, organic farmers to create environmentally friendly, science-backed products.
Frequently Asked Questions
Is FARMACY a Korean brand?
Yes. FARMACY Beauty products are made in South Korea but marketed in the USA
Is FARMACY a clean brand?
FARMACY products are cruelty-free and do not contain parabens, formaldehyde, synthetic fragrances, phthalates, and mineral oil.
Is FARMACY all-natural?
FARMACY Beauty products mostly contain naturally-derived active botanical ingredients.
Who created FARMACY Beauty?
David Chung created FARMACY Beauty.
Is FARMACY skincare organic?
Yes, FARMACY skincare products are made of naturally-derived, organic, farm-to-face ingredients.
Is FARMACY good for dry skin?
Yes, some FARMACY products like the FARMACY Honey Savior All-In-One Skin Repair Salve are specially made for dry skin. These products have premium moisturizing and skin-repairing formulas that keep dry skin healthy.
Is FARMACY safe for pregnancy?
Yes, FARMACY products are infused with natural ingredients and are rigorously tested to be safe for use during pregnancy.
Recommended Articles