101 Best Fashion Quotes That Are Iconic And Inspirational
Get some inspiration from these quotes and make all heads turn around with your fashion sense.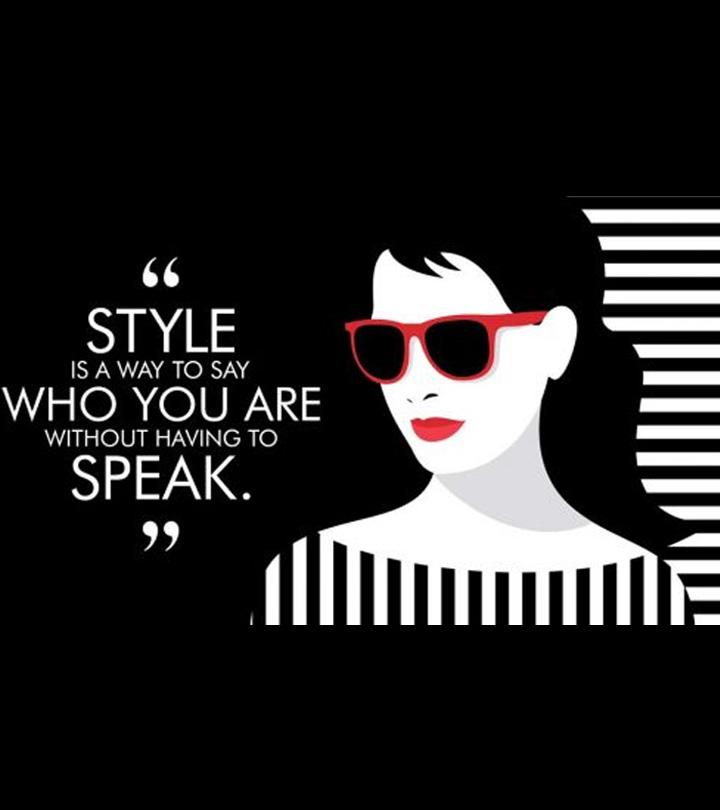 "A woman should be two things, classy and fabulous." – Coco Chanel
A quote that inspired me and continues to do so as it hangs on my bedroom wall. Some of the most iconic designers of all time are not just revolutionary with their designs, but also great wordsmiths. They are sassy, witty, and on-point.
Sometimes we end up dressing up like runway fashionistas or dressing down, that's when you need these statements of positivity and wit. We all need some fashion inspiration to accept ourselves and dress up in clothes that express our personality, and to improve our attitude towards fashion. And sometimes, we lose track of it all and could do with little reminders (like my quote decal on the wall). So, for one such day, here's a little dose of inspiration through some of the best and most inspirational fashion quotes out there.
101 Best Inspirational Fashion Quotes By Designers
2. "Happiness is the secret to all beauty. There is no beauty that is attractive without happiness." – Christian Dior
3. "Some women think that if the look this season is minis, they have to wear minis. If you don't have great legs, there are plenty of alternatives." – Ralph Lauren.
4. "I wanted to dress the woman who lives and works, not the woman in a painting." – Giorgio Armani
6. "It's not about the dress you wear, it's about the life you lead in the dress." – Diana Vreeland.
7. "Fashion should be a form of escapism, and not a form of imprisonment." – Alexander McQueen
9. "Don't forget to fall in love with yourself first." – Carrie Bradshaw
11. "Style is a way to say who you are without having to speak." – Rachel Zoe
12. "Don't be into trends. Don't make fashion own you, but decide what you are." – Gianni Versace
14. "Clothes are like a good meal, a good movie and great pieces of music." – Michael Kors
15. "Dress like you're going to meet your worst enemy today." – Coco Chanel
16. "I certainly feel that an adult woman has a right to determine what happens to her life and her body." – Calvin Klein
17. "I always find beauty in things that are odd and imperfect – they are much more interesting." – Marc Jacobs
19. "In a world full of trends, I want to remain a classic." – Iman
20. "One is never over-dressed or underdressed in a little black dress." – Karl Lagerfeld
21. "The dress must follow the body of the woman, not the body following the shape of the dress." – Hubert de Givenchy
23. "A woman is never sexier than when she is comfortable in her clothes." – Vera Wang
24. "I love fashion and that's how I express myself." – Victoria Beckham
25. "Fashion is a trend. Style lives within a person" – Oscar de le Renta
27. "Fashion is a language. Some know it, some learn it, some never will – like an instinct." – Edith Head
28. "Fashion is about dreaming and making other people dream." – Donatella Versace
29. "I want to remind people of a different kind of glamour, a different look, and breaking rules of fashion. I want to break the rules." – Dita Von Teese.
31. "The principle of the design – the harmony, rhythm, and balance are all the same with interior and fashion design." – Venus Williams
32. "Good fashion is like rock music: all anarchy and revolt." – Ann Demeulemeester
33. "I have fun with my clothes onstage; it's not a concert you're seeing, it's a fashion show." – Freddie Mercury.
34. "I love the idea of embracing your curves and loving yourself while expressing it through fashion." – Hayley Hasselhoff
35. "I am not trendy. I am not 'in fashion.' I am simply a positive human being who has a positive outlook on life." – Thierry Mugler
37. "Women who wear black have colorful lives." – Neiman Marcus
38. Fashion is only the attempt to realize art in living forms and social intercourse." — Sir Francis Bacon
39. " I have married fashion and I think it has been a good wife." – Franco Moschino
41. "Whoever said money can't buy happiness, simply didn't know where to go shopping." – Bo Derek
43. "People will stare. Make it worth their while." Harry Winston
45. "Fashion is an art and you are the canvas." – Velvet Paper
46. "I've been 40 years discovering that the queen of all colors was black." – Pierre- Auguste Renoir
47. "I wanted to be a certain kind of woman. I became that kind of woman." – Diane Von Furstenberg
49. "No matter how you feel, always get up, dress up, and show up." – Regina Brett
50. "Create your own style. Let it be unique for yourself and yet identifiable for others." – Anna Wintour
52. "Everything I wear is a 'DO' and everything else is a 'DON'T'." – Christian Siriano
53. "Elegance is the only beauty that will never fade." – Audrey Hepburn
54. "I think in black." – Gareth Pugh
55. "Fashion is about suspense, surprise and fantasy. It's not about rules." – Wolfgang Poop
57. "Fashion is a state of mind." – Sonia Rykiel
58. "A woman can carry a bag. But it's the shoe that carries the woman." – Christian Louboutin
59. "Dress designing… is to me not a profession but an art." – Elsa Schiaparelli
60. "Buy less. Choose well. Make it last. Quality, not quantity. Everybody's buying far too many clothes." – Vivienne Westwood
62. "The dress must not hang on the body but follow its lines. When a woman smiles, a dress must smile with her." – Madeleine Vionnet
63. "It is what a woman, leaves off, not what she puts on that gives her cachet." – Paul Poiret
64. "Fashion is a tool. To compete in life outside the home. People will like you better, without knowing why, because people will react well to a person they like the looks of." – Mary Quant
65. "Playing dress up starts at the age of five and never truly ends." – Kate Spade
67. "We just don't need fashion to survive. We just desire it so much." – Marc Jacobs
68. "Chic is when a woman is in harmony with herself."- Giambattista Valli
69. "If you want to be original, be ready to be copied." – Coco Chanel
70. "If I was a woman, I would be dressed in the same thing for a month and just change my hat and gloves. Maybe shoes too; yes I see what you mean but, really, it's the jewels that change an outfit." – Manolo Blahnik
72. "Style is something each of us already has, all we need is to find it." – Diane von Furstenberg
73. "Who can really say who invents something first in fashion?" – Azzedine Alaïa
75. "Excess is success." – Roberto Cavalli
76. "Design is a constant challenge to balance comfort with luxe, the practical with the desirable." – Donna Karan
77. "It is beautiful to be who you are." – Jean Paul Gaultier
79. "You can find inspiration in everything. If you are not, then you are not looking properly." – Paul Smith
80. "Fashion is more art, than art is." – Andy Warhol
81. "The truly fashionable are beyond fashion." – Cecil Beaton
82. "Darling, if you can't look your best, then you cannot even leave the house." – Zsa Zsa Gabor
84. "Fashion is what you are offered four times a year by designers. And style is what you choose." – Lauren Hutton
85. "Trendy is the last stage before tacky." – Karl Lagerfeld
86. "Fashion cannot be bought. Style one must possess." – Edna Woolman Chase
87. "The best things in life are free. The second best are very expensive". – Coco Chanel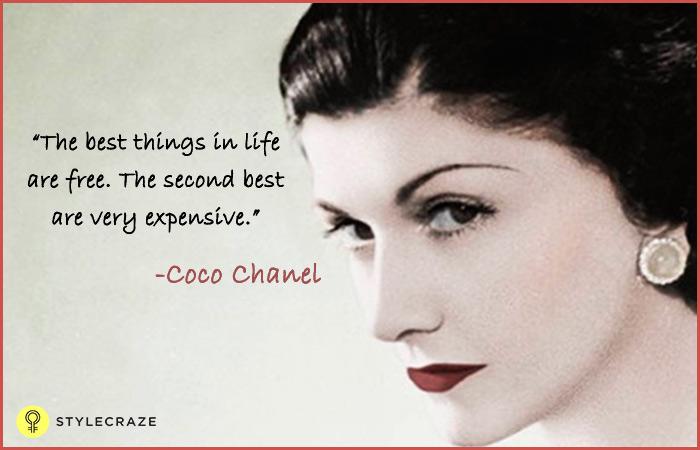 88. "Only an excellent fabric can originate an excellent fashion." – Nino Cerruti
89. "Fashion is like eating. You shouldn't stick with the same menu." Kenzo Takada
91. "Over the years I have learned that what is important in a dress is the woman wearing it." – Yves Saint Laurent
92. "I wear my sort of clothes to save me the trouble of deciding which clothes to wear." – Katherine Hepburn
93. "Simplicity is the ultimate sophistication." – Leonardo da Vinci
94. "Style is a simple way of saying complicated things." – Jean Cocteau
96. "You can never take too much care over the choice of your shoes. Too many women think that they are unimportant, but the real proof of an elegant woman is what is on her feet." – Christian Dior
98. "You can't be melancholy in fashion because people don't respond to it." – Isaac Mizrahi
99. "Anyone can get dressed up and glamorous, but it is how people dress in their days off that are the most intriguing." – Alexander Wang
100. "The most important thing to remember is that you can wear all the greatest clothes and all the greatest shoes, but you've got to have a good spirit on the inside. That's what's really going to make you look like you're ready to rock the world." – Alicia Keys
101. "Fashion is architecture: It's a matter of proportions" – Coco Chanel
Infographic: Top 10 Motivational Fashion Quotes For You
When it comes to fashion, some like a dramatic look while others prefer a minimalistic style. No matter your choice, the only thing that matters is carrying the style with the utmost elegance. There are multiple global fashion icons who have shared their experiences and perspectives on fashion and style.
The infographic below has curated the top ten motivational fashion quotes exclusively for you to gain inspiration and confidence to pull off any look.


Famous personalities like Christian Dior, Ralph Lauren, Giorgio Armani, and more have given us a broader perspective in terms of fashion couture through creativity. With their eye-opening fashion quotes, they have always made sure to help people feel comfortable in their own skin. While Carrie Bradshaw insists on loving ourselves first, Coco Chanel encourages us to have our looks on point. However, there is so much to learn from these quotes. Their underlying meanings do not apply to the world of fashion alone. You can get inspired by these quotes outside the fashion domain, too.
Frequently Asked Questions
What are some fashion quotes about self-expression and individuality?
Fashion quotes about self-expression and individuality include:
"I don't do fashion. I am fashion." – Coco Chanel
"Fashion is the armor to survive the reality of everyday life." – Bill Cunningham
How do fashion quotes help define and shape our personal style?
Fashion quotes define and shape our personal style by inspiring us to think about how we want to express ourselves through our clothing and accessory choices. They remind us to be true to ourselves and to choose clothing that makes us feel confident.
Is fashion an art?
Yes, anecdotal evidence suggests that fashion is a form of art. It is said so because it expresses who you are in what you wear and it takes creativity to pull it off.
What is fashion in one line?
Fashion is dynamic and ever-changing and it plays a significant role in self-expression and identity formation through clothing and accessories.
What are style quotes?
Style quotes are inspiring and thought-provoking sayings or phrases that relate to fashion, personal style, and creativity. Here is one example, "Style is a way to tell who you are without speaking." – Zendaya
What is positive fashion?
Positive fashion aims to promote diversity, inclusivity, and body positivity. It also includes the idea or a movement that believes in repairing, upcycling, and reselling garments as a sustainable, and ethical, practices as it has a positive impact on nature.
What's a fashion statement?
A fashion statement is a unique style that expresses one's individuality, through the lens of fashion. It may include clothing, accessories, shoes, or even hairstyles. a fashion statement may help you to stand out.
What is style personality?
Style personality refers to the combination of personality, qualities, and lifestyle that allow you to communicate through your fashion choices. It makes one feel authentic and comfortable.
Become motivated to dress your best and be confident in your style! Check this video for inspiration from these fashion quotes from famous people.