13 Best Fast-Drying Hair Towels That Save Plenty Of Time – 2023
Fast and heatless way to dry your hair with moisture-wicking microfibre towels.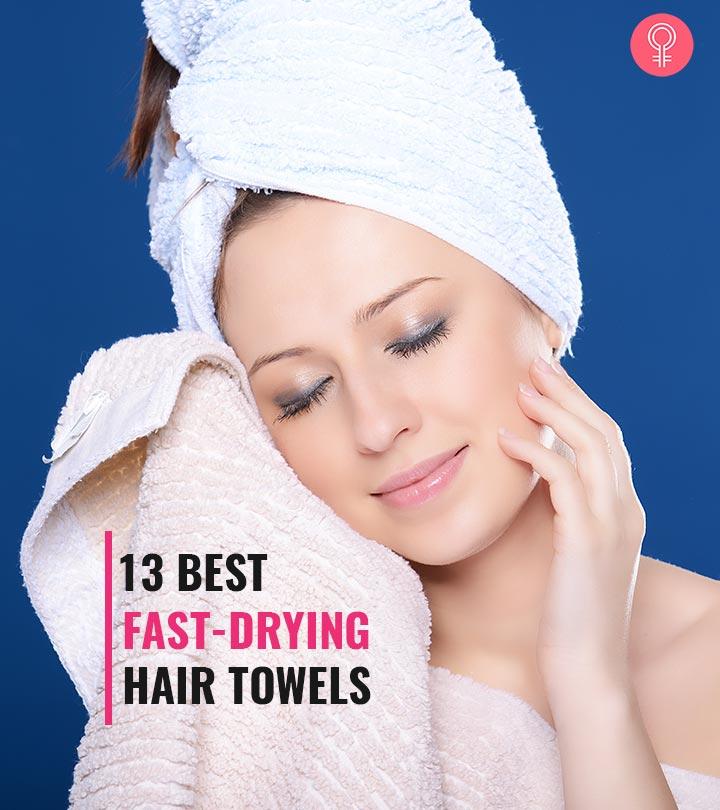 When we think about drying hair, there are only negative emotions. This is because the process is painstakingly long, making us avoid it even more. But to ensure that this is no longer a problem for you, we have with us a list of the best fast-drying hair towel that will ensure your hair dries in an instant!
No more spending hours drying your hair, as these towels, with their moisture-absorbing materials, will soak in all the water, leaving your hair dry and smooth. It will also prevent breakage and give your hair a happy bounce! Ahead, we have curated a list of products that are chosen after a careful and in-depth analysis of their unbiased reviews online. Scroll down to check out our list now to speed up your drying time!
13 Best Fast-Drying Hair Towels
The myHomeBody Hair Towel Wrap is made of highly absorbent material that helps dry the hair gently and quickly, while sitting on your hair as the perfect towel turban. It has a coconut shell button for securing the turban. This towel comes in seven attractive colors and reduces frizz and damage to wet hair. The towels are soft and suitable for all the hair types. They are made of charcoal fiber, an efficient and lightweight material that cuts down the drying time significantly. Many reviewers on Amazon have recommended this product for its lightweight and gentle fabric.
Suitable For: Fine, thin, medium, thick, or coarse hair
Pros
Durable
Ultra-absorbent
Ultra-lightweight
Convenient coconut shell button
Suitable for daily use
Cons
Price at the time of publication: $13.99
This time-saving and fast-drying microfiber towel leaves the hair intact and minimizes frizz. It is lightweight and compact and is suitable for all types of hair. It reduces the drying time significantly while being gentle on your hair. This hair towel absorbs a majority of the water from the hair, leaving it slightly damp for styling. This odor-resistant towel is made with waffle weave microfiber and is lighter than other microfiber towels. This hair-friendly towel is reinforced with a smooth border for longevity and sturdiness. It is a great hair accessory for travel and the gym. This product received amazing reviews on Amazon for its soft, microfiber material that helps reduce hair breakage and prevent frizz.
Suitable For: Long, short, straight, wavy, or curly hair
Pros
Travel-friendly
Odor-free
Fits any hairstyle
Dye bleed-free
Hypoallergenic
Lightweight
Stretchable
Has two handy elastic loops for hanging
Cons
Takes time to absorb water.
Price at the time of publication: $16.39
The HOPESHINE Hair Towel has a unique triangular shape that makes it very convenient to use and the button feature ensures that the twisted turban stays in place. It causes much less friction than traditional towels, hence it helps reduce breakage and frizz. Whether you have long, short, straight, wavy, or curly hair, these towels will suit your hair care needs, leading to a better hair-drying experience.
Suitable For: All hair types
Pros
Durable
Buttoned closure
Reduces breakage
Minimizes frizz
Lightweight
Easy to wash
Cons
Price at the time of publication: $14.99
The VOLO Hair Towels are high-performance and rapid-dry towels made of exclusive nanoweave fabric. The towels are available in different sizes for different lengths and hair types. It has a 50% faster drying time and absorbs 10 times its weight in water. The snug strap ensures that the towel remains in place without causing any tugging or breakage. It is extremely soft to the touch and reduces frizz.
Suitable For: All hair types and lengths
Pros
Durable
Snug strap
Prevents tugging
Reduces frizz
Machine washable
Eco-friendly
Available in different colors
Cons
Ends may come out in case of very long hair
Turbie Twist is a super lightweight microfiber hair towel to tame frizz. It dries hair easily and wicks away moisture. This lightweight hair towel fits your head perfectly and needs no further adjustments. This luxurious towel has a strong elastic loop to fix the turban securely on the hair. This hair towel comes in a family-friendly size that fits kids as well as adults.
Suitable For: Long, thick hair, curly hair, short, wavy hair
Pros
Ultra-lightweight
Superabsorbent material
Soft
Accommodates all hair types
No slippage
Compact
Cons
Price at the time of publication: $28.95
The Eurow Hair Towel is made of premium-quality, long-lasting microfiber to lock the moisture into the fabric. It has a perfect size of 16″ X 29″ that fits all. This salon-quality professional-grade hair towel reduces drying time and makes it easy to style your hair. The microfiber fabric is bleach-safe and can be machine washed.
Suitable For: Short and long hair
Pros
Super-absorbent
Machine washable
Long-lasting
Premium-quality fabric
Convenient
Cons
Price at the time of publication: $22.99
The Aquis Rapid Dry Hair Towel is specifically designed with Aquitex fabric (80% polyester and 20% nylon) to ensure that the water moves away from your hair quickly without causing any friction. This premium-quality hair towel is proven to cut the drying time by 50%. It not only prevents damage and breakage but also helps in frizz control and keeping your hair tangle-free. It is easy to tie around your head and absorbs water quickly while you get ready. It makes your hair shinier, smoother, and softer.
Suitable For: All hair types
Pros
Travel-friendly
Reduces frizz
Easy to wrap
Available in different colors
Cons
Price at the time of publication: $20.49
The Bondi Home & Spa Hair Towel is made of super-soft, durable, and ultra-absorbable microfiber fabric to absorb moisture from the hair and reduce the drying time. The strong stitching and extra absorbent microfiber reduce blow-drying time and leave your hair healthy and frizz-free. The fabric does not slip and is stretchable to wrap the entire hair.
Suitable For: Curly hair
Pros
Ultra-lightweight
Overlocked edge technique
Extra-absorbent microfiber
Soft
Durable
Cons
Not suitable for long, thick hair.
Price at the time of publication: $12.99
Tame those stubborn flyaways with Tee-Owels Mint T-Shirt Towel. If you are still using old t-shirts to dry your hair because of their softness and gentleness, it is time to upgrade to enjoy the same convenience but with better benefits. The towel dries the hair much faster and has shown significantly less frizzing. One more impressive benefit of the towel is that it does not suck the dye out of your hair and helps maintain the color for longer.
Suitable For: All hair types
Pros
Lightweight
Travel-friendly
Durable
Super-absorbent
Safe for colored hair
Cons
Price at the time of publication: $29.99
Save the time spent in blow-drying your hair by wrapping it in the EMIKO Large Microfiber Hair Towel. It fits all head sizes and hair lengths. It is made of premium-quality, soft, durable, and stretchable microfiber fabric to wrap the entire hair and absorb all the moisture like a sponge. The strong stitches increase its longevity and prevent wear and tear. The lightweight and compact towel is travel-friendly and can be a useful accessory in the gym, spa, or while playing sports.
Suitable For: All hair types
Pros
Ultra-absorbent
Large size
Stretchable
Machine washable
Travel-friendly
Cons
Not suitable for long, thick hair.
Price at the time of publication: $13.99
THE PERFECT HAIRCARE Microfiber Hair Towel Wrap is made of a unique silky-soft fabric which protects your hair from frizz. The towel is extremely durable and would last you hundreds of washes without any visible damage to it. It helps wick away the water and dry the porous, thick, and coarse hair in half the time. This quick-absorbing towel makes the hair more resilient with consistent usage resulting in softer, shinier hair. The towel is compact and can be carried easily to the gym, yoga, or any outdoor activity making it multifunctional.
Suitable For: All hair types
Pros
Super-absorbent
Multi-functional
Compact
Lightweight
Drawstring closure
Cons
Price at the time of publication: $20.99
The Dry Microfiber Hair Towel Wrap naturally is gentle on your strands with its smooth and super soft fabric. Each hair turban comes with an attached button that fits securely on your head. It is made with advanced microfiber material and quick-drying technology that quickly absorbs water from all hair types. It eliminates the need for rubbing your hair for faster drying, thereby reducing static and breakage. This lightweight, quick-drying towel is a great buy to carry along to gyms and other outdoor activities. Moreover, it comes in a pack of 2 and can be machine or hand washed.
Suitable For: Curly, frizzy hair
Pros
 Attached button on each turban
 Durable
 Works well for thick, long hair
 Soft and lightweight
 Reduces status and frizz
Cons
None
Price at the time of publication: $5.99
The DevaCurl Microfiber Anti-Frizz Towel is specifically designed to tackle the hair drying needs of wavy and curly tresses. This dermatologist-tested towel absorbs just enough water to keep the definition of the curls intact. They also help with managing frizz in wavy and curly hair. Use the towel to scrunch your curls in an upward motion to remove excess moisture and weight from the curls.
Suitable For: Wavy and curly hair
Pros
Durable
Non-irritant formula
Reduces frizz
Easy to use
Paraben-free
Gluten-free
Cruelty-free
Dermatologist-tested
Cons
Price at the time of publication: $25
These are the best fast-drying towels for hair you can buy online. This product list is curated by taking into account several testers' experiences and reviews on Amazon, which state that these towels wick moisture away and cut drying time significantly. Some of these towels are from brands that do not test their products on animals, making them ideal choices for conscious consumers. But before you make a purchase, it is important to understand what you need to look for while buying a hair towel. Scroll down to the next section for more information.
How To Choose The Best Fast-Drying Hair Towel
Fabric: The quality of the fabric is important as it plays a huge role in reducing the drying time and controlling frizz. You can choose between microfiber or a natural material like cotton or bamboo. Microfiber fabric is fast-drying as it absorbs moisture quickly. Bamboo fabric is odorless, bacteria-resistant, and sustainable. However, if you have sensitive skin, pick a product that is dermatologist-tested and expert-recommended to avert any potential allergic reaction.
Hair Length: Pick a towel as per your hair length and hair type. There are two types of hair towels – turbans and rectangular towels. Hair turbans are shaped to wrap your hair on top of your head so that it can dry while you get ready. They are specially designed for long, thick hair. The small rectangular towels are a perfect fit for all types and lengths of hair.
Texture: A good quality hair towel should be lightweight, not heavy on the head while soaking water.
Loops Or Buttons: Check for the loops or buttons at the back of the towel to prevent slippage.
In addition to the above parameters, ensure you pick a multipurpose towel so that you can use it at the gym, while playing sports or doing yoga, and outdoors.
Why Trust StyleCraze?
The author, Oyendrila Kanjilal, is a hair care enthusiast and finds her passion in helping people choose the right products with her well-researched reviews. She compiled the above list of best fast-drying hair towels after thoroughly researching the products available on the market. She did an in-depth analysis of reviews posted by users on trusted online platforms before shortlisting the products. These super soft towels are lightweight and made of superabsorbent material. Moreover, they also help you reduce frizz and get bouncy hair.
Frequently Asked Questions
Do rapid drying hair towels really work?
Yes, towels with microfiber fabric help in drying hair fast.
What material is best for drying hair?
For long hair, choose microfiber fabric. It absorbs water well and makes your hair frizz-free.
Can hair towels be used to dry the body?
No. Hair towels are specifically made to soak water from the hair.
Does washing a hair towel in hot water ruin its absorbency?
Yes, washing a hair towel in hot water loosens the fabric and ruins its absorbency. Use lukewarm water instead.
Do microfiber towels dry your hair faster?
Yes, microfiber towels dry your hair faster than regular towels. They also absorb the wetness without getting too damp.
Is cotton or microfiber better for the hair?
Microfiber towels are better for the hair. Regular cotton towels may make your hair rough and frizzy due to friction. Microfiber towels eliminate frizz and keep your strands smooth.
Are Aquis towels worth it?
Yes, Aquis towels, especially the Aquis Rapid Dry Hair Towel, are gentle on the hair and dry your tresses faster.
Should I use a towel or a t-shirt to dry my hair?
Use a towel, more specifically a microfiber towel, to dry your hair. These towels do not cause hair breakage and dry your hair faster.
How long should you towel dry your hair?
Long hair needs about 20 minutes to be properly towel-dried. Short hair requires 10 to 15 minutes.
Recommended Articles