The 7 Best Fat Freezing Machines Of 2023 For A Sculpted Body
Sculpt your body to perfection by using the right machines for best results.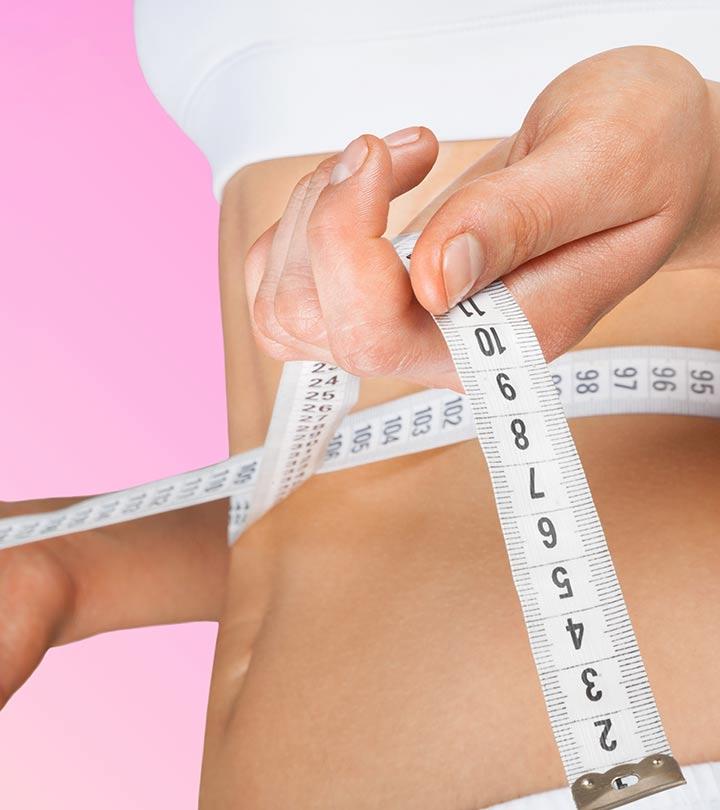 The thought of freezing fat can sound absurd, bizarre, and outright looney, but it's not quite so! Freezing fat, otherwise known as cryopolysis requires the best fat freezing machine to help with this process. Like liposuction, fat freezing is a non-invasive way of fat reduction that helps eliminate subcutaneous fat cells by applying localized cooling (1).
Dr. Steve Fallek, a board-certified plastic surgeon, says, "CoolSculpting and other forms of cryolipolysis have a high success rate and are non-invasive, which means there is little to no recovery time because there is no damage to the skin or tissue. They effectively remove areas of fat from the body and have fewer side effects than other procedures, such as liposuction."
Top 7 Fat Freezing Machines Of 2023
Pros
Simple operation for home use
Choice of 30-minute and 60-minute treatments
Affordable
30-day money-back guarantee
Cons
None
Price at the time of publication: $99.95
This fat freezer by Fitness Bargains can be used on multiple body parts and efficiently reduces bulges from the problematic areas of the body. This non-invasive, at-home alternative can be used on your abs, thighs, waist, arms, back, and bottom. You can choose a session anywhere between 30 to 60 minutes according to your preference and get a sculpted body. Both men and women can use it.
Pros
Can be used on multiple body parts
Safe to use at home
Cost-effective
Cons
None
Price at the time of publication: $99.95
The Cryofreezr Body Sculpting Freeze System is a non-invasive fat freezing machine that is exclusively meant to tone certain areas of your body. It can be used on your stomach, arms, legs, and thighs. The kit includes protective pads, fastening straps, instructions, and also a diet plan to maximize results. Choose a session duration anywhere between 30 to 60 minutes and get rid of all the stubborn fat. It also has a protective clip that prevents the protective pads from slipping away during the session.
Pros
Quick and easy to use
Comes with a diet plan
Includes protective pads
Cons
None
Price at the time of publication: $99.99
If you are looking for a fat freezer that can be used on multiple body parts, this Freeze Fat Removal Instrument by Filfeel is an ideal option. You can use this on your arms, legs, belly, back, flanks, and anywhere else (except on your face). The machine freezes the fatty area to a point where the fat tissues within can be destroyed. It reaches a maximum cooling temperature of 5 °C. The machine is equipped with an adjustable waist belt for your comfort. The massage time varies between 1 to 30 minutes. It can lift body parts like your buttocks and abdomen for a sculpted look. It also helps increase the body's metabolism, helping you achieve the desired shape in less time.
Pros
Inexpensive
Safe to use at home
Can be used on multiple body parts
Ergonomic design
Displays time
Cons
None
Price at the time of publication: $112
Pros
Lightweight
Easy to use
Functional LED display
Auto shut-off feature
Cons
Price at the time of publication: $79.97
The Fat Freezer Platinum Freezing Belt efficiently targets the body's problematic areas and helps you get rid of all the stubborn fat. It has comfortable and adjustable straps that make it comfortable to wear and target the fat in different areas of your body. It is an at-home device that uses two advanced technologies – Fat Freezing and Therapeutic Theralight – to melt the extra fat. The Theralight technology enables deep penetration, targeting hard-to-reach fat cells. It can be used on any body part below the chest area. To get the desired results, use the device once every four weeks. Check the video to learn all about the Fat Freezer Platinum Freezing Belt.
Pros
Can be used on multiple areas of the body
Dual technology
Adjustable straps
Zero downtime
Cons
None
Price at the time of publication: $139.99
The Colilove Fat Freezing Machine delivers strong cooling power to the treatment site to make the fat cells crystallize and enter apoptosis (cell death). This machine can be used on different parts of your body. It comes with shoulder straps that are especially suitable for slimming tummy, arms, thighs, shanks, lifting hips, and other body parts. Both men and women can use it. The treatment time lasts for up to 60 minutes, and the cooling temperature varies between -2°C to -12°C.
Pros
Improved design
Can be used on different body parts
Comes with shoulder straps
Safe and effective
Cons
None
Price at the time of publication: $699.69
To help you understand more about this unique weight loss technique, we will be discussing the procedure, benefits. Scroll down to know more.
What Is A Fat Freezing (CoolSculpting) Machine?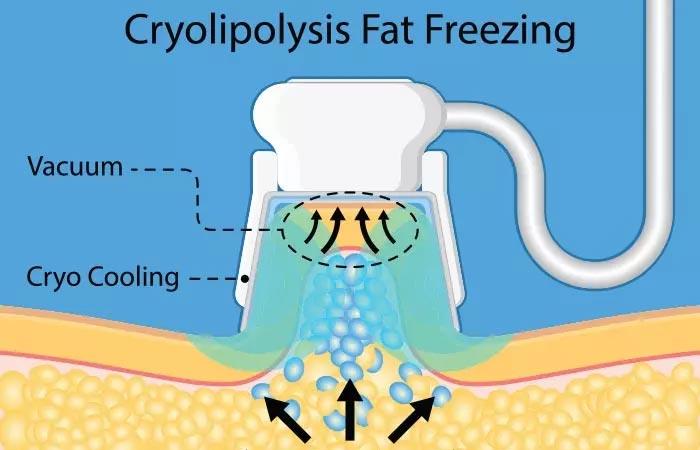 Fat freezing is a non-surgical technique for localized fat reduction. There is an increased risk of complications from more invasive methods like liposuction. Hence, cryolipolysis presents a promising method for non-surgical body contouring (2). Here, fat cells are frozen for a specific duration to eliminate unwanted fat. The slim freeze fat reduction freezer uses concentrated cooling technology to target and destroy the cells. These cells are removed from the body through the natural excretion process. However, what you must note is fat freezing machines help in body contouring and not weight loss.
Many people swear by this non-invasive technique to get rid of their double chin and other unwanted bulges. Here is what a fat freezing machine does to you.
What Does A Fat Freezing Machine Do?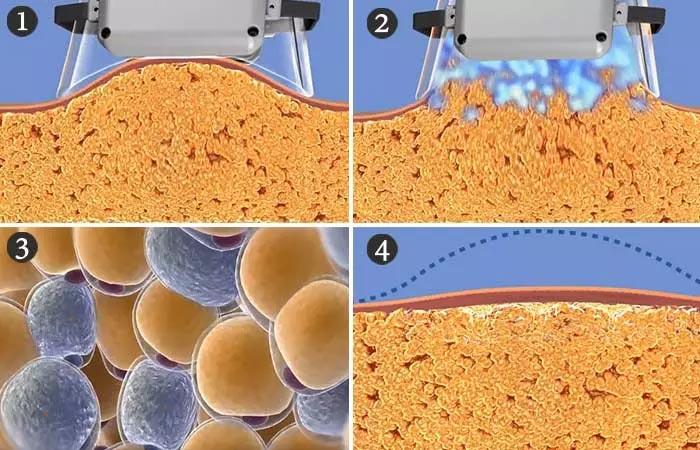 Once the selected area is marked, a gel pad is placed on it to protect it.
The applicator accumulates fat in its vacuumed hollow space.
The temperature inside the applicator lowers to certain degrees and numbs the area, resulting in freezing and disposal of fat cells.
"CoolSculpting and other forms of cryolipolysis use freezing temperatures to break down fat cells. What's unique about this type of treatment is that the cold does not damage other cells in the way it does fat cells, so there should be no damage to the skin or underlying tissue. During the procedure, the practitioner vacuums the skin above the area of fatty tissue into an applicator that cools the fat cells. The cold temperatures numb the area, and some people will report feeling a cooling sensation. After the procedure, it may take around 4–6 months for the fat cells to leave the body. In that time, the area of fat will decrease by an average of 20 percent." says Dr. Fallek.
Now that you know how a fat freezer system can benefit you, let us look at a few of them to help you achieve your desired sculpted body.
Advantage Of A Fat Freezing (Cryolipolysis) Machine over other Fat Reducing Techniques
It is a non-surgical fat reduction procedure.
It can be easily done from the comfort of your home.
There are no potential risks associated with this method.
Multiple areas of the body can be treated at the same time.
Helps you get rid of unhealthy fat.
No damage to the area around the targeted zone.
You can use these machines without interrupting your daily activities.
Painless and does not have any long-lasting side effects.
A study shows that multiple cycles or sessions of CoolSculpting can safely improve the overall treatment effects in body contouring. Greater decreases in skinfold thickness have also been observed (3). One of the many benefits of cryolipolysis is that the fat cells are destroyed immediately, unlike other weight loss programs that take a few days to show results. About 82% of the people who underwent this procedure are likely to recommend this to their friends (4).
While using any at-home fat freezing device, one needs to follow certain precautions. Here are some safety tips.
Safety Tips To Consider While Using Fat Freezing Machines
Use the device in recommended areas of your body only.
Make sure you do not have any underlying health condition that may get aggravated with a fat freezing machine.
Go through the instruction manual carefully before operating the device.
Do not forget to apply the glycerin sheet between the skin and the device to protect your skin from cold burns.
Use the device only for 30 to 60 minutes as recommended by the manufacturer, in one area per session.
Dr. Fallek recommends "talking to a doctor before choosing to have any fat-removal procedures."
Though fat freezing is a low-risk option for removing unwanted fat, it still may cause some side effects. Hence, consult a doctor to help you decide whether it works for you or not. In the next section, we talk about some common side effects associated with fat freezing.
Side Effects Of Fat Freezing
Although cryolipolysis does not involve going under the knife, it does have its share of risks.
When the fatty area is vacuumed, the tugging sensation can be slightly painful.
Besides the uneasiness, you may experience other side effects like minor swelling, redness, tingling, skin sensitivity, and cramps.
The treatment site might feel a tugging sensation.
However, all these side effects are observed immediately after the procedure and will disappear within a few days. In addition, Dr. Fallek says, "CoolSculpting and Coolsculpting ELITE procedures only take around an hour, and patients can get right back to their day following treatment."
Before purchasing any at-home fat-freezing device, here are some important points you should consider.
How To Choose The Right Freezing Machine?
Though most fat freezing machines work on the same phenomenon, the market is flooded with counterfeit products. So, you need to filter genuine products from the fake ones. Go through the reviews on popular e-commerce sites or visit the product's official website. You can also try to contact the company and talk to them. Before buying, check if there is any warranty or money-back guarantee on the product.
Check The Technology Used
There are two types of fat freezing machines – one that comes with gel pads and the other that has a plug-in device. You should choose one depending on your convenience. The gel-pad-based device requires freezing the gel pads before use, while the other can be used by simply plugging it into a socket.
Even if you want to target only one particular area of your body, choose a product that can be used on multiple body areas such as arms, thighs, flanks, buttocks, and belly. This way, you can make full use of the device and get a toned and sculpted body.
That was our list of the best fat freezing machines that can help you achieve a sculpted body. But if you want to look and feel good inside and outside, these procedures alone cannot do the magic. You also must follow a healthy lifestyle.
Why Trust StyleCraze?
Aditi Naskar, the author, has a diploma in health and wellness and specializes in reviewing health and fitness products. She finds fat freezing machines extremely helpful in giving one a toned and sculpted look. She has carefully reviewed hundreds of products to find the most effective ones for her readers.
Frequently Asked Questions
Will I put on weight again after using the fat freezer machine?
Fat cells can shrink or grow, but there is never a risk of them returning on permanent removal. However, that doesn't mean a person can't gain weight. If a person gains weight after using a fat freezing device, they will likely never have the same shape or volume in the treated site again.
How many sessions do I require?
One session is normally enough for smaller areas, but two to three treatments may be necessary if you want to treat a larger area or have a little more fat to address. Generally, most people achieve their desired results after two sessions.
Does it work for obesity?
No, fat freezing is not meant for significantly overweight or obese people. Instead, it is designed to reduce localized fat deposits or bulges that do not respond to diet and exercise.
Is CoolSculpting permanent?
Since the fat cells are killed during the process, the results are technically permanent.
Which machine is best for fat freezing?
Though there are multiple fat freezing machines available on the market, the Fat Freezer Platinum Cryolipolysis System tops our list. It is one of the best machines for fat freezing.
Why is fat freezing popular?
Fat freezing is popular because clinical studies have shown it can effectively reduce subcutaneous fats after just one session.
What is the difference between liposuction and fat freezing?
Liposuction is a surgical procedure that uses a suction technique to remove fat from specific areas of the body. On the other hand, fat freezing is a non-surgical fat reduction procedure that uses cold temperature to reduce fat deposits in certain areas of the body.
Is fat freezing expensive?
Fat freezing is not an expensive treatment because it is a non-invasive and non-surgical method to give your body a sculpted look.