11 Best Waterproof Felt Tip Eyeliners For Bold Winged Eyes
Effortlessly elevate your eye makeup game with intense color and absolute precision.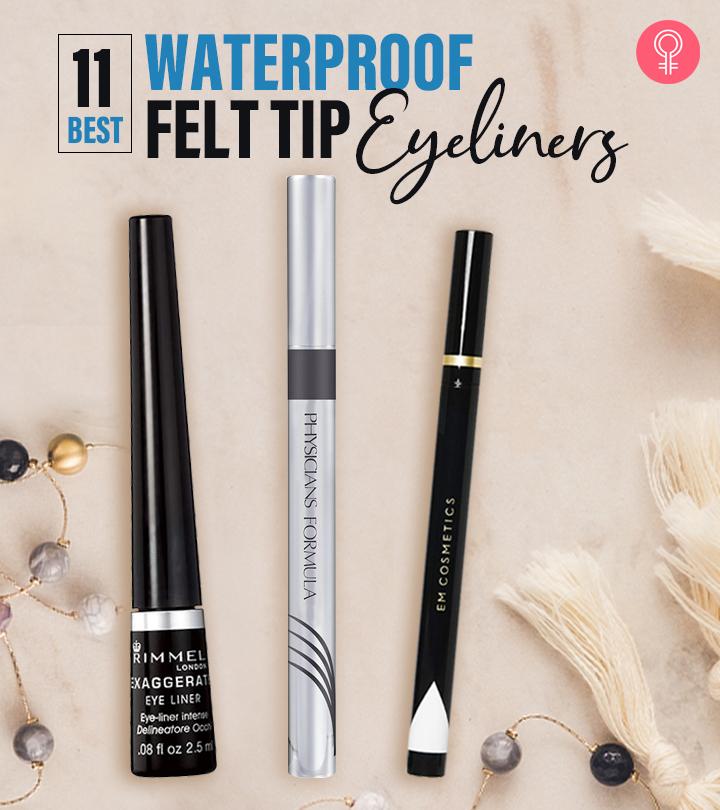 Few things on earth give you satisfaction as great as using the best felt tip eyeliner. Eye makeup has always been the focus of the makeup industry as, no matter how perfect you draw your eyeliner, you have to repeat the same for the other eye. Using the right tools and makeup makes sure you get a professional finish always. Here are the 11 highest-rated felt tip eyeliners to keep you looking like a diva always. So, are we ready to bat those gorgeous eyelids?
11 Best Felt Tip Eyeliners
The Stila Stay All Day Waterproof Liquid Eye Liner helps create thin to thick lines for a dramatic look. The unique gel-formula smoothly glides on your eyelid and dries quickly – leaving your eyes defined. The fine marker-like tip offers precise application. It easily stays on for about 8-10 hours. It goes smoothly without smudging, pulling, or skipping. For more information about the product, click this video.
Pros
Long-lasting
Smudge-proof
Highly pigmented
Multiple color options
Cons
None
Price at the time of publication: $23.0
The Physicians Formula Eye Booster 2-in-1 Eyeliner is a high-tech Japanese formula that helps boost the lash volume. This liquid formula targets the base lashes to enhance the volume from the root. It is easy to use and glides smoothly. It delivers effortless definition. It is long-wearing, water-resistant, and smudge-proof.
Pros
Fragrance-free
Paraben-free
Dermatologist recommended
Safe for sensitive eyes
Suits contact lens wearers
Long-wearing
Smudge-proof
Cons
None
The Eyeko Skinny Liquid Eyeliner features a Japanese precision brush tip inspired by calligraphy. It glides effortlessly on the lashes to boost the volume. The patented brown seaweed extract encourages lash growth for longer. It offers more voluminous lashes in the long run. The finely cut tip draws a thin to thick line smoothly. It provides a waterproof and smudge-proof glossy finish.
Pros
Long-lasting formula
Intense color
Smudge-proof
Glides effortlessly
Perfect for a cat-eye look
Cons
None
Price at the time of publication: $16.0
The Revlon ColorStay Sharp Line Liquid Eye Pen is a highly pigmented jet-black precision liner that adds drama to your eyes. It creates thin to bold lines with its slim tapered tip. The ultra-precise designed tip smoothly glides on to the eyelids without any mess. It stays up to 24 hours and is ideal for daily wear.
Pros
Smudge-proof
Highly-pigmented
Long-lasting
Transfer-proof
Mess-free application
Glides smoothly
Cons
None
Price at the time of publication: $7.48
If you are going for an extravagant, bold-eye look, the Rimmel Exaggerate Felt Tip Liquid Eyeliner is perfect for you. Its felt tip applicator delivers its highly pigmented formula effortlessly. The tapered applicator is comfortable to hold and easy to control. Its smooth and fine texture deposits enough liner to create a perfect line in a single stroke.
Pros
Travel-friendly
Long-lasting
Great color intensity
Cons
None
Price at the time of publication: $11.34
The L'Oreal Paris Voluminous Smoldering Eyeliner is a rich, intense formula with a black ingredient that delivers stunning definition for a voluminous look. The precision tip glides smoothly to give a dramatic cat-eye look. This liquid eyeliner pen has a staying power of about 7-8 hours. It is a great drugstore product and offers complete value for money. It is water-resistant and stays put even on hot, humid days. It looks glossy after application but turns into a semi-matte finish as it dries.
Pros
High definition
Long-wearing
Glides smoothly
Great applicator
Smudge-proof
Easy to hold
Cons
None
Price at the time of publication: $8.97
The NYX Professional Makeup That's The Point Liquid Eyeliner defines your eyes lashes with its fine cut precision tip. The pro-level collection with jet black ingredients provides a satin-matte finish. The unique applicator glides effortlessly to give a cat-eye, and thin to thick sharp-angled paddle-shaped look.
Pros
Cruelty-free
Long-wear
Perfect for everyday use
Cons
None
Price at the time of publication: $10.97
The Milani Eye Tech Extreme Liquid Eyeliner helps create thin, medium, and thick lines. The sleek pen-style eyeliner gives a catchy gorgeous cat-eye or a bold winged look. It is one of the pigmented liners that help create either an intense matte or an ultra-shiny finish. It is a waterproof, transfer-proof, non-feathering, vegan formula that glides smoothly in just a single stroke.
Pros
Easy application
Long-lasting
Smudge-proof
100% vegan
Glides smoothly
Cons
Price at the time of publication: $17.99
The EM Cosmetics Illustrative Felt Tip Eyeliner gives you an effortlessly thin, bold, or dramatic look. Master any line style with this manga or comic art pen in just a single stroke. This a great formulation that dries up quickly and gives you long wear. It is water-resistant and smudge-proof; it stays intact even in hot, humid weather.
Pros
A single stroke would suffice
Fast-drying
Long-wearing
Smudge-proof
100% vegan
Cons
None
Price at the time of publication: $44.0
The Urban Decay Perversion Fine-Point Eye Pen defines eyes with an intense black color. It boasts with an ultimate brush with a precision tip and cartridge system that allows a constant flow of jet black ink to give a gorgeous cat-eye look. It renders a smooth glide on your lash from the inner corner to the upper lash line. It dries up quickly and gives you a matte finish. It has decent staying power and does not flake off or break or smudge (even with a makeup remover).
Pros
Ultra-velvety texture
Smudge-proof
Glides easily
Long-wearing formula
Quick-drying
Cons
None
Price at the time of publication: $22.0
The Lancome Artliner is a felt tipped Liquid Eyeliner with a precision applicator that gives your eyes a gorgeous look. The pointed tip is ideal for wings or cat-eyes. It is highly pigmented and gives satin or metallic finishes. If you want some vibrant look, go with a unique, double film-forming set of polymers. It creates a long-lasting line with a crease-free makeup look.
Pros
Long-wearing
Easy to apply
Smudge-proof
Highly pigmented
Crease-free
Cons
None
Felt tip eyeliners are easier to apply and accentuate your eyes effortlessly. However, it might be difficult to choose the right eyeliners for your eyes as there are too many on the market. So, we are providing a buying guide on how to pick the right felt tip eyeliner for your eyes!
Things To Keep In Mind While Selecting The Right Felt Tip Eyeliner For Your Eyes
Select an eyeliner with an eye-friendly formula enriched with beeswax, coconut oil, almond oil, and apricot kernel oil, which are safe and nourishing. Avoid using eyeliners that include harmful chemicals and harsh ingredients such as formaldehyde, parabens, lead, benzalkonium chloride, prime yellow carnauba wax, and coal.
Make sure the eyeliner you select is long-lasting and smudge-proof. Opt for felt tip eyeliners that do not fade soon and last for hours without running out quickly.
There are various shades and colors available. You must go with shades according to the occasion. For work and daily use, you can prefer a black shade that is very common and offers an elegant look. For parties, you can prefer glitters and colorful eyeliner shades that can offer you a bold and attractive look. You can also prefer blue eyeliners for casual hangouts which are trending nowadays!
Pick eyeliners that work well with your skin tone. If you have fair skin, you can go with bold and bright colors. If you have a darker complexion, black eyeliners with little glitter can offer you gorgeous-looking eyes. You can also make selections based on your eye-color!
If you have dark brown or black eyes, go for colors like black, navy blue, brown and dark gray. If you have hazel or light brown eyes, opt for dark blue, green, or plum shades. For blue eyes, brown shades will definitely compliment your eyes. For green eyes, try purple and violet eyeliner shades.
These are the top 11 felt tip eyeliners. In the following section, we will see why you can prefer felt tip eyeliners to traditional eyeliners.
Reasons To Use Felt Tip Eyeliners
They help draw a fine line on your lids if you are a beginner. The precise applicator will help avoid mess.
A felt tip liner helps define your eyes in much less time. It gives more control if you need to rush.
It has everything you need in one product. It is travel-friendly too.
The soft, precise point easily glides to give a thin or thick or catchy cat-eye look.
The following section shows you how you can use a felt tip eyeliner like a pro.
How To Use Felt Tip Eyeliners
Prep your liner by shaking the pen and removing the cap. This would expose the applicator.
Position the felt tip into the inner side corner of the eyes and begin with a small stroke. Start with a thin line initially and make it thicker as you go on.
Continue to line the lash liner with short, steady strokes.
Extend the line past your lash line to draw precise, bold wings.
A high-quality felt tip eyeliner helps you perfectly draw thin or thick lines on your lashes. This waterproof and smudge-proof liquid liner helps glide over to create a smooth line. You just have to draw a line like you use a marker pen. Choose your favorite eyeliner from this list today.
Why Trust Stylecraze
Baishali Bhattacharya is a skilled product writer who is certified in Makeup Techniques. Her expertise ensures that she performs in-depth research to select dependable makeup products with a long-lasting effect. The best felt tip eyeliners in this list have been selected due to the positive user reviews. Here, she has listed the pros and cons of each product while highlighting its features. In addition, Baishali has also offered tips on using a felt tip eyeliner for her readers.
Frequently Asked Questions
Is a felt tip liner easy to use?
Yes, a felt tip liner is easy to use both for beginners and experts
How long does a felt tip liner last?
A high-quality felt tip liner gives long makeup wear and lasts for upto 8-16 hours.
How do you rehydrate a felt tip liner?
Just open the end of the liner and pull out the little felt rod. Dip it into water for a few minutes to rehydrate it.
Is felt tip eyeliner the same as liquid eyeliner?
No, felt tip eyeliners are more convenient, user-friendly, and smudge-proof. They offer better bold lines and a dramatic flair to your eyes.
How do you keep felt tip eyeliner from drying out?
You can keep your felt tip eyeliner from drying out by using an airtight seal. Make sure you do not keep your eyeliner out in the open when you are not using it. Close the cap of the eyeliner all the way and do not allow any air to sweep inside.
Which is better for skinny lines – a felt tip or a brush tip eyeliner?
Brush tip eyeliners are mostly used for skinny lines. Felt tip eyeliners offer dramatic bold lines.
Recommended Articles