7 Best Filter Coffee Makers Available In India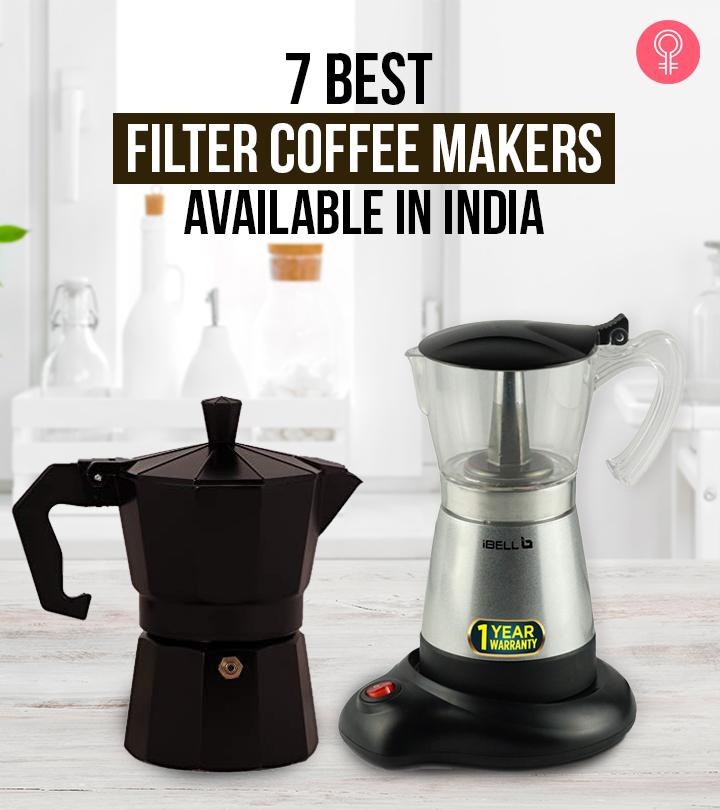 Most of us start our day with a cup of coffee. It improves the mood and enables us to concentrate better on our activities. Preparing your cup of coffee takes time and can be tedious, especially during hectic schedules. This is when a filter coffee maker comes in handy. You get to brew your coffee by adjusting the strength, flavor, milk, cream, and sweetness just the way you like it. With the hundreds of coffee maker brands on the market, it can be overwhelming to find the right one that meets your coffee needs.
We have a list of the 7 best filter coffee available in India that can make you a fresh cup of coffee to get you going in the morning. Scroll down to find them below.
7 Best Filter Coffee Makers Available In India
This Italian filter coffee maker by Bialetti is made of high-quality polished aluminum that adds to its efficiency, performance, and durability. This appliance is one of the best filter coffee makers in India and is designed in the classic Bialetti octagon shape that gives your kitchen a stylish and sophisticated look. The eight-sided shape improves the aroma and taste of the coffee by diffusing the heat. This filter coffee maker uses ground coffee to give you a freshly brewed beverage. The capacity of this filter coffee maker is about 4.4 ounces, sufficient to fill up two espresso cups.
Specifications
Weight: 0.51 kg
Capacity: 130 mL
Material: Aluminum
Pros
High-quality material
Ergonomic design
Patented safety valve
Easy to use
Easy to clean
Sturdy
Convenient to disassemble
Cons
Expensive
Not dishwasher-friendly
The filter coffee maker from Kitchen Mart is made of premium-quality stainless steel and can make two cups of coffee. It is ideal for brewing hot cups of authentic and aromatic South Indian coffee. It takes about 10 to 12 minutes for the coffee decoction to prepare and percolate below. The plunger features even holes that give you great-tasting fine coffee. The pack comes with a lower and upper vessel for the coffee, plunger, and lid.
Specifications
Weight: 0.12 kg
Capacity: 150 mL
Material: Stainless steel
Pros
Easy to use
Easy to clean
Durable
Sturdy
Value for money
Cons
The plunger holes might get blocked.
This South Indian filter coffee maker by Jayanthi can make approximately four to six cups of coffee. It is made of superior 304-grade rust-proof stainless steel material. This ensures high performance and durability. The edges are smooth and highly polished, making them easier to clean and maintain. The operation of the coffee maker does not require expert knowledge, and it can be handled by anyone.
Specifications
Weight: 0.2 kg
Capacity: 200 mL
Material: Stainless steel
Pros
Dishwasher-safe
Easy to use
Portable
Durable
Sturdy
Cons
Becomes too hot to handle.
The filter coffee maker machine from iBell runs on electricity and is made of food-grade, durable aluminum. The opening of the device is quite wide, enabling you to add the ground coffee easily. The bottom chamber is equipped with a pressure valve into which water is poured. A perforated coffee basket holds the ground coffee that is loosely packed. The brewed hot coffee collects in the top chamber from which it is poured out. The filter coffee maker can be used to make coffee both indoors and outdoors. It is suitable for making both French roasts and flavored coffee.
Specifications
Weight: 1.13 kg
Capacity: 1200 mL
Material: Aluminum
Pros
Ergonomic handle
Non-reactive interior
Cordless
Noiseless
Easy to use
Easy to clean
Cons
The 3D Creations Filter Coffee Maker is made of aluminum and can brew three cups of coffee. It is one of the cheapest filter coffee makers available online, and it features a lid with a sturdy knob, handle, and filter basket. The upper chamber collects the brewed coffee, while the filter basket holds the finely ground coffee. The interiors do not react with the contents or transfer unwanted odors, flavor, or taste to the coffee. The water tank below holds the water required to make the coffee and is also responsible for keeping the machine cool. A safety valve is provided at the side to release any excess pressure built up.
Specifications
Weight: 0.27 kg
Capacity: 150 mL
Material: Aluminum
Pros
Easy to use
Easy to clean
Stain-resistant
Lightweight
Cons
Breakable handle
Does not heat evenly.
This filter coffee maker is made of stainless steel and can brew up to six cups of coffee. The entire body of the coffee maker is silver, highly polished, and lightweight. It is one of the best filter coffee makers for the home, featuring a fine mesh that filters out the decoction to give you delectable coffee every time. You need to add filter coffee powder and boiling water to the upper chamber. The decoction drips down into the lower chamber. Add milk to the coffee decoction to get authentic south Indian-style filter coffee.
Specifications
Item Weight: 0.225 kg
Capacity: 400 mL
Material: Stainless steel
Pros
Rust-proof
Easy to clean
Durable
Convenient to handle
Wide chambers
Value for money
Cons
Loose top cap
Dirt accumulates on the percolator.
This Indian filter coffee maker from CooPany brews two cups of excellent drip filter coffee. It is suitable for couples and small families and is ideal for making South Indian filter coffee. The coffee maker is made of high-quality stainless steel and has two chambers – upper and lower. You need to add filter coffee powder and boiling water to the upper chamber, which blend well and drop into the lower chamber as coffee decoction. The lid traps in the heat, enabling the coffee to be strongly aromatic and flavored.
Specifications
Item Weight: 0.4 kg
Capacity: 125 mL
Material: Stainless steel
Pros
Rust-resistant
Stain-resistant
Dishwasher-friendly
Easy to handle
Ideal for small families
Cons
Now that you know about the best filter coffee makers, here's how you can make that perfect cup of coffee with it.
How To Use A Filter Coffee Maker
1. Add The Coffee Filter
Coffee filters are of different types and serve various purposes. Choose those that are natural to get the best brewed coffee. Generally, coffee makers have a mesh filter with which your coffee is finely filtered out. These mesh filters are easier to clean with running water as and when you need them.
2. Measure Your Coffee
The coffee powder that you add to the coffee maker depends on how many cups of coffee you need. It also depends on the capacity of the appliance and the coffee type.
3. Water Measurement
Most coffee pots have markings on the side to measure the amount of water you need to make the coffee. You have to pour the water through the opening in the water chamber. However, it is essential to follow the instructions provided by the manufacturer of the coffee maker.
4. Plug In The Coffee Maker To The Power Outlet
To prepare the coffee with the unit, you require an electrical power source. Plug in the filter coffee maker machine into the power outlet and then switch it on. Also, turn on the required settings on the controls, depending on your need.
5. Wait For The Required Brewing Time
Every cup of coffee needs to be brewed for a specific time to bring out its original and authentic taste, flavor, and aroma. It might seem that it is taking forever to brew; however, having the patience will be worth the wait. For this purpose, some coffee maker brands have also provided the pause button for those times when you can't wait to drink your coffee.
6. Clean The Coffee Maker
Filter coffee maker tends to accumulate sediments and stains with regular use. If you leave it for a long time without washing it, the residues get too stubborn. It becomes difficult to clean, consuming a lot of time, energy, and cleaning detergent.
There are several brands in the market offering filter coffee makers with various features. When buying a coffee maker for yourself and your family, here are few things you need to keep in mind.
How To Choose The Best Filter Coffee Maker
If you are looking forward to a delectable cup of coffee, choose a filter coffee maker that comes with a brew basket. The brew basket is where the coffee powder blends well with hot water to give you the taste, flavor, and consistency that you need.
Choose a coffee maker based on your family's needs. A small capacity coffee maker is ideal for small families and couples. On the other hand, larger families need a coffee maker with greater brewing output.  You will find coffee makers with various brewing sizes – from single and double cups to those for families. The maximum capacity of filter coffee makers ranges between 10 to 12 cups.
A filter coffee maker's capacity is not just about quantity but also the time that it takes for brewing it. Usually, it takes around 15 to 45 minutes to brew a perfect cup of coffee.
Coffee Flavor And Strength
Every family member has different preferences regarding the flavor and strength of the coffee. Choose a coffee machine capable of giving a stronger or lighter brewed output. Some coffee makers are specially designed to make a fancy cappuccino, espresso, and more.
Heating plates are commonly found in most coffee makers. Select one that allows you to control the temperature settings on the coffee maker. This enables you to control the extent of heat required to make your favorite cuppa.
Customized Brewing Options
Smart features in a filter coffee maker come in handy when brewing coffee at home. This enables you to set the temperature, brew strength, style, and time as per your preferences.
Safety during the operation of the filter coffee maker is of prime importance. Check out for safety mechanisms that prevent leakage, injuries, and mishaps in the kitchen. A good coffee maker breaks the circuit when there is an overload and thus reduces the chances of a shock.
Most coffee makers have detachable units to ensure easy cleaning. The separate pieces are easier to clean, maintain, and wash in a dishwasher.
Some of the additional features of filter coffee makers include auto-shut off, keep warm settings, coffee bean grinding, milk frothing, adding sweeteners, and more. These features add to the convenience of the user.
Coffee makers are a must-have in your kitchen if you love sipping a perfect cup of coffee. This easy-to-use kitchen essential can get your coffee done in no time, especially when you find it challenging to do it yourself in the morning. Whether you crave a regular brewed coffee, espresso, filter coffee, cappuccino, or a mocha, a coffee maker can do it in a few minutes. So, take your pick from our list of the best filter coffee makers in India and enjoy a cafe-like experience at home.
The following two tabs change content below.