10 Best Filtered Water Bottles – 2020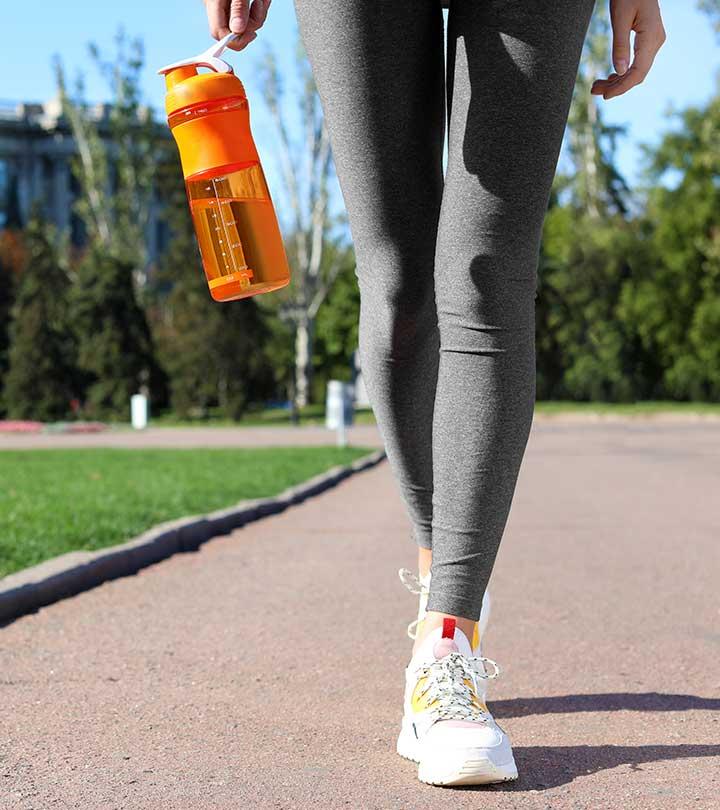 With increasing awareness about the damaging effects of plastic on the environment, more of us are becoming aware and conscious about lowering our carbon footprint. Single-use plastic, such as disposable water bottles and plastic shopping bags, features among the biggest culprits in this regard. And, for a good reason.
Plastic water bottles are readily available, convenient to use, and give you access to safe drinking water no matter where you go – whether hiking in the outdoors or traveling abroad. But with every plastic bottle that you use and then discard, you are contributing to a massive amount of environmental pollution. That's why some lifestyle changes are necessary if we want to save our planet.
How about carrying your water from home? It may work sometimes, but mostly, it is a bulky and inconvenient solution. A filtered water bottle is a far better choice. These are simple water bottles that come with an inbuilt filtration system. Just fill the bottle with regular tap water (or water from a lake or stream in the case of some high-performance models), and enjoy safe and tasty drinking water on the go. Neat, right? Take a look at some of the best filtered water bottles below and read on to learn more about purchasing one.
Top 10 Filtered Water Bottles – 2020
LifeStraw Go Filtered Water Bottle is among the most popular products out there in this category. This model comes with double filtration technology that ensures you get safe drinking water no matter where you go. A microfiltration membrane traps bacteria, parasites, and microplastics, and can filter up to 1000 gallons of water before it needs to be changed. The activated carbon filter, treated with oxygen, absorbs other contaminants and lasts up to 26 gallons of water with proper use and maintenance.
This filtered water bottle protects you against chlorine, bad odor, turbidity, organic chemical water, and bad taste. The durable 22 oz water bottle is ideal for camping, hiking, and travel emergencies. Fill up from a nearby stream and enjoy safe drinking water on the go.
Pros
Removes 99.999% of waterborne bacteria
Made using BPA-free Tritan
Food-grade silicone mouthpiece
Filters are easily replaceable
2-stage filtration technology
Suitable for daily use and travel emergencies
Lightweight and travel-friendly
Cons
None 
Brita Premium Filtered Water Bottle contains an activated carbon filter that takes care of the chlorine, foul taste, and bad odor that may be present in tap water. It filters tap water as you drink, offering safe and great-tasting water with every sip. The double-wall insulated stainless steel makes sure that your drinks stay cold for up to 24 hours.
The one-handed push-button lid and in-built straw provides you with effortless hydration no matter where you are – at home, at the office, at a sporting event, or traveling abroad. However, it may not be a good idea to take this bottle along on camping trips because the filter is designed to purify tap water only and not water from other sources.
Pros
Activated charcoal filter
Made using durable stainless steel
Leakproof lid
Fits in most cup holders
Stays cold for 24 hours
Filters water up to 40 gallons
Travel-friendly carrying loop
Cons
Not suitable for natural water 
Kor Nava Filtered Water Bottle is the ideal product for those who hate to compromise on the taste or quality of their drinking water, even on-the-go. The straw here is made using 100% pure coconut shell and features a health-safe carbon activated filter that is certified to safely remove chloramines, chlorine, foul odor, and bad taste found in tap water.
The durable water bottle is made of Eastman Tritan polyester, which is FDA-approved and health-safe. The hands-free push-button cap with Easy-Flow technology gives rapid water flow anytime you need it, without having to apply unnecessary pressure. The size is perfect for carrying around in your backpack, gym bag, or tote without worrying about leakage. 
Pros
Made from BPA-Free Eastman Tritan polyester
Activated carbon filter
Travel-friendly size
Leak-proof design
Certified to NSF 42 standard
Hygienic cap design
Cons
The mouthpiece is not easy to clean. 
Grayl Ultralight Water Purifier + Filtered Bottle is the perfect choice for outdoor adventures, global traveling, backpacking, hiking, camping, emergency preparedness, and survival. It removes 99.9999% of viruses, 99.9999% of disease-causing bacteria, and 99.999% of protozoan cysts. You are also protected against particulates, heavy metals, and many chemicals.
The water you drink from a Grayl bottle has zero aftertaste, no bad odor, no foul taste, and is both clean and clear. The only downside is that the Grayl bottle is a premium product and is  priced accordingly. However, the investment is worth it if you consider the number of plastic bottles (and dollars) you cut down on by not having to purchase packaged drinking water when traveling. 
Pros
Uses dual-filtration technology for safe water
Provides clean drinking water in 15 seconds
Travel-friendly design
Made from BPA-free, food-grade silicone
Comes with a 10-year warranty
Replacement purifier cartridges are readily available
Cons
Bottled Joy Filtered Water Bottle is the ideal budget option for those seeking safe, filtered water without splurging on fancy brands or flashy packaging. It provides a replaceable food-grade 2-stage filter that works brilliantly on fishing and camping trips, as well as when you go hiking, backpacking, or hunting. The reusable BPA-free bottle is also suitable as part of emergency kits.
As part of the first stage of filtration, an advanced hollow fiber membrane removes microplastics and reduces turbidity. The second stage activated carbon filter eliminates chlorine, bad odor, and leaves zero aftertaste, so all you get is safe, pure drinking water. As for the environment, rest assured knowing that a single filter is more than a match for 400 standard 17oz single-use plastic bottles. 
Pros
Premium 2-stage filtration system
Leak-proof lid
Made using BPA-free Tritan
Easy-sip straw included
The filter is easily replaceable.
Lightweight and travel-friendly
Cons
Not convenient to drink from 
The Seychelle Extreme Filtered Water Bottle is a must-have for those who are serious nature and outdoor enthusiasts. Whether you are hiking, camping, or backpacking, this bottle fits perfectly with the rest of your adventure gear. It is a high-quality portable water purifier that lets you enjoy safe and great-tasting water, no matter where you are.
The Seychelle Extreme can purify water from almost any contaminated source and remove bacteria, viruses, and radiological contaminants. It also eliminates any foul odors, bad taste, silt, cloudiness, and chlorine. It contains two filters for maximum purification – the first is a positively charged iodinated pre-filter, which attracts negatively charged contaminants, while the second is an activated carbon filter to take care of taste and smell. Both filters are germicidal and antibacterial.
Pros
BPA-free
Filter capacity up to 100 gallons
Travel-friendly design
EPA-compliant
FDA-approved
Cons
Design is not leakproof.
The mouthpiece may have a faulty mechanism. 
Sawyer Filtered Water Bottle is yet another extreme water filter that can purify all kinds of questionable and contaminated water up to a capacity of 100,000 gallons. It makes no difference whether the water source is a lake, a stream, or a faucet – it gives you safe drinking water just the same.
The filter in this bottle has a small hollow fiber membrane that lets water in through tiny micro-pores. It gives you 0.1-micron absolute filtration, making it impossible for microplastics, protozoa, harmful bacteria, viruses, or cysts to pass through. Another reassuring fact about this bottle is that Sawyer tests the performance of every single filter three different times during manufacturing for optimal safety and protection.
Pros
Removes 99.99999% of all bacteria
Removes 99.9999% of all protozoa
Lightweight
Travel-friendly
BPA-free 
Cons
Expensive
May cause leaks in some cases 
Thermos Filtered Water Bottle gives you purified water as well as quality assurance that comes with using a branded product. It reduces impurities like chloramine, chlorine, atrazine, as well as bad taste and foul odor. However, it does not filter fluoride. The NSF certification guarantees that the filter complies with all standard requirements.
The bottle has a unique gravity-fed filtration method, which lets water pass through naturally, giving it more time in the filter so that you can enjoy safe and pure water. The open spout makes for easy drinking, without the need for forceful squeezing or sucking. It is important to note that this filtered water bottle does not purify microbiologically unsafe water. Avoid using it on water from natural or unknown sources, without sufficient disinfection. 
Pros
NSF/ANSI 53 certified filter
Innovative gravity-fed filtration method
Filter capacity up to 22 gallons
Made from BPA-free Eastman Tritan copolyester
 Cons
The sticky label on the cover is difficult to remove.
The filter may leak some carbon particles into the water. 
Jttvo Filtered Water Bottle is perfect for camping, hiking, backpacking, and any other emergency preparedness. The bottle features an advanced 4-stage filter that delivers high-performance using four levels of filtration. These are a medical-grade hollow fiber UF membrane, an activated carbon filter of coconut shell fibers, antibacterial beads, and medical-grade PP cotton.
It can reduce chlorine in tap water, improve the taste of your drinking water while also protecting you against harmful chemicals, heavy metals, and protozoa. The filter is both durable and easily replaceable – it can filter water up to 1500 liters or almost six months of continuous use.
 Pros
Built-in compass
4-stage advanced filtration
Easy-to-use
Cons
Flimsy parts
May leak unless placed upright
Filter performance sketchy in some cases. 
SurviMate Filtered Water Bottle is similar in design and technique to the Jttvo bottle featured above. It has the same 4-stage advanced filtration system. The bottle is made using food-grade Tritan Copolyester and also helps eliminate bad smells, giving you great-tasting, safe drinking water with every sip.
The filter need not be replaced for up to 1500 liters, or up to a year of continuous usage. Like the Jttvo, SurviMate also features a built-in compass on the top, which comes in handy when you are hiking outdoors.
Pros
BPA-free
FDA-approved
Heat-resistant 
Cons
The filter may not last very long.
Design is not leakproof.
Water may have a plastic taste. 
How Does A Filtered Water Bottle Work?
For most filtered water bottles, there is an in-built filtration system that makes the bottle easy to use. While the designs may vary in specific details across different models, the primary feature is that these filters purify the water as soon as you start drinking.
Most filters contain activated carbon that removes a minimum of chlorine, heavy metals, bad taste, and foul odors from water. Some more advanced purification systems can also handle harmful chemicals and biological contaminants, such as bacteria, viruses, and protozoa.
The main aim of the design of a filtered water bottle is to give you access to safe drinking water wherever you go. This could be while hiking in the countryside or traveling abroad, especially in places where the tap water is unreliable.
If you are still on the fence about switching to a filtered water bottle, here are some fantastic advantages that will change your mind. Read on.
What Are The Benefits Of Using A Filtered Water Bottle?
Pricing
It's pretty straightforward – while a filtered water bottle may seem like an investment in the beginning, it pays back a lot more in return when you realize how much you save by not having to purchase bottled water again and again.
Environment
Filtered water bottles are a lot kinder to the environment by reducing your plastic usage. They reduce your carbon footprint and make you a more ecologically conscious citizen of this planet we call home.
Convenience
While bottled water is an easy option, the truth is that there are many places you could go where there's no store to purchase water from, for miles around. Think camping in the woods or hiking in the wilderness. A filtered bottle not only comes in handy but is a lifesaver in these situations. You can fill up from the nearest stream, and safe water is just a sip away!
Health
From a health perspective, a filtered water bottle is a safe bet if you want to stay protected against unknown chemicals or harmful bacteria, especially when you are forced to drink water from questionable and untreated sources. Invest in one, and your stomach will thank you later.
Taste
With all the impurities a water filter removes, the water you end up drinking undeniably tastes better and more refreshing. There is no peculiar aftertaste, especially of chlorine, which sometimes makes tap water taste funny.
Are you all set to purchase a filtered water bottle now? Wait a minute. Read up on some things you should keep in mind before choosing the best filtered water bottle for yourself.
Things You Should Consider When Buying A Filtered Water Bottle
Purpose
Think about why you need a filtered water bottle – what are you going to use it for? If it is mainly intended for indoor use, such as tap water at home or the office, an ordinary activated carbon filter is enough. It can handle contaminants like chlorine and improve the taste and smell of your water.
But if outdoor activities, such as camping and trekking, are your thing, and you need access to filtered water for sheer survival, a more advanced filtration bottle would be a wise choice.
Price
As with any purchase, it is smart to fix on a budget while researching your options. Apart from the one-time payment that you make on the initial investment, you also have to invest in replaceable filters later on. Hence, keep in mind how often the filters need changing and how that is going to affect your budget in the long run.
Durability
Your chosen water bottle must be made of high-quality, durable material, such as BPA-free, food-grade plastic, or Tritan copolyester. It should be strong enough to not bend or break after a few uses. Also, make sure that it doesn't leak as that can be cumbersome to put up with in the long run. Some products come with a warranty that lets you replace broken parts easily.
Type Of Filter
The purpose of your purchase directly impacts the type of filter your bottle will contain. Some models feature a single carbon filter that is more than capable of purifying ordinary tap water. But there are more advanced models in the market – with a 2-stage or even a 4-stage, purification system. Look at the options, do your research, and pick one best suited for your needs.
These are the best filtered water bottles that you can rely on for safe and tasty drinking water on the go. We hope the buying guide comes in handy and helps you make an informed choice.  Whatever water bottle you end up choosing, don't forget to stay hydrated!
Expert's Answers for Readers Questions
Can the filtered water be stored?
Yes, it can be stored. But remember to keep the container away from direct sunlight, and make sure to consume this water within a day.
Are filtered water bottles dishwasher safe?
Most filtration bottles are completely safe for cleaning in the dishwasher, but several brands recommend putting them on the top rack only to avoid damage. If you have any doubts, check the manufacturer's instructions to be safe.
Can a filtered water bottle be put in a fridge or a freezer?
This is not recommended, especially if your bottle does not have a removable filter. Freezing will damage the filter membrane and affect the purity of the water you drink. If your filter can be removed, however, you can easily store it in the fridge and enjoy cold water whenever you want.