8 Best First-Aid Kits To Keep You Emergency-Ready – 2020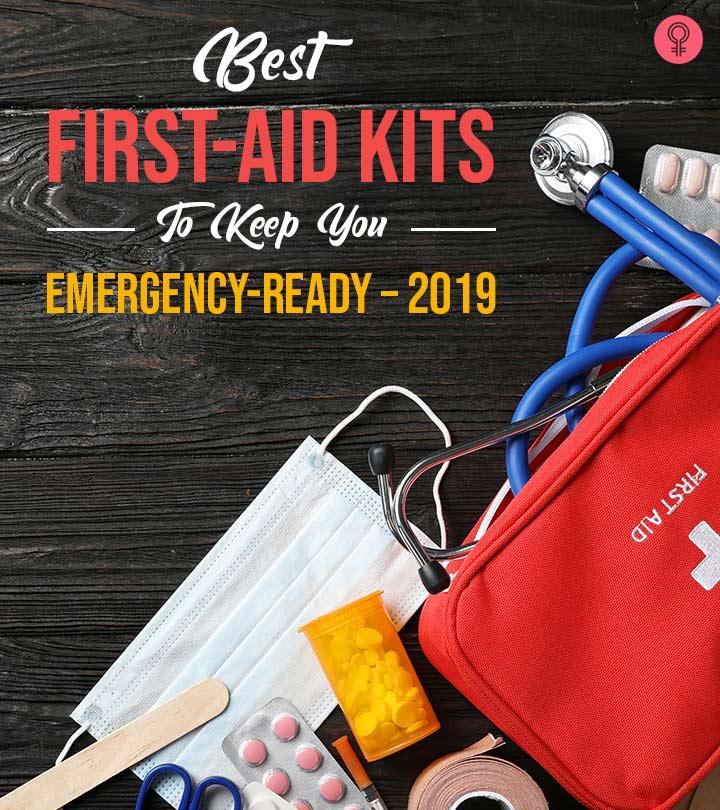 A well-stocked first-aid kit is a must to deal with minor accidents and injuries. A first-aid kit contains supplies and equipment that are used to provide emergency medical care. Stocking up on first-aid supplies is not just a good idea but a necessity. You never know when it may come in handy. You can assemble your first-aid kit in any container. As it contains medical supplies, it should be locked and kept in a cool, dry place out of the reach of children. The supplies of a first-aid kit can vary depending on its use.
Read on to know the basics in a first-aid checklist, how to use a first-aid kit, and how to store it. Also, check out our top 10 best first-aid kit picks and choose the one that is best for your needs.
Let's understand a few basics before we move on to the list.
How To Use A First-Aid Kit
It is essential to learn how to use the supplies in your first-aid kit, especially the medicines. You should train yourself as well as your family members.  Here are a few points you should bear in mind while using a first-aid kit:
Always keep an up-to-date first-aid manual.
Keep the emergency phone numbers handy.
Make sure to use latex gloves to avoid contact with the bodily fluids of others.
Check your first-aid kit twice a year and replace all the expired medicines.
Where To Store Your First-Aid Kit 
Avoid keeping your kit in a hot and humid environment. Keep it away from direct sunlight. The best place to keep a first-aid kit in your kitchen as most family activities take place here. Do not store your first-aid box in your bathroom as too much humidity will shorten the shelf life of the items. A travel first-aid kit should be kept in a suitcase, backpack, or dry bag, depending on the activity.
It is recommended to keep the first-aid supplies in a container that is clean and waterproof to keep the contents safe and aseptic. Let us now take a look at the best first-aid kits.
The following are first aid kit list that you need to know:
Hiking first aid kit
Red Cross first aid kit
Emergency first aid kit
Automotive first aid kits
Best First Aid Kits Of 2020
This all-purpose first-aid kit prepares you for any potential emergency at home, office, or while you travel. It contains all essential first-aid supplies that are ideal for treating pain and swelling, as well as cuts, scrapes, and burns. The clear plastic liner in a nylon case helps to organize the supplies and facilitates easy access to first-aid supplies in case of emergency. The soft-sided, zipper case is ideal for home, travel, and on-the-go use.
This kit contains fabric and plastic adhesive bandages for minor cuts, abrasions, and puncture wounds. It contains burn cream and cold packs to soothe minor burns, sunburns, scalds, and abrasions. It also contains painkillers to provide temporary relief from minor aches and pains associated with the common cold, headaches, muscle aches, backache, or arthritis.
Apart from this, it also includes a disposable thermometer, a finger splint/tongue depressor, a first-aid guide, nitrile exam gloves, scissors, tweezers, and a few other medical supplies.his product is assembled in the USA and recommended by healthcare professionals.
Survivewear first-aid kit is made of 600 D polyester and is the most durable bag on the market. Each of the sleeves inside the bag is organized by category so that during an emergency, you get the right thing quickly. This camping first aid kit contains 100 essential life-saving items. This kit weighs only 1 pound and measures 5.5*75*3.5 inches to fit in your car's glove box. The MOLLE compatible straps allow you to wear it on other bags or your belt.
This kit is portable and easy to carry in your backpack, truck, RV, motorcycle, or during hiking or cycling. The bag is water-resistant. All the inner items are protected from water in durable zip-lock laminate baggies. This means that your supplies are safe during water-based travel or water sports activities as well. Each inner sleeve is labeled according to its function. This makes it easy to find the right supplies during times of emergency.
A separate zip pouch is provided for your prescription and medication. This is an FDA-approved first-aid medical kit. It has gone through rigorous testing that ensures all items in the kit are safe for you and your family. This kit has all that you need on your next outdoor adventure.
MediKit Deluxe First Aid Kit contains essential first-aid supplies for your home, sports, travel, camping, and workplace. This premium kit features 115 essential first-aid items. The robust emergency kit is a must-have for family vacations as well as adventure travel.
This first-aid box is perfect for scout troops, youth groups, church groups, recreation league sports teams, etc. It features medical supplies recommended by emergency medical technicians, and it gives you everything that you need to clean and bandage cuts and scrapes, relieve sprains and insect stings, remove splinters, and soothe minor burns.
This trauma kit also includes the essentials for giving CPR and warming a shock victim. This kit also features sterile eyewash, conforming bandages in assorted sizes and shapes, adhesive plasters, first-aid tape, wound dressings, crepe bandaging, an instant ice pack, a thermal blanket, a non-adherent pad, knuckle and fingertip fabric strips, elbow and knee bandages, safety pins, gloves, tweezers, and scissors in a long-wearing nylon bag. This durable nylon bag kit is easy to carry and is the best basic first-aid kit on the market. 
The SWISS SAFE Mini First Aid Kit is a compact and lightweight first aid kit that is 9 inches wide and weighs 1.2 pounds. This kit fits perfectly under your sink, closet, car glove box, office desk, or backpack. This kit has been intelligently organized with all essential first aid items for the most common emergencies.
It is ideal for the home, traveling, office, outdoors, and emergency preparedness. It includes a comprehensive 18-page first-aid guide to assist you to administer first-aid correctly in a wide range of emergencies. This premium first-aid emergency kit contains 120 medical-grade items. It features a mini first-aid kit, which is amazingly small, lightweight with additional 32 medical items.
Here's a full list of its contents: 30 medium bandages, 6 antiseptic wipes, 10 mini bandages, 10 alcohol prep pads, 4 knuckle bandages, 4 sting relief pads, 4 fingertip bandages, 4 butterfly bandages, 1 moleskin blister relief, 2 disposable PVC gloves, 1 first-aid tape, 1 CPR mask, 1 trauma shears, 1 emergency glow stick, 1 metal tweezers, 1 sewing kit, 1 whistle, 1 compass, 5 sterile gauze pads, 1 triangular bandage, 1 large trauma pad, 1 emergency blanket, 20 cotton tips, 1 elastic bandage, 6 safety pins, 1 instant ice pack, and 1 first aid guide.
The mini first-aid pouch contains 10 medium bandages, 2 alcohol prep pads, 2 sting relief pads, 1 non-woven pad, 10 cotton tips, 1 sterile gauze pad, 1 first-aid tape, 4 safety pins, and 1 CPR mask.
This kit makes for a perfect college first aid kit as it is individually assembled and specially created for the specific needs of college students. It is developed by a college clinic nurse practitioner. The kit is comprehensive, well-organized, and affordable for college students.
It contains over 30 different medications, creams, ointments, drops, tools, and wound care supplies. This kit provides you with the best defense against cough, cold, fever, fungus, stomach aches, headaches, muscle aches, burns, cuts, scrapes, bug bites, allergic reactions, and more.
If you are a student and are looking for a comprehensive yet affordable first-aid kit, this kit is your route to a healthier, safer, and smarter college life.
The Johnson & Johnson First Aid Kit contains 70 medical-grade items. This medical kit is portable and easy to carry. It is ideal for storing in a car or luggage. It features medical supplies that help clean cuts and scrapes and prevent wound infection.
It includes a variety of adhesive bandages in assorted sizes, antibiotic ointment, cleansing wipes, and gauze pads. The medical supplies in the kit belong to premium brands, such as BAND-AID® Brand Adhesive Bandages and NEOSPORIN®.
The Be Smart Get Prepared 100-Piece car First Aid Kit stores medical supplies in a rugged, sturdy, high-density plastic case that is impact-resistant. This feature makes this kit the perfect option for your car. The hard case will withstand the consistent travel and use, and the kit will stay secure even when tossed about in the car while you drive on rough terrain.
This first-aid kit meets the United States FDA Regulatory Standards as a medical device. The fully organized interior compartments provide quick access. This kit is compact and measures 7.5″ x 2.5″ x 6.8″, is portable, and can easily fit anywhere. The easy-slide latches securely lock the contents of the kit when not in use.
MFASCO First Aid Kit is packed with emergency response supplies that are perfect for earthquake, tornado, or as a natural disaster preparedness kit. Each bag of this medical kit is carefully curated to include emergency diagnostic tools like a blood pressure cuff and stethoscope to help check the victim's vitals, a CPR mask for safe administration of CPR during emergencies, a pair of EMT scissors to remove and cut through clothing so wounds can be checked, a rescue blanket that helps to provide warmth to victims and prevent shock, and glucose gel to use in the event of an insulin reaction.
This bright orange EMT style first-aid bag features reflective strips on both the ends of the bag, which makes it easy to locate the bag even when it is dark. The sewn handle on top makes it easy to carry around. The supplies are arranged in a logical manner and are packaged and separated in a way that makes it easier to locate the supplies you need quickly.
A first-aid kit is a must-have, whether at home, office, college, or travel. It is an effective way to handle medical emergencies. We have selected the above list of products, keeping in mind the varied purposes for which an individual is going to use the kit. It is recommended to keep a manual handy, especially when you are on the go. Also, keep checking your kit supplies every six months and replace the items which are damaged or medicines that have expired.
The components of the first-aid kit you plan to assemble will depend on the purpose. The supplies for a home kit will be different from a travel kit. Let's check out what the necessary supplies are that you need to stock up for your home and travel kit, respectively.
First-Aid Kit Checklist
Home First-Aid Kit Basics 
Up-to-date first-aid manual
Sterile gauze pads of different sizes
List of emergency phone numbers
Band-aids in several sizes
Adhesive tape
Splint
Elastic bandage
Antiseptic wipes
Antiseptic solution
Soap
Antibiotic ointment
Hydrocortisone cream (1%)
Acetaminophen and ibuprofen
Tweezers
Sharp scissors
Thermometer
Cream or spray for insect bites or stings
Cough medicine
Eyewash and eye bath
Your kit can be as exhaustive as you want. The medicines should be checked regularly to make sure that they are used before their expiration dates.
A travel first-aid kit should be more comprehensive because a drugstore may or may not be easily accessible. Also, the exact contents of your travel first-aid kit will depend upon your travel plans.
Travel First-Aid Kit Basics
Sterile dressings of all sizes
Bandage tape
Antiseptic
Painkillers
Wound cleaning gauze
Plasters
Scissors
Tweezers
Insect repellent
Thermometer
Sunburn treatment
Insect bite treatment
Medication for pre-existing medical conditions
Antihistamine
Apart from this, depending on your travel plan and where you are going, you should include these as well:
Rehydration sachets
Anti-diarrhea medication
Anti-malaria medication
A quality first-aid kit equipped with necessary supplies should be a part of any home, hiking, camping, backpacking, or travel essentials checklist. Check out our Buyer's Guide to know what factors you should consider while shopping for a first aid kit.
First-Aid Kit Buyer's Guide 
Purpose: The choice of your first-aid kit will depend on your intended use of it. The most common household injuries include cuts, sprains, bruises, burns, trips, and falls. If you are an avid backpacker, you will want to settle for a kit that provides care for everything from blisters to severe leg injury.
Budget: First-aid kits are available in a variety of shapes and sizes. Some have just basic supplies, while others are more comprehensive. Some large kits cost around more than $300. Your decision as to how much safety and health you want to ensure for yourself and your family and friends will determine the cost of the kit.
Storage: This is also an essential factor to consider while purchasing a first-aid kit. If you are looking for a kit to keep in your car, choose one that is compact and sturdy. A kit for adventure trips should be portable and easy to carry. Huge and bulky kits are ideal for homes and offices, where you have sufficient room for storage.
We hope that you find your perfect first-aid kit from our list of the best kits listed above. Let us know if you do by sharing your experience with us in the comments box below.
Expert's Answers for Readers Questions
What is the meaning of first-aid treatment?
First aid is the immediate medical treatment that is provided to someone with minor or severe illness or injury to preserve life, prevent the condition from worsening, and promote recovery.
What should I keep in my first-aid box?
The items in your first-aid box will depend on its intended use. The contents of a home first-aid kit will be different from that of a travel kit. A travel first-aid kit is usually more comprehensive as when we travel, there is no guarantee about the availability of a drug store nearby.
What do you mean by a certified first-aid provider?
You can become a certified first-aid provider by undergoing certification and training. The American Red Cross offers some of the most exhaustive and accessible training to individuals. This course is available in person, online, and via blended training method, which combines online work with hands-on training skill sessions. The certificate is awarded to participants who exhibit 100% proficiency in all required skills and pass the written examination with a minimum 80% score.
What is the shelf life of first-aid kits?
The shelf life of most of the first-aid kits is 3 to 5 years. It is extremely important to check the medical supplies in the kit regularly to replace damaged and expired items.
Recommended Article