30 Best Fishing Gifts: The Ultimate List (2020)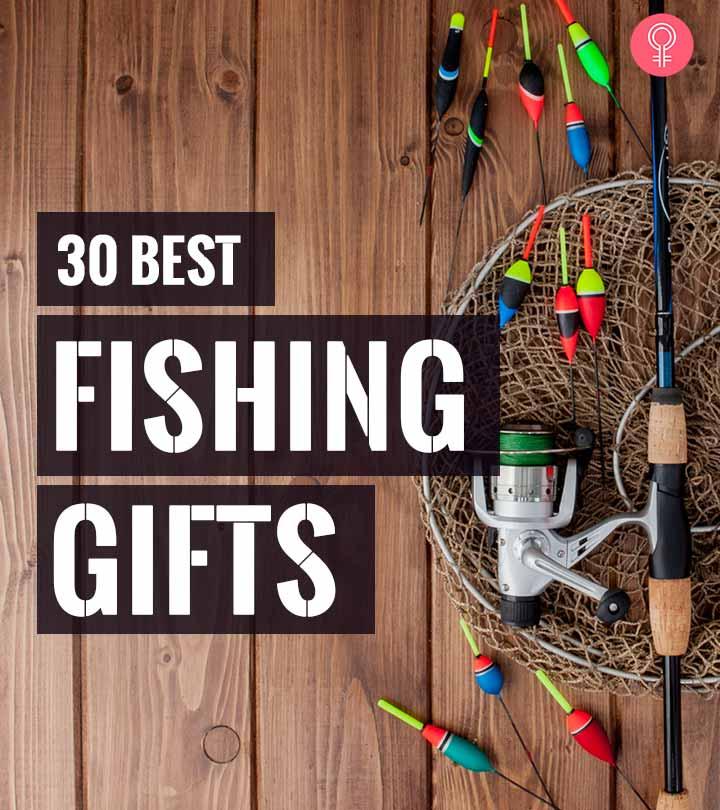 Fishing is a popular and loved recreational activity. For many, it is a favorite pastime. But if you are not into fishing, finding the right gift for such a friend could be a challenge. Hence, we have come up with a list of interesting options. These contain all those gears and tools that would make your friend's fishing trips more fun and memorable. Check them out!
30 Best Fishing Gifts
1. Earth Pak Waterproof Dry Bag
The Earth Pak Waterproof Dry Bag is a dry compression sack. It works great for storing gears used in kayaking, fishing, camping, and hiking. It helps keep them dry. The bag comes with a shoulder strap and a waist-belt for easy carrying.
Key Features
24 & 42 inches single shoulder strap
Equipped with backpack style shoulder straps.
6.5-inch waterproof phone case for phone safety
Popular for light packers
Featured by Tim Ferris, New York Times Bestselling Author
2. KastKing Low Profile Baitcasting Fishing Reel
The KastKing Low Profile Baitcasting Fishing Reel is a low-profile bait caster, with a super silent, high-speed retrieve. It also has corrosion-resistant ball bearings. The bait caster even has state-of-the-art dual brakes with a quick and reliable centrifugal and magnetic brake system. This offers superior casting control.
Key Features
Precision cut brass gear structure and carbon fiber drag system
Delivers 17.5 lbs of drag offering high performance
Anodized aluminum-forged, multi-ported whiffle-style spool
Smooth casting
Smooth retrieve and long life
3. Dr. Meter Digital Fishing Hook Scale
The Dr Meter Digital Fishing Hook Scale weighs both small and large catches alike that range from 0.2 lbs to 110 lbs. The built-in measuring tape also measures the length of the catch. It also has specialized functions like weighing unit conversion, data lock, and auto-off function. Made of premium stainless steel, this electronic fishing scale is definitely a perfect catch for both amateur and avid fishermen.
Key Features
Large and durable hook concealed in the back slot
Lightweight
Portable and easy-to-carry
Runs on 2 AAA batteries
4. Piscifun Fishing Line
The Piscifun Fishing Line is a clever tool for loading your reel with braid or mono. You don't need to use a pencil or anything/anyone else to help you hold the reel. The line winder works great with both wide and narrow spools.
Key Features
3/8 inches bushing works with string spools with smaller center holes
Spool spins with the rotor
Compact and lightweight spooling system
5. ReelSonar Smart Fish Finder
The ReelSonar Smart Fish Finder is a device that you can carry with you anywhere. You can use this ultimate product to mark fish, map the depth contours and underwater structure, note the water temperature, weather, and location, get information on the species, and get photos and information of the hot spots. You may even choose to share your catch on social media directly via its application. It is ideal for fishing from rafts, canoes or kayaks; and can locate fish across ponds, rivers, lakes and streams, too.
Key Features
LED beacon
Rechargeable battery and charging status indicator light
Accurate sonar readings up to 135 feet
Patented fish identifier technology
6. KastKing Fishing Pliers and Cutters
With the KastKing Fishing Pliers and Cutters one can grab and remove any fishhook with its serrated jaws. One may also take advantage of the crimping slots to secure a split-shot weight, or even build a steel leader. Insert your hook into one of the holes in the jaws. Pulling on your hook now creates a tight knot. You can cut as close to the knot without any hassle as possible, thanks to the cutters. It is available in straight nose and split ring nose designs.
Key Features
Ergonomic-textured rubber handle for comfort and control
Super hard tungsten carbide cutters
Corrosion resistant,
420 stainless-steel pliers for smart fishing
7. Penn Spinning Fishing Reel
The Penn Spinning Fishing Reel is durable and offers high-range spinning. This helps one conquer big fish quickly. It has a full metal body, rotor, and a heavy-duty aluminum bail wire that offer exceptional durability. This reel is everything a fishing enthusiast would want.
Key Features
HT 100 carbon fiber drag system for drag and smoothness
5 sealed stainless-steel ball bearings
Instant anti-reverse bearing
Requires no backing and is braid ready
8. Intex 5-Person Inflatable Boat Set
The Intex 5-Person Inflatable Boat Set is a 5-person inflatable boat with 3 air chambers. Its auxiliary air chamber offers extra buoyancy. It has a rugged vinyl construction that offers comfort and makes it puncture-resistant.
Key Features
Quick-fill & fast-deflate
High output manual hand pump
54-inch deluxe aluminum oars
144.09 long x 66.14 wide
Grab handles all around for easy boarding and handling
9. KastKing Fishing Rod Rack
The KastKing Fishing Rod Rack is a steady and adequate rack that holds your fishing rods. The rack is made of aluminum and is lightweight and travel-friendly. It gets assembled easily without tools. It occupies minimal floor space. The 24- rod rack is works for most fishing poles. The 12- rod rack is suitable for rods with smaller diameters.
Key Features
Protects and organizes fishing rods
Cushioned holders for maximum protection
Upright design for convenient use
10. Etna Fishing Rod Case Organizer
The Etna Fishing Rod Case Organizer holds 5 rods and reels on the outside. It can hold more rods, reels, tackle and equipment on the inside. It is made of high-tech polyester for durability.
Key Features
Folds flat for easy storage
Expandable to 48 inches high and 8 inches in diameter
Adjustable and comfortable shoulder straps
Extra-long 34 inches pocket on the outside
11. Plussino Telescopic Fishing Rod and Reel
The Plussino Telescopic Fishing Rod and Reel Tincludes 1 fishing rod, 1 fishing reel, 1 fishing line, various fishing lures, fishing hooks, and other necessary accessories. It also includes a carrier bag. FThe pole is made of high elasticity and high density carbon fiber mixed with fiberglass. Its retractable, so does not occupy much space.
Key Features
Stainless steel hooded reel seats
Anti-corrosive to seawater
Deep aluminum spool with double color and one-line holes
Anti-skid handle with sweat absorption
12. Rose Kuli Fishing Lures
The Rose Kuli Fishing Lures work well for targeting and catching fishes like bass, pike, largemouth etc. The baits have realistic looking eyes and body. The unique large tongue design makes it float on top of the water. The bass vibration ball produces sound waves that attract the fish. The body pieces are connected with textile fabrics, allowing them to wiggle like a real fish.
Key Features
Reusable, environmentally safe, largemouth crank baits
Produces sound that attracts big predators
Ideal gift for fishermen for targeting wide range of fishes
13. Plussino Fishing Lures
The Plussino Fishing Lures set comes with 16pcs of Spinner Lures. It also has a portable bag for convenience and safety. The trout lures have sharp treble hooks with brightly colored strike-attractor sleeves. The classic blades are shaped so that they spin like a propeller. This creates varying degrees of flash and vibration that mimics small fish or other prey.
Key Features
Premium-quality blade for continuous flash and vibration
Machined-brass main body
Can be used in both freshwater and saltwater
14. Dr. Fish High Strength Fishing Ball Bearing Swivel
This Dr. Fish High Strength Fishing Ball Bearing Swivel has 6 stainless-steel balls. These help with smooth action and rotation; and reduce twist to a minimum. The swivel is made of a copper body with a stainless-steel ring for durability. It is corrosion-resistant, shock-resistant, and abrasion-resistant.
Key Features
Can be used in saltwater, high speed trolling, jigging, offshore fishing
Quick lock-open design
Change leaders or lures in seconds
Available in range of multiple sizes
Shock-resistant
Abrasion-resistant
15. Sptlimes 77-Pcs Fishing Lures Kit
The Sptlimes 77-Pcs Fishing Lures Kit has got bass, trout, salmon, plastic worms, crank baits, jigs, and many more. These bionic baits are realistic and make the fish think that the lure is a real fish. It moves silently and is excellent for novices to start learning to fish. The kit works awesome for ocean boat fishing, ocean rock fishing, ocean beach fishing, lake, river, reservoir, and pond and stream fishing.
Key Features
6 different baits: 1 crankbait, 1 VIB, 1 top water lures, 33 plastic worms, 5 2 fish-shaped soft bait, 2 simulation of shrimps
High-quality metal and soft plastic, cannot be easily broken
Compact and travel-friendly
16. Speder Fish Kit
Removing fish scales has become easier and convenient with the Speder Fish Kit. This scraper and cleaner kit comes with a corded electric fish scale remover, AC power adapter, and a 12-inch long cable. Thanks to the powerful 6-amp motor and 304 stainless steel roller blades, they make removing the fish scales easier and quicker.
Key Features
IPX7 waterproof level for washing the machine underwater
Can be connected directly to AC Adapter
12V storage battery
17. Frabill Insulated Bait Bucket
The Frabill Insulated Bait Bucket comes with an inbuilt aerator that keeps the bait alive for longer. The bucket has capacity of 1.3 gallons.
Key Features
Durable snap-on lid
Protects the pump that goes inside of the bucket
18. Shaddock Fishing Hooks Kit
The Shaddock Fishing Hooks Kit consists of 180 pieces of durable saltwater and freshwater fish hooks. They are made with lightweight, durable carbon steel. These hooks offer up to 25% increased strength over regular hooks.
Key Features
Special barb hooks
Corrosion-resistant
Made specifically for saltwater
Designed for rigging live bait, fresh cut bait, yellow tail, bass, rock fish, and cat fishing
19. Plussino Fishing Net
Plussino fishing net is great for catching and releasing fishes with ease. The net comes with a foldable, collapsible telescopic pole handle and a durable nylon mesh. It is waterproof and comes with high-density carbon fiber mixed with fiberglass pole. The fishing net is solid and durable.
Key Features
Non-absorbent coating prevents water logging
Ultra-light and foldable
Easy to carry to store
Great for sea fishing, river fishing, lake fishing, boat fishing etc.
20. Palmyth Flexible Fishing Gloves
The Palmyth Flexible Fishing Gloves are insulated and water repellent. They are great for fishing, motorcycling, shooting, and cycling during cold weather. The flip back thumb, and the index and middle finger caps with metal buttons keep your fingers free to tie a fishing line.
Key Features
Breathable
Water-repellent
Windproof
Adjustable Velcro strap for any size wrist
3 cut fingers design retains maneuverability and dexterity
21. Hook-eze Fishing Gear Knot Tying Tool
The Hook-eze Fishing Gear Knot Tying Tool will help you tie the perfect knot every time. This all-in-1 fishing tool helps you tie the hooks and catch fish easily. It also helps tie Swivels Jig Heads and Speed Clips for attaching lures or other rigs. It comes with a safe hook cover that makes it ideal to carry on travel.
Key Features
Built-in stainless steel line cutter
Suitable for saltwater and freshwater fishing
Long-lasting and UV resistant
Ideal for cold weather conditions, numb or arthritic fingers, and other disabilities to the hands
22. Camport Folding Chair Backpack
The Camport Folding Chair Backpack acts as a foldable chair as well as a backpack. You can simply use the bag as a chair while fishing and can also store your fishing and camping gear inside the bag. This multi-purpose bag is an ideal companion for weekend getaways. This is built-in with a cooler bag that keeps your food and drinks cool.
Key Features
Can store bottle, umbrella, key, wallet, watch, power bank, MP3, books, etc.
Waterproof
Durable and easy to wash
Convenient for outdoor camping, fishing, hiking, rafting
23. Grundéns Shoreman Fishing Bib Pants
This is a foul weather gear for fall/winter fishing. You can layer your clothes with this bib and prevent your clothes from getting messy and dirty. The Grundéns Shoreman Fishing Bib Pants are specifically designed and built for use in seafood processing facilities and for shoremen. The double-sided phthalate-free PVC polyester construction eliminates the need for a fabric liner. It also provides odor resistance and easy cleaning.
Key Features
100% waterproof and stain-resistant
Phthalate-free material
Odor resistant
Quick drying
Available in 3 different colors
24. Allen Cottonwood Fishing Rod & Gear Bag
The Allen Cottonwood Fishing Rod & Gear Bag holds up to 4 fishing rods and other necessary fishing gear. It has eight exterior adjustable dividers for the rod, reels, and gear. It also has multiple interior see-through zippered pockets.
Key Features
Padded carry handle
Heavy-duty molded zippers and removable padded shoulder strap
Outer dimensions: 31.5″ x 9.5″ x 6″
Main compartment inner dimensions: 30.5″ x 8.75″ x 3.75"
Premium and convenient fishing bag
25. Tirrinia Men's Hunting Fishing Hat
The Tirrinia Men's Hunting Fishing Hat will protect you from sunlight. It offers comfort and style at the same time. The fishing cap comes with an adjustable back closure. It is embroidered with exquisite bass designs and beautiful patterns.
Key Features
100% cottonmade with nylon mesh back
Great for fishing, golf, running, tennis, baseball, climbing, cycling and other outdoor sports
Moisture wicking sweatband and self fabric Velcro closure
26. The Total Fishing Manual by Joe Cermele
For the newbies, here is a book that'll make you a pro fisherman. The Total Fishing Manual by Joe Cermele contains everything from the pro fishing articles to new fishing techniques. Joe Cermele hosts an award-winning web-based fishing show.
Key Features
For people who are obsessed with fishing
Contains great information on how to fish
27. Plano Guide Series Tackle Storage
The fishermen will always need a solid tackle system and the Plano Guide Series Tackle Storage fits the bill. It includes Plano 4 utility system, Plano brochure, nameplate order form, and three removable bait racks with separate access. It is a spacious and roomy storage kit.
Key Features
Three top-access removable spinner bait racks
Includes four removable StowAway utility boxes
Spacious storage with over-molded handle
28. Quik Shade MAX Shade Chair
The Quik Shade MAX Shade Chair has a cool canopy and 2 fabric and mesh cup holders. It also has an adjustable canopy for sun protection. This extra-strong chair is easy to carry and is foldable. It also comes with a fabric bag for carrying it anywhere you like.
Key Features
Durable steel frame with higher arched back
22.5″ wide seat supports weight up to 225 lbs
Tough 300 x 600D polyester fabric
Water and stain resistant
Shade adjusts accordingly for maximum sun protection
29. KastKing Skidaway Polarized Sport Sunglasses
The KastKing Skidaway Polarized Sport Sunglasses reduce glare. Their impact-resistant TAC lenses protect your eyes from flying objects. The glasses also block 100% of the harmful UVA and UVB rays. They have lightweight, durable, and comfortable Grilamid frames. KastKing polarized lenses are manufactured with high quality Japanese and German raw materials.
Key Features
Lenses pass a double decentering test to ensure no optical distortion
Ideal for bright sunlight with the most realistic color reproduction
Available lens colors include smoke, brown, and copper
30. Bits and Pieces 8-in-1 Fishing Tool
The Bits and Pieces 8-in-1 Fishing Tool lets you weigh fishe, scrap then, and do a lot more. This tool consists of a tape measure, weighted fish scale, serrated knife, hook remover, fish scraper, bottle opener, LED flashlight, and a foldable stand.
Key Features
Useful multifunction gadget for hunters and people who love to fish
Collects a number of accessories into one compact device
It does take quite an amount of planning and diligence to succeed at fishing. For those of your friends who love that activity, these gifts could be a boon. While some of the gifts help them get the job done, others only make the process much easier.30 Best Fishing Gifts