11 Best Flat Irons For Curling Hair – Reviews And Buying Guide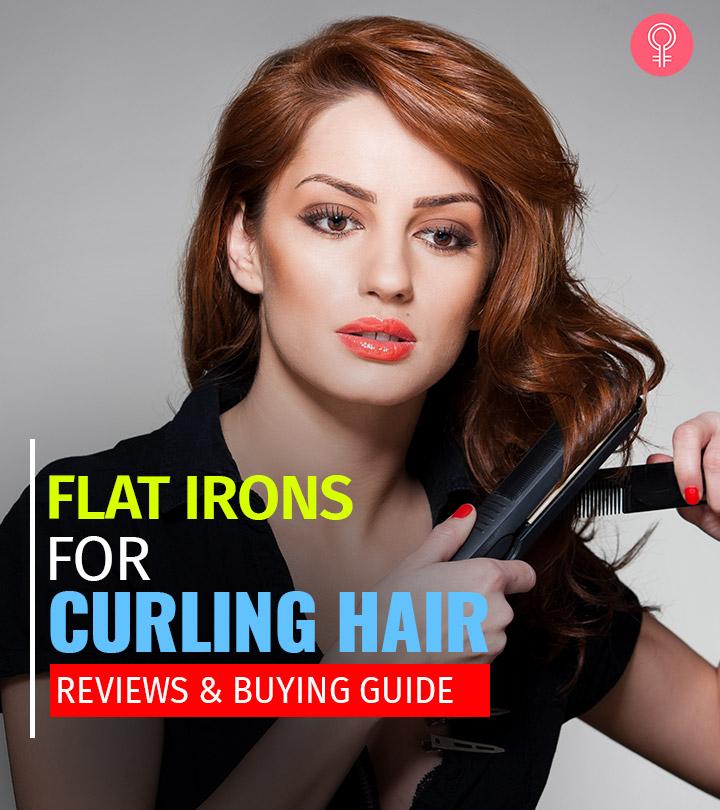 What's the best way to get perfect beach waves? A flat iron. It takes practice, but once you have learned your way around a flat iron, you will never go back to curling irons. Be it the classic curls or the S-waves, you can achieve them easily with an old-fashioned hair straightener. However, you need to make sure that you pick a professional-grade flat iron with optimum styling temperature and other features. In this article, we have compiled a list of the best flat irons that can help you curl your hair easily without any damage. Take a look.
11 Best Flat Irons For Curling Hair
This flat iron gives the best results even if your hair is extremely frizzy and coarse. With minimal effort, you can quickly straighten, flip, and curl your hair. It has high-quality ceramic plates that contain ceramic and tourmaline micro-sensors that give you a silky and shiny finish. The plates have eight HeatBalance micro-sensors that regulate the temperature and distribute heat evenly without causing any damage. It has adjustable temperature settings that range from 140-450°F and is suitable for all hair types.
Pros
Adjustable temperature setting (140-450°F)
Dual voltage compatible 110V-220V
360-degree swivel cord
1-year warranty
1-inch plate width (suitable for any hair length)
Heats up quickly
Cons
No auto-shutoff.
May need to repeat strands for straightening.
This flat iron has 1-inch titanium coated floating plates. It heats up very fast and distributes the heat evenly on the plates. You do not have to hold your hair between the iron plates for long, which minimizes the risk of hair damage. It heats up to 410°F, allowing you to quickly style your hair. It has a digital temperature display for easy monitoring.
Pros
Anti-static technology (no more flyaways)
6 heat settings
Temperature control buttons
30% longer plates
2-year limited warranty
Swivel cord
Auto-shutoff
30 seconds fast heat up
Cons
Need to slide the hair sections between the plates (the plates won't open much).
This flat iron has 1.75-inch special titanium floating plates. These are perfect for you if you have long hair and want to style it in loose waves. It has universal voltage, so you can carry it along with you while traveling. It gives you consistent heating without overexposing your hair to excess heat. Each plate of this flat iron has been made with precision melding, which allows your hair to pass through effortlessly. The temperature is adjustable between 270F-450°F for an optimum temperature setting.
Pros
LCD temperature display
8-foot swivel power cord
Automatic shutoff
Dual voltage adjustable
Temperature control buttons
Cons
May not give the desired results on thick and coarse hair.
This has a 1 ¾ -inch floating tourmaline ceramic plate that gives you shiny and smooth results every time you use it on your hair. It distributes the heat evenly on your hair, and the extra-long plates style your hair quickly. Tourmaline technology helps to reduce frizz and flyaways. This flat iron heats up in 15 seconds and maintains optimum heat levels at any heat setting.
Pros
30 heat settings
Heats up to 455 °F
Auto-shutoff
Temperature control
Quick heating
Cons
The ends of the iron get heated up (might burn if not careful).
This styling tool has a 5-in-1 ceramic coated heating plate that is infused with tourmaline, nanosilver, argan oil, and titanium. These help to style your hair without making it dry and transform frizzy hair into0 sleek and shiny locks. This flat iron also does not pull or damage your hair while styling. It has a variable temperature ranging from 265°F to 450°F. It has an 8.8 feet long 360° swivel cord. The 1-inch iron plates are suitable for any length of hair.
Pros
LED digital temperature display
Auto-shutoff
Dual voltage compatible
Rotary switch
Comes with a travel pouch bag and heat-resistance gloves
Heats up quickly
Easy to curl
Cons
Gets heated up, and the tip might burn you if not handled properly.
This flat iron has 1⅜ inches diamond, ceramic, and tourmaline plates. These iron plates glide smoothly without tugging at your hair. The flat iron distributes heat evenly and helps prevent frizz, flyaways, and excess damage to the hair cuticle. You can easily control the temperature as it has variable heat settings that go up to 450°F. It is suitable for all hair types and hair lengths.
Pros
2 years warranty
Heats up fast
Makes hair glossy
Even heat distribution
No-tangle cord
Works great on natural hair (kinky hair)
Cons
This works both as a flat iron and a curling iron. It has a twisting temperature control facility, and the temperature ranges from 250°F- 450°F, which means that it can be used on any type of hair. The rotary temperature control ensures a constant temperature as you style your hair. This helps prevent hair damage. The cylindrical design of the flat iron makes it easier for you to twist your hair around it and curl it in the desired fashion. The 3D floating plates compress the hair, and the nano-titanium plates ensure even heat transfer to the hair strands.
Pros
LED digital display
Twist-lock design
30 seconds fast heating
Auto-shutoff
8 ft tangle-free 360° swivel cord
Cons
This flat iron has extra-long and ultra-smooth 5-inch titanium plates that heat up instantly and cool down quickly. It can heat up to 450°F and is suitable for any type or length of hair. It has a slim design, and you can flip it or turn in different angles to create different hairstyles or just wrap your hair around it to create curls. It has almost 50 heat settings, so be assured that it won't damage your hair.
Pros
Heat-resistant titanium plates
Corrosion-resistant
50 heat settings
Lightweight
Cons
This is a professional grade flat iron and works on Metal Ceramic Heat Technology, which enables it to heat up fast (reaches 356℉ in just 15 seconds) compared to ordinary flat irons. The Tourmaline Ceramic Technology also helps the iron plates produce negative ions, which take care of your hair, prevent any heat damage, making it smoother and healthier. The 1-inch 3D floating plates protect the hair cuticles and can straighten and curl your hair effectively. This flat iron is suitable for hair of all lengths.
Pros
Auto-shutoff
Adjustable temperature setting
360° swivel cord
1-year replacement warranty
Digital temperature control
Super lightweight
Affordable
Cons
This is a smart hair straightener that predicts your hair needs and functions accordingly. It works on predictive technology. The heat of the iron plates in the hair straightener is monitored 250 times per second, and the iron adapts the temperature to keep it uniform throughout the hair sections. This gives you stronger and healthier hair. It is a ceramic flat iron with heat-resistant plates that heat up to 450℉.
Pros
Predictive technology
Fast heating
Color protection
Auto-shutoff
Universal voltage
Swivel cord
Heat-resistant plates
Works well on both fine and thick curly hair.
Cons
This flat iron has far infrared ceramic plates that help maintain an even temperature. Even heating prevents hair damage and breakage. It has ergonomically designed 1-inch iron plates and is perfect for volumizing, straightening, and curling your hair. It has curved edge plates with five heat settings. The ceramic technology produces negative ions that protect the hair cuticles and prevent dryness and heat damage to keep your hair shiny and smooth.
Pros
360° tangle-free swivel cord
Adjustable temperature (40 to 420°F)
Instant heat-up and recovery
Works well for hair of all length
Cons
Not all flat irons are suitable for all types and lengths of hair. You need to determine your hair texture and type, whether it is thick, fine, or natural hair, and pick the right flat iron. Here are a few criteria that you can consider before choosing the right flat iron for curling hair.
How To Pick The Best Flat Iron For Your Hair
Type Of Coating: Flat irons come with three types of coating on the plates – tourmaline, ceramic, and titanium. Ceramic is a budget-friendly option and is good at conducting heat. Tourmaline ensures proper heat distribution for even results, and titanium heats up very fast. In case you need to change the temperature of your iron often, go for a titanium coated iron.
Temperature Options: Flat irons offer a range of temperatures (between 265-450°F) for easy heat adjustments as per styling needs. If you have thick hair, you will need a flat iron that heats up to 440-450°F. If you have fine hair, you can style your hair at the lowest temperature.
Size Of The Plates: If you have long hair, choose plates that are minimum 1.25 inches wide. Ideally, flat irons have a plate width of 1 inch that suits most hair types. If you have shorter hair, pick an iron with plate-width less than 1 inch.
Temperature Control: Modern flat irons come with digital display and buttons for easy temperature control. You will find buttons or rotating dials for setting the heat. Pick one that is convenient for you.
These are the basic features that you should look into before deciding which flat iron to buy. However, you can also check other factors, like cord length, warranty, auto-shutoff, etc., as per your needs. Now, you need a bit of practice before you master the art of curling your hair with a flat iron. In the next section, we have discussed a few ways you can try out.
Tips For Using Your Fat Iron To Get The Perfect Curl
Braid Your Hair First: This is the easiest way to get beachy waves. After braiding your hair, place the braid between the iron plates.
Segment Your Hair Properly: For smaller curls, segment your hair into small sections, and for waves, go for big sections.
Pull The Hair Through The Iron Plates: If you want tighter curls, pull your hair that is wrapped around the flat iron slowly. Ensure that the pull is steady.
It is important that you use the flat iron the right way and avoid committing a few mistakes to prevent hair damage.
Mistakes To Avoid While Using A Flat Iron
Never hold your hair between the plates for too long. This will burn your hair and damage it.
Never iron wet hair. This increases the chances of hair damage eventually.
Avoid using too much of finishing products. Finishing products help hold the curls in place. It is better to avoid them as they contain chemicals. However, it is often difficult to hold curls in fine hair. In such cases, use finishing products sparingly.
Flat irons are not just for straightening; they can serve a dual purpose if you know how to use them. Pick one from this list and follow the tips to curl your hair to perfection.
Recommended Articles
The following two tabs change content below.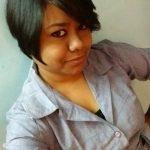 Ramona Sinha
Ramona is a journalist-turned-content writer. She holds a Master's degree in English Literature and has been writing for the digital world for over five years. She specializes in writing for Skin Care. She has done a certificate course titled 'Dermatology: Trip To The Skin', offered by Novosibirsk State University. She believes that beauty begins with a good skin care regimen and is on a mission to eliminate all toxins from her routine. She helps and guides readers in selecting products and ingredients specific to their skin type/issue. When Ramona is not working, her books and passion for music, good food, and traveling keep her busy.