11 Best Flat Irons For Curling Your Hair (2023) + Buying Guide
Achieving the perfect waves and tight curls every time now got easier.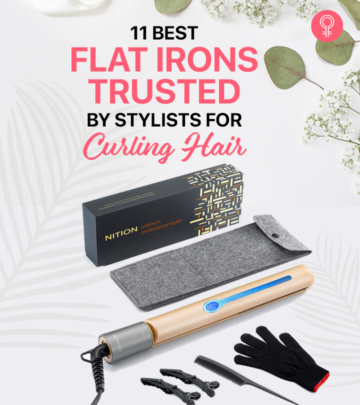 Who doesn't want to rock beachy, curly, or wavy hairstyles? But, did you know that you can use your flat iron to get some gorgeous-looking curls in no time? However, you will need a professional-grade flat iron with optimum styling temperature to do the job. This article presents you with a list of the best flat irons that will help you achieve beautiful curls without damaging your hair. Read on to learn more about them.
11 Best Flat Irons For Curling Hair
The HSI Professional Glider helps you in creating dramatic hairstyles with minimal effort. Its high-quality ceramic plates use 8 heat balance microsensors to regulate temperature and evenly distribute heat all over your hair. The shine-enhancing ceramic ion plates add a silky finish to your tresses while minimizing the heat damage. The ceramic plates also allow smaller water molecules to penetrate the hair shaft, thus reducing frizz and static.
This fast-heating curling iron offers temperatures ranging from 140°F up to 450°F, giving you total control while styling your hair. It comes with a dual voltage setting and a 360° swivel cord that lets you style your hair without straining your hand. This kit comes with an additional heat-resistant glove that protects your hand. You may check more about this product in this video detailing a reviewer's experiece.
Specifications
Plate Width: ½''
Plate Type: Ceramic
Voltage: 110/120V
Temp: 450°F
Pros
Travel-friendly
360° swivel cord
Wide temperature range
Adds shine
Reduces frizz and static
Evenly distributes heat
Lightweight
Cons
May snag on hair while styling
Price at the time of publication: $39.95
The Nition Platinum Professional Styler features5-in-1 ceramic-coated flat iron heating plates infused with nano silver, argan oil, tourmaline, and titanium that lets you style your hair with perfection. The tourmaline ceramic flat iron emits negative ions that reduce static and aids in frizz control by locking in moisture in the hair shafts as well as enhances curl definition. Besides, its fast-heating 3D flexible styling plate evenly distributes the heat, preventing snagging or pinching of hair or other forms of heat damage.
Its one-step button-less operating system makes this styler extremely easy to use. You can regulate the temperature by rotating the curling iron clockwise or anticlockwise. The MCH Heating Feature with built-in C-sensor auto-detects temperature change. The auto shut-off function and extra-long power cord with a 360° swivel make this flat iron convenient to use. This styling iron comes with two salon hair clips, one salon comb, and a safety glove. Check out this video detailing a tester's experience of using this product.
Specifications
Plate Width: 1¾''
Plate Type: Ceramic + Titanium
Voltage: 120V
Temp: 420°F
Pros
Easy to use
Ceramic-coated heating plates
Locks in natural moisture
Reduces frizz
Evenly distributes heat
Heats up quickly
Automatic shut-off feature
360° swivel cord
Dual voltage
Travel-friendly
Cons
Price at the time of publication: $59.99
The Kristin Ess Hair 3-In-One Titanium Flat Iron Hair provides you with four different styling options to style your hair: polished curls, flat iron waves, sleek straight, and S-waves.  It features temperature-sensing rapid heat technology that helps deliver even heat for faster styling that lasts longer. The heat-transferring system of titanium plates locks moisture, removes frizz, and boosts shine to provide healthier-looking hair. The floating plates contour to hair texture and allow smooth styling of hair without creasing or snagging. The rounded body easily creates subtle bends and textured waves. The digital display and 4 temperature presets allow customization for different hair types and textures. The iron also has an automatic shut-off timer, which shuts off after 30 minutes, a 9-foot swivel cord, and a heat-resistant cap.
Specifications
Plate Width: 1 ¼ inch
Plate Type: Titanium, Ceramic, and Nanoblack
Voltage: Dual Voltage
Temp: 450°F
Pros
Temperature sensing rapid heat technology
Automatic shut-off time
Lock in moisture
Eliminate frizz
Enhance shine
Smooth styling without snagging or creasing
Cons
Price at the time of publication: $64.34
Get salon-like straight locks that would gather all the attention! This Conair Double Ceramic Flat Iron is designed for hassle-free salon styling at home. The extra-long floating plates aid in better styling. The double ceramic material of the plates ensures even heat distribution, allows for fast-paced styling, and aids in curl retention to create long-lasting looks. You get appropriate heat for durable results with anti-frizz protection for a smooth, glossy finish. The handle lock and swivel line cord add extra styling ease and control. The five digital temperature settings can be customized to match your hair type. Multiple reviews on Amazon commend this flat iron's ability to make their hair manageable while adding shine.
Specifications
Plate Width: 1 inch
Plate Type: Double Ceramic
Voltage: 100V – 240V
Temp: 265°F- 410°F
Pros
5 LCD heat settings
Extra long plates
Suitable for all hair types
Automatic off
Lock/unlock touch button
Cons
Price at the time of publication: $22.99
With high-quality performance and enhanced heat settings, the Dyson Corrale Hair Straightener is all that you can hope to find in a styling tool! All the technology that it encompasses, along with an energy-dense battery, is crafted for optimal straightening that stays on for long. The manganese-copper alloy plates offer smooth gliding for snag-free styling with minimal heat. The flexible arrangement of thermal crystals regulates the temperature and provides a protective, seamless heating experience. The constant monitoring of the intelligent battery management system paves the way for optimized heat generation. It can help you create different hairstyles and flaunt a new hairstyle every day!
Specifications
Plate Width:
Plate Type: Manganese Copper Alloy
Voltage:
Temp: 165°C, 185°C, 210°C
Pros
Precision styling
Heating system with intelligent control
Suitable for all hair types
Available in exclusive colors
Cordless
Travel-friendly and portable
Cons
Price at the time of publication: $469.99
With this Landot Flat Iron, you can get gorgeous curls while protecting your hair from excessive heat. The patented intelligent heat protection sensor continuously evaluates your hair's moisture level and regulates the temperature accordingly. Its ceramic-coated plates are infused with keratin and almond oil to give your hair a smooth finish post-styling. These plates also have a negative ion emission hole that releases 700w+ negative ions that help prevent frizz and tame flyaways. Moreover, it has eleven heat settings reaching up to 450℉ in just 30 seconds.
The digital LCD lets you keep a tab on the temperature of the styling rod. Functional features like auto shut-off, anti-scalding ends, a 2-meter-long swivel cord, and a worldwide dual voltage output make this styler extremely travel-friendly. Its in-built plate lock and add-on heat-resistant sleeve make it easy to store. Since it has so many useful features, why not test it out today?
Specifications
Plate Type: Ceramic + Tourmaline
Voltage: Dual voltage
Temp: 450℉
Pros
Travel-friendly
Tangle-free
Keratin and almond oil infused-heating plate
Sensors that measure moisture level in hair
Easy to use
Lightweight
Prevent frizz
Added plate lock for easy storage
Cons
Price at the time of publication: $46.98
The FHI Platform Ceramic Hair Styling Iron is made from three baked ceramic layers infused with tourmaline that offer even heat distribution and allow for a variety of hairstyles from beachy waves to pin-straight. The HydraHeat technology seals in moisture, reduces frizz, repels humidity, and eliminates static, while high levels of negative ions give smoother and softer results. The iron uses ceramic heater technology, which offers high-speed heat recovery and even distribution of heat.
It has an adjustable temperature range of 140°F to 450°F and a 12ft swivel cord for flexibility and mobility. Other features include floating plates, 1-hour auto shut-off, and dual voltage. Pull the styling iron lightly through small sections of combed hair to let them glide through the plates. The beveled plates impart maximum smoothness and flexibility to hair and allow the plates to swiftly move with the hair when styling without damaging the hair.
Specifications
Plate Width: 1 ¼ inch
Plate Type: Ceramic and Tourmaline
Voltage: Dual Voltage
Temp: 450°F
Pros
Travel-friendly
Floating plates
1-hour auto shut-off
Repels humidity
Eliminates static
HydraHeat technology
Cons
Might pull hair
Might not be long-lasting
Price at the time of publication: $139.99
The TYMO Flat Iron, with its nano ceramic-titanium plates, effortlessly styles your hair. Its fast heating and cooling technology creates long-lasting hairstyles without frizz or static. This styling iron comes with 3D floating plates for a high-spec gloss finish, allowing for effortless and snag-free styling. It also saves your hair from heat damage. This curling iron offers 32 temperature settings ranging from 140ºF (60ºC) to 450ºF (230ºC). The auto-sleep mode shuts off this tool automatically after 5 minutes of inactivity. Several reviewers pointed out that this flat iron must be one of the very few that heats up faster than any other styling tool.
Specifications
Plate Width: 1"
Plate Type: Nano Ceramic + Titanium
Voltage: 100-240V
Temp: 450℉
Pros
Gives a glossy finish
Fast heating and cooling function technology
Prevents heat damage
Shuts off after 5 minutes of inactivity
Cons
None

Price at the time of publication: $59.99
The FURIDEN Hair Straightener has rotating adjustable temperature control with 20 heat settings, from 250°F to 450°F, allowing you to create straight waves, styles, and curls quickly and easily. The titanium floating plates have built-in negative ion projectors, rounded barrels, and curved edges, making it a versatile styling tool. The curved edges of the plates make it easy to use for creating curls and beach waves.
With its quick heat-up feature, the straightener is ready to be used in 15 seconds due to its titanium heaters and has a 60-minute auto-off feature and safety lock. It has a 250mm cable, and 360° swivel power cord, and accepts both 110-120V and 220-240V dual voltage. The straightener is designed with a one-step directional switch that reduces styling time. The floating plates and balanced heat plates move when you do and prevent tugging of hair or snagging during styling. It also comes with a professional styling comb. So put it to the test and flaunt your amazing curls today!
Specifications
Plate Width: 1 inch
Plate Type: Ceramic
Voltage: Dual Voltage
Temp: 450°F
Pros
Rotating adjustable temperature control
20 heat settings
Built-in negative ion projectors
Rounded barrels and curved edges
Heats up quickly in 15 seconds
60-minute auto-off feature
Safety lock
250mm cable
360° swivel power cord
Cons
Might not soften the hair
Price at the time of publication: $69.99
The Wavytalk Titanium Hair Straightener And Curler is made with 3D floating nano-titanium round-edged plates that heat up quickly. The PTC Heat Technology can provide even heat throughout the plates which glide smoothly over your strands without tugging them. The plates also instantaneously deal with heat recovery by surrounding the strands with moisture. The straightener has a flexible temperature controller where the temperature varies between 250℉-450℉. The uniquely designed LCD lets you monitor precise heat settings and temperature tracking. The gorgeous, ergonomic layout and professional-degree results with a 60-minute auto shut-off feature make it worth the investment. It has a dual voltage that makes it easy for you to use it across the globe. Put it to the test today!
Pros
PTC Heat Technology
3D floating nano titanium plates
Round-edged
Frizz-free finish
Moisture sealing technology
Suitable for both thick and thin hair
Auto shut-off technology
Dual voltage
Cons
Price at the time of publication: $33.99
Vanessa Curling Iron has a nano titanium plate that provides fast results while increasing the shine and smoothness of your hair. The nano titanium plates of this curling iron release negative ions when heated up. These ions help moisten your hair and transform frizzy and dull hair into gorgeously sleek tresses. Its temperature settings range from 265℉ to 450℉. It also comes with an invisible screen that shows up when you switch on the iron. This display makes it easier for you to see the temperature of the curling iron at any time while in use.
This flatiron has a durable design and has features like automatic shut-off and dual voltage. It comes with a 360° flexible swivel cord that does not get tangled while you are using it. These features make this iron travel-friendly. Reviewers recommend this iron as it gives the best results in very little time.
Specifications
Plate Type: Titanium
Voltage: Dual voltage
Temp: 450℉
Pros
Durable
Travel-friendly
Suitable for all hair types
Retains moisture in the hair
Lightweight
Easy to use
Cons
None
Price at the time of publication: $32.98
Not all flat irons are suitable for all types and lengths of hair. You need to determine your hair type – whether it is straight hair or wavy hair, as well as hair texture, that is, whether it is thick hair, fine hair, or textured hair and pick the flat iron accordingly. Listed below are a few criteria that you can consider before choosing the right flat iron for curling your hair.
How To Pick The Best Flat Iron For Your Hair
1. Plates
There are three different materials used to make flat iron plates. Depending on your need and hair texture, you can select any one of them.
Ceramic Plate: Flat irons with ceramic plates heat up evenly and hold the heat for a long period of time. They also help in evenly distributing the heat all over your hair. These plates are safe for short, coarse, light, and curly hair and are usually best for straightening your hair. Ceramic plates also contain ionic power that may give your hair a healthy-looking shine.
Titanium Plates: Flat irons with titanium plates heat up quickly and transfer the heat fast. They can also hold heat at a constant temperature, making it easy for you to style your hair. Titanium plates can be good for people who have thick and coarse hair.
Tourmaline Plates: Flat irons with tourmaline plates help trap moisture inside the strand, thus preventing hair damage. They distribute the heat evenly and remain hot throughout use.
2. Flexible Heat Settings
A flat iron with adjustable heat settings allows you to choose the suitable temperature for your hair texture without damaging your tresses.
3. Shape Of The Iron
The edges of flat iron can also play an important role in styling your hair. If you want a versatile flat iron that will help you curl your hair, look for one that has rounded edges. Flat irons with rounded edges are great for creating curly and wavy hairstyles.
Other than the above-mentioned features, there are a few other points that you should check before buying a flat iron. These are discussed below.
Other Features to Consider In A Flat Iron
Dual Voltage Support: Curling irons that offer dual voltage support are travel-friendly. They can be used anywhere in the world with minimal hassle.
Accessories: Many flat irons come with different kinds of accessories like heat-resistant gloves, clips, and combs that make them easier to use.
Automatic Shut-Off: The automatic shut-off feature is one of the most important things to look for while purchasing a flat iron. This feature ensures that your flat iron will automatically shut off after a certain period of inactivity. It is an important feature that ensures fire safety.
Cord Length: The cord length ensures you don't have to tug or pull your flat iron while styling your hair.
You must be wondering why you should choose a flat iron instead of a curling iron to curl your hair. Let's take a look at the difference between them and which one will be better to get the curls of your dreams.
Flat Irons Vs. Curling Irons – What's The Difference?
While flat irons are traditionally used to straighten your hair, they do have some versatile uses as well. These flat irons can be modified and used to get curls of different sizes. This kind of versatility makes the flat iron an all-in-one tool for your hair. However, it takes a lot of patience and practice to use a flat iron to curl your hair.
Unlike flat irons, curling irons are specifically designed to create curls. However, the curls you get from curling irons don't last long. Why? Because a curling iron does not transfer heat evenly throughout your hair strands.
Now, you need a bit of practice before you master the art of curling your hair with a flat iron. In the next section, we have discussed a few ways you can try it out.
How To Curl Hair Properly With A Flat Iron
Here is an easy step-by-step guide on how to curl your hair with a flat iron:
1. Prep Your Hair
Before using a flat iron to curl your hair, first wash and thoroughly dry your hair. Then, apply a heat protectant to your hair to prevent heat damage.
2. Section Your Hair
Sectioning your hair will make the curling process much easier. You can use hair ties or clips to divide your hair into sections.
3. Use The Flat Iron
Take a section of your hair and brush it thoroughly. Then take the flat iron and place it halfway down the section of your hair.
4. Clamp And Twist
Wrap your hair and twist it around the flat iron. Keep your hair in that position for 30-60 seconds, and then slowly pull your hair out of the flat iron.
5. Repeat
Repeat the above curling technique for other sections of your hair. You now have some gorgeous curls that you can rock anywhere!
You must use a flat iron the right way and avoid committing a few mistakes to prevent hair damage. Learn more about this in the next section.
Mistakes To Avoid While Using A Flat Iron
Do not rush while curling or straightening your hair with a flat iron. Speeding up the styling process may make you end up with an unflattering hairstyle. So, avoid using flat irons when you are in a hurry.
Do not touch your hair strands right after using the iron when your hair is hot. Touching your hot hair repeatedly may result in the transfer of dirt and sweat from your hands to your hair strands.
Avoid flat-ironing wet hair. Since wet hair is more prone to breakage, using heat on it may result in irreversible hair damage.
Do not set the temperature too high while using a flat iron on your hair as it may cause heat damage.
Never forget to use a heat protectant spray on your hair before heat-styling your hair with a flat iron.
Yvey Valcin, a celebrated master stylist says, "Flat irons can do magical stuff to your hair, from curls to beachy waves, however the heat from them doesn't forgive the hair. Not only do you need to protect the hair with some good heat protectant products and also invest in great flat irons. There are very good options in this article."
Why Trust StyleCraze?
A certified skincare coach, Oyendrila loves experimenting with different haircare products too. Her interest in haircare has inspired her to go through tons of user reviews of different flat irons for curling hair and do a thorough research herself in order to curate a list of the best ones available on the market. The listed products are perfect for helping you achieve your desired look without damaging your natural shine.
Recommended Articles