12 Best Flat Irons For Thick Hair – Our Top Picks Of 2023
Your thick hair exists for a reason; give it the style it stands for with these tools.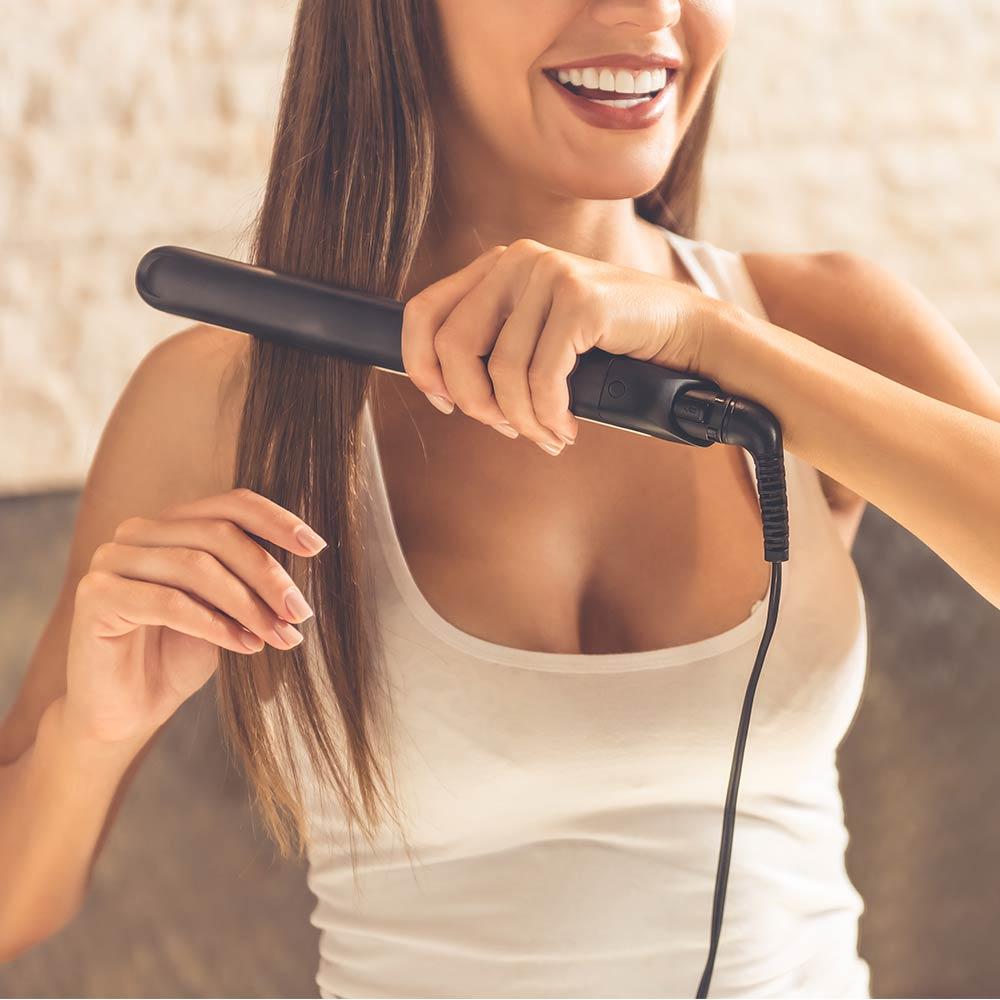 Looking for the best flat iron for thick hair but not knowing which one to buy? Fret not, girls. We got your back. Our curated list of flat irons will save you the time and trouble of searching for one.
Getting straight hair has always been something all us ladies fancy a lot. But we also know that doing it often damages your hair or fry it, in the worst-case scenario! To avoid this burning disaster, you need a suitable flat iron at your side. These functional tools require the tiniest bit of effort with maximum results. If you haven't bought one yet, scroll down to check them out!
12 Best Flat Irons For Thick Hair
If you have curly or coarse hair, then this flat iron is your best bet. Made from high-quality ceramic plates, this straightener uses 8 Heat Balance micro-sensors to glide through your hair, ensuring that the heat is evenly distributed. The plates are made using ceramic and tourmaline crystal ion plates, thereby ensuring that you get that glass-like finish. The temperature can be adjusted to best suit your needs. If you want salon-like straight hair, then this is the straightener to invest in.
Pros
Tourmaline-infused ceramic plates
Comes with a 1-year warranty
Reduces frizz by generating negative ions
Cons
Price at the time of publication: $39.95
This titanium flat iron hair straightener has damage-free plates and releases high levels of negative ions to give you smooth and silky hair by retaining hair moisture. It offers 11 temperature settings ranging from 265℉-450℉, easy to customize depending on your different hair type. It delivers heat to your hair consistently without frying it. The special titanium plates have been designed to create long-lasting and lustrous results. The human-factor engineered design lets you hold the straightener at ease and style effortlessly to get shiny, frizz-free hair.
Pros
 Lightweight
 11 temperature settings
 Reduces frizz
 Heats well and spreads evenly
 Retains moisture
Cons
Price at the time of publication: $39.96
Made with ceramic plates, this straightener is designed to cause less damage and frizz. The Crushed Pearl Infused Plates will ensure that in just one pass, your hair is silky and straight. It is perfect for all hair types and has ceramic floating plates making them easy to use. This iron heats up fast and has an auto shut-off making it an excellent investment.
Pros
Comes with auto shut-off
Heats up fast
Cons
Flat iron does not grip the hair
Price at the time of publication: $24.99
If you have thick, coarse, or curly hair, you may find yourself drawn to straighteners with thicker plates, but don't be fooled by this thin plated iron. It can do a stellar job of straightening your hair. It has longer plates, which means that it will get the job done in no time. It also has porcelain ceramic plate technology and a rheostat temperature dial making it extra convenient.
Pros
Has longer plates
Rheostat temperature dial
Heats up quickly
Cons
Price at the time of publication: $74.99
When it comes to hair woes, it's best to trust the most modern solution, and this straightener is truly an answer to all your prayers. Its 2-inch wide, ceramic tourmaline floating plates can glide through even the coarsest of hair, rendering it smooth and frizz-free. It has a heat-resistant travel case, and dual voltage, making it super travel-friendly. Designed with 90-second rapid heat up technology and an 8-foot long swivel cord, this straightener is functional and reliable.
Pros
Has a 90-second rapid heat up technology
Has an 8-foot long swivel cord
Heats your hair from inside for long-lasting effect
Cons
Plates are placed close to where it should be held
Price at the time of publication: $22.2
This straightener redefines the traditional straightener iron, locking in natural moisture and transforming frizzy hair and making it look sleek and shiny. It has an extra-long heating plate that allows it to come in contact with larger volumes of hair, thereby increasing its efficiency. The ceramic coated plates glide through the hair without tugging and pulling, and the 3D flexible heating plate allows you to adjust the angle, thereby prevent snagging or pinching of the hair.
Pros
Has a 3D flexible heating plate
Extra-long heating plate
Comes with built-in C-sensor and automatic shut off functionality
Cons
Temperature dial is difficult to set
Price at the time of publication: $69.99
This flat iron doubles up to become a curling wand and is one of the handiest irons available in the market. It has 3D concave and convex plates and four adjustable temperature settings so you can personalize your hair care routine to best suit you. It is compact and lightweight, making it the perfect travel companion. From loose beachy waves to sleek straight hair, this iron can do it all!
Pros
Doubles up to be a curling wand
Adjustable temperature controls
Compact size
Cons
Takes time for the user to adjust to the shape
Price at the time of publication: $25.99
This flat iron features ceramic technology that gives you flawless styling by taming frizz and reducing shine. It heats up to 450°F in just 30 seconds, meeting the styling needs of various hair textures and types. The iron has 1 1/2 inches wide plates, suitable to style longer sections of hair faster. In addition, the dual voltage of this iron makes it a perfect carry-on while traveling so that you can get sleek and shiny hair wherever you go.
Pros
 Heats up in 30 seconds
 Wide plates to style longer sections of hair faster
 Reduces frizz and adds shine
 Auto shut off feature
Cons
 The heat doesn't last long
Price at the time of publication: $37.11
This iron uses the MCH heater, which makes the iron heat up in about 15 seconds. It's that fast! It has a safety lock and a swivel rod for easy use. It can even be transformed into a curling iron. The ceramic plates glide through your hair with ease, and the 3D floating technology does not allow dirt and steam to enter the straightener.
Pros
Comes with a glove to protect your hand from burning
Easy to carry
Has a 360-degree swivel cord
Cons
Takes the user some time to get used to the shape
Price at the time of publication: $21.99
If you want an iron that has a wide variety of settings to choose from, then this is the one for you. It comes with 20 heat settings. It takes only 15 seconds to heat up, thereby saving you loads of time. The plates are made from ultra-smooth mirror titanium, which is the best for when straightening coarse, curly, or coily hair.
Pros
Ultra-smooth titanium plates. '
Plates retain moisture
20 heat settings
Cons
Hard to create tight curls using this iron
Price at the time of publication: $47.97
This stylish flat iron comes with innovative vents that channel steam, making them the perfect iron to use on dry and wet hair. With this design, you no longer have to wait for your hair to dry to start styling it. Instead, you can towel dry it and immediately start styling it with this iron. It is built using smooth titanium plates that help conduct heat to your hair and resist corrosion. With 5 different temperature controls, this iron is perfect for those mornings when you are running late as it saves time and is flexible.
Pros
Unique steam vents
Adjustable temperature settings
Cons
Does not grip hair very well
Price at the time of publication: $30.95
Built with a titanium plane and ionic generator, this iron transfers heat faster than any other materials and gives you a long-lasting sheen. It has adjustable temperature settings and is dual voltage. It also has a lock design making it easy to stow away. Minimal and functional is how we can best describe this iron.
Pros
Adjustable temperature
Swivel cord
Titanium plate and ionic generator
Cons
Temperature dial can sometimes move when styling
Price at the time of publication: $79.99
Now that we have seen the 12 best straighteners in the market, we will understand how you must choose the product that is best suited to your needs.
How To Straighten Thick Hair With Flat Iron
Here is a guide to straightening your hair using a flat iron:
Step 1: Comb your hair out and divide it into sections (1:13)
Step 2: Heat the iron up to the desired temperature, depending on the texture of your hair (0:41)
Step 3: Apply a heat resistant spray if you like, as this can prevent excessive damage to your hair (1:33)
Step 4: Starting from the crown, move the iron in a fluid downwards motion (2:53)
Step 5: Move onto the next section and continue this until all your hair is straightened (4:56)
Once you are done, you could use some hairspray over the length of your hair. This helps maintain the styling for a longer period.
Flat Iron For Thick Hair-Buying Guide
We understand how confusing it can be when choosing a flat iron. Here is a list of a few things you should keep in mind before purchasing one:
Temperature for thick hair
Usually, the temperature needs to be set between 350-400°F.
Ceramic: Less damaging to the hair. Heats up from the inside.
Titanium: Heats up faster, and the outside heats up first.
Plate size for thick hair
Choose a plate that is wide and can hold more hair if you have thick hair.
Make sure that the technology used to design the straightener is one that allows heat to be distributed evenly.
Ensure the straightener has many temperature controls and can be adjusted for preference.
Other factors that you must consider:
Grip: Ensure the iron is easy to hold onto and will not slip.
Weight: Should not be uncomfortably heavy and as lightweight as possible, so it is easy to carry around.
Auto turn-off: Must have this feature, wherein it shuts off automatically if not used for a while.
What Safety Features Should A Flat Iron Have?
A flat iron should have Instant Heat Recovery System, auto shut-off, and dual voltage as these features make it reliable and highly functional for daily use.
Why Trust StyleCraze?
Vaishnavi Kothuri, the author of this article, is a hair care enthusiast and loves writing comprehensive articles on the same. She conducted in-depth research about the best flat irons for thick hair by carefully analyzing online user reviews. Thick hair needs special flat irons that won't damage the hair and control the frizz. The products listed above come with uniquely designed hair plates that boost shine and make your tresses look healthy and gorgeous.
Frequently Asked Questions
How often should I clean my flat iron?
You should clean it once a month.
Do you need to use a protective glove when operating a flat iron?
Using a glove is a great way to prevent scalding and accidental burns.
How should I choose my flat irons?
You should choose a flat iron based on your needs and the features it has. You must also factor the technology used in designing the plates and the temperature range it offers.
What is the difference between ceramic and non-ceramic plates?
The difference between the two is that ceramic plates heat from the inside, while non-ceramic plates heat up from the outside.
What products should I use to flat iron my thick hair?
Any of the flat irons mentioned above will do an exceptional job at straightening curly hair.
Will I damage my hair if I use a flat iron every day?
Yes, it can do serious damage to your locks as the heat can cause thinning of hair, split ends, etc.
Can I use a flat iron to do different styles?
If the iron is designed to double up as a curler, then yes, you can use it to style your hair differently.

Recommended Articles
How To Flat Iron Natural Hair In Just Simple Steps