35 Edgy Flat Twist Hairstyles You Need To Check Out In 2023
Be ready for wide-eyed amazement and compliments as you try on these quirky hairdos.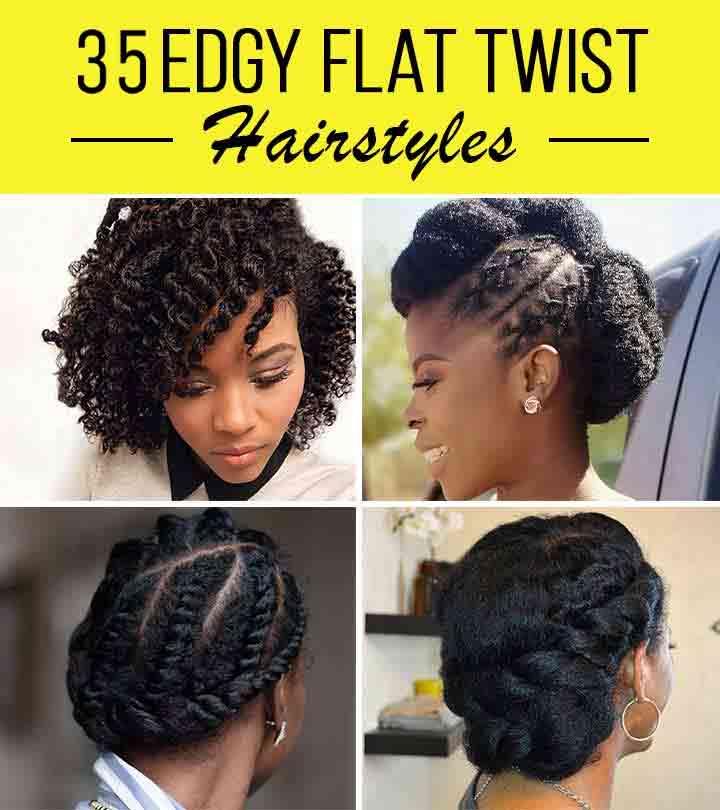 Flat twists are two-strand twists that hang loose. They are a protective hairstyle best for natural textured hair. If you want to expand your hairstyling repertoire, here are some flat twist hairstyles to get you started.
Starr Mason, a beauty professional and stylist, says, "I love these protective styles. In my professional opinion, the flat twist is a style that can be worn by anyone. It brings sophistication to any look. You can choose which look is best for you and your occasion. While you can create some of these styles yourself, some styles can be created by a professional. Make sure to use a moisture-based shampoo and conditioner before getting any of the flat twists to ensure moisture, control, and shine."
While there are many protective braids, these twists are a great place to start as they are easy to learn. Scroll down and give these hairstyles a try!

Before You Get Started
Flat twists are popular for being versatile. However, they are also a protective hairstyle done with extensions.
This protective style can be done on natural as well as relaxed hair. It lasts for 4-6 weeks.
Flat twists without extensions can last up to a week. However, depending on the complexity of the chosen style and maintenance, they can last longer.
Natural hair types need to be at least 3 inches long for a flat twist hairstyle using extensions. Looser curl types need to be 4-5 inches long.
Use a shampoo solution from a spray bottle to wash your flat twists. Spray them on the scalp and hair, rub gently, and rinse them under low-pressure running water.
Do not forget to use conditioning sprays to keep your twists hydrated.
35 Edgy Flat Twist Hairstyles You Need To Check Out In 2022
1. Half Flat Half Free Single Twist
This hairstyle is a combo of two cool styles. It starts with simple flat twist lines in the front. Then, about halfway through, we have multiple layers of freely cascading single twists instead of flat-lying twists. This looks perfect for medium-length hair.
2. Criss-Cross Flat Twist
This is quite the eye-catching hairstyle. The flat twists overlap in a criss-cross pattern on one side of your head. The rest of the hair may have the pattern or shift to free single twists.
3. Intricate Curve Flat Twists
This gorgeous style comprises a stacking of curve-patterned flat twists. The twists start from the edges of the hair, moving toward the center in this intricate curve pattern. The single twists are tied in a knot at the top and fall freely on your forehead like a spilling mohawk.
4. Flat Twists And Cornrows Ponytail
This edgy style is a combo of twists and cornrows that begin in the front, join together with a thick twist, and run all the way over your skull straight to the back. The twisted cornrows are tied in ponytails on either side. It is a neat hairdo perfect for those with active lifestyles.
5. Flat Twists And Cornrows Updo
This is another cool flat twist and cornrow combination. As the name suggests, instead of the braids moving downwards, they move upwards so they can be twisted around in a neat bun. You may use golden rings to accessorize the twists.
6. Cross-Twisted Flat Twists
Cross twists have never looked better. Divide your hair into three sections: two side sections and a middle section. The middle section will be twisted into a big braid. The side sections are flat-twisted and crossed to form diamond-shaped patterns on the sides. It looks stunning, doesn't it?
7. Flat Twists Crown
This flat twist crown hairdo is perfect for work and play! But, it needs a helping hand to be done perfectly. Your hair has to be divided into sections around the circumference of your head. Then, each section has to be flat twisted up till the crown.
8. Mid-rib Flat Twist
You must be wondering, why mid-rib? Just look at the pattern created by these flat twists and look at the mid-rib of a leaf, you'll get it. Again, you'll need some help with this flat twist hairdo.
9. Flat-twisted Low Bun
This flat twist style looks artistic. Women all over the world are going crazy over this classic low bun flat twists hairstyle. It is the perfect hairstyle for anyone who is on their feet all day and living in a hot area.
10. Aligned Flat Twists
This hairstyle mixes culture with modern style. It looks edgy and fierce. To achieve this look, style your hair in 5 or 6 big flat twists and tie them in a low bun at the back. This is a great hairstyle for anyone who likes to keep their hair away from their face.
11. Loose Flat-Twisted Low Bun
While low buns are mostly seen as classy, flat twists give them a youthful vibe. Imagine sporting this look with a leather jacket, black pants, boots, and some bling. It looks badass and edgy!
12. Flat Twists Semi Crown
This flat-twisted semi crown looks surreal! You'll have to use the tail end of a rat-tail comb and divide your hair into sections to match the design here. Then, weave each section into a flat twist, stopping at the hairline. Weave all the sections in one big crown flat twist to finish off the look.
13. Loose Half Flat Twists
This is a great flat twist style for workouts or sporty events. It looks uber stylish without your hair being all over the place. Divide your hair as shown in the picture and weave it in flat twists. You'll have to weave it from back to front so all the hair is loose at the top.
14. Rose Flat Twists
Yes, flat twists can give you roses! Weave your hair in flat twists from one side all the way to the other. Continue to twist your hair until the end. Simply roll the twists to form the rose at the side. If you want to give it more of a floral vibe, pancake the twist gently.
15. Thin Flat Twists Top Knot
Whoever thinks top knots are boring is wrong. Add flat twists to your top knot to jazz it up! Thin flat twists make your hair look thicker and super cool. Instead of securing the top knot with an elastic band, do it with your hair by tying it in the middle. It adds more design to the hairstyle.
16. Elegantly Twisted Flat Twists
This flat twists hairstyle looks stunning! It is perfect for an outdoor wedding. Simply part your hair at the center, then twist it at the end in a loose (but neat) flat twist on both sides. Join both the flat twists at the back to form the bun.
17. Flat Twists Updo
This one is definitely on my to-do list. It looks contemporary and modern. You could pair it with a gown but also with a leather jacket. Weave a French Flat twist on the sides of your head. Weave each flat twist in a braid from the middle down. Join all the braids at the top to form the updo.
18. Thin And Thick Flat Twists
This is one of the easiest and coolest hairstyles. All you need to do is weave your flat twists as you would cornrows. Keep them close to the scalp, alternating between thin and thick flat twists. You can also accessorize this updo with hair rings to jazz it up.
19. Big Flat Twists
Flat twists meet elegance in this hairstyle. Divide your hair into big sections and weave them in loose flat twists. Keep them loose so your twists look big, but not so loose that they look messy. Join all the flat twists at the back and wrap them round to form the bun.
20. Flat Twists French Twist
This ropey flat-twisted half updo is stunning. It has all the comfort of a classy hairstyle but the style of a modern, edgy one as well. The best thing about it is that it's easy and quick to achieve.
21. Big Flat-Twisted Mohawk
Mohawks are so edgy that there's no way you can make them elegant, right? Wrong! Try this big flat-twisted mohawk, and you won't go wrong. On the contrary, you will turn heads wherever you go!
22. Loose Curled Flat Twists
If you're looking for a cool and playful hairstyle, look no further than this loose curled flat twists hairdo. It's effective in keeping your hair tied but also looks very chic. It is perfect for work or college.
23. Flat Twist Out
This hairstyle is stunning and super easy to achieve. Wash your hair and apply some curl-defining cream to it. Weave your hair in flat twists and keep them overnight. The next morning, unleash your stunning curls!


Quick Tip
With this short length hair, flat twists will lead to defined twists that can easily be manipulated. Singer Solanges Knowles is often seen sporting this style.
24. Flat Twists Tied Updo
Sometimes, all you need to beautify your top knot are some simple flat twists. Divide your hair into small sections and twist each section into a flat twist. The flat twists should move from the hairline to the crown so the top knot can be formed. Once the flat twists reach the crown, continue to twist the hair till the ends. Then, wrap them in a top knot.
25. Rolled Flat Twists Updo
This stunning flat twist updo is made by twisting your hair tightly. Divide your hair into small sections. Divide each section into two parts and tightly twist them round each other towards the top of your head. Once you reach the top, tightly twist and fold each section to form this updo. Use edge cream or coconut oil to make your hair look sleek.
26. Milkmaid Flat Twists
This is a great hairstyle for school, college, or just to chill at home while you complete your chores. It's a twisted take on the milkmaid braid. What can I say, flat twists inspire creativity!
27. Big Flat Twists And Ringlets
This hairstyle is pretty easy to achieve. Style your kinky black hair in big flat twists from the hairline to the crown. Once you reach the crown, use rollers and curl-defining cream to achieve the perfect ringlets.
28. Side Flat-Twisted Ponytail
This is a super simple yet elegant style. It's perfect for a barbeque party. You'll need to flat twist your hair at the sides from the middle up till the back. Then, gather the rest of your and secure the flat twists with an elastic band in a low ponytail. Jazz it up with a flower on one side.
29. Ropey Flat Twists
This hairstyle is extremely edgy! Before you weave your flat twists, apply a good amount of cream to each section so the distinct lines can be seen. Then, tie the flat twists in a knot at the top.
30. Bridal Crown
Patterns and flat twists go hand in hand, like wine and cheese. They look stunning and make you feel like a Disney princess. Try out this look for a wedding. It will not disappoint!
31. Tight Fla-Twisted Bantu Knots
I love this flat-twisted hairstyle. It looks light, playful, and easy to do. This mix of Bantu knots and flat twists is easy to achieve. I love how the Bantu knots are a lighter brown shade to add a beautiful contrast to the look.
32. Pineapple Flat Twists
This gives the classic pineapple hairdo a whole new twist (get it?). To mimic this hairstyle, all you have to do is flip your hair over and begin flat twisting it from the back upwards. Once you reach the crown, use thin elastic bands or bobby pins to secure the flat twists in place.
33. Mohawk Flat Twist
This flat-twisted style looks complicated, but the closer you look, the easier it becomes to try. Let me break it down for you. Begin flat twisting your hair from one side. Make sure it curves upward. Then join the flat twists to form the mohawk.
34. Flat-Twisted High Ponytail
This has to be the most sought-after flat twists hairstyle of all time. It's pretty easy to achieve, though you might need to do it once or twice to get the hang of it. Simply weave your hair in individual flat twists and tie them up in a high ponytail.
35. Big Twist With Flat Twists
Flat twists can make a regular hairstyle look fresh.  The best thing about this hairstyle is that it works for a formal meeting as well as a laid-back party afterwards. Remember to keep the flat twists thin to nail this look.
Now that you know all the flat twists hairstyles trending right now, check out how you can do basic flat twists yourself at home!
How To Flat Twist Your Hair
Flat twists only require two sections at a time, though they are styled like cornrows. Start by parting your hair from the front hairline till the nape of your neck.
Starting from the inner edges of the parting, begin working with a small section at the hairline.
Divide that same small section of hair into two equal sections.
Twist the two sections of hair around each other, moving back along this parted section.
As you twist the hair, gently incorporate hair from along the parting into the twist as you work backwards. It's important to not use too much tension because you don't want to cause pain or damage the hair follicles with tight styling.
If the hair you're twisting is long enough, you'll reach a point where the twist is no longer attached to the scalp. You might want to secure the twist here, but it's best to experiment and see what works for you. Here, you can use a small elastic band to keep the twist from unraveling. However, the thicker and curlier the hair, the better it is at holding itself together without unraveling.
Continue twisting the hair until you reach the end and secure the ends with elastic bands.
Repeat the flat twists over the entire head, moving outward along the hairline. As you become more comfortable with your technique, you may find yourself wanting to create patterns that direct to one side instead of straight back for more variety.
If you don't want to let your twists hang loose, you can easily pull them back into a ponytail. Either let the ends hang freely or secure them. This is a good option for people who want an easy protective style without many hair accessories.

Quick Tip
Twists also serve as a transition hairstyle as in when you take them out, you have a whole new style (that also is a protective style).
Infographic: Flat Twists – Facts And Tips
Are you mesmerized by the hairstyles above and can't wait to try them out? You shouldn't have to either. After all, who doesn't want to flaunt these unique hairstyles and turn heads?
But before you get started, we want to feed you some flat twist facts and tips to make them stand out. All you need to do is scroll down and read the infographic below. So, go on then! It's time to be the showstopper.


Flat twist hairstyles are beautiful, playful, and simple to braid, but they also require proper hair care and the use of the right hair products. They keep your hair protected while not compromising on the look. This style lets you express your creative side and puts your braiding prowess to the test. There are several varieties of flat twists available in our selection, whether you are looking for a stunning updo or an intricate twist. Depending on your preference, you can have elaborate flat twists or a simple and loose style. Feel free to experiment with these styles and tweak them to your specific requirements and tastes.
Frequently Asked Questions
How to twist your hair?
Section your hair evenly and twist them with your fingers in a downward direction till the ends. Firmly press the ends and leave them gradually for the twists to settle on their own.
How long do flat twists last?
Flat twists can last up to 1 week with proper care and maintenance.
Can you wash flat twists?
Yes, flat twists can be washed. Washing helps get rid of product build-up. Flat twists can also be conditioned for proper maintenance.
How do you moisturize a flat twist?
Flat twists can be moisturized with a leave-in conditioner. Fill a spray bottle with water and a leave-in conditioner. Spray this mixture evenly to saturate the hair well.
Key Takeaways
Flat twists are a great way to style your natural hair while protecting it.
Pairing small flat twists with larger protective styles is a common trend.
You can style your twists or play around with partition designs to make them look artistic.
Once you flat-twist your hair, you can style it in a bun, a ponytail, or a mohawk.
Revamp your natural hair with a gorgeous and low-maintenance flat twist style. This beginner's tutorial video will guide you through the process. Check it out.
The following two tabs change content below.