17 Best Extra-Thick Fleece-Lined Leggings That Keep You Warm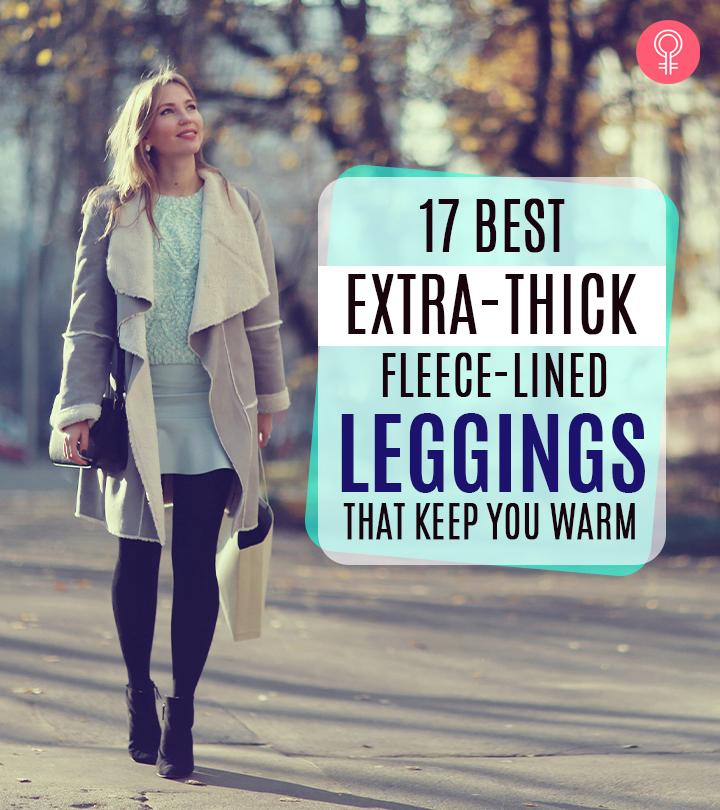 Leggings are versatile pants that can be paired with anything. But during winters, you need something that can keep you warm and cozy while looking fashionable at the same time. Enter, fleece-lined leggings. Fleece is a synthetic fiber made of a polyester blend, originally manufactured as an imitation of wool. These leggings are so soft and comfortable to wear that you can basically live through them in winters. The soft and stretchable fabric can be worn for yoga, workouts, or layering during the cold months.
If you still want to keep up with your running routine during the winter, then you are at the right place! Go through our list of the best fleece-lined leggings for comfort and warmth.
17 Best Extra-Thick Fleece-Lined Leggings To Keep You Warm
Baleaf Women's Fleece Lined Winter Leggings are made with a blend of polyester and Spandex that is soft and breathable. The moisture-wicking material keeps you cozy and warm during winters, while its high-waistband offers the perfect fit. Also, it comes with two side pockets and one concealed pocket, allowing you to keep your keys and cards safe. The flat seam minimizes chafing, and the hip-lift design brings out the perfect shape of your body.
Pros
Insulated
Breathable fabric
Moisture-wicking
Four-way stretch
Flat seam
Skin-friendly
Cons
These premium women's fleece-lined leggings from Conceited are available in two stretchable sizes to fit one and all. The blend of nylon and Spandex keeps you warm and cozy all day long. The wide waistband offers a great hold and a slim-fit look. These leggings are great for daily wear or sports. You can pair them with shoes or boots while heading outdoors.
Pros
Lightweight
Comfortable
Seamless design
Stretchable fabric
Stylish
Air-permeable
Cons
With these high-waisted fleece-lined leggings from trusted activewear brand 90 Degree By Reflex, you can set yourself free of bulky purses to carry your house keys, phones, or other knick-knacks. These ultra-comfortable leggings come with open pockets, allowing free access to your stuff. The high waistband is made with a blend of Spandex and polyester to add stretchability and comfort. For free movement and increased mobility, these leggings are designed with a gusset crotch and interlock stitching.
Pros
Stretchable
Insulated
Gusset crotch
Interlock stitching
Ultra-soft
Stretchable
Cons
These warm and ultra-soft high-waisted leggings from CakCton keep you warm during the cold winter nights, while the seamless stitching keeps the leggings in place. Plus, the tummy-control band holds and shapes your waist area. The high-quality fabric is a blend of polyester and Spandex with inner fleece to add extra warmth without bulk. The super stretchable design can fit one and all. Wear them as it is or layer them under your outfits for more comfort.
Pros
Seamless
Breathable fabric
Durable
Stretchable
Cons
These Diravo leggings for women are soft and warm ankle-length fleece-lined leggings with a 4.3-inch high waistband, making them suitable for all body sizes and types. These high-waist leggings with a full-length design look gorgeous under long tops and coats. These leggings are made with polyester and Spandex, and they shape your legs and waist while keeping you warm. These fashionable leggings are available in multiple colors.
Pros
Stylish
Comfortable
Warm
Easy to pull on
Stretchable
Available in a variety of colors
Cons
These long-lasting yoga pants are perfect for fitness enthusiasts during winter. These IUGA fleece-lined yoga pants are high-waisted and provide tummy control, which gives you the perfect fit. The leggings are stitched with pockets on either side for carrying your keys and phone during workouts. The super-soft fabric has a gusset crotch that allows maximum movement, and the seamless stitching prevents friction against the skin.
Pros
Four-way stretch
Lightweight
Versatile use
Minimize rubbing and chafing
Allow free movement
Cons
Cold weather or light rain – the Yogipace fleece-lined thermal tights can withstand it all. They are available in multiple sizes and beautifully align with the contours of the body to give a perfect fit. These tights are made with a water-resistant material to handle light rain or splashes. Plus, the fleece lining on the inside keeps you warm in cold temperatures. These tights are stitched with a double-layer gusset for ease of movement, while the broad elastic waistband with an inner drawstring ensures a tight fit. The concealed pockets in the waistband secure your device and accessories for easy accessibility.
Pros
Water-resistant
Hidden and zippered pockets
Easy movement
Prevent pilling
Lightweight
Breathable
Machine-washable
Cons
Muk Luks Women's Solid Fleece Leggings are made with a blend of polyester and Spandex to keep you warm, comfortable, and cozy on chilly days. The lightweight pants are stretchable and allow easy movement, making them perfect for both indoors and outdoors. These pants are easy to maintain and can be machine-washed on a gentle cycle.
Pros
Lightweight
Warm
Comfortable
Soft
Easy to maintain
Cons
CRZ Yoga Women's Thermal Fleece Lined Yoga Leggings are made with a high-quality material with a smooth and silky touch. It is a blend of Spandex and polyester and is lined with fleece on the inside to retain body heat and extend warmth. These high-rise leggings with a double-lined waistband give maximum coverage to your belly, while the broad waistband tucks in the tummy and prevents muffin top. The parallel space in the crotch ensures free movement, and the flatlock seam and rubber band design prevents friction and reduces chafing.
Pros
Silky fabric
Maximum coverage
Absorbs moisture
Prevents friction
Multiple-use
Cons
These fleece-lined denim leggings from HUE are comfortable and fashionable pants with a pull-on design and illusion buttons to resemble jeans. The elastic waistband with a no-drop feature offers a firm fit. These leggings are made with a blend of cotton, polyester, Spandex, and rayon, so you can wear them anytime, anywhere.
Pros
Easy to pull on
Machine-washable
Multipurpose
Functional pockets
Cons
These thermal yoga pants from TSLA are designed uniquely for more support and coverage and are perfect for workouts. They are made with Spandex and polyester for easy movement during running, playing, or yoga, while the flatlock seam prevents chafing and gives a neat look. The hidden pockets on the waistband keep your phone or keys secure. These ultra-stretchable leggings offer a velvety feel and protect your skin from the harmful UV rays.
Pros
Multipurpose use
Stretchable
Durable
Non-abrasion
UV protection
Two-way air circulation
Hidden pocket
Cons
Britt's Knits Women's Fleece-Lined Leggings are made with 100% polyester and offer comfort and warmth. The fabric is breathable and prevents moisture concentration during workouts. The seamless stitching gives a neat look and prevents chafing. They are perfect for the office or running errands at home. The stretchable waistband offers a firm fit.
Pros
Seamless
Breathable fabric
Comfortable
Soft
Cons
Not suitable for plus sizes
Sweetaluna Fleece-Lined Leggings are versatile leggings made with a high-quality material that is soft, stretchable, and fits perfectly. The four-way design allows more freedom of movement. The high-waisted belt of these fitness pants streamlines the tummy bulge, and the elastic stretch ensures that the crotch does not move around during workouts. The sleek pockets on either side can be used to keep your keys or phone.
Pros
Versatile
Breathable fabric
Stretchable
Tummy control
Cons
Silkworld Fleece-Lined Leggings have a thick design to maintain the body heat. Their moisture-wicking feature makes them more breathable. The high-waisted design with tummy control helps in hiding your belly, while its flatlock seam reduces friction and prevents irritation. The snug fit brings out the perfect shape of your legs, and the hip-lift design fits the body curves. The thick material with a four-way stretch ensures free movement.
Pros
Elastic closure
Hidden pocket
Moisture-wicking
Quick-drying fabric
Breathable
Silky fabric
Cons
None
Flinxe Tummy Control Fleece-Lined Leggings are made with a 54% viscose, 40% polyester, and 6% Spandex blend to keep you warm and comfortable in winters. They are ideal for workouts, yoga, or casual wear. The elastic waistband compresses your abdomen to support a slim look with the no-drop feature. These compress leggings provide the perfect shape to your legs to give your body a slim look.
Pros
Streamlines look
Tummy control
Stretchable
Comfortable
Cons
The fashionable Indero Fleece-Lined Ultra-Soft Leggings are suitable for workouts, indoors or outdoors. The polyester and Spandex blend makes these pants super stretchable and comfortable. The breathable material helps to absorb moisture and keep you warm and sweat-free during workouts.
Pros
Stylish
Flexible
Multipurpose
Long-lasting color
Breathable
Cons
These Ogeenier winter leggings for women come in full-length design and feature soft inner lining of fleece to keep you warm and cozy through the winters. The high elastic waistband compresses your abdomen to give you a slim look. The compression design brings out the perfect shape of your legs. The two parallel pockets on either side do not add bulk and can be used for carrying small accessories. The flatlock seam prevents chafing and friction for comfortable wear. The top-notch quality makes these leggings perfect for yoga, cycling, or just for lounging.
Pros
Stylish
Moisture-wicking fabric
Four-way stretch
Soft to wear
Cons
Fleece-lined leggings are a must-have in your winter wardrobe. These leggings are versatile, keep your legs warm, and can be paired with fashionable tops to create cute outfits. Browse the best fleece-lined leggings listed above and pick a pair that suits you needs. The Conceited Premium Women's Fleece-Lined Leggings are a customer-favorite as their tummy-tuck waistband ensures a slim look.
Expert's Answers For Readers' Questions
Why is fleece so warm?
Fleece is an imitation of wool but is made of synthetic fiber. The material can retain the body heat effectively, making it ideal for winter.
Are fleece-lined leggings waterproof?
No, fleece-lined leggings are not waterproof.
Is fleece warm enough for winter?
Fleece is warm enough for winters, but it depends on the thickness and quality of the fabric too.
The following two tabs change content below.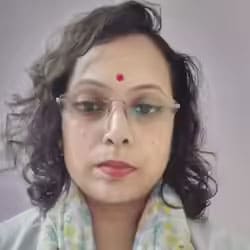 Baishali has a master's degree in English and is an associate editor. She specializes in makeup and fashion and reviews products that fall under these categories. Prior to this, she worked with a digital marketing company in Kolkata where she wrote stories on travel, beauty, and home décor. When she is not working, Baishali loves reading and having intense discussions over a cup of tea.