15 Best Flip-flops For Women That Are Too Comfy For Walks – 2023
Give some rest to those soles and get used to weightless and snugly fitting sandals!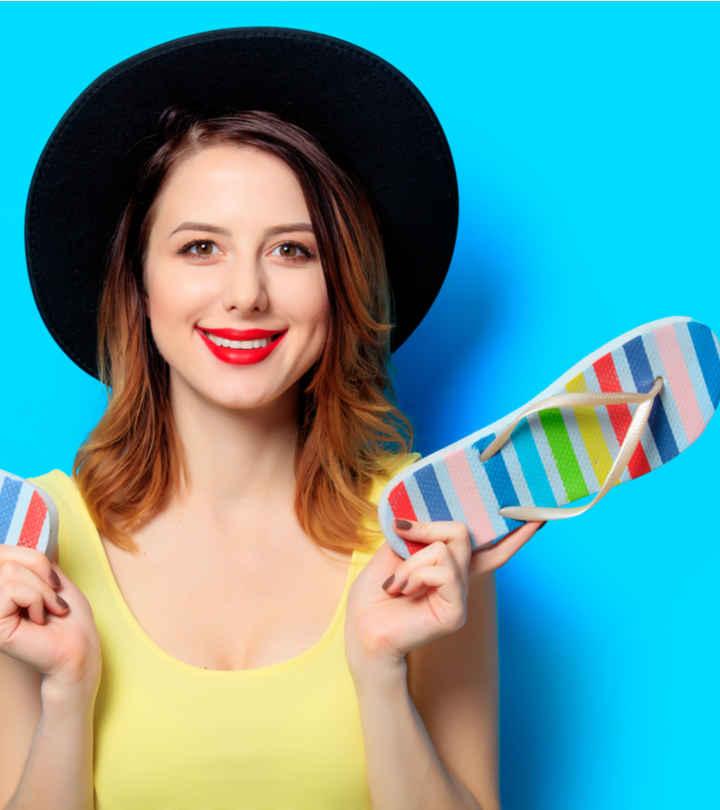 It's not yet time for vacations if you have not picked some of the best flip flops for women and headed straight to the beach. Yes, with all those walking and running with your heels, boots, sports shoes on, your feet can get so much tired being packed up and boxed. Flip flops come to your rescue to free your feet from all that horror. Gone are those days when they were only washroom slippers. Today, they are available in so many vibrant prints, funky colors, with cute add-ons that go so well with swimsuits, summer dresses, and even pajamas.
The best flip flops not just doll up your feet but are also super comfy and pedicure-friendly. Guess what? Some of them are even anti-skid and waterproof to be your best beach buddy. If you love all things feet fashion, dive into the list of the 15 best flip flops listed below.
Liberate Your Feet With The 15 Trendiest Flip-flops For Women In 2023!
So light, like you are walking on clouds! These synthetic flip-flops will make your feet bounce with every step you take. Made using Cushion Soft Technology, it does not compromise on comfort and style. It has a cushioned layer on top, a high-density foam layer in the center, and an EVA midsole and soft footbed to absorb shock instantly. Plus, the hook and loop closure ensures a secure fit so you can strut in them comfortably all day and all summer!
Pros
 True to size
 Weightless
 High-quality
 Available in up to 40 colors and designs
Cons
 Slightly expensive
 May not relieve plantar fasciitis
Price at the time of publication: $31.74
Summers are incomplete without a pair of Crocs. And these Crocs women's flip-flops will keep your feet fresh and at ease all the time. Feather-light and water-friendly to pair them with your beachwear, these cute and comfy combos are great for summer getaways. Made using the brand's original Croslite foam cushion, it has thin straps and a soft TPU toe post for optimal support and comfort on the go. Do not skip these cute flip-flops for women.
Pros
 Anti-slip
 Flexible
 Sleek design
 Easy-to-clean
 Available in over 15 colors
Cons
 May not be suitable for wide feet
Price at the time of publication: $19.98
These boho-chic sandals will up your fashion game and keep your feet comfortable. Just what you need to walk around the town or flaunt that expensive pedicure in, they pair beautifully with beachwear and summer dresses. And as for comfort, their high-quality flat soles are made of soft and durable rubber. The straps are handwoven, stretch-to-fit, and made of non-blistering nylon. Plus, they are available in 25 different colors, which means you can stock more than one!
Pros
 Flexible
 Snug fit
 Non-rubbing
 Vegan-friendly
Cons
 Slightly uncomfortable if you have wide feet
Price at the time of publication: $39.95
Not your regular flip-flops, these are trendy, colorful and they radiate summer in every detail! With eco-friendly webbing, these comfortable flip-flops for women are plant-based and made of synthetic materials. And did we tell you how incredibly comforting they are? They have a cushiony top layer and a contoured footbed to provide optimal support to the sole. You can take a walk in them or hit the beach if you like as they are a fantastic choice for your feet and your freshly painted nails.
Pros
 Vegan
 Durable
 Quick-drying
 Secure fit straps
 Available in over 10 colors
Cons
 Some may find them too narrow
Price at the time of publication: $24.5
Brand conscious or not, this pair from Birkenstock will win your heart. Widely known for its ultra-comforting and anatomical design, the flip-flops will provide optimal support to your arches. Made of EVA and shock-absorbing, you can wear them all day as they won't tire out your feet. And since they are waterproof, you can strut in the rain or play with the waves if you like, as they will dry quickly and keep your feet fresh and ache-free.
Pros
 Durable
 Flexible
 Ultralight
 Roomy toe area
 Adjustable straps
Cons
 Expensive
 Slightly noisy
Price at the time of publication: $39.95
Missing the vacation vibes, are you? These beach-friendly flip-flops will add a Hawaiian touch to your summer outfit with their different hues. Available in over 15 colors to match all your dresses and mood, its sleek and feminine style is too trendy to be missed. And they are so light; you'll barely feel them under your feet! With a cushioned footbed, rubber sole, and texture rice pattern design, get ready to bask in the sun in these ultra-comfortable sandals.
Pros
 Washable
 Lightweight
 Waterproof
 Shock-absorbing
 A trusted brand for 50 years
Cons
 Not suitable for all-day wear
Price at the time of publication: $12.5
One footwear for all your adventures! Be it travel, beach, or leisure, these sandals will cradle your feet, especially the arches, with optimal comfort and support. Anatomically designed, it has super-soft EVA cushioning as a footbed, and the quilted straps are faux nubuck leather for a secure fit. In addition, it has a soft woven lining to prevent blisters or rubbing after prolonged wear. So, if you love last-minute adventure, these sandals will keep you company without killing your feet!
Pros
 Durable
 Ultra-flexible
 Lightweight
 Water-resistant
Cons
 Color may wear off
 May be slightly narrow for wide feet
Price at the time of publication: $31.03
Don't let the minimalist design of these flip-flops make you doubt its comfortability. Made using iQushion air-foam cushioning, they have an ergonomic shape for non-stop comfort. And are you flat-footed or dealing with plantar fasciitis? These women's flip-flops with arch support have impact pillows on the front and back to absorb pressure. The arch contour also provides optimal support, which means ache-free walks all day! Want more? They are anti-slip and great for pool parties and beach getaways too.
Pros
 Flexible
 Waterproof
 Lightweight
 Ultra-sleek design
 All-day comfort tech
 Available in 11 colors
Cons
 Not suitable for wide feet
 The toe area doesn't have enough room.
Price at the time of publication: $26.47
Not just pretty, these sandals are "pretty comfortable" to kickstart your summer with. Biomechanically designed and with 3 comfort zone areas— deep heel cup, arch support midsole, and forefoot cushioning, you no longer have to deal with plantar fasciitis and other chronic foot aches with this trendy pair. It has a microfiber footbed, shock-absorbing EVA midsole, and durable patterned rubber outsole to provide optimal stability. And did you notice the pretty bow on the toe strap? The pair is available in multiple pretty patterns and is wide-foot-friendly too.
Pros
 Durable
 Flexible
 Lightweight
 Roomy toe areas
 Awarded APMA Seal of Acceptance
 Reduces stress on ankle, knees, and feet
Cons
 May not be waterproof
 Slightly expensive
Price at the time of publication: $63.98
Pair your beach OOTDs with these flip-flops for a gram-worthy look this summer! Slip into them after a dip in the ocean or pool; they are water-friendly and ultralight. The toe post is made of poly web lined synthetic nubuck material, and the footbed is soft EVA that'll mold to your feet's arches and provide optimal comfort. More on the design, it has a pattern tread rubber outsole for traction and support.
Pros
 Durable
 Flexible
 Washable
 Available in over 13 colors
Cons
Price at the time of publication: $22.1
Are you still hunting for wide-feet flip-flops? Let your search end here because this pair has all the extra room your feet deserve! Soft and cozy, just like you'd want your vacay sandals to be, this pair has high-density yoga padding to provide incredible cushioning to your tired feet. More like walking on feathers, they are lightweight and the arch support makes them ideal for flat feet, plantar fasciitis, and Achilles tendinitis. Also, no blistering and rubbing straps with this one! The straps are soft satin material and the anti-skid outsole ensures good traction on all surfaces. Enjoy your beach walks and runs in these lightweight flip-flops!
Pros
 Durable
 Flexible
 Snug fit
 Water-resistant
 All-day comfort
 Suitable for beach and outdoors
Cons
 The cloth straps may wear off quickly.
Price at the time of publication: $22.99
For memorable and carefree walks, try these comforting and anti-skid leather flip-flops by ONCAI. Simply stylish whether you dress up or dress down, you can rock both a summer dress and swimsuit with this sleek pair. It has the upper sole of synthetic leather and a rubber outsole that is anti-skid and provides incredible traction with every step. And for more stability, it has arch support to make every walk comfortable for flat feet, plantar fasciitis, and other chronic conditions.
Pros
 Durable
 Waterproof
 Ultra-comfy straps
 Available in over 10 designs
Cons
 Not suitable for all-day wear
Price at the time of publication: $27.99
Flip flops but with the comfort of shoes! These ultra-cool and trendy summer sandals will make you fall in love with your summer walks. With easy slip on and off, you can trust New Balance's 340 for all-day optimal comfort. It has a soft EVA cushioning midsole and footbed, and the strap is made of synthetic material with textile lining. And as far as the colors are concerned, you get to choose between some of the trendiest options, such as teal, brown, white, and amethyst. Feeling spoilt for choices, are you?
Pros
 Snug fit
 Durable
 Flexible
 Lightweight
 Roomy toe areas
 Suitable for medium to wide feet
Cons
Price at the time of publication: $19.99
Say yes to this pair by KUAILU that will not deform or wear out even after long, long walks. It has a soft yoga-mat footbed, EVA midsole, and rubber outsole that'll mold to your feet to provide comfort. The straps are made of sturdy and durable cloth that is also skin-friendly. Plus, it has arch support if you are flat-footed or dealing with plantar fasciitis. And the best part is, they are anti-skid and will be a great company if you are heading to the beach.
Pros
 Durable
 Flexible
 Ultra-relaxing
 Long-lasting wear
 Available in over 14 colors
Cons
 Slightly tight for wide feet
Price at the time of publication: $21.99
When it comes to comfort and style, Skechers will never disappoint. With easy slip-on/off and thong-style straps, they have a high-rebounding sole to add a bounce to your feet. Ultra-comfy that you'd want to stock more than one, the flip-flops are made with 5Gen responsive cushioning for optimal comfort. Besides this, the outsole is rubber, and the straps are soft and made of skin-friendly fabric. Suitable for wide feet and with roomy toe areas, they also have arch support for the utmost stability.
Pros
 Durable
 Lightweight
 Washable
 Available in 7 colors
Cons
 They may squeak when wet.
Price at the time of publication: $31.76
Give your feet a much-needed break! Trendy, colorful, comfortable, and summery, these 15 flip-flops will keep your feet happy and stylish in 2023. If you are still wondering how to pick the best flip-flop for women or how to style your summer look with them, we have some tips for you in our buying guide below.
How To Choose Best Women's Flip-flops?
Here are some features to look out for before buying a pair of flip-flops:
Sizes may vary from brand to brand. If you're choosing a brand for the first time, measure your feet and check the size chart before buying. Other than this, you can check the comments to figure out if you need to size up or down.
Besides the size, the shape of your feet is an essential feature to consider before buying. If you have wide feet, check if the flip-flops have spacious toe areas or a wider mid area to deliver optimal comfort. Flip flops with narrow shapes or straps may be slightly uncomfortable to wear, especially if you need all-day comfort.
Ideally, flip-flops with EVA soles are soft and ultra-comforting. Besides this, settle for foam footbeds with skin-friendly straps and toe posts to avoid blisters and rubbing.
For flat feet or those suffering from plantar fasciitis or backaches, flip-flops with arch support are the safest option. They will mold to the shape of the feet when you walk to deliver optimal support and comfort.
Slippery flip-flops can be hazardous and cause injuries beyond measure. To be safe, always pick a pair with a durable and anti-skid sole, so you can step into the rain or poolside without worrying about slipping.
What Goes Well With Flip-flops?
Flip flops are no longer post-shower footwear, with many high-end brands taking them to the runway! Highly versatile and available in cool and funky colors, you can pair them with beachwear and summer dresses. Beach-friendly and great for strolls and touring, they pair well with summer shorts, ankle-length trousers, and denim too. And to make the most of them, get that expensive pedicure and watch people go ga-ga over your feet and footwear all summer.
Why Trust StyleCraze?
Our author, Chaitra Krishnan, is an avid fashion enthusiast who enjoys reviewing products for her readers. She has curated a list with the best flip-flops for women after researching and checking reviews online. Her list is perfect if you're keen on using premium-quality flip-flops that are weightless, easy to clean, and come in sleek designs. Not only are the flip-flops listed durable, but they are also available in different colors for you to choose the ones that will go best with your aesthetic.
Frequently Asked Questions
Which material flip-flops are the best?
Slippers made of polyester or foam are the best when it comes to comfort. However, there are other options, such as the ones made of rubber or leather.
What size flip-flops should we get?
It is recommended to buy a size that will provide ½ inches of space around the foot and does not have your feet hanging over the edges.
How long do flip-flops last?
An average flip-flops can be worn comfortably for up to a year. However, the longevity of your flip-flops also depends on the usage and quality.
How can we make my flip-flops tighter?
An effective way to re-tighten your flip-flops is by using the hot water method where the flip-flops are placed in boiling water and leaving it there for five minutes before taking them out and drying before use.
Are flip-flops good for your feet?
Yes. Wearing flip-flops occasionally does not have any adverse effects on your feet. But flip-flops do not support your feet completely because they lack arch support and can lead to plantar fasciitis, which makes walking painful.
Does walking in flip-flops strengthen your feet?
Yes. Flip-flops strengthen the muscle inside your feet because wearing them makes the muscle in front of your feet work harder in order to get a grip.
Can flip-flops cause flat feet?
Yes, wearing flip-flops over an extended period of time may cause flat feet. Flip-flops usually lack the structure to support the arch of your feet and may collapse the arch, resulting in flat feet.
Recommended Articles: