13 Best Flip Flops With Arch Support, Recommended By Podiatrists
These flip flops are designed by experts to give the best arch support!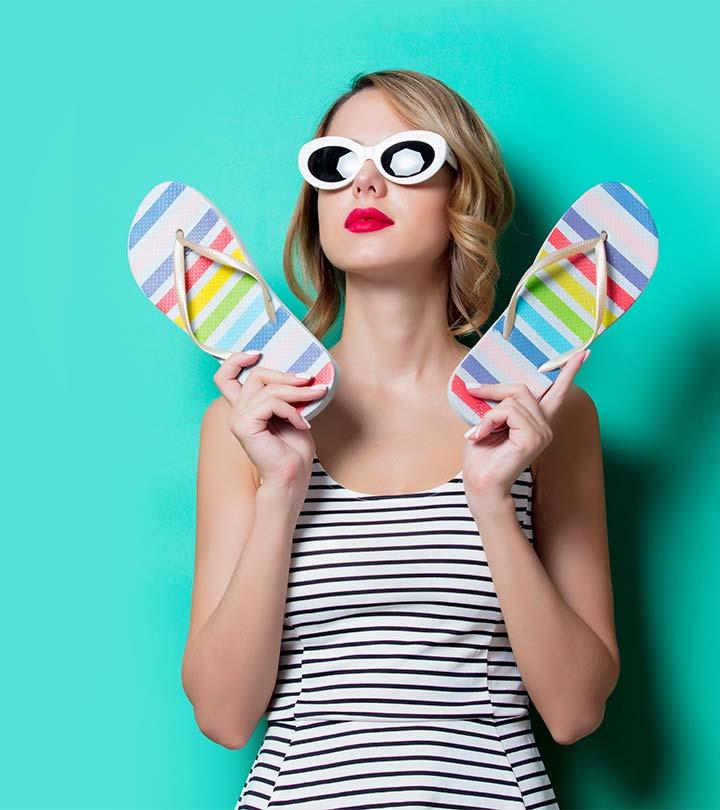 While we all enjoy wearing flip-flops in the summer, some of us experience feet pain afterward. To avoid this pain, one must try the best flip-flops with arch support. These light sandals are easy to wear and effortlessly cool for a sunny day at the beach or for running errands. These are also extremely versatile and go along with all types of casual wear. But most of them lack proper arch support and may lead to knee and lower back pain. The challenge with most of these open-toe sandals is that though they initially feel comfortable, they tend to get flattened and cause discomfort and pain over time.
Also, are you aware that wearing the wrong pair of flip-flops for extended periods can disrupt your body's natural alignment? To avoid such problems related to your sandals, you must invest in some good-quality women's flip-flops with arch support. It is time you discarded your old, flattened-out flip-flops and got yourself some new ones that will last longer and not get flat with each passing day. We have explored the online market and curated a list of the 13 best flip-flops with arch support so that you can avoid plantar fasciitis and other foot-related problems. Go ahead and check them out to choose your favorite pick.
How To Find The Best Flip Flops With Arch Support?
Finding flip-flops with arch support doesn't mean they have to be ugly. On the contrary, you can find a cute pair that are pretty functional as well. Some features that you need to keep in mind when searching for flip flops are:
Don't go for flip flops that are super flat and paper-thin. They will break easily, won't absorb any impact shock, and damage your feet.
Look for flip flops that match your feet' natural arch. For example, if you have high arches, you will have slippers that match that, and if you have a flat arch, you will need ones with a low arch.
Molding and contoured footbeds really help with the fit. Look for ones that follow your foot shape. Contoured footbeds are usually made from latex or cork; they also help even the foot's natural weight distribution. They also prevent any painful injuries like shin splints and collapsed arches.
13 Best Flip Flops With Arch Support That Is Durable And Super Cute
The Arch Support Flip Flops offer optimum comfort and support for your feet. The contoured orthopedic flip-flops deliver maximum arch support, while the high-quality materials ensure a comfortable base for your feet. The polyurethane gel injected sole adds breathability and absorbs sweat, thus aiding in odor control. These are made to be slip-resistant and offer lasting comfort for any outdoor activities or everyday wear. These sandals also provide maximum comfort and style and are ideal for travel.
Pros
Perfect fit
Slip-resistant
Comfortable
Good arch support
Good quality
Travel-friendly
Ideal for ailing feet
Available in variety of colors
Cons
None
Price at the time of publication: $49.99
The Chaco Lowdown Flip Flop offers superior comfort with its 100% polyester jacquard webbing, wide width, and synthetic trims. The included ChacoGrip rubber compound provides a secure grip, while the lightweight LUVSEAT midsole offers all-day comfort and arch support. This flip-flop is lightweight, making it perfect for long wear and outdoor adventures.
Pros
Great support
Available in various colors
Pain-free design
Lightweight
Comfortable
Durable 
Cons
Some users find the sandals too wide
Price at the time of publication: $54.95
The Birkenstock Narrow Fit Sandals are fashionable and comfortable shoes with a single strap. The pair is made of BirkoFlor material with a comfortable footbed. They are the perfect combination of style and comfort and the EVA sole will provide excellent cushioning and durability. These sleek-looking sandals are perfect for any occasion.
Pros
Good quality
Perfect fit
Value for money
Fashionable and comfortable
Cons
None
Price at the time of publication: $81.95
The Rainbow Sandals Single Layer Premier Leather Sandals are made of high-quality leather with a rubber sole. They measure around 1″ in height. The entire upper is made from genuine leather, with a single-layer arch for extra support. The bottoms feature a non-slip rainbow design. Plus, it is double-stitched and tripled-glued for added durability. This makes them stronger and sturdier than other flip-flops.
Pros
Highly durable
Fashionable colors
Non-slip design
Value for money
Cons
The sizes may not be true
Price at the time of publication: $59.99
Before you write these shoes off for their rather "unique" stylish design, you must know that they offer maximum comfort and look quite stylish once you wear them. The patented rubber design sole is designed for women who have high to medium arches. It reduces the chances of developing heel or back pain. It helps people who experience pronation, also known as flat feet, by providing immediate relief and preventing any inflammation. Since they are water-resistant, the reef arch support flip flops are perfect for the beach or when you are relaxing by the pool. You can even use them for water sports like kayaking or jet skiing. These are considered one of the best flip flops for arch support. They are suitable for women of all ages and prevent triggers that flare up shin splints or other foot issues. Some fun colors you can choose from are brown, turquoise, grey, black, red, and sunflower yellow. These slippers are great to wear in humid and hot places, as they don't chafe or cause any blisters due to the heat.
Pros
Available in many colors
Suitable for women of all ages
Water-resistant
Prevents back and heel pain
It can be worn in hot and humid weather
Medium cushioning on the anatomical footbed
Cons
Some may not find the slippers lightweight
Price at the time of publication: $34.95
The FitFlop Surfa Flip-Flops are the perfect choice for everyday wear. They feature a soft fabric upper and lightly padded microfiber lining for maximum comfort and support. The triple-density EVA midsole is designed with sophisticated Microwobbleboard technology for durability and a textured synthetic outsole. The slip-on design is ideal for beaches, pools, or on-the-go occasions.
Pros
Long-lasting
Best for heel spurs
Comfortable
Thick toe post
Cons
Price at the time of publication: $54.99
The Clarks Breeze Sea flip flops offer extra security with a hook and loop closure and feature an EVA footbed and midsole for comfortable and cushioned steps. The pair provides superior shock absorption. This design is also built with a durable TPR outsole that also delivers good traction. The 1.2-inch heel keeps you supported from morning to night.
Pros
Good quality
Super comfortable
Multiple colors available
Great fit
Value for money
Cons
None
Price at the time of publication: $31.69
The OOFOS Oolala Thong Flip-flops provide the ultimate comfort and support for your feet. The patented OOfoam technology in the footbed absorbs 37% more shock than standard materials, supporting your arches and reducing the energy used every step, providing the best arch support for recovery. By earning the seal of approval from the American Podiatric Medical Association, the anatomical design of the OOFOS shoes is ideal for post-activity recovery. The slippers are also machine washable and odor-resistant.
Pros
Lightweight
Flexible
Good shock absorption
Odor-resistant
Machine washable
Cons
None
Price at the time of publication: $69.95
The Crocs Flip Flop Sandals offer iconic comfort, lightweight design, and water-friendly construction. The flex-groove outsoles help to channel water away, while the cushioned Croslite material of the uppers provides a soft and secure fit. For those who plan to spend their days near the beach or lake, these sandals are designed to keep you upright on slippery surfaces.
Pros
Long-lasting
Perfect fit
Value for money
Thick, raised soles
Cons
None
Price at the time of publication: $29.99
Suppose you are looking for flip flops for high arches that are minimal yet classy but offer optimal comfort. In that case, these are the perfect addition to your summer wardrobe. They also have a slight heel, which measures 0.75″, and the overall platform height measures about 0.25 inches; this will give you sufficient height without making you feel any pain or discomfort. The design is quite water-resistant and made from premium quality EVA rubber. The top sole is perfect for high arc support so that you can walk near or far without any difficulty. The strap is synthetic, and the footbed is quite dense as well, so you don't have to worry about any stress on your feet. If you live in a warm and humid place, you will want to wear flip-flops all year round. These classy slippers can be your new daily footwear option because they will last you a long time and sit well against your skin.
Pros
Elegant design
Suitable for warm weather
Premium EVA sole and footbed
Synthetic strap
Water-resistant
Durable
Raised heel and platform
Cons
The flip flops may be thin towards the toe part
Price at the time of publication: $31.95
The Teva W Voya Flip Flops are super lightweight comfortable sandals made using recycled plastic and plant-based materials. The quick-dry webbing provides superior support, while the Mush topsole molds to your feet for amazing comfort. The EVA-foam outsole makes them ideal for all-day wear and getting around town.
Pros
Comfortable
Waterproof
Fashionable
Durable
Vegan
Cons
Price at the time of publication: $30.16
Bohemian style meets comfort with these chic flip flops for high arcs. It has a raised heel that measures 2.5 inches, along with a synthetic sole, which combined ensure that you are comfortable and pain-free whenever you slide them on. The flip-flops are versatile and can be worn for work or for running daily errands. They have a classic edge-style footbed design that provides excellent arch support without triggering any pain. Also, it is made from high-quality EVA. The stylish strap is soft and slim; it ensures that your foot is in place no matter how long you walk or stand. You can choose from four beautiful colors and patterns to find the one that suits your personality the best. These flip flops are highly recommended for people who experience heel spurs, as they offer optimal heel and arch support.
Pros
Versatile
Raised heel
Podiatrist recommended
High-quality EVA footbed
Slim and soft strap
Cons
May not be water-resistant
Price at the time of publication: $50.61
These flip flops are perfect for women who want more functionality than style. The material is made from PFC-free rubber that is durable and ensures you get proper support when you are on the move. Not only are these flip flops durable, but they are also pretty water-resistant; thanks to the dry-lining, your sandals will dry quickly and keep your feet cool at the same time. The slippers also have high traction at the front, thanks to the rubber sole, making it easy to walk on any surface so that you can walk on sand or concrete ground without any trouble. The footbed is designed for high arch support with a deep heel cup, and it poses no problem cradling the natural contours of your feet. Finally, when the slippers get a bit too ripe and worn from wear, you can toss them in your washing machine, and they will come out looking as good as new.
Pros
PFC-free rubber sole
High traction
Water-resistant
Machine washable
Metatomical footbed
True to size
Cons
The side strap may come apart after long term use
Price at the time of publication: $30
Now that you are aware of the best flip flops with arch support that are available online, you must know about some essential features that will allow you to choose the perfect flip flops that fit all your needs.
How To Select The Best Flip Flops With Arch Support
Look for flip flops with arch support that suit your lifestyle. These types of footwear are usually worn for long walks or outdoor activities during the summer, so when you shop for a pair, ensure that it is comfortable and suits whatever activities you have planned. Look for comfort factors like extra cushioning and contoured footbeds, along with soft straps to keep your feet in place.
Along with being comfortable, it is essential that the shoes you choose also keep you safe. So when selecting flip flops, you need to look for a pair that is slip-resistant and can gain much-needed traction on any surface. This will prevent any possible injury too.
Low-quality flip flops are notorious for being flat, which is a problem waiting to happen for people with high arches. Hence, look for a pair that has raised heels and platforms. The height doesn't have to be much, but just enough to not trigger any pain, but be comfortable for long walks.
Why Trust StyleCraze?
Priyam Gupta, the author of this article, is a fashion enthusiast and she loves experimenting with clothes and accessories to look trendy. Flip-flops can make a fashion statement if chosen properly. So, the author browsed various websites and forums to check the user feedback and reviews to provide the best flip-flops with arch support. These flip-flops are water-resistant, slip-resistant, and provide great comfort with cushioning.
Frequently Asked Questions
Is wearing flip-flops every day bad for the feet and for toe muscles?
No, not if you choose a style with a contoured footbed and a raised platform along with the toes and sides of the feet. It also helps if the heel is raised at it evens the weight distribution.
Can flip flops trigger plantar fasciitis?
Yes, but only if you wear thin flat ones that don't offer high arch support. These can cause many foot issues in the long run.
Is it bad for your feet to walk 5 miles in flip-flops?
Not if the flip flops are made with proper arch support and a comfortable footbed. As long as the shock absorption and weight distribution are good, you can walk for a long time without any trouble.
Do flip-flops with arch support strengthen the feet?
Yes. Flip-flops with arch support strengthen the feet and prevent foot pain more than the ones with no raised arch support.
Do flip flops cause flat feet?
Yes, flip flops generally lack arch support, which can flatten your feet by collapsing your foot arch.
How long do arch support flip-flops last?
Arch support flip flops last for six to eight months when used regularly.
Do crocs flip flops have arch support?
Yes, crocs flip flops have built-in arch support and rigid soles that are good for the feet.
Recommended Articles