15 Best Floral Perfumes That You Will Fall In Love With In 2023
Carry a heavenly essence with you all day long with rejuvenating floral aromas.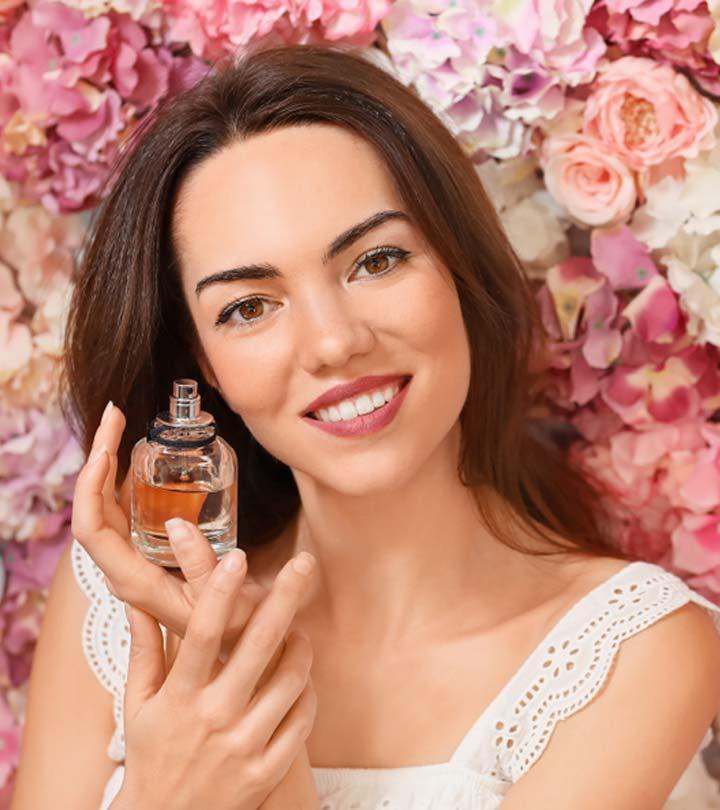 You could have multiple musky scents or citrusy, but there's one that you can never say a no to are the best floral perfumes. Floral perfumes are tempting and have a relaxed vibe, no matter the occasion or the season.
Today, with so many fragrances overloading our shelves, we all have settled for more or less one signature scent. However, time and again, we look for a change that reminds us of a memory, a moment, or a very neutral feeling of just being fresh, bright, and warm. This is exactly why floral perfumes never leave the bandwagon. After all, what's more, beautiful than getting to smell like fresh flowers of your choice all day long. Sultry, Mediterranean, fruity, breezy, or even aromatic blossoms – floral perfumes are plenty. For that matter, floral perfumes have an enticing world of their own. Before you get lost in the sea of floral fragrances, we have got you the 15 best floral perfumes. Take a look!
Top 15 Best Floral Perfumes For Women In 2023
"What was said to the rose that made it open was said to me here in my chest," wrote the Persian poet Jalāl ad-Dīn Muhammad Rūmī. He, along with several others, drew deep connections between the rose and spiritual epiphany. The Greek poet Sappho referred to it as "the queen of flowers." The intoxicating scent of this flower is captured in this perfume by Pacifica. This perfume is hand-poured in micro-batches using non-GMO corn-based alcohol. It has the sweet knockout rose fragrance, which intertwines with the citrus notes. Infused with extracts of essential oil, this perfume is great for a lovely date night or a secret midnight rendezvous. Watch this video to get a detailed review of the product.
Pros
Paraben-free
Cruelty-free
Phthalate-free
Skin-friendly ingredients
Cons
Price at the time of publication: $21.47
Launched as a contemporary and playful elixir in 2006, this oriental-floral fragrance sits atop the throne. The notes of water lily, mandarin meringue, and apricot ring add aquatic nuances to this perfume. All while exotic guava, Tahitian Tiare flower, tuberose, and a hint of dark chocolate, are at the heart of this scent that celebrates femininity and exuberance. Finally, traces of wood, amber, and vanilla form the base of this lovely scent that is filled in a heart-shaped bottle. The bottle looks elegant, and the scent spins a whiff of whimsical charm and romantic lilac tones. So, if you are in the mood to be your charming self, then unleash that princess in you and get yourself a bottle of this fine fragrance. Here's a video to help you know more about this product.
Pros
Exotic fragrance
Long-lasting
Affordable
Non-irritating
Cons
None
Price at the time of publication: $25.0
Honestly, after that Super Bowl performance with Shakira, is there anything JLo that we wouldn't stand? Just like her song, 'Jenny From The Block', this fragrance has a rhythm that is full of life and happiness. The top notes are a medley of Sicilian lemon, bergamot, and pineapple. And like our queen herself, the heart is full of rhythm and harmonizes the notes of red currant, peony, and violet. The base closes in the feminine aroma with the warmth of sandalwood, Tonka bean, and caramel. If you are out at a club for an exciting night of drinks with your friends, Live by Jennifer Lopez is definitely your vibe. This video takes you through this product's details.
Pros
Pleasant fragrance
Long-lasting
Ideal for gifting
Suitable for night parties
Cons
Price at the time of publication: $19.66
This unmistakable fresh and youthful classic is a favorite among several Marc Jacobs die-hards. It strikes as a fizzy floral-wood fragrance at first and grows on you with its white floral mixes. Originally launched in 2007, this Eau de toilette's top notes are a blend of fruity strawberry, intense green aromas of violet leaves, and bubbling spicy pink grapefruit. Its heart is a symphony of florals, comprising silky gardenia, violet, and jasmine petals. The base is hinted with portions of white woods, vanilla, and musk. Spray it on to embrace that seductive and dazzling personality of yours that seeks comfort in simplicity and sophistication.
Pros
Paraben-free
Signature fragrance
Budget-friendly
Uplifts the mood
Cons
None
Price at the time of publication: $74.99
This absolute stunner of a perfume is a reminiscence of classic old Hollywood! Sensuality intertwined with ethereal floral tones make this a sexy blend of scent that will draw you closer each time. The top notes are a mix of the sweet lily of the valley and fresh green leaves, while lingering gardenia, light peony, and powdery orchid assemble in harmony to form the heart of this sophisticated perfume. It also comprises sensually warming musk and vivid carnation as the base notes. This light and airy feminine fragrance that captures the essence of a bright sunny morning during the cold winters is an excellent ode to the actress herself.
Pros
Alluring scent
Long-lasting
Non-irritating
Cute packaging
Perfect for romantic dates
Cons
Price at the time of publication: $18.36
BVLGARI Omnia Amethyste comes in a chic modern bottle, inspired by the amethyst gemstone. It captures the various scents of iris and rose gardens that are gently showered on by the morning dew. This scent lingers around for long and feels like a warm hug from a close friend — it is gentle, inviting, and delicate. It comes in a purple shade, with floral and woody blends. The top note is a lively pink grapefruit, and the heart is a gentle rhythm hummed by notes of iris and Bulgarian rose petals. Holding it all together are the heliotrope and woody base notes. This perfume is one of the myriads of gemstone-inspired fragrances by the iconic Italian design house known globally for its exquisite watches.
Pros
Mild scent
Woody floral aroma
Good sillage
Ideal for gifting
Value for money
Cons
None
Price at the time of publication: $75.31
This sensual and glamorous blend is truly a custom-made flower designed for the beauty in you. This Eau de parfum spray with a strong sillage is an unlikely blend of Damascus rose and ylang-ylang essence, intertwining with the rare mix of Jasmine Grandiflorum from Grasse and Indian Sambac Jasmine. It exudes a personality that is sparkling with voluptuous sensuality and fruity fruity floral perfume flirtations. The fragrance is never overbearing, and the contrasting floral notes only add to the mysterious ensemble that lead to the creation of J'adore — a flower that never existed but was invented purely for you. This curvaceous perfume bottle is adorned with the famous Maasai necklace, resembling jewels on a beautiful neck.
Pros
Non-irritating
Good sillage
Elegant packaging
Suitable for gifting
Cons
None
Price at the time of publication: $104.0
Honestly, would you ever put a price on anything Gucci? This exquisitely crafted scent is utterly feminine and deeply sensual. Every hint of this perfume is lush with rose, sandalwood, peony, and citrus fruits essence. Oh, and the spice of pepper in this citrus-floral perfume is just the kind of sultry every Gucci fashionista aspires for. This Gucci floral perfume was envisioned and orchestrated by Frida Giannini, who drew inspiration from the brand's floral patterns, worn first as a scarf by Grace Kelly, the Princess of Monaco. When you open the bottle, you are invited by the top notes comprising fresh agrum blended beautifully with peony. The heart of it is a harmonious mix of rose and osmanthus while the base is fashioned by aromas of patchouli and sandalwood. Just like the fashion house, this perfume oozes power, seduction, and opulence.
Pros
Ideal for gifting
Long-lasting
Elegant packaging
Cons
Price at the time of publication: $94.8
Issey Miyake L'eau D'issey has a lingering floral fragrance with aquatic notes. It opens with the fragrance of lotus, rose, freesia, cologne, with the heart notes of lily-of-the-valley, carnation, and water peony. This delightful blend merges into the base notes of musk, amber, cedar, tuberose, and exotic woods. However, this fragrance is not too crowded or overpowered. Instead, it offers a fresh springtime feel, and the perfume comes in a striking clear bottle with a tomb-shaped cap. Wear it on a summer day and feel fresh all-day long.
Pros
Ideal for gifting
Non-irritating
Long-lasting
Travel-friendly packaging
Cons
Price at the time of publication: $47.45
This perfume featuring the explosion of flowers comes with magical superpowers. Yes, you read that right. It has the power to transform your dullest days to bright and happy. Designed by Olivier Polge, Carlos Benaim, and Domitille Berthier, this is one of the best floral oriental perfumes in the market. It was introduced in 2005 at the 10th anniversary of VIKTOR&ROLF. Its top notes are a blend of sweet tones of bergamot and green tea. Its heart is set in floral opulence with the combination of seductive Centifolia rose, Sambac jasmine, freesia, and Cattleya orchid. It is wrapped in a musk and patchouli base for a gentle breeze of fresh and woody scent. It has a strong sillage and comes in a bottle that is shaped like diamond granite.
Pros
Good sillage
Giftable
Budget-friendly
Non-irritating
Cons
None
Price at the time of publication: $40.76
Launched in 2006, this lovely fragrance is best suited for the diva in you and comes packed in a pretty pink transparent bottle. The nose behind this perfume is Maurice Roucel. The top notes that linger as soon as you open the bottle are green apple, fresh bergamot, wild strawberry, and sweet tangerine. At its heart, the perfume is a medley of peony, exuberant magnolia, freesia, peach, jasmine, ylang-ylang, lily of the valley, and red berries. It is held together with a beautiful base note that is a blend of amber, musk, oakmoss, and cedar. This feminine perfume is designed for every chic fashionista who loves the subtle scent of fresh and floral.
Pros
Uplifts the mood and senses
Floral scent
Long-lasting
Good sillage
Cons
None
Price at the time of publication: $24.08
The sheer black packaging of this Yves Saint Laurent Black Opium is giving us life! It is shimmery, opaque, and comes with a jet-black top lid and a logo tagged neck. If your vibe is sweet and sensual, then darling, we have got news. This fragrance is seductively intoxicating, with the adrenaline rush-generating coffee extract. It is infused with the sweet smell of coffee and soft notes of white flowers, which creates an addictive fragrance for the modern woman. Released in 2014, this oriental vanilla fragrance is dense, powerful, and smells delicious. It is great for a night out but will work well with an everyday look too.
Pros
Long-lasting fragrance
Suitable for all skin types
Sensual aroma
Ideal for romantic dates
Cons
None
Price at the time of publication: $107.99
A third addition to Prada's Candy collection, this perfume is bursting with the floral aromas of an enchanted garden. The original Candy scent by the fashion house was launched in 2011, followed by Candy L'Eau and Candy Florale. All three fragrances were created by perfumer Daniel (Roche) Andrier. This one is inspired by an imaginary flower that smells of candy. To an imaginative mind, this would smell like a floral bouquet staged on an ice cream shop counter in Italy. The top notes hit you like accords of limoncello sorbet, while at the heart of it is the peony scent, based on a blend of benzoin, musk, caramel, and honey. The bottle is colored in a soft shade of pink and decorated with flower motifs. No wonder Bond girl and French actress Léa Seydoux swears by this Candy fragrance.
Pros
Suitable for all skin types
Non-irritating
Good sillage
Value for money
Ideal for gifting
Cons
Price at the time of publication: $36.05
The stunning Columbian diva worked with expert perfumer Elisabeth Vidal to create S by Shakira. The diva says her perfume is an expression of self and is a combination of her favourite essences. Well, not like we needed any more reasons to smell like the exceptionally talented and gorgeous artist. It is composed of a range of exotic oils and portions shipped from Middle Eastern and Indian subcontinents. As soon as you open the bottle, the jasmine and heliotrope scents strike as the top notes. The heart of this perfume alludes to a spicy freshness, much like our lady herself. It comprises wild fruits, such as blackberry, raspberry, and blueberry. The base notes are made of musk and vanilla chord. The bottle is designed without a cap with an aim to signify Shakira's bare feet.
Pros
Citrus, fruity fragrance
Non-irritating
Made of skin-friendly ingredients
Lasts all day long
Cons
None
Price at the time of publication: $22.9
Inspired by Coach's signature leather tea roses, this feminine scent is designed to be chic and modern. It embodies a carefree, effortless, and independent spirit. This Coach floral perfume comes with a soft pink floral hangtag near the neck that is reminiscent of the brand's familiar tea rose flower appliques. The house and carriage, which is a symbol of the brand's craftsmanship is etched on the glass. The outer packaging is leather-textured and is an ode to the heritage of the brand. The top notes of this perfume are a splash of citrus Coeur, effervescent pink peppercorn, and pineapple sorbet. The heart plays host to fragrances of rose tea, Sambac jasmine, and gardenia. The ensemble is held together with musky notes, creamy wood, and patchouli essence.
Pros
Good sillage
Value for money
Ideal for gifting
Cons
None
Price at the time of publication: $107.0
Well, now that you are all caught up on the bests, you may feel like you are spoiled with choices. So, here's a look at the basics of picking the fragrance that will suit you well.
How To Choose Your Signature Floral Fragrance
You can hop from one brand to another, spritzing yourself with a new fragrance each time, but you are more likely to end up confused than find your signature fragrance. So, how do you find the one?
Well, look deeper. What kind of smells and fragrances resonate with you the most? Growing up, what kind of flowers did you have in your garden? Do you enjoy the smell of freshly cut grass instead? Or is there a particular memory you love going back to that is centered around an aroma? Identity these scents and note them down first.
This will give you your primary top notes, to begin with. But this doesn't mean you go about spraying notes one after the other on yourself. Because chances are that these fragrances will blend together and you won't go with the scent that you thought you originally smelt at the store. Hence, take your time with it.
Once you've found the one, spray it on a blotter first. If you still like it, see how it reacts with your body. Does it change its scent? Well, do you like that new scent? If yes, then voila! You have got yourself your signature floral fragrance.
Why Trust StyleCraze?
The author Chaitra Krishnan is a perfume enthusiast. She loves exploring various perfumes, vintage and current. This list of floral perfumes is curated with her long years of experience. They are subtle yet enticing. These are feminine, delicate, classy, and are not overpowering. Carefully created with the right ingredients with the right amounts, these perfumes speak for themselves.
Frequently Asked Questions
What perfume smells the most like roses?
Chloé Eau de parfum. The scent is a lovely hint of rose combined with peony, freesia, and lily of the valley. It is airy, simple, not too complicated, and very romantic.
What is the best fresh smelling perfume?
While there are so many perfumes that smell amazingly fresh, we would suggest Dolce & Gabbana Light Blue. It is one of the freshest smelling fragrances in the market. It is a joyous mix of grapefruit, ginger, and cedar blossom notes, blended with coriander, basil, and cedarwood.
How can I smell good all day long?
Hydrate yourself well and maintain good hygiene foremost. Other than this, you can spritz a bit of your perfume in your shoes after cleaning them or you could leave a perfumed sachet in your underwear drawer. You can also try experimenting with body oils, which will also moisturize your skin.
Can I try more than one fragrance at a time?
Never try more than three fragrances on your body. You'll just end up being confused as to which one smells of what.
Where should I apply perfume?
Well, Coco Chanel once advised women to apply perfume "where you want to be kissed." This means, always spray it on your pulse points, which would be behind your ears, temples, nape of your neck, back of your knees, between your breasts, wrists, the small of your back, and the navel region.
How can I make my perfume last longer on my skin?
Moisturizing yourself will help the oils in the perfume to have a supportive surface to hold on to and boost its longevity.
Why can't I smell my own perfume after a while?
After 30-40 minutes, you won't be able to smell your perfume as the nose gets desensitized to the fragrance.
Recommended Articles: