15 Best Floral Perfumes That You Will Fall In Love With In 2023
Carry a heavenly essence with you all day long with rejuvenating floral aromas.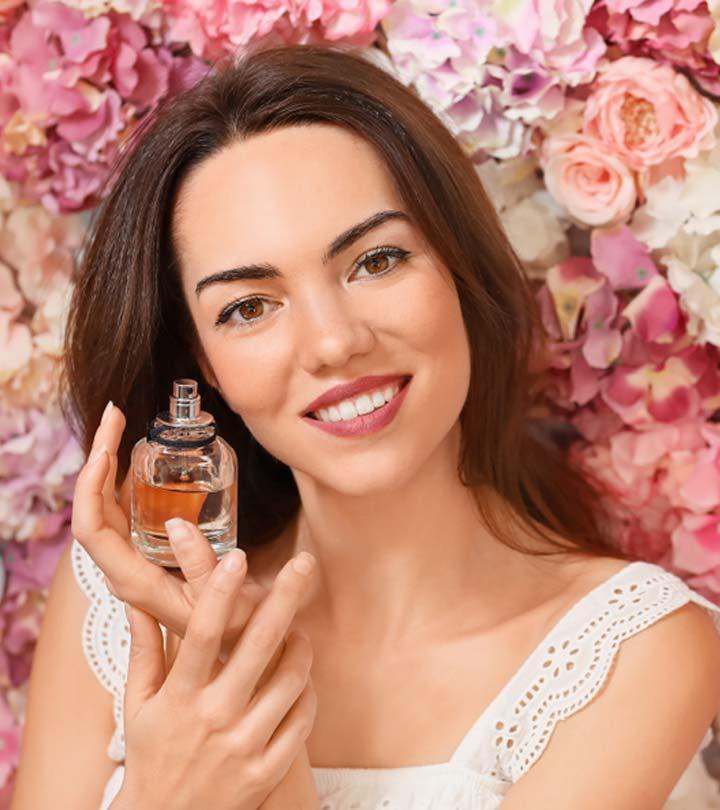 You could have multiple musky scents or citrusy, but there's one that you can never say a no to are the best floral perfumes. Floral perfumes are tempting and have a relaxed vibe, no matter the occasion or the season.
Today, with so many fragrances overloading our shelves, we all have settled for more or less one signature scent. However, time and again, we look for a change that reminds us of a memory, a moment, or a very neutral feeling of just being fresh, bright, and warm. This is exactly why floral perfumes never leave the bandwagon. After all, what's more, beautiful than getting to smell like fresh flowers of your choice all day long. Sultry, Mediterranean, fruity, breezy, or even aromatic blossoms – floral perfumes are plenty. For that matter, floral perfumes have an enticing world of their own. Before you get lost in the sea of floral fragrances, we have got you the 15 best floral perfumes. Take a look!
Top 15 Best Floral Perfumes For Women In 2023
Pros
Paraben-free
Cruelty-free
Phthalate-free
Skin-friendly ingredients
Cons
Price at the time of publication: $21.47
Pros
Exotic fragrance
Long-lasting
Affordable
Non-irritating
Cons
None
Price at the time of publication: $25.0
Pros
Skin-friendly
Good sillage
Exotic fragrance
Long-lasting
Lightweight
Recommended for daily use
Ideal for spring season
Travel-friendly
Cons
Price at the time of publication: $48.24
Pros
Paraben-free
Signature fragrance
Budget-friendly
Uplifts the mood
Cons
None
Price at the time of publication: $70.26
Pros
Long-lasting
Travel-friendly
Sweet tropical fragrance
Cruelty-free
Paraben-free
Free from artificial colorants
Cons
None
Price at the time of publication: $18.36
Pros
Hypoallergenic
Refreshing aroma
Allergen-free
Unisex
Cons
Price at the time of publication: $140
Pros
Non-irritating
Good sillage
Elegant packaging
Suitable for gifting
Cons
None
Price at the time of publication: $104.0
Pros
Value for money
Addictive scent
Best for gifting
Long-lasting
Truly floral
Cons
None
Price at the time of publication: $69.4
Pros
Ideal for gifting
Non-irritating
Long-lasting
Travel-friendly packaging
Cons
Price at the time of publication: $47.45
Pros
Good sillage
Giftable
Budget-friendly
Non-irritating
Cons
None
Price at the time of publication: $40.76
Pros
Mild scent
Made with natural ingredients
Value for money
Long-lasting
Good sillage
Cons
None
Price at the time of publication: $124.01
Pros
Long-lasting fragrance
Suitable for all skin types
Sensual aroma
Ideal for romantic dates
Cons
None
Price at the time of publication: $107.99
A third addition to Prada's Candy collection, this perfume is bursting with the floral aromas of an enchanted garden. The original Candy scent by the fashion house was launched in 2011, followed by Candy L'Eau and Candy Florale. All three fragrances were created by perfumer Daniel (Roche) Andrier. This one is inspired by an imaginary flower that smells of candy. To an imaginative mind, this would smell like a floral bouquet staged on an ice cream shop counter in Italy. The top notes hit you like accords of limoncello sorbet, while at the heart of it is the peony scent, based on a blend of benzoin, musk, caramel, and honey. The bottle is colored in a soft shade of pink and decorated with flower motifs. No wonder Bond girl and French actress Léa Seydoux swears by this Candy fragrance.
Pros
Suitable for all skin types
Non-irritating
Good sillage
Value for money
Ideal for gifting
Cons
Price at the time of publication: $76.49
The stunning Columbian diva worked with expert perfumer Elisabeth Vidal to create S by Shakira. The diva says her perfume is an expression of self and is a combination of her favourite essences. Well, not like we needed any more reasons to smell like the exceptionally talented and gorgeous artist. It is composed of a range of exotic oils and portions shipped from Middle Eastern and Indian subcontinents. As soon as you open the bottle, the jasmine and heliotrope scents strike as the top notes. The heart of this perfume alludes to a spicy freshness, much like our lady herself. It comprises wild fruits, such as blackberry, raspberry, and blueberry. The base notes are made of musk and vanilla chord. The bottle is designed without a cap with an aim to signify Shakira's bare feet.
Pros
Citrus, fruity fragrance
Non-irritating
Made of skin-friendly ingredients
Lasts all day long
Cons
None
Price at the time of publication: $32.18
Pros
Good sillage
Value for money
Ideal for gifting
Cons
None
Price at the time of publication: $107.0
Well, now that you are all caught up on the bests, you may feel like you are spoiled with choices. So, here's a look at the basics of picking the fragrance that will suit you well.
How To Choose Your Signature Floral Fragrance
You can hop from one brand to another, spritzing yourself with a new fragrance each time, but you are more likely to end up confused than find your signature fragrance. So, how do you find the one?
Well, look deeper. What kind of smells and fragrances resonate with you the most? Growing up, what kind of flowers did you have in your garden? Do you enjoy the smell of freshly cut grass instead? Or is there a particular memory you love going back to that is centered around an aroma? Identity these scents and note them down first.
This will give you your primary top notes, to begin with. But this doesn't mean you go about spraying notes one after the other on yourself. Because chances are that these fragrances will blend together and you won't go with the scent that you thought you originally smelt at the store. Hence, take your time with it.
Once you've found the one, spray it on a blotter first. If you still like it, see how it reacts with your body. Does it change its scent? Well, do you like that new scent? If yes, then voila! You have got yourself your signature floral fragrance.
Why Trust StyleCraze?
The author Srijani Roy Chowdhury is a perfume enthusiast. She loves exploring various perfumes, vintage and current. This list of floral perfumes is curated with her long years of experience. They are subtle yet enticing. These are feminine, delicate, classy, and are not overpowering. Carefully created with the right ingredients with the right amounts, these perfumes speak for themselves.
What perfume smells the most like roses?
Chloé Eau de parfum. The scent is a lovely hint of rose combined with peony, freesia, and lily of the valley. It is airy, simple, not too complicated, and very romantic.
What is the best fresh smelling perfume?
While there are so many perfumes that smell amazingly fresh, we would suggest Dolce & Gabbana Light Blue. It is one of the freshest smelling fragrances in the market. It is a joyous mix of grapefruit, ginger, and cedar blossom notes, blended with coriander, basil, and cedarwood.
How can I smell good all day long?
Hydrate yourself well and maintain good hygiene foremost. Other than this, you can spritz a bit of your perfume in your shoes after cleaning them or you could leave a perfumed sachet in your underwear drawer. You can also try experimenting with body oils, which will also moisturize your skin.
Can I try more than one fragrance at a time?
Never try more than three fragrances on your body. You'll just end up being confused as to which one smells of what.
Where should I apply perfume?
Well, Coco Chanel once advised women to apply perfume "where you want to be kissed." This means, always spray it on your pulse points, which would be behind your ears, temples, nape of your neck, back of your knees, between your breasts, wrists, the small of your back, and the navel region.
How can I make my perfume last longer on my skin?
Moisturizing yourself will help the oils in the perfume to have a supportive surface to hold on to and boost its longevity.
Why can't I smell my own perfume after a while?
After 30-40 minutes, you won't be able to smell your perfume as the nose gets desensitized to the fragrance.
Recommended Articles: