10 Best Fluoride Water Filters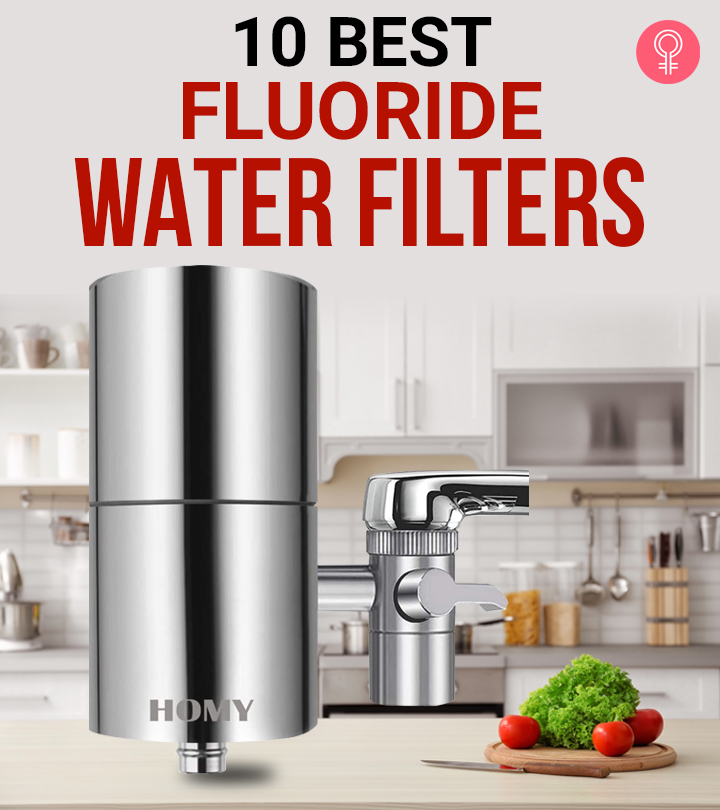 Water is the elixir of life. Hence, keeping it free of harmful compounds is imperative. Fluoride is one of the common elements found in municipal and city water supplies. To get rid of this, you need to buy a water filter that controls the amount of fluoride in drinking water. A fluoride water filtration system cleans out the fluoride in water and ensures good health. We have listed the 10 best fluoride water filters available online. Scroll down to check them out!
Top 10 Best Fluoride Water Filters In 2020
The Aquagear Water Filtration Pitcher sports a premium design for better health and sustainability. This unit features a five-stage filtration system with two-micron pores, enabling the removal of the tiniest fluoride particles. When compared to other products, this filter removes 20 times more contaminants that include fluoride, lead, chloramines, mercury, chromium 6, and chlorine. It also keeps the healthy minerals like calcium and magnesium intact in the water. The triple capacity filters produce 150 gallons of water each and last longer than the average filter available on the market. The filter is made of BPA-free, recyclable material.
Specifications
Dimensions: 11 x 10.9 x 5.4 inches
Weight: 3.02 pounds
Fluoride Reduction Rate: 90.6%
System Type: Reverse osmosis
Installation: Pitcher
Capacity: 150 gallons
Pros
Easy to install
Long-lasting
Recyclable
BPA-free
Break-resistant
Ergonomic design
Lifetime guarantee
Same-day customer support
Cons
Slow filtration
Cumbersome locking mechanism
The APEC RO-90 Filter System is tested and certified by the WQA to filter up to 99% of impurities, including fluoride, chlorine, lead, arsenic, viruses, heavy metals, and other 1000+ contaminants. The super large capacity ensures few filter change-outs, and unlimited clean and fresh water with great taste. This system includes a high-quality JG tubing, a lead-free designer faucet that provides a leak-free experience, and fittings to ensure proper grip and leakproof seal.
Specifications
Dimensions: 16 x 5.25 x 17.5 inches
Weight: 25 pounds
Fluoride Reduction Rate: 97.7%
System Type: Reverse osmosis
Installation: Sink top
Capacity: 90 gallons
Pros
Large capacity
Leak-free design
Quiet operation
Long-lasting
2-year manufacturer warranty
WQA certified
Cons
Expensive
Tricky installation
The Berkey PF-2 Fluoride Water Filter is a replacement filter used in conjunction with the Black Berkey Purifiers. While it filters fluoride and arsenic primarily, it also absorbs other harmful and unwanted elements in thewater, along with residual heavy metal ions. It is attached to the bottom of the purifier and used in the form of a post-filter. The Berkey models compatible with this filter are Big, Travel, Light, Royal, Imperial, and Crown.
Specifications
Dimensions: 4 x 2 x 2 inches
Weight: 1.36 pounds
Fluoride Reduction Rate: 99.75%
System Type: Reverse osmosis
Installation: Replacement filters for purifiers
Capacity: 1000 gallons/ pair
Pros
Leak-free design
Quiet operation
2-year manufacturer warranty
Cons
Expensive
Adds cloudy white sludge to water.
The Clearly Filtered Water Filter features a compact, space-saver design that operates without electricity or installation. This water filter removes over 230 toxic chemicals, heavy metals, and contaminants found in tap water. It is an American-built filter made of the highest quality materials and tested rigorously for the best results. It is made of BPA-free and food-grade material.
Specifications
Dimensions: 11 x 10.9 x 5.4 inches
Weight: 3 pounds
Fluoride Reduction Rate: 98%
System Type: Proprietary affinity filtration
Installation: Pitcher
Capacity: 100 gallons
Pros
Easy to assemble
BPA-free
Lifetime warranty
Compact design
Cons
Not durable
Slow filtration speed
The Santevia Alkaline Gravity Water System uses natural elements for water purification. It converts your regular tap water into a clean, better-tasting, and alkalized state water with added minerals by using the power of gravity. It reduces fluoride, chlorine, herbicides, industrial chemicals, organic chemicals, and heavy metals without leaving any residual aluminium in your water. This countertop water filter system includes a 0.3 micron ceramic pre-filter media that eliminates micro plastics from your water supply, amongst other impurities like rust, sediments, bacteria, and parasites.
Specifications
Dimensions: 13 x 13 x 10 inches
Weight: 8.6 pounds
Fluoride Reduction Rate: 98%
System Type: Gravity water filtration
Installation: Counter top
Capacity: 4 gallons
Pros
Improves taste and odor
Raises water pH
Durable
Low maintenance
Cons
The Epic Pure Water Filter removes as much as 99.99% of all tap water impurities. This product is EPA/ANSI certified and exceeds NSF Standards 42 and 53 for contamination reduction. It is replaceable and tested to remove copper, lead, and other metals and toxins to untraceable levels. This smart filter media helps retain minerals like magnesium and calcium in the resulting water. It is made of BPA-free, food-grade, recyclable material.
Specifications
Dimensions: 5.5 x 10.5 x 10.5 inches
Weight: 2 pounds
Fluoride Reduction Rate: 97.88%
System Type: Activated carbon filtration
Installation: Pitcher
Capacity: 150 gallons
Pros
Long-lasting
BPA-free
Space-saver design
Flexible pour spout
Digital indicator
Recyclable
Cons
Water filtration speed might slow down.
The Aquasana OptimH2O Flouride Water Filter System purifies your water using a combination of reverse osmosis, advanced claryum filtration, and remineralization technology. It is tested and proven to remove five times more contaminants than other RO systems. The filtered water also gets alkalized for significant health benefits. Unlike other filters, this system features an easy filter replacement without requiring specialist knowledge.
Specifications
Dimensions: 30 x 50 x 12.5 inches
Weight: 12.3 pounds
Fluoride Reduction Rate: 95%
System Type: Reverse osmosis
Installation: Under sink
Capacity: 365 gallons
Pros
Easy filter replacement
Easy to install
2-year warranty
Cons
The AQUACREST Water Filters feature two black replacement filters (BB9-2), two white fluoride filters (PF-2), and two priming buttons. These are compatible with the Light, Big, Travel, Royal, Imperial, and Crown series. This highly efficient filtration system removes fluoride, chlorine, heavy metals, and other contaminants. The natural food-grade filtration materials ensure that no contaminants leach back into the water. These filters use activated alumina, granular activated carbon, and natural coconut activated carbon block as the filter media and ensure better taste and performance.
Specifications
Dimensions: 11.5 x 5.91 x 3.43 inches
Weight: 1.68 pounds
Fluoride Reduction Rate: 99.99%
System Type: Gravity water filtration
Installation: Replacement filter
Capacity: 6000 gallons/pair (BB9-2) and 1000 gallons/pair (PF-2)
Pros
Uses natural filtration materials
Affordable
Easy to install
Lifetime warranty
Long-lasting
Cons
The Home Master TMJRF2E Jr F2 Elite Water Filtration System has a compact design that makes it a great fit for apartments or rental homes with limited space. This system comes with five stages of filtration, including compression disks, carbon, KDF, and activated alumina granules. It removes up to 93 percent of rust and dirt, soluble metals like lead, fluoride, iron, mercury, aluminium and copper, and harmful chemicals like chlorine, THMs, and VOCs. The advanced multi-stage granular filter uses catalytic media and KDF85 to remove impurities and treat chloramine. It comes with a sink faucet diverter valve, a faucet adapter, a chrome faucet, and a flexible connection tubing.
Specifications
Dimensions: 5 x 5 x 12 inches
Weight: 4.55 pounds
Fluoride Reduction Rate: 93%
System Type: Reverse osmosis
Installation: Sink top
Capacity: 500 gallons
Pros
Easy to install
Portable
Space-saver design
Improves water taste and odor
Easy to maintain
Cons
Flimsy O-rings
Home Master TMJRF2E Jr F2 Elite Sinktop Water Filtration System, White
The HOMY stainless steel tap water filter provides great strength and helps in avoiding secondary level pollution. This faucet filter uses Advanced Carbon Fiber filtration technology. It removes fluoride effectively and reduces 70 other contaminants, including chlorine, sand dirt, and rust. It also inhibits any bacterial growth. It provides 10 cups of clean water per minute, and for an average family, the filter should last for three months. This filter is made of food-grade stainless steel and is leak-proof, lead-free, and corrosion-resistant.
Specifications
Dimensions: 2.44 x 5.12 x 2.44 inches
Weight: 1.1 pounds
Fluoride Reduction Rate: 99%
System Type: Activated carbon fiber (ACF) filtration
Installation: Faucet mount
Capacity: 320 gallons
Pros
Odor-free
Improves water taste
Ergonomic design
5-layer filtration cartridge
1-year warranty
Cons
Now that you know the best fluoride filters available online, let's look at its working mechanism.
How Does A Fluoride Filter Work?
This depends on the kind of water filter you have. The functionalities of a water filter involve two different types of filtration processes:
Physical Filtration: These include reverse osmosis systems, water filter pitchers, and gravity water filters. In the physical filtration process, the water passes through a single or series of filter mediums. Depending on the type of filter medium, it helps in the removal of a variety of chemical impurities, particles, pollutants, and contaminants.
Chemical Filtration: This process involves the water undergoing a chemical reaction to get purified. For example, the water distillation system, wherein the high temperatures of the distiller converts the water into steam, killing bacteria or viruses, leaving behind impurities. Post this, the fluoride water filter system cools it down and turns it into filtered water.
Fluoride filter systems are highly versatile and available in a number of different designs, styles, and types. Let us take a look at them below.
What Are The Different Types Of Fluoride Water Filters?
This involves a series of carbon filters and a reverse osmosis membrane. They are installed under the sink for establishing a faucet connection. When water flows through the pipes, the pollutants get collected in a storage tank until the tap or faucet is turned on. These are the most popular because of their effectiveness and reliability. While they come in 4 to 6 stages, some systems also offer 10+ stages.
The gravity filter systems use the power of gravity for the filtration process. They are made up of two containers stacked on top of one another with two or more filter mediums inside them. You need to pour the water into the top, and it will pass through different filter mediums for removing contaminants. You can then retrieve the water via a faucet or a spigot, depending on the model you choose. These are hassle-free, cost-effective, and portable water filter systems. However, they need constant refills, which makes the filtration slow.
The water filter pitchers remove contaminants like fluoride and chlorine from water. They feature three parts – a pitcher, a filter, and a reservoir. While these are compact, portable, and affordable, the filters have small capacity and lifespan and might require regular replacements.
Water Distillation Systems
A water distillation unit uses a chemical process to get rid of the pollutants and impurities present in water. The distiller first boils the water into steam at high temperatures, leaving behind the impurities. Then, the water fluoride filter cools the steam back to water, and you can use it.
How To Care For And Clean A Fluoride Water Filter?
The ideal way to clean a filter is by referring to the instruction manual because every product is different. It will guide you on the cleaning and maintenance of the system to ensure a long life.
Here are a few factors you need to consider while purchasing your ideal water filter.
What To Look For When Buying A Fluoride Water Filter – Buying Guide
You need to know the pH of your water supply and the levels of contaminants that might be present. Look it up online, ask the local authorities, or self-test it using a home-test kit.
Select the type of water filter based on the size of your household. Large households will require a large capacity filtration, such as reverse osmosis or water distillation systems. However, they can be expensive and difficult to maintain. The small ones, like the gravity filter containers and water filter pitchers, can be a good option for a single person or small family. They are not expensive and easy to install. However, portable systems might be less effective than the large ones in filtering out the contaminants.
The lifespan refers to the amount of water a filter can treat before it needs replacement. Most users lean towards filters with long lifespans because of low long-term costs and more efficacy.
Everyone prefers hassle-free installation. The big units, such as the RO and distillation systems, need a professional for assembly and installation. However, you can assemble the portable units yourself.
Having the right water filtration system for you and your family is imperative. Take an informed decision after going through our buying guide and invest in the best fluoride water filter. Choose one from our list of the products that fits your budget and needs to ensure clean water for a healthy body and mind.
Expert's Answers For Readers' Questions
When do I change the filters in my system?
Every system comes with a recommended timeline by the manufacturer regarding filter replacement. However, it also depends on the volume of water passing through the system and the time it has been used for.
Why is fluoride present in the drinking water?
Fluoride is a naturally occurring substance in the oceans and groundwater. It helps strengthen the teeth and prevent oral diseases.
Can fluoride cause brain damage?
Yes, if consumed above the recommended levels, fluoride can cause brain damage in both adults and children.
Recommended Articles
The following two tabs change content below.

Latest posts by Harini Natarajan (see all)

Harini Natarajan
As Chief Editor, Harini sets the tone and editorial direction for StyleCraze to deliver engaging, interesting, and authentic content revolving around women's health, wellness, and beauty. She has over 14 years of experience in content writing and editing for online media. She specializes in the areas of Beauty, Lifestyle, and Health & Wellness and is proficient in Medical Sciences (Biology, Human Anatomy and Physiology, and Biochemistry). Her background in Biomedical Engineering helps her decode and interpret the finer nuances of scientific research for her team. Harini is a certified bibliophile and a closet poet. She also loves dancing and traveling to offbeat destinations.