5 Best Foam Rollers For Runners – Reviews + Buying Guide (2023)
Give your aching muscles the kind of stretching it needs so that you can run again.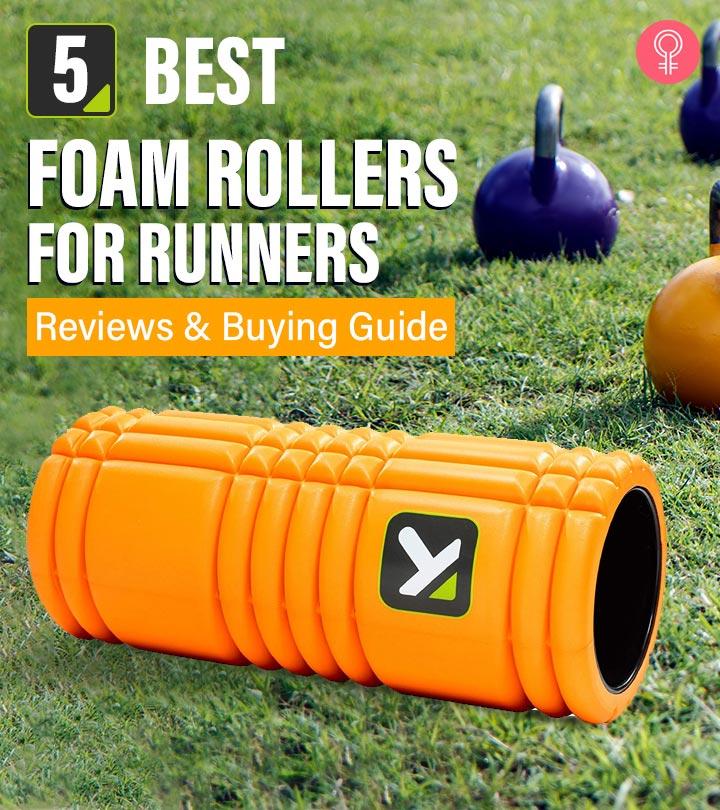 The best foam rollers for runners are helpful in several ways. Designed to allow self-administered myofascial release (SMR), a foam roller helps you work out the kinks and knots in your legs that are often caused after running. From stretching out your muscles and improving blood circulation to assisting you with post-run recovery, foam rolling is a fascinating technique that shows results. Since these rollers are available in varying diameters, colors, sizes, and foam types, it can be challenging to pick the right one. Mike Silverman, a Master Trainer with Living.Fit says, "Most people do pretty well with a mid-sized roller" said Silverman, "but a longer model definitely opens up more options, particularly with back and shoulder mobility." That's why we have curated this list of the top 5 rollers in the market that every type of athlete can use to get rid of sore hamstrings and calves.
5 Best Foam Rollers For Runners – 2023 Update
The TriggerPoint Original Grid Roller is designed with a textured surface that maximizes oxygen and blood flow to improve flexibility, balance, range-of-motion, and gait. The multi-density EVA foam exterior built over a hollow core makes this roller stay true to its shape even after repeated uses. Purchasing this foam roller will also offer you access to an online practice manual. Its surface pattern is specially designed to be rolled on kinks, knots, and tight muscles, thus improving mobility and minimizing soreness. The roller is durable and supports up to 500 pounds. Before buying, have a look at this video for more details.
Specifications
Material: EVA Foam exterior
Color: Orange
Dimensions: 3.94 x 5.12 x 5.12 inches
Weight: 0.2kg
Pros
Compact
Portable
Firm compression
Durable
Trusted by professional athletes
Chemical-free
Cons
Price at the time of publication: $36.95
The LuxFit High Density 12-Inch Roller with expanded polypropylene foam lasts longer than ordinary foam rollers. The molded polypropylene foam has 2lbs per cubic foot density that's strong enough and won't deform easily, even after repeated usage. The roller is extra firm, therefore, increasing muscle reflexology and relieving muscle tension. It is available in 4 sizes – 12-inches, 18-inches, 24-inches, and 36-inches – and is ideal for improving stamina and balance. Watch this video to know more about the product.
Specifications
Material: Expanded Polypropylene Foam
Color: Black
Dimensions: 12.44×6.1×6.06 inches Weight: 4.69 Ounce
Pros
Water-resistant
3 years limited warranty
Cons
Shorter length than expected
Did You Know?
Foam rolling can aid in weight loss by promoting deeper muscle activation and enhancing blood flow. Apart from recovery, it can also increase your calorie burn when exercising.
Price at the time of publication: $14.25
The professionally crafted Brazyn Morph Foam Roller is foldable and has strings on the sides to expand and deform it. The roller is 5.5-inch when fully expanded, its length is 14.5 inches, and it fits perfectly on your gear bag. It weighs about 1.5 lbs but can support up to 350lbs. It is made with high-quality recyclable aluminum and bamboo that is strong and eco-friendly.
Specifications
Material: Bamboo and Almunium
Color: Sunset Orange
Dimensions: 16.1 x 7 x 2.6 inches
Weight: 1.5 Pounds
Pros
Easy to store
Portable
Sturdy
Lightweight
Cons
Price at the time of publication: $69.95
This roller by Rollga is made from professional-grade foam that is durable and can support more than 2000lbs. It is 18 inches long and weighs 8.5lbs, thus convenient and easy to carry around. The rounded end and contours offer additional strengthening challenges and also enable you to hold the roller easily. Its inner and outer ribs offer pinpoint pressure to vulnerable areas like hips and glutes. In addition, the design aids in the stimulation of oxygen while improving muscle flexibility and mobility.
Specifications
Material: Foam
Color: Royal Blue
Dimensions: 18 x 6 x 6 inches
Weight: 0.4 Pounds
Pros
Easy to hold
Ultra-lightweight
Portable
Durable
Ideal size
Sturdy
High-quality foam
Cons
Slides on slippery floors
Remember
Before using the foam roller, ensure you have had plenty of water because when you foam roll, you draw fluid from your blood.
Price at the time of publication: $44.97
The Zyllion Foam Roller uses advanced vibration technology that fastens the recovery process and works better than the traditional foam rollers. You can choose from 4 different vibration settings to target sore joints or muscles. The 3 high-density surfaces (palm pressure, figure pressure, and fingertip/ thumb pressure) imitate the effect offered by a therapist. It is small in size, lightweight, and portable, and you can carry it during traveling. Its foam material is sturdy, durable, and fully functional.
Specifications
Material: Foam
Color: Black
Dimensions: 12.5 x 5.75 x 5.75 inches
Weight: 3.32 Ounces
Pros
Convenient and functional
Lightweight
Portable
Rechargeable battery
Cons
Price at the time of publication: $69.95
Be it yoga flows or strength training, these 5 rollers for runners are the ideal choices for every athlete. But if you are not sure which roller will suit you, consider the following points and ensure the best buy.
How To Select The Best Foam Rollers For Runners?
The density of foam roller determines its effectiveness; that's why you should identify the best density if you need the best deep tissue massage experience. Usually, soft foam rollers may not offer adequate pressure needed to relieve your muscles. Hard foam rollers can trigger bruising or worsen sore joints and muscles.
Harder (denser) foam rollers are recommended for long-term use because they are durable and a good choice for professionals. But when you are getting started, go for softer foam rollers. The color of foam rollers can help you identify the density. For instance, black is the hardest, white is the softest, while other colors like blue and red stand for medium density.
Today, many rollers are designed with knobs and ridges that allow users to adjust pressure intensities to offer a more targeted massage. However, some rollers also feature a smooth surface. These rollers evenly distribute pressure on where it's applied, and since the pressure isn't intense, it would be a good option for beginners. Smooth rollers are also economical.
Textured rollers can also offer a great massage experience similar to a masseuse. Both the knobs and ridges allow more targeted massage to relieve your sore or tight muscles. When shopping for the best foam rollers for runners, always consider the texture.
Length: Long foam rollers that are up to 36 inches long are perfect for beginners. It massages your back, especially when positioned perpendicular to your spine. Longer rollers are also stable and versatile. Shorter foam rollers (around 24 inches) are practical for targeted smaller areas, including calves and arms. Lastly, 4-12 inches foam rollers for runners are ideal for limited floor space and portability.
Diameter: Best foam rollers for runners either have a diameter of 5 or 6 inches as it lets you control your weight quickly. However, foam rollers with 3- or 4-inches diameter are ideal for a more targeted massage.
Shape: Other options you can consider are foam balls, foam-covered roller massagers, or half-round foam rollers. Each shape delivers a unique experience, and for instance, foam balls will help control pressure in the lumbar area.
Running causes muscle tension and knots in the legs. Foam rollers are specially designed for runners to enable this myofascial release. These rollers help stretch out your muscles and improve blood circulation in the affected area. Foam rolling also relieves sore or tight muscles and assists you with post-run recovery. These are ideal for improving stability, balance, gait, and motion and are available in various colors, sizes, and diameters. These rollers are portable, durable, and lightweight. Check out the buying guide to choose the one that meets your needs.
Why Trust StyleCraze?
Aditi Naskar, the author, is our resident fitness expert with a diploma in health and wellness. If you run regularly, you may notice knots, tension, and soreness in your legs. Aditi recommends using these effective foam rollers designed especially for runners. She spent many hours investigating each product and its reviews on trusted platforms and forums to present you with this list. These products are selected based on their design, grip, and durability.
Frequently Asked Questions
Are foam rollers suitable for runners?
Foam roller is essential for jumpstarting a recovery process. It also increases ranges of motion while minimizing comfort caused by delayed onset muscle soreness. So, foam rollers for runners are ideal for their post and pre-routine.
When should runners use a foam roller?
Since the primary use of foam rollers is mainly recovery, it's best to use them after the running session to relieve sore joints, muscles, or tendons.
How often should you foam roll runners?
No matter how busy your schedule is, you should allocate 10 minutes daily to foam rolling. This routine will improve your overall performance.
Should I foam roll immediately after a run?
Foam rolling stretches tired muscles and prevents running injuries. Therefore, you can do it immediately after a running session.
Is foam rolling good for sprinters?
Yes, foam rolling is good for sprinters to loosen muscles or improve flexibility.
Is it OK to foam roll every day?
Yes. It is completely safe and advisable to foam roll everyday for 5-10 minutes.
Should you foam roll before a marathon?
Yes, you should not miss foam rolling before a marathon. It increases your efficiency by stimulating blood flow.
Can you foam roll too much?
Yes. You can foam roll too much if you extend the suggested time. However, it can adversely affect your health and cause more pain.
Should you foam roll a calf strain?
No, it is not advisable to foam roll a calf muscle strain as it will not make the healing process faster.
Is foam rolling the same as stretching?
No, they are not the same. Foam rolling is more effective than simply stretching.
Recommended Articles
Best Vibrating Foam Rollers – Reviews & Buying Guide
Best Half Spin Foam Rollers
Best Foam Rollers For Back Pain Relief
Best Bath Soaks To Soothe Your Sore Muscles