10 Bestselling Foaming Body Washes In 2023
Revamp your body washing routine with these amazing, skin-friendly products.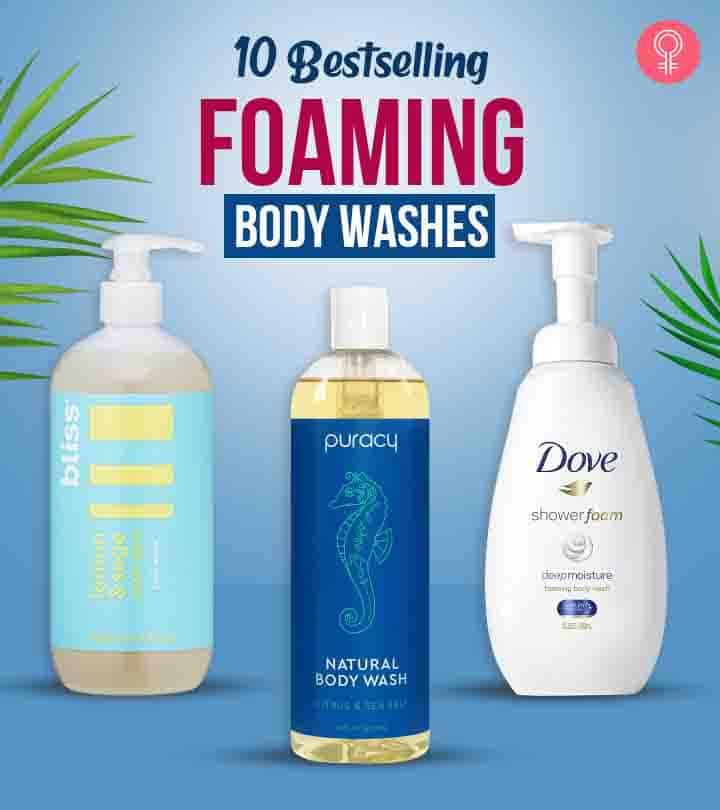 The best foaming body washes are essential – they add long-lasting hydration to your skin. Regular body washes can do more harm than good as they tend to dry out the natural oils of your skin. But foaming body washes work differently. They remove the dirt and grime without damaging your skin's moisture levels. They are ideal for cold showers and warm baths and leave you with soft skin. Want to add these foaming body washes to your skin care routine? Scroll down for our list curated after carefully analyzing the product reviews by the users.

10 BestSelling Foaming Body Washes In 2023
The purifying Natural Body Wash from Puracy contains a blend of luxurious cleansers, emollients, and essential oils that cleanse the skin without irritating it. This coconut-based body wash produces an airy foam that leaves the skin soft and silky smooth to touch. The Himalayan pink sea salt in the formula is packed with minerals that nourish the skin and it also acts as a natural exfoliator to slough away dead skin cells. Pink grapefruit essential oils provide a refreshing and energizing experience that lasts all day. The hypoallergenic and pH-balanced formula is suitable for all skin types.
Key Ingredients: Coco glycinate, Himalayan pink sea salt, and Pink grapefruit essential oil
Pros
 99.3% natural ingredients
 pH-balanced
 Sulfate-free
 Cocamidopropyl betaine-free
 Salicylate-free
 Paraben-free
 Petroleum-free
 Perfume-free
 Dye-free
Luxurious lather
Cruelty-free
Cons
Might cause eczema flare-ups
The citrus-scented Lemon & Sage Soapy Suds Body Wash from Bliss offers a refreshing and energizing experience that instantly lifts your spirit. The formula is enriched with aloe leaf extract that hydrates, softens, and smoothens skin, while glycerin draws moisture to the skin to help retain and enhance hydration. This makes your skin stay supple and soft all day long. The scented body wash also contains guar hydroxypropyltrimonium chloride, a natural derivative of cluster bean gum that conditions and cleanses the skin. The dermatologist-tested formula builds into a rich bubbly lather that conditions the skin to keep it soft and smooth.
Key Ingredients: Aloe leaf extract, Glycerin, and Guar hydroxypropyltrimonium chloride
Pros
 Paraben-free
 Phthalate-free
 SLS-free
 Vegan
 Cruelty-free
Travel-friendly packaging
Cons
 The fragrance fades after a while.
The lightweight Dove Shower Foam Deep Moisture is crafted with a combination of lipids and glycerin to ensure it is deeply absorbed under the surface of the skin to deliver lasting hydration. These moisturizing ingredients maintain the optimal skin barrier while ensuring there are no dry patches. It creates an airy foaming lather instantly that rinses off dirt and grime, and replenishes essential nutrients. The result is beautifully clean, soft, and smooth skin.
Key Ingredients: Glycerin, Sodium lauroyl glutamate, and Lauric acid
Pros
 Cruelty-free
 Deep cleansing formula
 Lightweight
 Sulfate-free
 Absorbs deeply
 Dermatologist-recommended
Cons
None

The invigorating Bath & Body Works Aromatherapy Orange & Ginger Body Wash & Foam Bath is formulated with conditioning ingredients like aloe and bamboo extracts that strengthen the natural barrier of the skin while restoring the outer layer to protect it from environmental pollutants. This instant foaming body wash is infused with orange and ginger oils that give aromatherapy benefits to boost energy and uplift the mind. It cleanses the skin, removing dirt and impurities while enhancing the moisture levels of your extra-dry skin.
Key Ingredients: Aloe extract, Bamboo extract, Orange oil, and Ginger oil
Pros
 Aromatherapy formula
 Natural fragrance
 Cruelty-free
 Moisturizing
Cons
 The fragrance doesn't last long.
The moisture-rich Luseta Rose Oil Body Wash has a creamy texture that is fast-foaming and deeply hydrating. This helps the skin tackle dryness and itchiness. The conditioning properties of the rosa rugosa flower extract make this foamy body wash ideal for daily use. It is designed to maintain the delicate pH balance of the skin while replenishing the natural moisture levels. The body wash is also known to calm breakouts and restore the skin, making it clearer and more youthful.
Key Ingredients: Rosa rugosa flower extract
Pros
 Calms breakouts
 Moisture-locking formula
 Dermatologist-recommended
 Sulfate-free
 Paraben-free
 Gluten-free
Cons
The pampering Coconut & Hibiscus Foaming Milk & Body Wash from Shea Moisture is crafted with all-natural softening ingredients like organic shea butter and coconut oil to deeply nourish the skin and infuse life to dull, tired skin. It is enriched with vitamin E, songyi mushrooms, and sweet hibiscus flower extracts to tone the skin and make it radiant. This fragrant body wash offers a rich, creamy lather that washes away impurities to reveal a bright and youthful complexion.
Key Ingredients: Organic shea butter, Coconut oil, Sweet hibiscus flower extracts, Vitamin E, and Songyi mushrooms
Pros
 Pleasant smell
 Provides an invigorating shower experience
 All-natural ingredients
 Non-toxic
 Gluten-free
 Cruelty-free
 Paraben-free
 Phthalate-free
 Sulfate-free
Mineral oil-free
Cons
The restorative Pink Pomelo & Himalayan Sea Salt Herbal Foaming Body Wash from Hempz is formulated with hemp seed oil to give it anti-inflammatory properties that help in healing dry and irritated skin. It also works as a humectant and combines with shea butter that is rich in vitamin E to keep the skin hydrated and supple. Pink pomelo is rich in vitamin C that helps repair skin, while Himalayan sea salt in the formula detoxifies the skin. The antioxidant-rich formula also contains red algae, sea water, vitamins A, C, and E to provide natural antioxidant properties to the skin and protect it from free radical damage. The creamy lather energizes the skin and leaves it soft and healthy.
Key Ingredients: Hemp seed oil, Pink pomelo extract, Red algae, Seawater, Shea Butter, Vitamins A, C, and E
Pros
 Lightweight
 Paraben-free
 THC-free
 Gluten-free
 Cruelty-free
 Dye-free
Cons
The Bioderma Atoderm Intensive Gel Moussant is here to rescue you from flaky and irritated skin. Its dermo-patented formula contains soothing extracts that cater to inflamed skin by restoring your body's natural lipids (oils). This intensive gel moussant is soap-free and it gently cleanses and comforts your skin without stripping off the natural moisture. This skin care product has a proven efficacy in treating dry and irritated skin. You can apply it on damp skin and gently create a lather. Rinse it thoroughly after two to three minutes for the best results.
Key Ingredients: Coco-Glucoside, Glyceryl Oleate
Pros
Hydrating formula
Fragrance-free
Paraben-free
Alcohol-free
Dermatologist-recommended
Cons
None
The luxurious Rituals The Ritual Of Ayurveda Harmonizing Foaming Shower Gel invigorates and refreshes the skin with its carefully selected ingredients. It is enriched with ayurvedic ingredients like sweet almond oil and Indian rose that are good for the skin and rejuvenate your senses. Almond oil is also rich in vitamins and proteins that gently nourish the skin to give it a youthful glow, while the delicate aroma of Indian rose evokes positive feelings and soothes irritated skin. You will need only a small amount of gel to enjoy the rich, relaxing foam.
Key Ingredients: Indian rose, Sweet almond oil
Pros
Ayurvedic ingredients
Skin-smoothing effect
Soothing aroma
Gentle on sensitive skin
Cons
 The fragrance doesn't last long.
The Bodycology Pure White Gardenia Foaming Body Wash comes in the form of creamy consistency that mixes with water to produce a rich-foamy lather. It is enriched with the goodness of vitamin E, shea butter, and grape seed extracts. The formula pampers and nourishes your skin and has not been animal tested. You can enjoy the foamy bath by squeezing just a little of the product on the loofah.
Key Ingredients: Glycerin, Vitamin E, Vitis Vinifera (Grape) Seed Extract, Methylchloroisothiazolinone, Methylisothiazolinone
Pros
Moisturizing formula
Cruelty-free
Paraben-free
Phthalate-free
Affordable
Cons
The smell does not last long
*The prices provided in this article are based on the latest available information. However, they may vary due to changes in pricing by the seller and/or promotional offers.
How To Choose The Best Foaming Body Wash
While looking for a foaming body wash, here are a few important factors that one should keep in mind:
1. Moisturizing: Look for a foaming body wash rich in conditioning and hydrating agents that will keep your skin soft and supple. A good moisturizing body wash can eliminate the need for moisturization after taking a shower.
2. Fragrance: Choose your scents carefully and pay attention to what suits your senses. You don't want to end up with a fragrance that gives you a headache. If you have sensitive or eczema-prone skin, it is best to opt for a fragrance-free body wash.
3. Gentle Formula: Body washes that are scientifically-formulated without sulfates, parabens, and dyes should be your first choice. Since you'll be using the body wash daily, you don't want your skin exposed to these harsh ingredients. Choose a gentle, hypoallergenic formula that will keep your skin soothed and free from irritations.
How To Use A Foaming Body Wash
Foaming body washes are pretty simple to use – squirt and apply. But here are some tips to give you the maximum benefits from your shower.
Use only a very small amount of body wash. A pea-sized amount will give all the foam you require. Too much of the product will be difficult to rinse off and may leave residue on your skin. You won't be just wasting the product, but your skin will also be stripped off its natural moisture.
 Rub it gently all over your skin to create a rich lather. It can be used directly with your hands as these body washes foam instantly.
 Some body washes have aromatherapy benefits. Relax and breathe in deeply while showering to energize your mind and uplift your mood.
 Rinse off normally as you would do with any other shower gels or soaps.
 To dry yourself after shower, don't rub your skin with a towel, instead, dab gently to retain the moisturizing and the soothing effects of the body wash.
Why Trust StyleCraze?
The author of this article, Shiboli Chakraborti, is a certified skin care coach. She has conducted hours of research on different brands to pick the list of the best foaming body washes. She checked online reviews and user feedback to shortlist the best ones for her readers. These products remove dirt and other impurities without disturbing the skin's moisture levels.
Frequently Asked Questions
What is the difference between a foaming body wash and shower gel?
These two cleansers are pretty similar as they perform the same function. But the main difference can be seen in their consistency and texture. Shower gels have a thinner consistency. The main difference lies in the bathing experience – the foam and lather from foaming body washes smooth and pamper your skin, while the fragrance calms your mind. Shower gels, on the other hand, are chiefly moisturizing cleansers only.
Does foaming body wash last longer?
Foaming body wash lasts up to 80 washes. It moisturizes the skin and leaves it supple.
Can foam baths be used as a body wash?
Yes, foam baths can be used as a body wash. For a relaxed and enjoyable 'ME' time, you can use foam baths in the bathtub under the stream of warm water.
Does foam body wash dry out the skin?
Not all foam body wash dries out your skin. Certain soaps, shower gels, and body washes contain harsh ingredients that might cause dryness and itchiness. For sensitive skin, opt for clinically-verified, hypoallergenic, and doctor-recommended products to avoid dryness and irritation.
Is Dove body wash foaming?
Yes. Dove foaming body washes are sulfate-free and lightweight, making them a great product for dry skin.
Can I use Dove shower foam on my face?
No. Shower foams are not meant for use on the face, as they may dry out the sensitive skin on your face and cause irritation.
Recommended Articles