10 Best Foldable Wardrobes For Clothes Available In India
Revamp your style game with a smart wardrobe for the fashionably smart!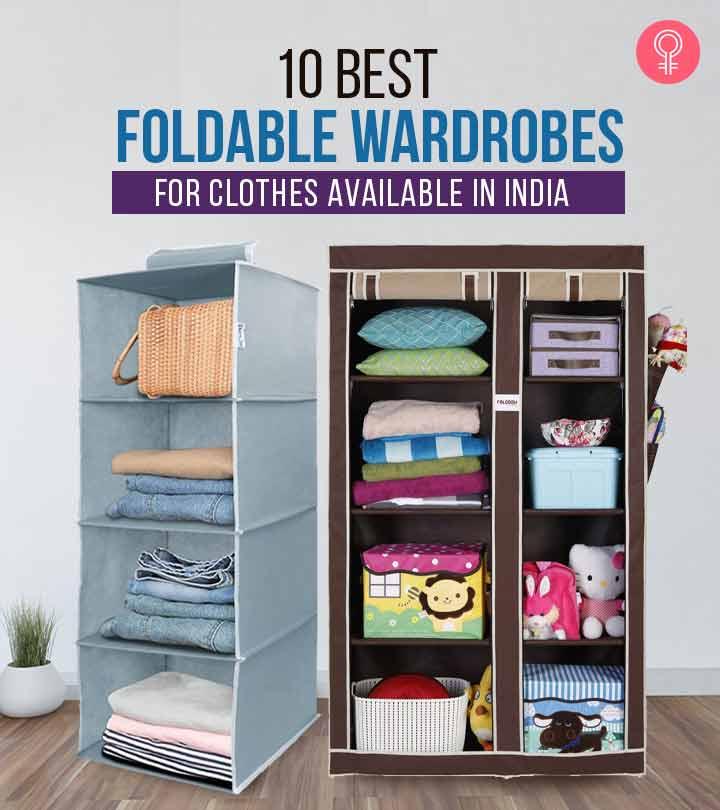 There's nothing such as too many clothes, but limited space is an issue. Metal and wooden wardrobes occupy too much space in the room, and that's where foldable wardrobes come in. They resolve the space crunch at your home by storing anything you want from clothes, footwear, toys, books to bedsheets, toiletries, and more.
These wardrobes come in different sizes andcan easily be moved from one place to another. If youplan to buy one, check out these 10 best foldable wardrobes for clothes available in India. Scroll down!
10 Best Foldable Wardrobes For Clothes Available In India
This foldable closet from Zemic has six tiers to fit in your clothes and shoes easily. It is made from a corrosion-resistant metal pipe with sturdy connectors and non-woven waterproof fabric. This portable wardrobe can easily be fitted anywhere and saves space due to its small footprint. It comes with a zipper cloth cover to keep dust at bay and is crafted to accommodate large clothes, accessories, and boots. It is easy to assemble without any additional tools.
Specifications
Dimensions:58x28x109 cm
Number Of Shelves:6
Color: Gray
Pros
Large capacity
Easy to assemble
Customizable layers
Cons
Price at the time of publication: ₹4670
This foldable wardrobe fromMaison& Cuisine is fitted with a durable quality tube, PP plastic connectors, and superfine cloth cover that make it long-lasting. It is smartly crafted and has a modern and innovative design that features movable hanging rods for clothes and eight storage shelves to meet all your storage needs. Its powder-coated surface makes it lightweight and durable. This foldable closet is suitable to fit in small spaces and walk-in wardrobes.
Specifications
Dimensions:5 x 42.5 x 166 cm
Number Of Shelves:8
Color:Wine Red
Pros
Easy to assemble
Durable
Elegant design
Value for money
Comes with a cloth cover
Cons
Price at the time of publication: ₹1349
The Flipzon Multipurpose Baby Fabric Wardrobe comes with two side pockets to accommodate additional products like accessories and toys. This foldable wardrobe features four wheels to let you move it anywhere easily, and its compact size makes it an ideal choice for small spaces. The printed cover with cartoon characters is made from quality fabric and features a zipper for easy removal and closure. This closet has smooth edges and metal pipes with no sharp corners to ensure safety. It is equipped with well-stitched fabric and six shelves that can be easily assembled and dismantled.
Specifications
Dimensions:60 x 28 x 115 cm
Number Of Shelves:6
Color:Blue
Pros
Lightweight
Sturdy frame
Easy to assemble
Good storage capacity
Cons
Price at the time of publication: ₹1199
This collapsible closet from Keekos is made of a high-quality cloth cover and fitted with PP plastic connectors and steel tubes to offer extended life. This innovatively designed wardrobe for kids has a modern touch and comes with hanging rods that can be moved and six storage shelves to provide sufficient space to organize your stuff. Its powder-coated surface makes it an ideal and durable choice. The closet also features a shoe rack with a zip cover to keep them dust-free and out of view.
Specifications
Dimensions:108 x 60 x 30cm
Number Of Shelves:6
Color:Beige & Pink
Pros
Easy to assemble
Dustproof
Lightweight
Value for money
Cons
Poor quality top cover material
The Folddon Foldable Wardrobe has a clean and simple design with enough space to easily accommodate an extra pile of shoes, toys, clothes, accessories and more. It has eights racks to manage all your belongings. This durable and sturdy wardrobe features non-woven washable fabric and CR tubes to ensure its longevity.
Specifications
Dimensions:4 cm x 71.09 cm x 154.9 cm
Number Of Shelves:8
Color:Beige & Brown
Pros
Lightweight
Washable cover
Easy to assemble
Durable
Cons
Price at the time of publication: ₹1799
The CbeeSo's Foldable Wardrobe features 10 high-capacity foldable racks, each capable of accommodating a weight of 8kg. This fabric and metal-made foldable wardrobe has a sturdy design due to top-quality, UV-resistant PP material used. Its powder-coated mild steel pipes provide structural stability, while the non-woven GSM fabric is dustproof and easy to maintain.
Specifications
Dimensions:136 x 45 x 165 cm
Number Of Shelves:10
Color:Brown
Pros
Lightweight
Huge storage capacity
Easy maintenance
Includes outer cover for protection
Sturdy
Cons
This foldable wardrobe from HOKIPO is crafted from bamboo charcoal and superior-quality non-woven fabric. It comes with four spacious shelves to keep your stuff neatly. This foldable organizer includes loop and hook fasteners to hang your clothes and accessories. The thick and durable paperboard offers sturdiness, and it can be easily folded to be carried along anywhere you want.
Specifications
Dimensions:30 x 30 x 80 cm
Number Of Shelves:4
Color: Gray
Pros
Portable
Lightweight
Spacious
Wall mounting
Cons
Can't bear too much weight.
Price at the time of publication: ₹399
Thiscollapsible wardrobe from Zemic has six shelves and comes with a dustproof zipper cover. It is lightweight and features an attractive and stylish design to complement any space.The sturdy metal construction with quality steel tubes and non-woven fabric offers lasting durability. The shelves can be removed and adjusted to accommodate large accessories, bags, and boots.
Specifications
Dimensions:58x28x109cm
Number Of Shelves:6
Color:Navy Blue
Pros
Sturdy design
Large capacity
Easy to assemble
Cons
Price at the time of publication: ₹9671
The Solimo 3-Door Foldable Wardrobeconsists of 10 shelves, each with a load-bearing capacity of 10 kg. The hanger has a capacity of 4 kg. This high-quality foldable wardrobe is made from non-woven GSM material that offers excellent stability. This space-saving closet is ideal for storing clothes, shoes, books, accessories, toys, etc. The outer cover is equipped with quality zippers, and this unit can be easily assembled and dismantled when needed.
Specifications
Dimensions:136 x 45 x 165 cm
Number Of Shelves:10
Color: Brown
Pros
Easy to install
Includes side pockets
Good load-bearing capacity
Lasting zippers
Cons
Price at the time of publication: ₹2499
This collapsible wardrobe from HNESS has eight shelves and can conveniently fit into compact spaces. This sturdy closet is made from powder-coated metal tubes, waterproof fabric tiers, plastic connectors, and has a non-woven fabric cover to offer long life. You can organize anything from your kid's clothes, toys, and accessories to your clothes, shoes, and bags on the spacious shelves. This multifunctional wardrobe has hanging spaces to hang sweaters and coats, while the dustproof fabric cover with zipper prevents dust from reaching your clothes. It is pretty easy to install this closet using the step-by-step instruction manual.
Specifications
Dimensions:130 x 45 x 175 cm
Number Of Shelves:8
Color: Navy Blue
Pros
Durable
Easy to assemble
Large capacity
Lightweight
Sturdy
Cons
Foldable wardrobes are convenient and allow you to keep your clothes, accessories, shoes, and toys organized. They save a lot of space and blend in perfectly with the room décor. Here a few points that you need to consider before buying a collapsible closet.
How To Choose The Best Foldable Wardrobe
Always look at the number of divisions or shelves you get in a closet you plan to purchase. Go for a wardrobe with spacious shelves that can organize all your belongings.
Foldable wardrobes have different load-bearing capacities. If you want to keep winter clothing, toys, and heavy accessories in the closet, make sure it can bear that amount of weight. Usually, these shelves can bear up to 4-6 kg weight.
Invest in a foldable wardrobe made of high-quality and tough-end material that can last for years. PP plastic, wrought iron, and canvas cover offer durability and strength.
Always check the zipper-type of the foldable wardrobe you want to buy. D-type zippers make a better choice as they are durable and can withstand wear and tear.
Foldable wardrobes provide a great way to organize your belongings. They are compact, portable, and easy to install, making them an ideal choice to store the extra stuff in your house. If you have made up your mind to buy a foldable wardrobe for your clothes, keep the points mentioned above in mind and take your pick.
Frequently Asked Questions
What are the key advantages of foldable wardrobes for clothes compared to traditional wardrobes?
Foldable wardrobes offer portability and space-saving benefits, making them ideal for small spaces, frequent movers, or temporary storage solutions. They are lightweight, easy to assemble, and can be folded when not in use, providing versatility and convenience. On the other hand, traditional wardrobes are usually more permanent fixtures that offer larger storage capacity but may not be as flexible or easily moved.
Can foldable wardrobes accommodate different types of clothing, such as suits, dresses, or shoes?
AYes, foldable wardrobes generally come with various compartments and hanging rods, making them suitable for accommodating different types of clothing, including suits, dresses, and shoes. They often have adjustable shelves and storage options to meet diverse clothing storage needs.
How easy is it to clean and maintain foldable wardrobes?
Foldable wardrobes are relatively easy to clean and maintain. They can be wiped down with a damp cloth to remove dust and dirt, and the fabric covers can be removed for washing if needed. Regular maintenance involves checking for any loose screws or connections to ensure stability and durability.
How do foldable wardrobes handle humidity and moisture?
Foldable wardrobes made with moisture-resistant materials can handle humidity and light moisture well. However, excessive humidity or direct exposure to water may cause damage to the fabric and weaken the structure. It's advisable to avoid placing them in damp or humid areas for extended periods and to keep them away from direct contact with water to ensure their longevity.
Are foldable wardrobes resistant to scratches and stains?
Foldable wardrobes made with durable and stain-resistant materials can be resistant to minor scratches and stains. However, some fabrics or surfaces may be more susceptible to damage, so it's essential to choose high-quality foldable wardrobes for better scratch and stain resistance.
Recommended Articles