13 Best Foldable Rowing Machines For Low-Impact Workouts – 2023
Achieve a toned physique and strengthen muscles with these portable machines.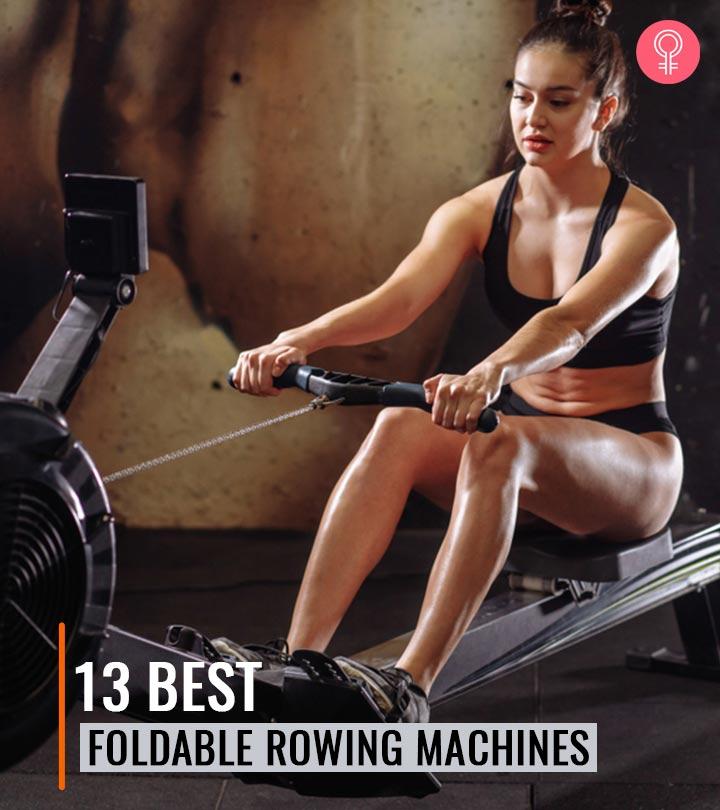 Shape your muscles from the comfort of your home with the best folding rowing machine. This machine is ideal for low-impact exercises. They help burn out the unwanted calories, strengthen the muscles, and tone them into a beautiful shape. The machine comes with a foldable option, convenient for storage and portability. In this post, we have mentioned the top 13 of these machines. Have a look!
Top Picks
Comparison Between The Top 4 Foldable Rowing Machines
13 Best Foldable Rowing Machines
Pros
Non-slip hand bars for support
Built-in transportation wheels
Targets different muscles groups
Cushioned seat
High-quality straps attached with foot pedals
Floor stabilizers
Smoother, quieter operation
Extra-long side rails
Cons
Small LCD monitor
Magnets not durable
Price at the time of publication: $249.0
Pros
Adjustable resistance
Multi-functional LCD console
Textured foot pedals for better grip
Nylon attached straps
Molded seat for added comfort
Foam padded hand grips
Sturdy steel frame
Easy to assemble
Cons
Price at the time of publication: $169.0
Pros
Auto-adjustable trainer control
Space saving design
Resistance training
Smoothly gliding seat
Adjustable console angle
Well-padded seat
Robust handlebars
Cons
None
If you are looking for a full-body workout machine with an ergonomic, foldable design, this is it. The Lanos Hydraulic Rowing Machine can easily adjust the resistance as per your stamina. Its LCD console helps track your progress and keeps you motivated. The ergonomic molded seat with proper cushioning smoothens your every movement.
The machine also has pivoting footplates with nylon straps that fit any foot size. They secure your feet in their place during the workout session. The easy-grip handlebar with foam and cushion provides a comfortable hand grip for shoulder and chest presses. Its full range of motion gives a tough challenge to your whole body. The machine can be folded to a compact size to fit any area of your house.
Specifications
Dimensions: 50" L x 36.22" W x 20" H
Folded Dimensions: 49" L x 23" W x 20" H
Machine Weight: 34 lbs
Maximum User Weight: 250 lbs
Levels Of Resistance: 3
Resistance System: Hydraulic Piston
Rowing Beam: Alloy Steel
Key Features
A hydraulic resistance control knob
Gliding seat
Pros
Ergonomic design
Pivoting footplates
Nylon foot straps
Easy-grip armbars
Customizable goal setting
Large LCD
Cons
Price at the time of publication: $159.99
Pros
Easy storage
Wheels for easy portability
Secure footrest
Cons
None
Price at the time of publication: $299.99
Pros
Easy-to-read display panel
Easily tracks progress
Conveniently placed pedals
Customizable foot straps
Slip-resistant
Easy-to-operate resistance knob
Built-in transport wheels
Foam-covered row handle
Media rack
Cons
None
Price at the time of publication: $289.0
The Merax Magnetic Adjustable Rowing Machine has a good build quality. It is a great exercise gear for entry-level rowers. Its adjustable resistance tension knob allows you to easily change the resistance and fix it as per your stamina and strength. It has 8 levels of resistance that allow you to increase or decrease the intensity as you need. The large LCD console can easily track time, count, calories, and total count to keep you further motivated and focused.
A sliding, double-padded, and upholstered seat supports your glutes and the entire back as you perform a prolonged and vigorous workout. It stabilizes the brackets to hold the seat into the socket and ensures full safety while rowing. The 15-degree angled seat rail ensures smooth and noise-free functioning. The multi-angled rotary footplates adjust your pedal positions according to the movement. The built-in magnetic flywheel minimizes noise during the rower's operation, giving a comfortable and effective workout session.
The built-in transport wheels and the portable design allow easy storage at home. The entire machine can be folded into a compact size and stored anywhere at home.
Specifications
Dimensions: 73" L x 16" W x 21" H
Folded Dimensions: 26" L x 16" W x 49" H
Machine Weight: 74 lbs
Maximum User Weight: 264 lbs
Levels Of Resistance: 8
Resistance System: Magnetic
Rowing Beam: Alloy Steel
Key Features
8-Levels of resistance
15-degree tilt angle
Fully padded seat
Silent operation
Built-in magnetic flywheels
Pros
Smooth and silent operation
Provides whole body workout
Large LCD
Adjustable resistance levels
Padded seating arrangement
Large strapping footplates
Durable and portable design
Built-in transportation wheels
Multi-angle rotary footplates
Cons
Not suitable for experienced users
Basic monitor
Poor footrest design
Price at the time of publication: $225.99
Pros
Ergonomic grip
Durable nylon rope
Easy to move
Special tablet holder
Adjustable straps
Customizable padded seats
Cons
None
Price at the time of publication: $339.99
Pros
Functional design
Easily adjustable resistance control knob
Smooth gliding seat
Well-padded design
Robust handlebars
Cons
None
Price at the time of publication: $1500
The SereneLife Rowing Machine is ideal for sports training, cardio fitness, and fat burning. It has a large LCD console that allows you to monitor the elapsed times, strides, distance covered, revolutions per minute, and calories burned. It features an auto-power system to save battery life.
This compact home-gym equipment system contains 8 levels of tension resistance that help adjust the intensity levels. The quite, contoured, comfortable row seat supports the glutes and the back for long workout sessions. The comfortable padded handlebars are slip-resistant.
Specifications
Dimensions: 77.2" L x 16.1" W x 29.9" H
Folded Dimensions: 39.3" L x 17.7" W x 53.1" H
Machine Weight: 62 lbs
Maximum User Weight: 250 lbs
Levels Of Resistance: 8
Resistance System: Magnetic and air resistance
Rowing Beam: Steel metal alloy
Key Features
Combines both air and magnetic resistance
Covers maximum 999.9 miles
Auto power-off
Get connected with the 'Fitshow' app
Pros
Large LCD console
Adjustable resistance
Smooth gliding seat
Well-padded seat
Robust handlebars
Perfect for low-impact options
Pedal-style footrests
Tension control knob
Easy to assemble
Cons
None
Price at the time of publication: $289.99
Pros
Easy assembly
Smooth and quiet
Anti-skid base
Anti-slip foam handlebar
Cons
None
Price at the time of publication: $325.99
Pros
Durable foamed handlebars
Rock-solid build
Slip-resistant
Adjustable pedals
Customized foot straps
Ergonomic seat cushion
Easy assembly
Cons
None
Price at the time of publication: $299.99
Enjoy effective and smooth workouts with the Merax Folding Magnetic Rowing Machine. The eight-level magnetic tension resistance encourages challenging rowing machine workouts. The device is engineered with a 17-inch wide handlebar with a comfortable grip to perform the exercise smoothly while watching TV or listening to music.
Know your distance, time, stroke, total count, and calories burned with the built-in LCD monitor. Keep your feet secure while exercising with the large footplates that come with adjustable straps. In addition, the device comes with a cushioned seat to make you feel comfortable, especially during long workouts.
Fold and easily relocate with the portable wheels. You can use this rowing machine for toning out your forearms, triceps, biceps, legs, shoulders, and thighs effectively.
Specifications
Dimensions: 5" x 18.7" x 10.2"
Folded dimensions: 9" x 18.7" x 57"
Maximum weight capacity: 330 pounds
Levels of resistance: 8
Resistance system:Magnetic resistance
Key features
Foldable rowing machine
Portable wheels for smooth carrying
Large contour seat
Pros
Large display
Easy to assemble
Sturdy
Anti-slip foot pedals
Cons
None
Price at the time of publication: $279.99
These are the 13 best foldable rowing machines available online. The following sections further discuss rowing machines. The information can be especially helpful if you are a beginner.
What Is A Rowing Machine?
A rowing machine is also known as an ergometer that uses 86% of muscle groups to build endurance, and tone and strengthen the core muscles. Rowing also enhances one's cardiorespiratory endurance.
Rowing machines are available in different types. Let us take a look at them.
Types Of Rowing Machines And Their Modes Of Action
Water Rowing Machine: It provides a real-time rowing experience. It uses water for resistance by spinning the flywheel attached to a full-water tank. It gives a smooth and fluid motion.
Mode Of Action: Water rowers use a water flywheel (pedals) in a tank of water attached to a chain and the handles. When you pull the handles, the pedals revolve in the water. The mass of the moving water creates drag against the pedals to produce resistance.
Air Rowing Machine: It is one of the most popular models that use air force to build resistance. These machines are often referred to as ergos or ergometers. They exercise your muscles against the force of the air.
Mode Of Action: Air rowers produce resistance with air flowing over an internal flywheel. A chain connects the wheel to the rowing handle. As you pedal, the flywheel spins against the airflow to produce resistance.
Magnetic Rowing Machine: It is operated by an electromagnetic brake system that creates resistance. It offers a quiet rowing experience.
Mode Of Action: This machine works by varying the distance between strong magnets and a spinning flywheel attached to a chain's handle. The resistance levels are adjusted either by a magnetic slider (by changing your stride length) or by a digital console panel.
Hydraulic Rowing Machine: It is suitable for home use due to affordable prices. It offers a smooth and quieter performance.
Mode Of Action: It works on a hydraulic piston that uses air or water to build resistance. You need to pull against the air or fluid inside the cylinder to adjust the resistance levels. The adjustable resistance system is effective both for beginners and experts.
Here are the benefits of using a rowing machine.
Benefits Of Using Rowing Machines For Exercise
Rowing is a whole-body endurance sport that strengthens different muscle groups (1).
It helps improve total body composition. It is an effective calorie burner. It decreases fat mass and improves lean body mass (1).
Rowing is a low-impact exercise. However, it burns many calories without straining the joints, ligaments, or tendons. A study for 8
weeks showed that rowing could improve joint rotation by 30% (2).
Rowing improves cardiorespiratory responses by enhancing blood circulation throughout the body (3).
Foldable rowing machines are ideal for a home gym setup. In the following sections, we have discussed why.
Why Are Foldable Rowing Machines Ideal For Home Use?
Space-Friendly: Traditional rowing machines are heavy and occupy huge spaces. But foldable rowing machines occupy just half of the space and can be two-folded to stack anywhere.
Multiple Levels Of Resistance: The hydraulic and magnetic rowing machines are foldable with a regulatory resistance knob. But the traditional rowing machines (water rowers or air rowers) are huge and have no foldable options. They do not come with adjustable resistance, and the user needs to regulate it. However, the self-regulating resistance and foldable rowing machines are ideal for beginners.
Portability: The compact size of a foldable rowing machine and the built-in transport wheels offer easy portability.
Easy To Disassemble: You need just 30-40 minutes to assemble and disassemble a foldable rowing machine. If you do not want to fold it, you can easily disassemble it in under 10 minutes and save more space.
If you are a beginner, a foldable rowing machine can be a little intimidating. The following guide will help you use the machine the right way.
The Right Way To Use A Rowing Machine
Start by holding the oar with your arms extended and feet placed on the wide foot pedals. Hold the handle using an overhand grip. Engage your core and straighten the back.
This position is known as "the catch" where you extend your arms fully and bend your knees.
With your back straight and core engaged, push back using only your legs (leg muscles), rolling through your feet, and keeping them flat to the ground when legs are extended. Your legs should perform 60% of the work while rowing.
Bend at your hips to push your upper body slightly back. You should engage your core just 20% while doing this drive.
The arm motion is the final part. Pull the grip toward the lower rib cage.
Bring the elbows back while you pull hard.
Hinge forward at your waist until you get back to the starting position.
The following are the common mistakes with rowing machines that you would want to avoid.
Common Mistakes And How To Fix Them
Do not hunch your back. It may strain your shoulders. Your shoulders should be back to open the chest and relaxed with no tension when you are in the 'catch' position. Engage your core.
Do not scoop your motion as you row. If you bend your knees before extending your arms fully, you may strain your neck and hands. Your knees and hands should have proper coordination when extended.
Do not raise your arms too high while rowing back. This posture strains your shoulders. Bring the oar just below your chest and use the upper-back muscles to pull it towards the chest.
Your knees should not drop to the sides. Use your inner thigh muscles to keep the knees close together.
Now that you are well aware of a foldable rowing machine, we are sure you would want to buy the best. But before you make a choice, quickly scan through the detailed buying guide.
What To Consider Before Buying A Foldable Rowing Machine
Type Of Resistance: There are different types of rowing machines with different resistance levels. Each resistance level comes with its own noise level, storage capacity, and price. If you are a beginner, picking a hydraulic resistance is the right choice. But if you are an expert, you can choose between magnetic, air, or water resistance.
Durability and Stability: The material and the framework determines the stability and durability of a rowing machine. Most machines with modern technology are made of steel with aluminum side rails to enhance longevity.
Comfort: While exercising to the optimum, you do not want to compromise with comfort. You should check the padding of the seat, the cushioning, and the foaming handles to ensure comfort. The handles and pedals should be slip-resistant. The sliding seat should be properly cushioned to provide support to your back and glutes.
Maximum Weight Of The User: The rowing machine should be perfectly engineered to withstand a maximum weight of 300 lbs. Some heavy-duty, foldable rowing machines can even take up to 600 lbs.
Noise Level: If you want a quieter rowing experience, a magnetic rowing machine is a perfect piece for you.
Storage Features: Most rowing machines are lightweight and foldable. If you want more store-saving options, pick foldable rowing machines that can be disassembled in 2-3 parts.
Display/Console: While rowing, you want to track your progress. The LCD console panel should be large enough to track your goals like duration, distance, striking rate, and calories burned.
Why Trust StyleCraze?
Aditi Naskar is a sports enthusiast with a Diploma in Health & Wellness and specializes in reviewing fitness products. She advocates using only the best and most appropriate equipment while training as safety, design, and durability are three crucial factors that affect user experience. According to her, rowing machines are one of the best low-impact muscle-toning and strengthening exercise equipment. She researched the available options on the market and shortlisted the top machines in the category. The products mentioned here are designed keeping safety standards in mind and have excellent build and portability.
Frequently Asked Questions
Are folding rowing machines stable when in use?
Yes, a folding rowing machine, when assembled properly, gives you a stable performance.
Can you lose belly fat with a rowing machine?
A rowing machine works on the core. Hence, it may help shed some excess fat from the belly. Along with that, you also must reduce your stress levels, eat healthy, and sleep properly.
Is rowing better than cycling?
Rowing is a low-impact exercise that puts less pressure on your joints. It is a great alternative to cycling and involves your whole body.
How long should you workout on a rowing machine?
Initially, you can start working out for 10 minutes. You may gradually increase the resistance and time once you build more strength and stamina.
Which is the best rowing machine for home use?
All rowing machines are suitable for home use. But you may pick the foldable variant. If you want a budget-friendly rowing machine, go for one that has hydraulic resistance.
Can you get in shape by just rowing?
Along with rowing, you also need to focus on eating healthy and sleeping well to get in shape.
Is a rowing machine good for knee pains?
Rowing is a low-impact exercise that puts less pressure on your knees. It may not aggravate knee pains. However, if you have severe knee pains, consult your doctor before using a rowing machine.
Are water rowers better than magnetic rowers?
In terms of durability and sturdiness, water rower could be ideal. But for a noise-free, quieter, and easier operation, you can go for a magnetic rower (suitable for beginners).