10 Best Food Dehydrators – Reviews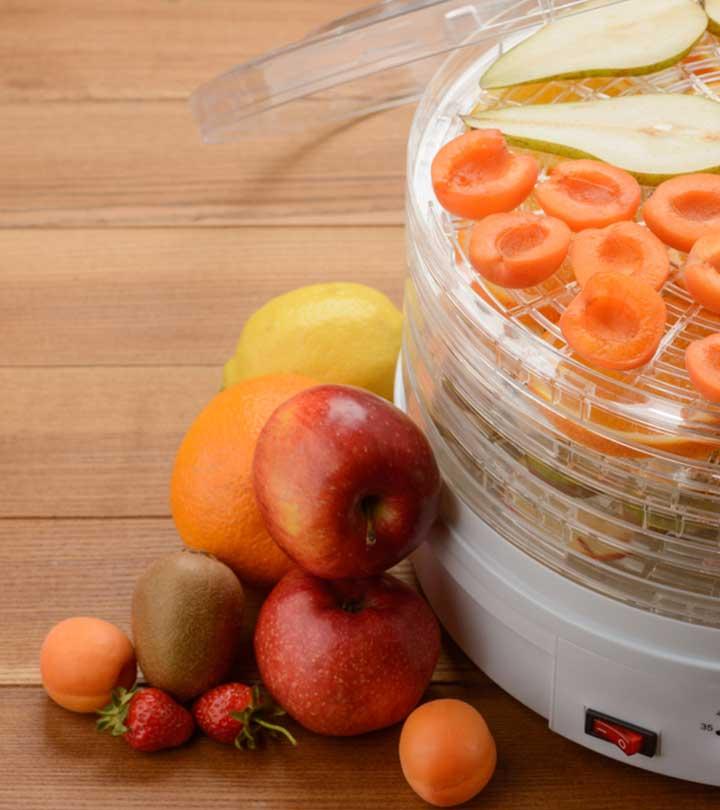 Food dehydrators help preserve your foods for longer periods. Such foods also make a great on-the-go snack. These machines work by drawing moisture out of food. They come in a gamut of designs, shapes, sizes, colors, and functionalities.
The best dehydrators help preserve bulk food items like mangoes from the market or vegetables and herbs from your kitchen garden. They enrich the flavor of fresh veggies, fruits, herbs, and even meat.
Here, we have listed the 10 best food dehydrators available online. Take a look.
10 Best Food Dehydrators – Reviews
The Presto Electric Food Dehydrator features four trays. You may also expand them to eight to double up your food drying space. You will find the fan at the unit's base, signifying that the food juices would drip down onto the same. This bottom-mounted fan offers consistent airflow for optimum drying. It has a power light that shows when the dehydrator is plugged in.
The temperature of this compact dehydrator stays consistently at 165o F. The trays offer solid storage. The mesh and fruit roll sheets fit into this appliance. It is white and comes with a transparent top. However, it has no timer or an on-off button – and you need to keep a constant watch and turn the machine off when your food is dried. The drying trays are dishwasher-safe.
Specifications
Dimensions: 14.5 x 15 x 6.25 inches
Weight: 7.5 pounds
Material: Plastic
Trays: 4 (expandable to 8)
Pros
See-through lid for easy monitoring
Affordable
Dishwasher-safe
Power light
Cons
No on-off switch
No timer
Cannot customize drying temperature
The NESCO Snackmaster Pro Food Dehydrator features 5 trays that can be expandable up to 12. It contains a thermostat that allows you to adjust  the temperature from 95o to 165o F. This model also features a fan at the top that pushes the air horizontally across the food trays for enhanced drying.
The dehydrator also includes two liner sheets for dehydrating sauces, preparing fruit roll-ups, or any other fluid-like food. There are two additional mesh sheets for extra food items and three packs of jerky spices to prepare lip-smacking beef jerky. Whether you want to prepare beef jerky or dried fruit, both turn out delicious and flavorful. The flavors do not mix, and you do not have to rotate the trays. The drying trays are made of BPA-free material.
It has a 600-watt dehydrating capacity for uniform distribution of heat. It also comes with a recipe booklet. The appliance does not have a timer, though.
Specifications
Dimensions: 13.75 x 22.13 x 13.87 inches
Weight: 7.75 pounds
Material: Plastic
Trays: 5 (expandable to 12)
Pros
Intuitive dial controls for temperature setting
Easy kitchen storage
BPA-free trays
Even heat distribution
Recipe booklet included
Cons
The COSORI Food Dehydrator is a versatile machine. It is especially suitable for smaller kitchens. It comes with temperature- and timer-control options.
You can set the digital timer control panel for a 30-minute interval and up to 48 hours for a complete cycle. You can adjust the temperature from 95o to 165o degrees F. The appliance ensures uniform drying from every side. The trays are BPA-free to keep your edibles safe and healthy to eat.
The dehydrator has a quiet operation too. It produces no more than 48 dB of noise (which is equivalent to the noise levels in a big library). The product is easy to clean too. You just have to use a damp cloth or a brush/sponge.
It has an auto shut-off feature that keeps food from overcooking and the machine from overheating. It has a memory function as well. It comes with a mesh screen, a fruit roll sheet, and a recipe booklet. All its 5 trays are dishwasher-safe.
Specifications
Dimensions: 13.80 x 11.80 x 13.80 inches
Weight: 9.25 pounds
Material: Plastic
Trays: 5 (expandable to 7)
Pros
Low-noise operation
BPA-free trays
Dishwasher-safe
Auto shut-off feature
Memory function
Compact
Comes with a recipe booklet
Cons
None
The VIVOHOME Electric Food Dehydrator comes with an LED display to help you set the temperature and time with ease. The material is made of a durable stainless steel base and 5 BPA-free plastic trays. It operates at 400 watts for optimum output. It also boasts of a 97% nutrient retention rate.
It features a timer for your convenience. It operates at varying temperatures ranging from 95o to 158o F. This dehydrator is detachable. Its trays are dishwasher-safe. It is suitable for drying fruits, veggies, herbs, mushrooms, beef jerky, fish jerky, and turkey jerky. You may also make snacks for your pets.
Specifications
Dimensions: 14.5 x 12.2 x 10.7 inches
Weight: 7.25 pounds
Material: Stainless steel
Trays: 5
Pros
BPA-free trays
Dishwasher-safe
Detachable design
Timer function
Compact
Cons
Could be too small for some
The Excalibur Electric Food Dehydrator features 9 trays. It is so very spacious that you can prepare seven pounds of jerky before drying and still have space to spare. Every tray comes with a non-stick screen that is appropriate for maximum drying.
The device comes with an adjustable thermostat to help you adjust the temperature from 105o to 165o F. It also has a 26-hour timer. It helps you leave your edibles for drying while you work or take a nap. The dehydrator has a fan at the unit's rear for even air circulation.
This dehydrator best suits for bigger families, sportsmen, and gardeners for drying fruits, nuts, vegetables, beef jerky, raise-bread, fruit puree, and even celery. You can take out a couple of trays to make space for drying the celery.
Its patented Parallex Horizontal Airflow design helps food dehydrate faster and retain more nutrients. The design also improves food taste. The dehydrator comes with flexible poly-screen tray inserts that keep foods from sticking. The trays do not have to be rotated or moved during operation.
Use this kitchen appliance for warming pieces of bread and rolls before serving them for your family. You can take out all the trays to prepare some delicious homemade yogurt too.
Specifications
Dimensions: 19 x 17 x 12.5 inches
Weight: 22 pounds
Material: Plastic
Trays: 9
Pros
Huge drying space
26-hour timer
Unique airflow design for faster dehydration
Cons
This is the best-stacked dehydrator that comes with 5 rectangular BPA-free stacking trays offering considerable space for vegetable strips, long herb sprigs, and even shorter slices. The dehydrator provides consistent air circulation for uniform drying so that you do not need to rotate the food trays continuously.
Make the best use of the adjustable thermostat to help you set the right temperature for different kinds of food.
One of the more notable features of this digital dehydrator is its 48-hour timer that shuts off automatically. It helps you do your chores, work, or simply take a nap while your food is being dried. The see-through lid will help you check the foodstuff without opening the top.
The appliance comes with two unique sheets that make it a versatile food dehydrator. You can use the mesh sheets for dehydrating herbs, while the solid sheets help you make fruit purees that you can eat as homemade fruit rolls.
Specifications
Dimensions: 10.5 x 13 x 11 inches
Weight: 8 pounds
Material: Plastic
Trays: 5
Pros
Adjustable thermostat
BPA-free trays
Auto shut-off feature
Digital temperature setting
See-through lid
Cons
The Nutrichef Electric Countertop Food Dehydrator boasts of retaining 97% of the food nutrients. The product comes with 5 versatile stackable trays for preparing beef jerky, vegetables, fruits, fish, and poultry items. This multi-tiered shelving food dryer helps process food quickly and efficiently.
The easy-to-use one-press button will help you dehydrate your food effortlessly with the optimum temperature of 180o F.
It is the best food dehydrator for jerky that dries not only thinly sliced meats but also chunky jerky pieces. The special tabs help increase the tray height to provide more room inside the unit.
The multi-tier food dehydrator increases food shelf life with high heat passing through every tray. The dehydrator is dishwasher-safe and easy to clean. However, the appliance lacks no temperature control options.
Specifications
Dimensions: 7.68 x 13 x 13 inches
Weight: 2.7 pounds
Material: Plastic
Trays: 5
Pros
High-heat distribution
Energy-efficient
Special tabs for large jerky pieces
Dishwasher-safe trays
BPA-free trays
Cons
No temperature control
No timer
Noisy operation
The Magic Mill Food Dehydrator comes with seven BPA-free trays. The stainless steel dehydrator features a rear-built fan for drying and warming your food uniformly. The air circulation is perfect, and you do not have to worry about rotating the vegetables, fruits, and jerky pieces on the trays.
You also can set the temperature with the digital thermostat. The appliance will shut-off automatically once the food is dried. The horizontal air circulation heats different types of food evenly.
The seven spacious trays provide enough room for meat, vegetables, fruits, and fish. Each tray can also accommodate several slices of oranges, kiwi, tomatoes, grapes, and meat.
Specifications
Dimensions: 15 x 13.50 x 19 inches
Weight: 16.7 pounds
Material: Stainless steel
Trays: 7
Pros
Auto shut-off feature
BPA-free trays
Even heating
Spacious trays
Dishwasher-safe
Adjustable temperature
Cons
The Ivation Countertop Food Dehydrator allows you to make lip-smacking beef jerky, crispy green beans, banana chips, and various vegetables, fruits, herbs, and nuts. This food dehydrator comes with 480-watt power. Its rear-built fan offers better airflow. It ensures even food drying without overheating. You do not need to rotate the trays.
The digital timer lets you choose temperature ranging from 95o to 158o F. The appliance has eight temperature levels. It shuts off automatically once the food is dried. The product has 19.5 hours of dry time, which is adjustable to 30-minute intervals.
The six drying trays are spacious enough to accommodate a reasonable amount of food. The dehydrator comes with a mesh and solid sheets liquid-based and small-sized treats.
Specifications
Dimensions: 13.6 x 12.4 x 17.7 inches
Weight: 13.6 pounds
Material: Plastic
Trays: 6
Pros
Auto shut-off feature
Adjustable temperature
Digital timer
BPA-free trays
Dishwasher-safe trays
Cons
The Elechomes Food Dehydrator comes with a digital control panel to help you set the temperature anywhere between 95o to 158o F. You can adjust the digital timer from 30 minutes to 72 hours for the best warming and drying outcome.
The six trays are BPA-free. Each layer has two adjustable heights to prepare different kinds of dried food. The appliance protects all your food from overheating. All the six trays are removable and dishwasher-safe. The dehydrator comes with a mesh screen and a fruit roll.
Specifications
Dimensions: 11 x 11 x 10 inches
Weight: 5 pounds
Material: Plastic
Trays: 6
Pros
Prevents overheating
Spacious trays
BPA-free trays
Dishwasher-safe trays
Adjustable heights
Cons
None
These are the top 10 food dehydrators available online. The following buying guide can help you pick the right product for you.
Choosing The Best Food Dehydrator
Temperature Controls: Choose a food dehydrator with a thermostat that helps you set your desired temperature. You can set different temperatures depending on the recipe you use to dry foods.
Space: Always look for a food dehydrator that comes with expandable trays, as the space inside matters the most. Such a design will let you add more trays based on your requirements, especially when you need to dehydrate a large batch of food together.
Fan Position: The best dehydrator for jerky, vegetables, or fruits comes with three kinds of fan positions – at the top, rear, or base. Choose a food dehydrator with a fan at the rear so that you do not need to turn the food trays around. Rear fan positions will ensure effectual heating.
Timer: Having a timer makes it convenient for you to dehydrate food at the precise temperatures for a specific time. An automatic timer turns off the machine when the dehydration process is finished. It means you can do your work or take a nap without constant monitoring.
BPA-Free Trays: Always buy a BPA-free food dehydrator for safe, healthy eating. You can prepare all kinds of food when you have BPA-free trays. A BPA-free appliance ensures hazardous chemicals will not contaminate your food.
Design: Consider the design, size, and shape of a food dryer before you invest in one. For instance, a square-shaped food dehydrator can be placed in one corner of your kitchen or be kept against the wall. A round-shaped appliance will not offer easy storage if you have a small kitchen.
Price: There are many food dehydrators priced exorbitantly. Invest in one that offers maximum benefits and top features within your budget. Look for a reasonably-priced food dehydrator.
Warranty: You should always opt for a vegetable, jerky, or fruit dehydrator that comes with an extended warranty period. Food dryers are complex appliances. It is wise to pick one that has a warranty.
Does A Food Dehydrator Use A Lot Of Electricity?
The best food dehydrators do not consume too much electricity. In fact, most of them are energy-efficient. Comparing a 480-watt or 600-watt food dehydrator with a 5000-watt convection oven will tell you a lot more of its efficiency.
Is A Food Dehydrator A Healthy Option?
Yes, a food dehydrator is a healthy option for your kitchen. It preserves the essential nutrients, vitamins, and minerals in your food. If stored properly, dried edibles stay tasty and healthy for many weeks and even months at room temperature.
Dried sprouts and vegetables lose no vitamin C or vitamin A during or after dehydration. In fact, you benefit because dehydration seems to increase the concentration of certain essential nutrients and enzymes.
What Foods Can You Not Dehydrate?
You should not dehydrate foods like avocados, juices and sodas, non-lean meats, store-bought condiments, milk, and butter.
Avocadoes are rich in fat, and dehydrating them can turn them sour fast. Sodas and juices could be canned, and dehydrating will make them too messy. Store-bought condiments have chemicals, sugar, and high fat – and dehydrating them is not a healthy proposition.
Non-lean meats have much fat, too. So do milk and butter.
Conclusion
Your food dehydrator is the best and most valuable addition to your kitchen for healthy eating. Choosing the best food dehydrator is the ideal way to prepare tasty and nutrient-rich foods for your family. Before you invest in a food dehydrator, ensure you read the product features, benefits, and cons. We believe this article will help you make an informed decision.
Recommended Articles
The following two tabs change content below.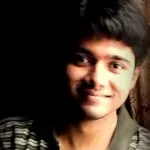 Latest posts by Ravi Teja Tadimalla (see all)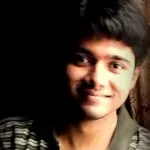 Ravi Teja Tadimalla
Ravi Teja Tadimalla is an editor and a published author. He graduated from SRM University, Chennai, and has been in the digital media field for over six years. He has a Professional Certificate in Food, Nutrition & Research from Wageningen University. He considers himself a sculptor born to chip away at content and reveal its dormant splendor. He started his career as a research writer, primarily focusing on health and wellness, and has over 250 articles to his credit. Ravi believes in the great possibilities of abundant health with natural foods and organic supplements. Reading and theater are his other interests.