13 Best Foot And Calf Massagers To Improve Blood Circulation – 2023
Ease the pain in your foot and calf by using a device to eliminate stubborn knots.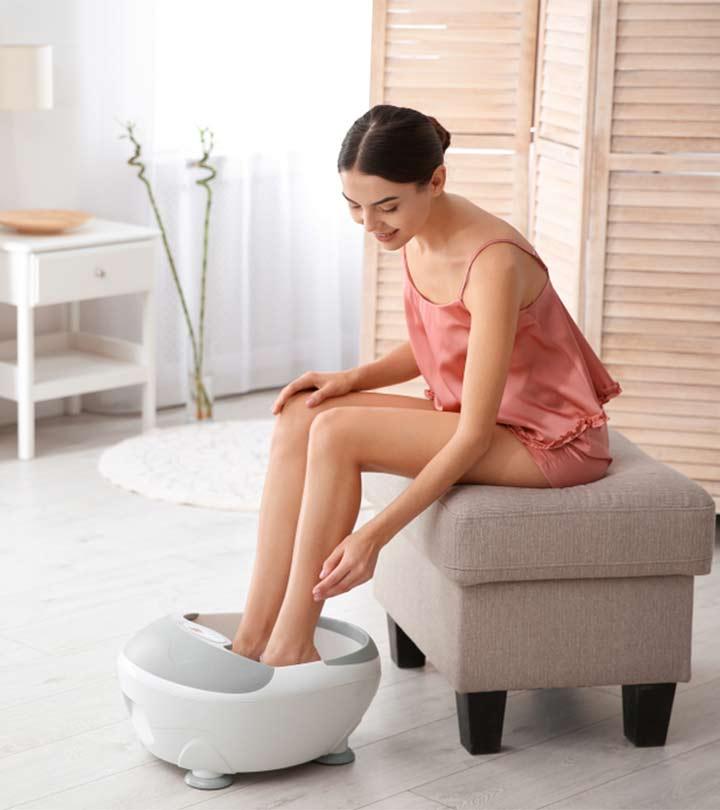 There is nothing like a good foot massage after a tiring day to beat the stress. Whether the message comes from a loved one, professional masseuse, or with the use of the best back massager for knots, the relaxation and the relief you feel are almost heavenly. However, not all of you can afford to hire a professional massage therapist or live with family to experience this pleasure. Being on your feet for long hours, running, and exercising can make them sore and painful. You need to take care of your feet and calves by giving the much-needed TLC with the best foot, and calf massager money can buy! They may not have that personal touch, but that rapid vibration motor pulsating at a zillion RPMs can seem magical! While there are many foot and calf massagers available in the market, finding the right one for you that fits your budget can be tricky. To help solve this issue, we've compiled a list of some of the best foot and calf massagers you could try.
13 Most Relaxing Foot And Calf Massagers In 2023
The FIT KING Leg And Foot Air Massager helps improve blood circulation and relieves aches. Not only does this foot and calf massager come with 2 massage modes and 3 intensity settings, but it also has 10 different massage techniques that you can choose from at the click of a button. The large and adjustable wide wrap size also includes 2 other extensions for variations in calf size up to 28.5 inches. You can use this massager with 2×2 airbags to help you tackle varicose veins, swollen ankles, foot edema, and restless leg syndrome. The easily portable design allows you to store the massager in the mesh bag to carry around with you, even when you're traveling.
Pros
Easily portable
It has a 20-minute automatic shut-off feature
Improves blood circulation
Relieves pain with 3 different intensity settings
Has 2 massage modes and 10 massage techniques
Cons
Some users found the pressure too intense for their liking
Price at the time of publication: $88.99
The Cloud Massage Foot Massager Machine offers you pain relief, improves blood circulation, and stimulates muscle recovery. This foot, ankle, and leg massager uses a deep-kneading Shiatsu technique to reduce inflammation and delivers relaxation after a tiring day. The complete massage set has an adjustable base that allows you to position the device according to your comfort. With 3 intensity levels to accompany the muscle tensions, you can start with a low setting before progressing to the high power setting. The 5-mode foot and calf massager soothes aches, provides a rolling massage, compression therapy, sway function, heat therapy, and a calm relaxation massage. Watch this short video to find everything you need to know about the massager.
Pros
Stimulates muscle recovery
Uses Shiatsu techniques
Adjustable base
3 intensity levels
5-mode massage functions to choose from
Cons
Price at the time of publication: $359.99
The RENPHO Leg Massager gently squeezes your calves and feet to offer you maximum relaxation. You can fight muscle tensions by using this massager that comes with a combination of 5 modes and 4 intensity settings that you can select according to your needs. The adjustable leg wrap size accommodates a calf boot size upto 24.8 inches in circumference and can be set up using velcro straps. With an auto-shut-off feature, this massager turns off after 15 minutes to prevent overheating, making it safe for use, especially for the elderly. The portable design also allows you to easily carry the massager around.
Pros
Replicates hand massages
5 modes with 4 intensity settings
Adjustable leg wrap size
Automatic shut-off feature
Portable design
Cons
Some may find the compression slightly tight
Price at the time of publication: $79.99
The Human Touch Reflex5s Foot And Calf Massager is a reflexology massager that promotes natural healing. The massager improves blood circulation and offers targeted relief for stressed feet and rejuvenation of sore muscles. The deeply penetrating foot massage delivers many benefits, including optimum relaxation and instant pain relief. This foot and calf massager has a CirQlation figure-8 technology, and you can use this product to circulate blood flow from the feet toward the core of your body. With adjustable intensity settings, you can find the proper pressure you need to kick back and relax. To understand the massager better and to learn how to use it for best results, watch the video.
Pros
Wave-like massage to improve blood flow
Offers instant stress relief
Two intensity settings
Features under-foot massage rollers for sole and heel relief
It comes with a tilt base with 2 options for a perfect massage angle
Removable, easy sleeves for quick cleaning
Cons
none
Price at the time of publication: $286.99
The TERELAX  Shiatsu Foot And Calf Massager With Heat is a multi-purpose massager machine that will give your feet, calves, legs, soles, toes, and ankles a deep-kneading and relaxing experience. With a 360° rotating support bar that can be adjusted, it can always be positioned at an optimum angle for your comfort. This massager is equipped with features like a unique soft silicone rubber simulated palm, rotational ball, rolling stick, and heating to offer you a professional massage experience. You can use this massager to relieve stiffness, tired muscles, improve blood circulation, promote a better sleep cycle and neuropathy. Click on the video to see an honest review of the TERELAX Shiatsu Foot And Calf Massager With Heat.
Pros
1-year warranty
Heating function with a timer
15-minute adjustable automatic shut-off feature for safety
3 different modes
Different speeds, including low, medium, and high
Cons
Some may find it slightly heavy
Price at the time of publication: $139.99
The TISSCARE Shiatsu Foot And Calf Leg Massager Machine is excellent for relieving tension and fatigue from your feet. At the end of a tiring day, you can switch on this Shiatsu foot and calf massager that comes with kneading, rolling, heating, and vibrating features to help you relax and unwind. The foot and calf massager can work together or separately at low, medium, or high speeds, depending on your preference. If you are looking to stimulate your blood circulation and improve your sleep cycle, this product is ideal for you.
Pros
Shiatsu foot and calf massager
It has 5 adjustable features
Comes with 3 speed preferences
15-minute auto shut-off feature
Cons
Price at the time of publication: $189.99
The Miko 360° Foot Massager is fully loaded to relieve any type of pain and tension from your feet. This electric massager comes with 4 air pressure pads and adjustable pressure settings to fit your requirements. The 3 massage modes further give you options to choose from so that you can indulge your feet in recovery and relaxation from the very comfort of your homes. It is recommended to use this massager for 15 minutes a day at the lowest pressure level and gradually increase the pressure for your convenience.
Pros
Removable nylon footpads
Wireless magnetic remote
4 pressure pads
Adjustable pressure settings
3 massage modes
Cons
Price at the time of publication: $199.99
If you're looking for an invigorating foot massage from the comfort of your home, the Giantex Foot Massager With Heating has an ergonomic design that will provide your feet and legs with the comfort and relaxation that they need. A perfect replica of hand massages, this machine targets sensitive points on the soles of your feet as well as your calves to ensure maximum benefits. With 8 massage discs for your feet and 4 for your calves, this adjustable machine gives you a comprehensive massage.
Pros
Easy to use
Speed settings available a low, medium, and high
15-minute auto shut-off function
Smart-touch panel control
Heat settings
Cons
Some users felt that their feet slid to the front
Price at the time of publication: $175.99
The Expansion Wellness Foot And Calf Massager has a user-friendly design with a removable and washable cover that can easily be cleaned. The Shiatsu massager offers several functions including in-step kneading, calf kneading, calf scraping, and plantar scraping. With an additional heating and negative ion function, this massager will give your legs the relaxation that it needs. If you are looking for optimal foot care, this massager will help you with its easy-to-use features.
Pros
LCD touch display
3 massage modes, heating, and vibration levels
Heating system
Handle for portability
User-friendly design
Easy-to-clean
Cons
May not be safe for use for diabetic patients
Price at the time of publication: $184.99
Relax your body with the Expansion Wellness Foot and Calf Massager Machine. This massager is good for getting deep-kneading shiatsu massage on toes, calves, feet, arms, legs, and soles. It has a rolling stick and rotation ball to relieve stress from your feet and improve blood flow. The device comes with a 15-minute auto shut-off feature. In addition, it prevents scalding by heating up slowly. Moreover, the massager features 3 modes and 3 speed controls.
Pros
Auto-shut off
Easy control panel access
Adjustable support bar
Cons
Price at the time of publication: $109.99
The Best Choice Products Air Compression Foot Massager will help you with pain relief. The versatile machine targets any soreness in your feet, calves, and arms. The massager comes with an in-built handle that serves as a stand and allows easy portability. With 4 massage types and 5 intensity levels, you can adjust the pressure levels according to what kind of massage you want for your feet. The massager also has an LCD screen, which allows you to control the speed, power, and direction settings at the click of a button.
Pros
Shiatsu massage settings
4 different types of massages
5 intensity levels available
LCD screen with remote control for easy access
Handle for portability
Cons
Price at the time of publication: $124.99
The QUINEAR Leg And Foot Massager With Heat has unique massage settings, including kneading and stroking that help relax your tissues and relieve any muscle pain or stress on your feet. With 2 different heat function levels, this foot and calf massager reduces leg tiredness and promotes blood circulation flow. Inclusive of 3 massage modes and 3 different intensities, this machine allows you to adjust the settings and customize your massage experience. The foot massager also has Velcro straps that are easy-to-use and portable too.
Pros
2 heat functions
3 massage modes
Low, medium, and high-intensity levels
Adjustable Velcro straps
Cons
It may take a long time to heat up
Price at the time of publication: $99.99
For a versatile machine that specifically targets problem areas, the Best Choice Products Foot Massager Machine will help you relieve leg aches and pains. The foot and calf massager delivers a foot reflexology therapy wherein specific areas of your sole, ankle, foot, and calves are targeted using a gentle heat function to alleviate tension and improve circulation. The massager comes with a touch screen and remote that allows you to monitor and easily control the massage settings. You can even choose the auto mode and sit back and let the machine do all the work for you.
Pros
Movable and convenient handle for portability
LCD screen and remote for easy control
4 massage settings
Sturdy machine
Has designated storage space for the power cord
Cons
Some users found the squeezing mechanism too intense
Price at the time of publication: $109.99
Now that we have looked at the 13 best foot and calf massagers in 2023, here are a few things you need to keep in mind before buying one.
How To Choose The Best Foot And Calf Massager
Heat massagers deliver pain relief and blood circulation benefits that your legs may need. Heat also aids in warming up and loosening tight muscles, allowing you to get the most out of your Shiatsu massage. Look for a foot massager with a heat feature as it would help you more.
Vibration is an excellent function to include in a foot massager because it encourages circulation without the use of rough kneading, which may be too rigorous and painful. It's helpful to have this choice for improving blood flow when you're beginning with a Shiatsu massager.
When your massager has a variety of pre-programmed massages to choose from, you'll be able to tailor your message to your specific needs. If you want to alleviate calf tightness, you can try a different massage as one compared to boosting circulation. Instead of only changing the intensity level, auto-massage features may vary depending on the massage style.
Your foot and calf massager won't give you a decent massage if the strap doesn't hug your body perfectly. It helps to have an adjustable massager so you can adjust it to adapt to your height and size for your muscles to be massaged appropriately.
People have been giving and receiving foot massages forever, and they are now used in nearly every culture for physical therapy and spa treatments. Although good blood flow through your veins is one of the most critical determinants of your overall health, many aspects of modern life obstruct it. A regular foot massage, especially when it's from an easy-to-use foot and calf massager, will provide you with the relief you need.
Why Trust Stylecraze?
Shreya Vishwanathan, the author, is a fitness and health enthusiast with a deep interest in sharing products and tips to improve her readers' health. She suggests using the above-mentioned foot and calf massagers to relieve and soothe any tightness, tension, or soreness. Each of these products and their reviews has been investigated and vetted. These products offer portability, additional health benefits, intensity settings, and more.
Recommended Articles