14 Best Foot Care Products For Smooth And Soft Feet
Because it is high time you take the health and appearance of your feet seriously.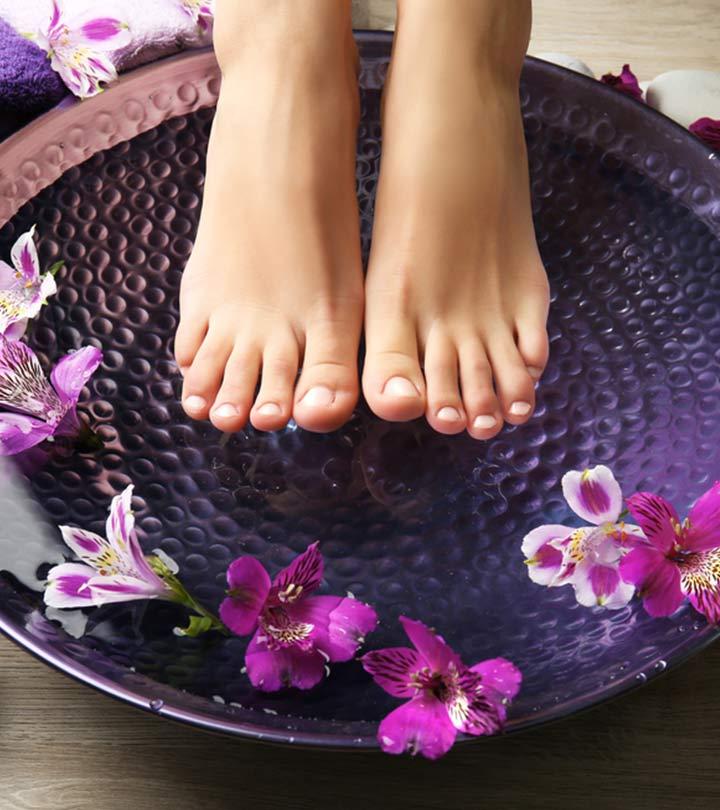 Your feet deserve the same love and attention as your face. The best foot care products will address many skin issues. It is common for us to spend most of our time pampering our faces and hands while we tend to forget about our feet. They need special attention because they are more vulnerable to injury. We don't moisturize our feet often enough or wear appropriate footwear. This negligence can cause calluses and bad odors to develop on our feet.
We usually wait till the last moment to schedule a pedicure and run to the salon. However, foot care goes beyond the occasional spa treatment. You can prevent problems by taking proactive measures every day rather than allowing them to aggravate. Give your feet the attention they deserve and make foot matters your number one priority. If you are unsure where to start from, we've got your back. Check out these top 14 products to soothe your aching feet and make them smoother and softer. Read on and choose your pick.
14 Best Foot Care Products For Your Happy Feet
With this little tool, you can get spa-like pedicures at home as it is the perfect solution for cracked and dry heels! The Colossal Foot Rasp Foot File And Callus Remover is lightweight and gets rid of calluses and dry, flaky skin from your feet without damaging it. It helps in giving you a relaxed and stress-free experience. This tool does not require an additional product as it can work well on its own.
Pros
Easy to use
Stainless steel make
Instant results
User-friendly design
Cons
Those with sensitive skin may find it slightly sharp.
Price at the time of publication: $9.95
O'Keeffe's Healthy Feet Foot Cream is a miracle product you must try in order to repair your dry and cracked feet. This cream helps to prevent your skin from drying, by providing it with hydration and improving moisture levels. It provides instant results and helps you get rid of calluses that make your feet look less than desirable. You can apply it as an exfoliator during bedtime or as a moisturizer after a bath. If it's an intensely calming effect you're looking for, this foot cream won't let you down.
Pros
Makes skin soft
Smooth texture
Odorless
Suitable for daily use
Cons
Price at the time of publication: $8.99
The natural, chemical-free formula of Remedy Tea Tree Oil Balm is all you need to pamper your feet and soothe them from all skin infections. It is enriched with premium essential oils that deeply cleanse and repair your feet for a healthy and soft texture. The moisturizing formula relieves the skin from itchiness, redness, inflammation, dryness, and irritation. It is suitable for everyone and for various skin conditions. Apply this balm daily on your feet to get the best results.
Pros
Non-greasy
Easy to use
Natural ingredients
Suitable for various skin types
Cons
Might not be suitable for skin types allergic to tea tree or eucalyptus oils
Price at the time of publication: $24.99
Looking for the easiest way to get rid of calluses and corns off your feet? GIve this one a shot. This gel helps you feel relaxed and acts as a foot cleanser to remove dead skin cells. All you have to do is, dip your legs in hot water and clean your feet using a scrubber. Apply a generous layer of this callus remover to the affected area and let it sit for 5-7 minutes and rinse it off with lukewarm water.
Pros
Instant results
Easy to use
Safe and effective
Keeps feet soft
Cons
May not be suitable for those with extreme calluses.
Price at the time of publication: $14.99
Here is a damage-free solution to take care of your feet. This electric tool can be your handy foot-mate as it works for 45 minutes at a stretch. You can even use it when your feet are moist or wet as it is waterproof and dries automatically. It helps you get rid of embarrassing foot problems you would otherwise face by preventing the growth of bacteria, hence keeping your feet healthy and clean. It also comes with a container bag, filer, and a brush. Here is the detailed demo of the Pritech Electric Callus Remover.
Pros
Adapter included
Automatic drying
Double variable speed
Cordless
Roller refills available
Cons
It takes about 6 hours to fully charge.
Price at the time of publication: $25.99
You don't always have to concentrate on your face to feel fresh,because most of the time it is your feet that deserve your attention as they are exposed to external factors the most. Hence, it is important to find food care products that can take care of them. This foot cream not just prevents dryness and heals cracked heels, but also has anti-aging effects. It helps in providing it a soothing effect with 24-hour moisturization. This diabetic foot care product is blended with vitamins such a A, C, and E along with the infusion of shea butter that further enhance the results. It also helps in treating those with psoriasis and eczema.
Pros
Dermatologist-tested
Hypoallergenic
Non-greasy
Pleasant scent
Penetrates fast
Cons
Might require frequent application in case of severe dryness.
Price at the time of publication: $6.12
You must have heard and probably used face sheets but have you heard about foot masks? Make your feet happy with the LV Lavinso Foot Exfoliation Peeling Mask that helps in getting rid of calluses and dead skin cells on your feet. It helps in preventing dryness and restores the moisture level of your skin, thus making it smooth and soft. The gel on the mask helps in exfoliating your skin and keeping it hydrated. All you have to do is wear these peeling masks on your feet and relax! This natural foot care product promises to give you amazing results in just 7 days. So, what are you waiting for? Check this video for an honest review of the LV Lavinso Foot Exfoliation Peeling Mask.
Pros
Pain-free
Easy to apply
No scrub needed
Contains aloe vera and papaya
Cons
Some may find it loose at the ankles.
Price at the time of publication: $15.45
Ever found yourself in a tough spot with people giving you dirty looks because your feet are stinking up the room? Never find yourself in that situation again with a little help from this wonder product. The Elite Sportz Equipment Deodorant Spray is not just a foot spray, it also deep cleans your feet and also controls odor. The moisturizing property of this product is enhanced with the essence of 11 herbs and 7 essential oils infused in it. It gives your feet a cooling effect, hence making your tired feet feel relaxed. Get hydrated and crack-free feet with just a few spritzes of this fantastic product.
Pros
No parabens
Pleasant fragrance
Prevents soreness
Kills bacteria
Cons
Although pleasant, some may find the scent overpowering.
Price at the time of publication: $16.99
The NatraCure Vented Moisturizing Gel Heel Sleeves is one of the best foot grooming products that can heal your feet effortlessly. This heel sleeve is enriched with vitamin E, shea butter, and aloe vera. These breathable sleeves can be used daily and it prevents dryness, while repairing cracked feet. The soothing and supple touch of this foot care product will help in keeping your skin healthy and happy. Buy it now to experience soft and smooth skin in no time!
Pros
Snug fit
Comfortable
Instant results
Removes calluses
Available in 2 colors
Cons
May not be best suited for tiled surfaces as it may be a little slippery.
Price at the time of publication: $24.99
Get baby soft feet with this highly-nourishing and hydrating formula that softens your feet and prevents your heels from cracking. It contains lactic acid, which exfoliates the skin and provides it with moisture and replenishment. No more dry feet, when you have one of the most professional foot care products available just for you! This product helps in increasing water absorption and water retention, hence, being a powerful humectant.
Pros
Fragrance-free
Dermatologist-tested
Consists of AHA
Ideal for daily use
Cons
Price at the time of publication: $9.99
This foot balm contains olive oil, grape seed oil, lavender oil, and almond oil. These oils with the infusion of vitamin E helps in healing your feet and prevents it from dryness and callus formation. You can apply it at any time of the day and pamper your feet with a calming and soothing sensation. It hydrates and increases the moisture level of your skin, while getting rid of bad odor and athlete's foot.
Pros
Vegan
Cruelty-free
GMO-free
Free pumicestone included
Paraben-free
Gluten-free
Antibacterial
Anti-inflammatory
Cons
Some may find it slightly greasy.
Price at the time of publication: $14.99
Forget bacteria and other impurities from getting accumulated on your feet with a little help from the Daily Remedy Citrus Detox Foot Soak. This product is an infusion of vitamin C, coconut oil, lemon essential oil, and vitamin E among others. This product helps in detoxifying your skin and getting rid of all the impurities and dirt. It works actively to keep infections, odors, and other skin-related issues at bay. Give a soothing and a relaxed experience to your feet as it can provide a relief from soreness and aches. It also repairs damaged tissues and reduces inflammation.
Pros
No harsh chemicals
Cruelty-free
No additives
Prevents athlete's foot
Cons
May take several uses for results to show.
Price at the time of publication: $16.97
No time to hit the parlor? No problem! Because we have got you a home pedi kit that can help you save time and money and get a relaxed experience at the same time. The Revlon Pedi Expert helps remove calluses in order to make your feet smooth and soft. You can now easily get rid of dead skin cells with these amazing foot care tools, including a nail clipper and filer. You no longer have to invest in several products nor fear chemical reactions from products as this kit is hassle-free and safe to use. Take a look at this demo video of the Revlon Pedi Expert.
Pros
Easy to use
Made of stainless steel
Reusable
Easy to clean
Cons
Some may find it slightly sharp.
Price at the time of publication: $7.39
Try The Yellow Bird All Natural Foot Cream to massage your feet and to experience smooth and hydrated skin like never before. This fantastic foot care cream boasts both anti-inflammatory and antibacterial properties It also helps in getting rid of the growth of fungus and calluses, relieves athlete's foot, and prevents odor. This product is infused with tea tree oil, lavender oil, peppermint oil, and eucalyptus oil to provide a nourishing effect to your feet. The long-lasting effect of this product helps in rejuvenating your skin and reducing the soreness of your foot muscles. It does not make your skin feel itchy nor has any stinky odor, it instead provides a cooling effect to your feet, giving you a relaxing experience.
Pros
Suitable for all skin types
Gluten-free
GMO-free
Soy-free
Phthalate-free
Cons
May not be suitable for those with very sensitive skin.
Price at the time of publication: $17.99
Here is a buying guide that will help you choose the right product to pamper your feet. This guide will explain to you how important it is to understand what your feet require to stay healthy and odor-free.
How To Choose The Best Foot Care Products
Here are some key points you must keep in mind before buying foot care products:
You must understand the kind of skin you have before you buy a product. You can visit a dermatologist or a skin expert to understand which product is suitable for your skin type. Not all products can work as efficiently on all types of skin. Hence, one must buy them accordingly. For example, ingredients like ceramides, glycerin, salicylic acid, and plant butters and oils are excellent for those with dry skin and cracked heels.
It is the most important consideration that you must keep in mind as these make your condition worse if a product is used without consultation or any understanding. Your physician should prescribe the right product for you so that it can reduce your skin issue and resolve the problem instead of increasing it.
It depends on your comfort level and convenience. Some might find a scrubber and filer easy to use while others might find it a bit messy. Some may like to apply a cream or a balm while others might find it greasy. It depends on your skin type and your liking. You need to choose the type of foot care product based on the effectiveness on your skin. Some people also prefer feet sleeves as these are comfortable to wear and cause no mess.
Why Trust StyleCraze?
Vaishnavi Kothuri is a skin and hair care enthusiast and product writer. Her research skills enable her to curate a reliable product list based on user reviews across multiple trusted websites. Thus, she has compiled this list of the best foot care products to obtain smooth and soft feet. Sneha has also included a detailed buying guide to help you make an appropriate choice.
Frequently Asked Questions
Is rubbing dead skin off your heels unhealthy?
If you soak your feet in warm water and use a gel like the Lee Beauty Professional Callus Remover Extra Strength Gel to scrub your feet with the Revlon Pedi Expert or the Pritech Electric Feet Callus Remover, it will not be harmful for your feet. You must apply a moisturizer to your feet once done.
What do I need to know about arthritis foot care?
There are several treatments for those suffering from arthritis. Some of them include medications, injections, physiotherapy, shoe supports and orthotics.
What is a foot care routine like?
Start your daily foot care by washing and drying your feet. Apply a lotion, cream, or petroleum jelly to keep your skin soft, supple, and rejuvenated. Regular foot care also comprises occasional pedicures to keep your nails clean and trimmed. Another important form of foot care is checking for redness, blisters, or swelling.
How should a diabetic person care for their feet?
Make sure to wash your feet regularly with lukewarm water. After drying them with a clean towel, apply an effective lotion. Avoid rubbing the lotion in between your toes, as it can lead to infections. It is recommended to never stay barefoot. Always wear comfortable sandals.
How do you deep moisturize your feet?
You can deeply moisturize your feet with the help of lotion, cream, or petroleum jelly. Rub the product on your feet gently and give it for a few minutes to get absorbed.
Can diabetics soak their feet in Epsom salt?
No, it is not recommended for diabetic patients to soak their feet in Epsom salt. Soaking may cause a drying effect on the skin and give rise to foot problems.
Recommended Articles