6 Best Foot Creams For Diabetes That Actually Work – 2023
Relieve cracked and dry feet with specialized formulations that offer results.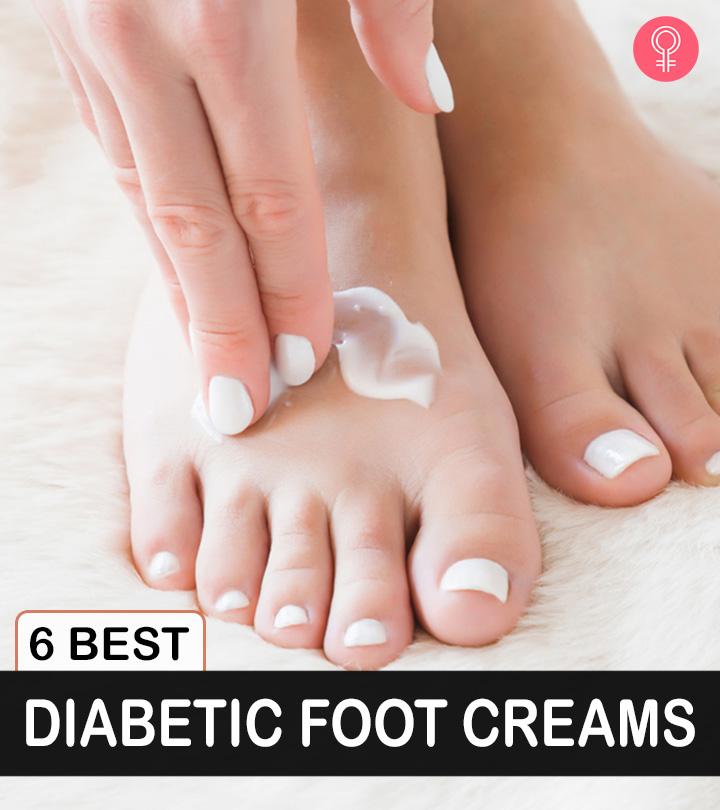 If you have diabetes, you know the importance of the best foot cream for diabetics. This serious health condition can affect your foot health by causing calluses, ulcers, dryness, and bacterial infections. That is why your feet need some extra TLC. Diabetes can turn even the most minor infection into a serious condition or restrict the blood flow to damage the nerves on your feet. However, using the foot creams regularly can help you avoid these problems. Our list features the best-rated foot creams for people with diabetes. Swipe up to explore the list and grab a suitable product.
6 Best Diabetic Foot Creams To Check Out Right Now
Gold Bond Ultimate Diabetic Skin Relief Foot Cream is the best diabetic foot cream for dry skin. Most people with diabetes experience dry skin. This dermatologist-tested foot cream helps treat dry, cracked skin and soothes skin discomfort. It is formulated with seven intensive moisturizers to hydrate and soothe cracked feet while adding a protective layer of moisture. The blend of vitamins, skin protectants, and moisturizers in this softening foot cream heals cracked feet. This diabetic foot care cream also contains ingredients like dimethicone and white petrolatum that act as skin protectants and aloe vera that soothes and hydrates the skin. The blend of emollients and humectants in it draw in moisture throughout the day.
Pros
Dermatologist-tested
Hypoallergenic
24-hour moisturization
Gets absorbed quickly
Hydrates and soothes the skin
Non-irritating
Non-greasy
Fragrance-free
Cons
Price at the time of publication: $7.7
Miracle Of Aloe Miracle Foot Repair Cream is the best foot cream for cracked heels. It is formulated with an exclusive 60% UltraAloe processed organic gel made from mature aloe leaves for dry, cracked, and itchy feet. Its unique formula penetrates deep into the skin and brings you fast-acting relief. It rejuvenates and softens tired, achy feet and relieves itching, dryness, cracking, and unpleasant foot odor. This softening foot cream is specially blended with moisturizing and skin restorative agents. It is helpful for treating athletes' foot and safe for use by people with diabetes. This video will give you more insights into the product.
Pros
Quick relief
Reduces foot odor
Deep penetrating formula
Provides extra moisture
Soothes the feet
Pleasantfragrance
Cons
Price at the time of publication: $35.91
Type You Diabetic Care Foot Cream is the best foot cream for treating call use sand dry and cracked feet. This nighttime restorative foot cream is specially formulated for people with diabetes. The natural amino acids in it soften the calluses. Its non-greasy formula hydrates, soothes, and smoothens severely dry skin. This diabetic foot cream is infused with ingredients like dimethicone, menthol, camphor, glycerin, and lactic acid that keep your skin hydrated and help heal the cracks in your feet.
Pros
Moisturizes the skin
Softens calluses
Pleasant fragrance
Non-greasy
Creamy texture
Cons
Does not get absorbed completely
CeraVe Diabetics' Dry Skin Relief Hand & Foot Cream is a clinically proven fast-absorbing foot cream. This dermatologist-recommended foot cream provides 48 hoursof moisturization and helps restore the protective skin barrier with 3 essential ceramides. It is a non-greasy cream that moisturizes and soothes dry skin caused by diabetes. It is infused with bilberry for its antioxidant benefits. It also contains urea that helps retain moisture. This diabetic foot cream is formulated with MVE controlled-release technology that delivers long-lasting hydration.
Pros
48-hour moisturization
Non-comedogenic
Non-greasy
Non-irritating
Fragrance-free
Paraben-free
Cons
None
Price at the time of publication: $10.89
SelfCare+ Diabetic Foot Cream is the best foot cream for quick relief. It is a non-greasy foot cream that gets absorbed into the skin quickly for maximum relief. This foot cream is infused with ingredients like lanolin and mineral oil that soften and smoothen your feet. It is formulated with essential moisturizers such as tea tree oil, aloe vera, and vitamins E, A, and D that treat diabetic skin issues like itching, fungal infections, and burning. The patented special diabetic formula also includes ingredients like dimethicone, allantoin, and glycerin that restore dry and cracked foot. This diabetic foot cream promotesblood circulation to rejuvenate dry and cracked feet.
Pros
Reducesdryness
Relieves itching and burning
Softens the feet
Gets absorbed quickly
Moisturizes theskin
Cons
Price at the time of publication: $14.95
Diabetics' Foot Cream is the best foot cream for dry and cracked feet. It is specifically formulated to soothe and hydrate your feet. This foot cream is infused with active ingredients like dimethicone and petrolatum that act as skin protectants. It also contains cetearyl alcohol, glycerin, carbomer, and panthenol that treat dryness and soothe skin discomfort. This diabetic foot cream has a non-greasy texture and fragrance-free formula that foot cream that temporarily protects chapped or cracked feet.
Pros
Hydrating formula
Treats cracked skin
Soothes the skin
Non-greasy
Fragrance-free
Cons
None
Price at the time of publication: $14.99
It might be difficult to pick which cream is best for your foot. The variety of alternatives available in stores and online can be overwhelming. You may be afraid to spend money on a product that may not perform as well as anticipated. So, here are a few things to consider before purchasing diabetes foot creams.
Things To Consider Before Buying The Best Foot Cream For Diabetes
Ingredients: Buy creams that have ingredients like jojoba oil, shea butter, and urea. These ingredients are extremely hydrating and can permeate through the tough skin. Buy foot creams that have dimethicone and white petrolatum as they protect the skin, while aloe vera soothes and moisturizes it. To soften rough feet and prevent cracks, look for exfoliating ingredients like salicylic, glycolic, and lactic acids. Avoid creams with chemical compounds like parabens, phthalates, sulfates, and added fragrances.
Ease of use: Look for creams that are easy to use and will assist in decreasing dryness, irritation, and burning. The cream should also soften the feet, absorb rapidly, soothe the feet, and eliminate foot odor.
Longevity: Choose foot creams for diabetes patients that are non-greasy and non-irritating, can moisturize and soothe dry skin, and offer long-lasting hydration. Choose non-comedogenic creams that do not clog pores and deliver immediate benefits.
Dermatologically-tested: Diabetics frequently have dry skin. Hence, a variety of creams are available on the market. However, do not always accept what the brand says, and get a consultation from your dermatologist before using creams. Opt for creams that have been dermatologically-tested or recommended by professionals.
Why Trust StyleCraze?
Oyendrila Kanjilal is a certified skin care coach with extensive knowledge of diabetic foot care. She is familiar with all the ingredients and formulations diabetic patients need to soothe their dry skin. After conducting exhaustive research and analyzing numerous online reviews, she has compiled this list of diabetic foot creams. These foot creams will keep your feet moisturized and healthy and help control any conditions such as itching or fungal infections.
Frequently Asked Questions
Should diabetics use lotion on their feet?
Yes, people with diabetes can use a daily moisturizer with soothing properties to nourish the skin and hydrate the drier areas.
How do diabetics moisturize their feet?
People with diabetes may gently dry their feet, especially the parts between their toes, and then apply a small amount of cream or petroleum jelly. It is recommended to avoid using the cream between the toes to keep fungal infections at bay.
Can foot cream be used as hand cream?
Yes, foot creams and hand creams have similar consistencies so they can be used interchangeably .
What is the best treatment for diabetic feet?
Sterilization and walking boots are some treatments recommended for diabetic feet. Also, wash your feet with lukewarm water, check for sores, redness, and blisters, and use a moisturizing lotion.
Is Vaseline good for diabetic dry feet?
Yes, Vaseline is good for dry diabetic feet. Apply petroleum jelly to get rid of cracked skin and restore moisture.
Recommended Articles