14 Best Foot Creams For Dry Feet – Get Rid Of Cracked Heels
Say NO to dry feet with natural, non-greasy, hydrating, and chemical-free formulations.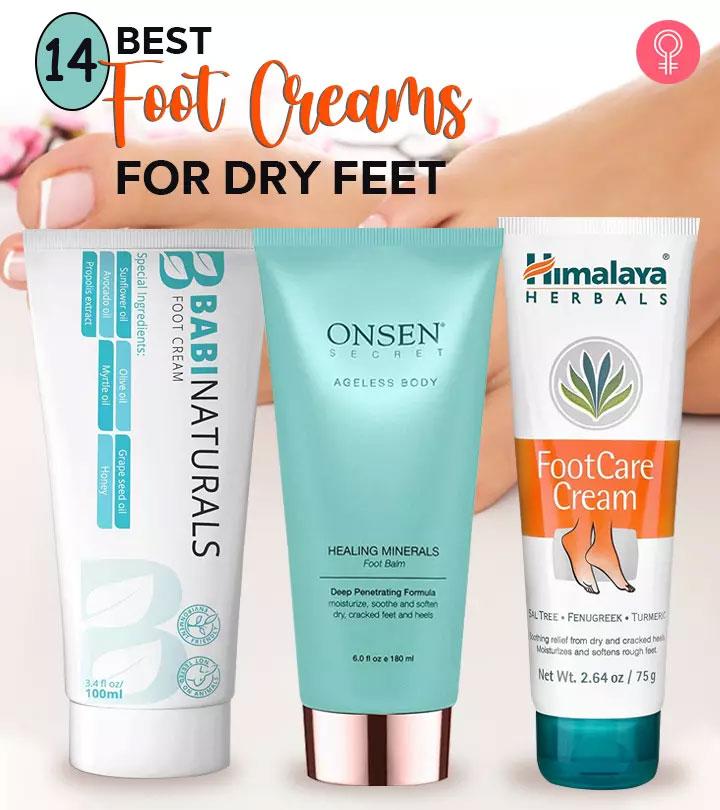 Investing in the best foot cream for dry feet is the coolest thing you can do. Your feet deserve equal care as the rest of your body and face. Moreover, feet are more prone to dryness as they do not contain oil glands. So, using a foot cream helps hydrate and soften the feet. But how do you know which products are the best? Worry not! In this article, we have listed our top 14 picks for foot creams. Take a look!
14 Best Foot Creams For Dry Feet
This foot cream from Elizabeth Parker Naturals keeps your feet smooth, moisturized, and soft in all seasons. It contains coconut oil, organic aloe vera, cocoa butter, manuka honey, olive oil, blue-green algae, shea butter, and Cehami flower extract. These ingredients have inflammatory properties that relieve inflamed feet, soothe swelling, and improve circulation. The pH-balanced formula is not tested on animals and heals cracked heels, dry feet, calluses, athletes' feet, psoriasis, arthritis, corns, dermatitis, and eczema.
Pros
pH-balanced
Non-greasy
Non-sticky
No irritants
Sulfate-free
Paraben-free
Gluten-free
Alcohol-free
No artificial fragrances
Cons
The Ancient Greek Remedy Foot Balm is a rich combination of six raw oils – extra virgin olive, sweet almond, grape seed, sunflower, lavender, vitamin E – and glyceryl stearate. It keeps the feet hydrated and treats calluses and cracks. This foot cream has antifungal, anti-inflammatory, and antibacterial properties that relieve athletes' feet. It removes rough dead skin cells from the feet, reduces foot odor, and improves foot skin texture. This product comes with a complimentary pumice stone.
Pros
Pleasant fragrance
Includes a pumice stone
Paraben-free
Silicone-free
GMO-free
Vegan
Cruelty-free
Eco-friendly
No additives
No artificial fragrances
Cons
Might not work on deep cracks.
This Remedy balm from Truremedy Naturals is a natural combination of tea tree, eucalyptus, and lavender essential oils, making it a powerful foot balm. It soothes itchy, cracked feet or cuticles, athlete's foot, jock itch, ringworms, nail infections, and dry skin. It also contains Vitamin E and C that moisturize, repair and strengthen skin for a healthy texture and appearance. It is a 100% organic formula that reduces redness and rashes on all skin types.
Pros
No synthetic fragrances
Paraben-free
Alcohol-free
Sulfate-free
Natural ingredients
Suitable for all skin types
Suitable for all skin conditions
Non-greasy formula
Cons
The dermatologist-tested L'Occitane 15% Shea Butter Dry Skin Foot Cream is formulated with pure lavender essential oil and arnica extracts with anti-inflammatory properties that reduce redness and skin irritation. The presence of 15% shea butter moisturizes your rough feet, soothes them, revealing softer and smoother skin. In addition, the refreshing mint cools the feet, giving them a relaxed feeling. To understand the nuances of the product in detail, you can check out this review.
Pros
Unisex
Rich formula
Non-greasy
Provides cooling effect
Travel-friendly
Cons
None

The PurOrganica Urea 40% Foot Cream is the solution for itchy, dry, and scaly skin. It is formulated with 40% urea that exfoliates dead skin cells, promotes cell turnover, and reduces itchiness. It is enriched with tea tree oil, chamomile extract, and aloe vera that deeply moisturize and soothe the skin. This high-quality, quick-absorbing formula is not tested on animals and gives you the smooth feet of your dream in the quickest and easiest way!
Pros
Non-greasy
Quick absorbing
Soothes dry, itchy skin
Skin-nourishing ingredients
Quick results
Cons
None

The Babi Naturals Foot Cream helps soothe cracked feet and sores. It contains avocado oil, olive oil, sunflower oil, and honey that rejuvenate your feet. This foot cream is also enriched with grapeseed oil that heals swelling and inflammation. It also treats blister pain, foot ache, and pesky funguses fight against infections and keeps your feet soft and supple. Also, this product was appreciated by multiple reviewers for its effectiveness.
Pros
Long-lasting
Pleasant fragrance
Environment-friendly
Cruelty-free
Cons
The AmLactin Foot Repair Foot Cream Therapy is designed to heal smooth, dry, and cracked skin on feet. It is formulated with 15% lactic acid that gently exfoliates the skin and promotes foot skin renewal, revealing healthier and smoother skin. This clinically-proven, non-greasy formula gets quickly absorbed into skin and gives intense hydration that softens and smoothes calluses, and improves splits and cracks. It is also clinically proven to improve the texture and appearance of dry, rough, and cracked feet.
Pros
Gently exfoliates
Non-greasy
Quick absorbing
Dermatologist-recommended
Cons
The Burt's Bees Coconut Foot Cream has a high-quality formulation that pampers your feet and gives them the luxurious care that they deserve. The cream is enriched with a blend of coconut oil and hydrating botanicals that moisturizes your skin deeply and helps restore foot skin elasticity. While the sweet coconut scent transports you to a tropical paradise, and the infused peppermint oil provides a refreshing tingle to revitalize your feet. This cream is absorbed quickly without leaving any greasy residue and improves the overall tone and texture of skin. Also, this formula has received positive reviews from users.
Pros
Quick absorbing
Non-greasy
Pleasant fragrance
Paraben-free
Phthalate-free
Cons
None
The Barker Goods Foot Healing Balm relieves dry and cracked feet and promotes healthier-looking feet. It is formulated with olive oil, beeswax, coconut oil, carnauba wax, and vitamin E that nourish and soothe dry feet and heels. You can also use this balm on dry, cracked hands or lips.
Pros
Contains organic ingredients
Long-lasting
Non-irritating
Fragrance-free
Cons
None
Exfoliate your dry skin with the Kerasal Intensive Foot Repair. This dry skin ointment is specially designed to repair cracked heels and dry feet. It is infused with salicylic acid, urea, and white petrolatum. The foot cream effectively moisturizes your skin and keeps it soft and irritation-free. It is clinically proven to deliver visible results from day one!. Check out this YouTuber's review of this product.
Pros
Paraben-free
Clinically proven
Fast-working
Cons
None
The Aquaphor Healing Ointment is a multipurpose product that can be used on multiple body parts from the lips and face to feet as it hydrates dry and chapped skin. It can also be used for healing minor wounds, cuts, and burns. The dermatologist-recommended cream is free of water and helps create a protective barrier on extremely dry skin by moisturizing it and is clinically proven to restore smooth and healthy skin. The fast-absorbing, clinically-backed skin care formula can be easily used on all skin types at any time of the day.
Pros
Quick absorbing
Multipurpose
Restores healthy skin
Clinically proven
Cons
To soothe and repair dry and cracked skin on feet, try the Curel Foot Therapy Cream. It is enriched with natural shea butter, vitamin E, and coconut milk that deeply moisturizes, softens and smooths rough skin. This dermatologist-tested formula has a unique blend of lipids and ceramides penetrates deeply into the skin, which prevents dryness and restores and strengthens skin's protective barrier. This quick-absorbing, non-greasy formula replenishes skin's moisture level and soothes symptoms of dry, cracked heels.
Pros
Non-greasy
Long-lasting hydration
Quick absorbing
Dermatologist-recommended
Cons
The dermatologically-approved CeraVe Renewing SA Foot Cream is specially formulated to nourish and exfoliate dry, cracked, and rough skin on the feet. It is enriched with salicylic acid that exfoliates dead skin cells, and ceramides and hyaluronic acid that restores and maintains the protective barrier and moisture levels of the skin. The dermatologist-recommended, non-greasy formula delivers visible results, offers long-lasting moisturization, and is clinically proven to improve the appearance and texture of cracked feet even in people with eczema.
Pros
Non-greasy
Non-irritating
Fast-absorbing
Replenishes lost moisture
Soothes eczema
Fragrance-free
Dermatologist-recommended
Cons
None

Dr. Scholl's Ultra Hydrating Foot Cream contains 25% urea, essential oils & epsom salt that deeply moisturize dry and cracked skin It heals dry and damaged, rough skin and restores the natural moisture balance of the skin. In addition, this dermatologist-tested formula offers 24-hour intensive moisturization, giving you soft and smooth skin all-day long. This professional-grade formula contains epsom salt and essential oils have soothing qualities that treat irritated dry skin and restore natural foot softness, providing instant relief.
Pros
 24-hour moisturization
 Suitable for daily use
 Travel-friendly
 Heals dry, rough skin
 Reveals softer, smoother feet
Cons
Now that you know about the best foot creams available online, consider the following factors before choosing one to make the ideal choice.
How To Choose The Best Foot Cream For Cracked, Dry Feet – Buyer's Guide
1. Ingredients
Dermatologists recommend foot creams with hydrating ingredients like urea, glycerin, and hyaluronic acid. Other ingredients like petrolatum, ceramides, dimethicone, and shea butter help moisturize and refresh tired and dry feet. Exfoliating ingredients like salicylic, glycolic, and lactic acids smoothen rough feet and prevent cracks. Also, ensure that your foot cream is free of harsh and toxic chemicals.
2. Fragrance
A foot cream with a pleasant fragrance not only relaxes tired feet and relieves pain but also uplifts your mood. Lavender, menthol, and cocoa butter have a refreshing smell that helps comfort your feet. However, beware of artificial fragrances that might irritate your skin and cause an allergic reaction.
3. Price
There are many good-quality and affordable foot creams available on the market. Choose one that is within your budget. Also, look for products that use natural ingredients. Opt for a foot cream that is budget-friendly and shows visible results quickly.
Why Trust StyleCraze?
Oyendrila Kanjilal is a certified skin care coach who advocates the importance of using foot creams for dry feet. She herself uses foot creams to eliminate the dryness of her feet, and the list includes some of her top picks too. She has carefully chosen the rest of the products on the list to help her readers make the best choice. These creams are extremely moisturizing and pamper your feet to get soft, supple skin.
Frequently Asked Questions
Can the foot cream be used daily?
Yes, foot creams can be used daily. For visible results, use a foot cream regularly for at least a week.
Can I use the foot cream overnight?
Yes, foot creams can be used overnight.
Are foot creams suitable for both men and women?
Yes, foot creams are suitable for both men and women.
Does foot cream prevent wrinkles?
Yes, foot creams help prevent dryness and wrinkles and heal cracks.
How do you hydrate super dry feet?
Hydrate super dry feet by moisturizing your feet after each shower. Do not scrub your feet unnecessarily.
How often should you use a cream on your dry feet?
Use a cream at least thrice a week to keep your dry feet soft and supple.
Should you put your socks on after using a foot cream?
Yes, put your socks on after massaging your feet with foot cream to seal in the moisture. Leave the socks on overnight and wash your socks as well as your feet in the morning.
Recommended Articles