16 Best Foot Creams For Crack-Free Heels – 2023 Update
Say 'No' to dry and cracked feet with these non-greasy and nourishing foot creams.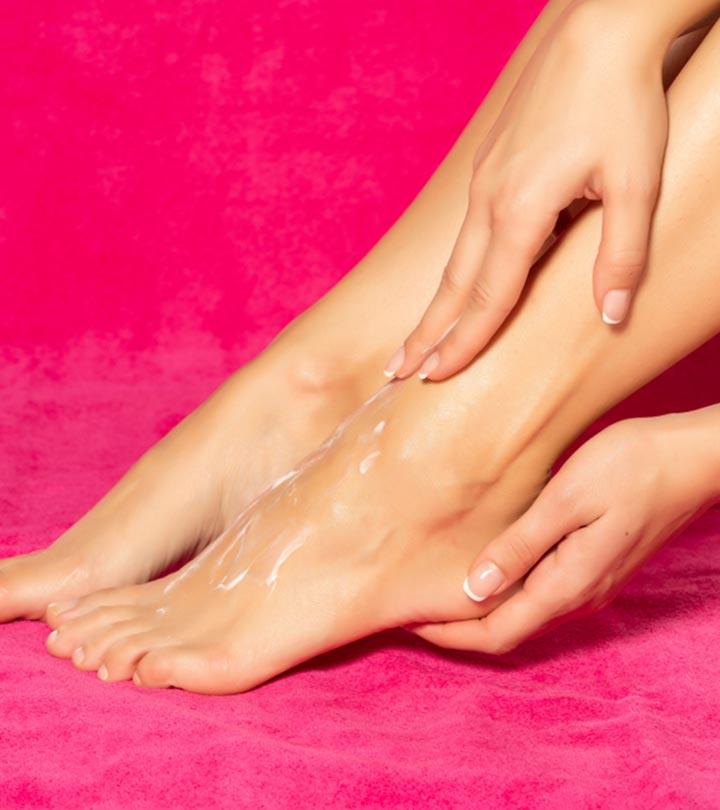 We all have to agree that not many of us pamper our feet as much as we do our faces. So, greet your feet with the best foot cream available before this bias proves costly for you. Yes, you cannot expect yourself to make the best impression when your makeup is done just right, but your feet are left unattended. So, your feet deserve as much care and attention as your face. So, how are foot creams helpful?
Foot creams are ideal to keep your feet soft and beautiful. All good brands come with ingredients that help heal your cracked heels and eliminate the dead skin cells. However, many products claim to rejuvenate your feet, but the reality is otherwise. To make your quest easier, we have come to your rescue by listing the 16 amazing foot creams available online. Scroll through them and pick your favorite product right here!
16 Best Foot Creams For Beautiful, Happy Feet
This foot cream for cracked feet can remediate dryness to give a velvety-smooth finish to your feet. Its restorative and soothing blend of select ingredients like deionized water, safflower seed oil, glycerine, chamomile flower extract, and tea tree leaf oil deeply hydrates and softens the feet by increasing blood circulation and preventing loss of moisture. It is specially formulated to debride rough patches and dead skin cells, giving your feet a visibly healthy appearance. It not only nourishes your feet but also relieves pain due to calluses and promotes new cell growth. Give your feet the treatment it deserves with this urea-based foot cream.
Pros
Gentle to use
Cruelty-free
Nourishing formula
Promotes new cell growth
Imparts softness to the heels
Suitable for all skin types
Cons
Price at the time of publication: $15.99
This intensive care and repair formula has shea butter along with other ingredients like jojoba, lactic acid, silk amino acids, lavender extract, matricaria flower extract, and rosemary leaf extract that soften and nourish your rough, calloused feet. The non-greasy product formulated with a unique silk peptide matrix has 3 vitamins — A, C, and E that penetrate deep to condition and repair even the roughest skin, providing 24-hour moisturization. If you have extremely dry, rough, or ashy skin, you can reapply it several times in a day to promote speedy healing. This foot cream comes with a fresh soft scent and is also dermatologist-tested and hypoallergenic.
Pros
24-hour moisturization
Non-greasy formula
Softens rough, calloused feet
Dermatologist-tested
Non-irritating
Hypoallergenic
Cons
The product may not last long
Price at the time of publication: $6.12
Constant running around for work, chores, and fitness accumulates sweat and dryness, causing cracked and itchy feet. The all-natural Remedy Tea Tree Oil Balm can moisturize and repair irritated, dry, and itchy skin. The potent essential oils of tea tree, eucalyptus, and lavender treat cracked heels, athletes foot, ringworm, jock's itch, scaly skin, eczema, etc. Vitamin C and E keep the feet moisturized and soft, eliminating odor and irritation. This non-greasy balm is free from harsh chemicals and works for all skin types. Learn more about the product in this video.
Pros
100% organic
Natural ingredients
Non-greasy
Suitable for all skin types and conditions
Effective for athlete's foot
Cons
Price at the time of publication: $24.99
We understand that cracked and crusty feet can cause immense discomfort, but you don't have to feel that way forever. Pamper your feet with this foot cream for dry and cracked feet. This calming yet intense restorative formula is infused with glycerin, lavender oil, shea butter, grapefruit peel oil, and sweet almond oil. It offers relief from extreme dryness and cracks within a night by providing deep conditioning. This dermatologist-tested cream is hypoallergenic and safe to use for diabetics.
Pros
Paraben-free
Deep conditioning
Non-greasy
Hypoallergenic
Cons
Price at the time of publication: $20.67
Booking an appointment every week for pedicure may not be feasible all the time. So what could be the next best remedy? Try this podiatrist-recommended exfoliating foot cream that gently exfoliates and deeply moisturizes rough and dry skin with its patented alpha-hydroxy formula, revealing a baby-soft, beautiful, and younger-looking feet. This foot therapy cream is a powerful combination of lactic acid, emollients, and humectants like sodium lactate, potassium lactate, propylene glycol, and glycerin that hold moisture and relieve dryness, flakiness, roughness, and bumps to reveal softer and healthier skin from heel to toe.
Pros
Clinically-proven
Fragrance-free
Nourishing formula
Smooths rough, dry skin
Cons
Price at the time of publication: $9.99
Let us introduce you to this organic and vegan product that you can add to your foot care routine to heal your cracked feet and lower the chances of sores and achy feet. Its 5 natural raw oils — olive oil, sweet almond oil, grapeseed oil, sunflower oil, and lavender oil along with vitamin E and plant-based glyceryl stearate keep your feet moisturized. All you need to do is apply this foot cream for cracked heels every night before going to bed for renewed, moisturized, and smooth feet in 14 days. Its antifungal, antibacterial, and anti-inflammatory properties provide relief from odor and athlete's foot. As a bonus, it comes with a complementary pumice stone for removing dead skin cells and tough calluses.
Pros
Vegan
Cold-pressed
Paraben and gluten-free
Long-lasting results
Relief from athlete's foot
Cons
Price at the time of publication: $14.99
Let go off your foot filer, scrubber, and scraper and set your hands on this miraculous foot cream. This natural foot cream provides intensive foot repair with its anti-fungal, antibacterial, and anti-inflammatory formula. It is enriched with essential oils like peppermint, lavender, eucalyptus, and tea tree oil. It also has 10 other organic and natural ingredients like shea butter, beeswax, and tapioca starch that give a long-lasting moisturizing effect by treating cracked heels and calluses. It can also help boost blood circulation, get rid of undesirable odor, achy feet, and itchy, chapped skin so that your feet look and feel soft and healthy.
Pros
GMO-free
Paraben and gluten-free
Soothing
Antifungal
Anti-inflammatory
Cons
May take some time to absorb
Price at the time of publication: $17.99
This cult favourite foot cream has been in the game for over a century. Healing cracked heels since 1908, this foot cream for dry feet has a unique formula that is made with 7 intensive moisturizing ingredients— aloe vera leaf juice, and peppermint oil, and 3 powerful vitamins— A, C, and E that repair the skin and prevent dryness and cracks. Its non-greasy formula relieves skin irritation and softens feet. You can count on it to nourish and deodorize your feet. If you're looking for an effective foot cream for your extremely chafed feet, this one becomes a natural choice.
Pros
Deodorizes
Relieves skin irritation
Soothing formula
Revitalizes the skin
Cons
Contains artificial fragrance
Contains parabens
Price at the time of publication: $16.26
After completing over 10k steps to achieve your fitness goals, your feet would definitely get tired. Rejuvenate your exhausted feet with this restorative foot cream. Handcrafted in the US with premium ingredients like tea tree oil, peppermint oil, aloe vera, eucalyptus oil, camphor oil, and white willow, this foot repair cream guarantees a premium foot treatment. Formulated to provide deep moisturization, this foot treatment cream gives you healthy, smooth, and crack-free feet all year round by eliminating calluses, painful, cracked heels, and flaky skin. Apply this cream to your feet after showering and give it a little scrub for a supple and smooth skin.
Pros
Instant relief
Controls odor
Offers deep moisturization
Has antibacterial properties
Cons
Some may find the scent too intense.
Price at the time of publication: $12.97
Stuffed inside socks and hot shoes all day, your feet can get really dry and rough. That's one of the reasons why you have cracked heels and feet that don't smell the best. Moisturize and rejuvenate your feet with this foot cream for cracked heels that is enriched with 15% shea butter and other natural ingredients like arnica and lavender essential oil. It treats cracks, reduces redness and skin irritation with its anti-inflammatory properties, and adds a soothing touch to your tired feet.
Pros
Reduces redness and irritation
Soothing
Non-greasy
Absorbs quickly
Offers anti-inflammatory properties
Cons
Price at the time of publication: $30.0
Pamper your feet and treat cracks and calluses with this salicylic acid foot cream and flaunt your beautiful feet without hiding them in your socks and shoes. This exfoliating foot cream has been developed using patented MVE technology with the help of dermatologists to give you soft and smooth feet. Along with salicylic acid, it contains ammonium lactate, hyaluronic acid, niacinamide, ceramides that help exfoliate dead skin cells, repair skin, and moisturize your feet. Accepted by the National Eczema Association, this fast-absorbing and non-greasy formula can be used by those with eczema and sensitive skin alike.
Pros
Fragrance-free
Gentle and non-irritating
Non-greasy formula
Exfoliates dead skin cells
Long-lasting moisturization
Cons
Price at the time of publication: $11.99
Keep your soles happy with this moisturising foot treatment cream that can treat your cracked heels by smoothing rough calluses and heels, and delivering long-lasting moisturization. It also provides a cooling and soothing effect with peppermint and eucalyptus leaf oil, leaving your feet feeling revitalized. This vegan and cruelty-free foot repair cream is formulated with pro-vitamin B5, camphor oil, alpha-hydroxy acid, and salicylic acid that improve the texture of your heels by nourishing your skin cells and promoting skin's natural barriers. Give this salicylic acid foot cream  a try if you dream of flawless-looking feet.
Pros
Cruelty-free and vegan
Paraben-free
Revitalizes skin cells
Long-lasting moisturization
Cooling and soothing effect
Cons
Price at the time of publication: $9.99
This dermatologist-recommended foot cream for cracked heels is formulated with 40% urea that can improve the appearance of the dry patches on your feet by repairing your skin texture. It also contains other potent and therapeutic ingredients like tea tree oil, aloe vera, and chamomile extract. These elements can help transform your cracked heels to feel buttery-soft. Effective in removing calluses, this moisturising foot cream deeply hydrates the skin by locking in moisture. The foot softening cream also aids in increasing blood circulation in your soles and heels which helps keep the skin on your feet healthy. A gentle exfoliator, it promotes growth of new cells and prepares your feet to look perfect— barefoot or not.
Pros
Repairs dry and flaky skin
Dermatologist-recommended
Prevents water loss
Removes thick calluses
Cons
Price at the time of publication: $14.95
Cracked feet can be annoying to deal with and you need a spa-like treatment at home to heal your cracked feet minus the splurge. This foot cream for dry cracked feet contains shea butter that nourishes the skin and avocado oil that provides deep conditioning. Together, they prevent your feet from getting all dry in the winters. It also contains eucalyptus extract that helps smoothen the skin and gives an added dose of moisture. All you need to do is massage this cruelty-free cream after a foot bath; and for better results, you can also use a good foot scrubber.
Pros
Cruelty-free
Provides deep conditioning
Smooths the skin
Keep the feet moisturized for long hours
Cons
Some may find the scent of eucalyptus oil overpowering.
Price at the time of publication: $37.99
Refresh your tired feet and awaken the diva in you with the calming peppermint fragrance of this foot cream from Diva Stuff. The all natural foot cream for dry skin has soothing properties as it is formulated with peppermint oil, eucalyptus oil, shea butter, coconut oil, and menthol. These elements heal dry skin and can liven up your feet. It easily absorbs into the skin and also helps relieve minor aches and pains. This 4-ounce jar of secret to healthy and rejuvenated feet and legs is definitely worth the try if you aspire to look flawless from head to toe.
Pros
Cruelty-free
Aluminium-free
Paraben-free
Relieves minor aches and pains
Easily absorbs into skin
Cons
Price at the time of publication: $13.99
After a long day at work, your feet are prone to being tired and require the best care possible. This foot repair cream helps you achieve just that. With its patented technology, this foot cream  relieves your muscles of ache and inflammation with dead sea mud, which is one of the most mineral-rich muds on the planet. Combined with other ingredients like aloe vera, shea butter, coconut oil, jojoba oil, pro-vitamin B5, and vitamin E, this foot treatment cream can comfort your feet by repairing dry, cracked, and sore feet with intense moisturization, thus restoring the health and beauty of your delicate feet.
Pros
Cruelty-free and vegan
Dermatologist-tested
Hypoallergenic
Reduces skin inflammation
Suitable for sensitive skin
Cons
Contains artificial fragrance
Price at the time of publication: $20.3
These best foot creams must have given you an idea as to why you should add them to your skin care routine so that you never miss your feet out of your self-care regimen. If you're set out to buy the best foot cream, here are a few things you need to keep in mind when you pick the one for your feet.
How To Choose Best Foot Cream For Dry Feet And Cracked Heels
It is recommended to select foot creams with moisturizing ingredients like shea butter, vitamin E, hyaluronic acid, glycerin, and ceramides. If your heels are severely cracked, it is better to opt for ones with peppermint oil, tea tree oil, lavender oil, and other restorative and antibacterial ingredients so that the foot cream not just repairs your skin but also heals the cracks and calluses.
Experts recommend foot creams with humectants like urea, glycerin, and hyaluronic acid that get easily absorbed into the skin. It is also recommended to look for ones with occlusives like petrolatum, ceramides, dimethicone, and shea butter so that your feet stay hydrated for long hours, preventing them from cracking.
You can choose foot creams that also work as an exfoliator as removing dead skin cells is also crucial for you to have healthy, crack and callus-free feet. You can pick foot creams with exfoliating agents like salicylic, glycolic, or lactic acids that pace up the recovery of the skin.
Why Trust Stylecraze?
Kirtana Divakar, the author of this article, is a skin care enthusiast who loves finding products that are worth investing in. She believes that your feet deserve care and attention, just as the rest of your body. She tried out various foot creams and shortlisted the top-rated ones for you. These foot creams are enriched with ingredients that remove dead cells, heal cracked heels, and promote new cell growth.
Frequently Asked Questions
Does foot cream work?
Foot creams help keep your feet hydrated and prevent dryness of the skin. It is better to use foot cream, especially if you spend the whole day wearing socks and shoes as your skin may get deprived of moisture and air flow that it requires to look healthy.
Is it good to moisturise your feet?
Yes, it is good to moisturise the feet as our feet tend to get so dry due to heat and humidity that they might start to peel and crack. Moisturization can help treat your feet and make it soft and smooth.
Should you put socks on after foot cream?
Yes, you should put socks on after applying foot cream, however, only for a few minutes. Your ordinary socks may not help as they would only rub the moisturiser off before it even has a chance to work. This is why wearing cotton socks is a better option as they can help hold moisture and keep any dust or dirt off from sticking to the cream on your feet.
Is Vaseline good for your feet?
Yes, vaseline can be used as an overnight treatment for your dry feet and heels as it locks in moisture that your feet need for the skin to repair and grow healthy skin cells.
What is the best cream or lotion for dry cracked feet?
You can use any oil or balm-based foot cream that is moisturizing for cracked feet. The Gold Bond Ultimate Softening Foot Cream or The Yellow Bird All Natural Foot Cream can be excellent choices for treating cracked feet because they have hydrating ingredients such as shea butter.
How can I make my feet beautiful?
You can make your feet beautiful by keeping them clean and hygienic. Make sure you wash your feet with warm water and soap every day and keep them moisturized. Exfoliate the dead skin cells off your feet once every week.
What causes dry cracked feet?
You can have cracked feet because of medical conditions such as obesity and diabetes. It can also be the result of using harsh soaps, cold and dry weather, and infections.
How can I moisturize my feet overnight?
If you want to moisturize your feet overnight, start by washing them in warm water. Then, apply a foot cream and lastly, put on a pair of socks before going to bed.
Should you moisturize the bottom of your feet?
Yes, moisturize the bottom of your feet to get rid of dry and flaky skin.