10 Best Foot Detox Machines To Care For Your Feet
Soak up the goodness of gentle ingredients and feel your stress and toxins wash away.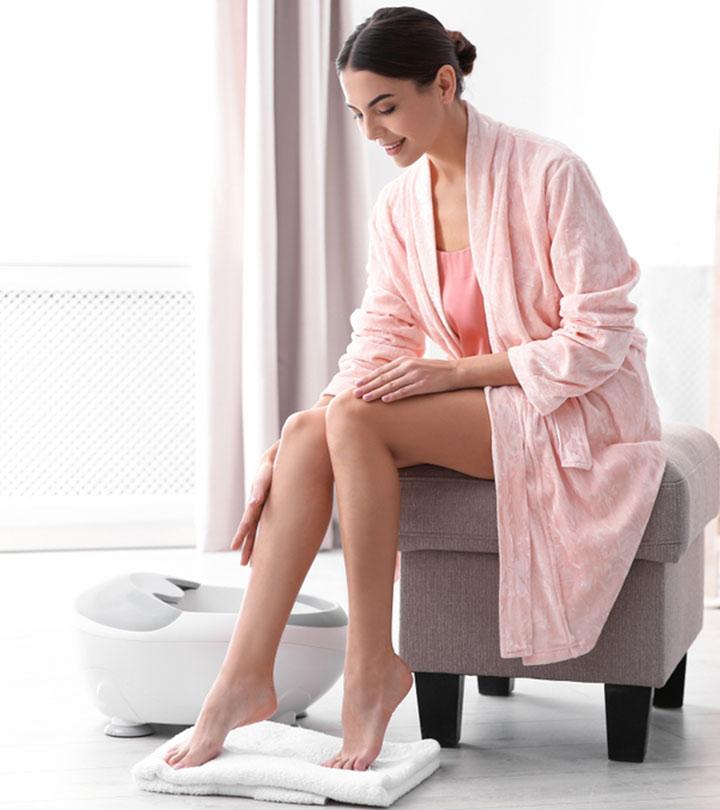 Foot spas are expensive and time-consuming. You can try pampering your tired and achy feet at the comfort of your home with one of the best foot detox machines listed below. You can have a relaxing experience whenever you want sans waiting for appointments at the salon. These foot detox machines are great long-term investments for your overall health. Soaking your feet in warm water can relieve pain, improve sleep, reduce anxiety, manage your blood and sugar levels and boost your immune system. They are cost-effective too as they don't need any maintenance. All you need are detox salts and water for a spa-like rejuvenating experience! These salts help regulate the ionic balance in your body that detoxifies and revigorates us. These professional instruments help in detoxifying your body safely and gently. Check out our list of best foot detox machines to pamper your feet with minimum fuss. You deserve it after a hectic and tiring day.
Most Effective Foot Detox Machines In 2023 – Our Reviews
If you're looking for a refreshing experience, the My Detox Ionic Detox Foot Bath Spa is a real treat for your feet. This bath spa has a simple design that is easy to use and can be operated either separately or with an array filled with bath salts, shower bombs, or more. With 100 liners and 2 round-detox trays that you can fill up, you'll be left with clean and fresh feet. What's more, this device has additional health benefits like enhancing your immune system, balancing blood sugar and pressure, managing arthritis pain, and improving your sleep quality. Check out this video to learn more about the My Detix Ionic Detox Foot Bath Spa.
Pros
Durable product
Lightweight and easy to carry
Easy to use
Suitable for individuals at home or beauty parlors
Comes with a user manual
Cons
May not be suitable for those with susceptible skin conditions.
Price at the time of publication: $92.99
The Cell Spa Foot Detox Machine will help you in more ways than one. For an ideal stress-relief experience, indulge your feet in this foot soak that is made with natural Himalayan mineral salt and can be used with a few cups of warm water in a tub. The foot bath machine comes with a wrist band strap, a bamboo waist heating belt, a couple of black arrays, a power cord, and an easy-to-carry briefcase. Sit back and let your feet relax in the foot-soak detox machine, promoting healthy toenails and eliminating any undesirable odor. Watch this video to gain insights on the Cell Spa Foot Detox Machine about its usage and benefits.
Pros
Comes with an instruction manual
1-year warranty
Softens feet in 20 minutes
Easy-to-use
Cons
Some may find the length of the power cord to be relatively short.
Price at the time of publication: $188.88
The Vitaciti Ionic Foot Bath Detox Machine is ideal for those who want to eliminate feelings of fatigue. For a professional detox experience from the comfort of your home, this machine has multiple pre-programmed working modes to choose from. The LCD makes it easy to monitor and control the treatment time and mode too. This detox machine comes with an infrared belt that can operate either with the ion foot detox or on its own. Suitable for individuals, spas, and clubs, this machine is a great tool that works as a foot spa, massage tub, or manicure tub.
Pros
Safe and convenient
Comes with a 1-year warranty
Easy-to-use
It can be used twice a week
Cons
Some may find the product manual too brief
Price at the time of publication: $129.99
The Healcity Ionic Detox Machine Foot Bath is a dual-use system that allows 2 people to soak their feet simultaneously. Ideal for families, this detox machine comes with 2 large LCDs to help you monitor your usage. If you want to feel rejuvenated and energetic, using this detox machine twice a week will go a long way in helping you. The foot bath machine has a bamboo charcoal infrared waistband that includes high, middle, and low modes for the optimum temperature you need.
Pros
It can be used 2-3 times a week
Easy-to-use
1-year warranty
Large enough for 2 people to use
Cons
Some may find it difficult to operate the timer settings.
Price at the time of publication: $179.99
The Health And Med IonizeMe Elite Foot Bath Spa System contains everything you need to pamper yourself. From ionizing arrays to a large-sized foot tub and tub liners to Himalayan salts, this spa system has it all. If you're someone who is conscious about your health and needs a direct current power supply, this foot bath spa system maximizes the principles of electrolysis so that you can get its optimum benefits. This detox machine is enclosed in a sturdy metal finish and does not require a wrist strap, making it easy to use while you safely monitor your session.
Pros
Comes with a step-by-step manual
Powerful and silent
No fan required
5-year warranty
Compact and sturdy
Cons
You may have to replace the arrays often
Price at the time of publication: $486.98
The Better Health Company Detox Foot Spa Cleanse Machine is ideal for those of you who want to detox your feet naturally from the comfort of your home. With 2 other long-lasting super-duty arrays, this foot cleanse machine is practical and easy to use. This machine includes a pack of Celtic sea salt that increases the water conductivity when you need it. You can pre-program your detox session for up to 30 minutes of a well-balanced detox at a single press of the button.
Pros
Comes with a 1-year warranty
Inclusive of a laminated instruction manual
Free tech support
Has 2 super duty arrays
Simple and easy to use
Cons
Some may find the basin to be slightly less sturdy than expected.
Price at the time of publication: $99.99
The Oileus Professional Pedicure Foot Detox Spa Machine is a dual-user system that delivers an effective way of not just fighting foot discomfort but also leaves you feeling replenished and relaxed after a session. This effective foot spa detox machine removes toxins from your body and helps to improve the overall condition of your feet. The sturdy equipment includes a hard plastic case and comes with multiple pre-programmed modes that you can choose from.
Pros
Built-to-last
Inclusive of dual infrared belts and wrist straps
User manual for instructions
Comes with pre-programmed working modes
Cons
Some may find the user manual insufficient to help you set up the device.
Price at the time of publication: $169.99
The Veicomtech Ionic Foot Bath Detox Machine comes with 2 arrays, ten pads, a couple of wrist straps, and waist belts, all inside an easy-to-carry aluminum box. This device uses ions to cleanse your body of toxins from your body through your feet. Soak your feet in this ion detox bath machine that has an LCD which also allows you to monitor your session. With 8 modes to help you adjust the time and 3 modes to assist you with your belt to improve blood circulation, this dual-user foot spa system is stable and safe to use.
Pros
Comes with an LCD monitor
Multi-functional
Dual user machine
Inclusive of an aluminum carrying case
It can be used twice a week
No side effects
Cons
Some may find operating the modes to be a bit confusing.
Price at the time of publication: $143.99
The Lecaung Ionic Foot Bath Detox Machine helps you regain your strength and vitality naturally. This multi-function detox machine comes with a far-infrared waist belt inclusive of 3 different intensity levels helpful in relieving muscle aches and increasing cellular activities in your body. The professional foot detox machine counts your usage. It has 2 ion trays and 10 machine liners to help you enhance your memory and sleep cycle, build immunity, balance blood sugar levels, and so much more.
Pros
Easy to use
Multi-function machine
Relieves and relaxes
Comes with an LCD screen display
Inclusive of an aluminum box for easy portability
Cons
It may only be suitable for single users
Price at the time of publication: $132.99
The LeCaung Ionic Detox Foot Spa Machine is an easy operation portable foot detox machine that comes with a 30 minute pre-programmed setting with a button touch. Not only is this machine compact and cost-effective, but it also fits in all basin sizes, making this convenient to carry on the go. This high-tech water detoxification system facilitates your body's self-healing ability and cleanses unwanted toxins from your feet. Losing weight has never been easier with this detox machine, free from any side effects or usage of toxic substances.
Pros
Simple and cost-effective
Portable
30 minutes pre-programmed setting
6 indicator lights to indicate session usage
Lightweight and durable
Cons
The indicator light constantly flashes while in use.
Price at the time of publication: $44.77
Now that you have taken a look at our list of the best foot detox machines, you have a fair idea about what's available in the market. To make a better-informed buying decision, check out our guide for choosing the most suitable ionic foot detox machine.
Choosing The Best Ionic Foot Detox Machine
Single or dual user machine
Ionic detox foot machines may have a single-use or dual-user feature that lets more than one user use the device simultaneously. You could share this relaxing experience with another person by checking whether the product allows for dual polarity. However, if you prefer to stick to your alone-time, you could choose single-use detox machines, as there are no other functional differences between them.
It is essential to consider your potential detox machine's heating functions, as they may or may not come with additional heat settings. They often keep the water warm for up to 30 minutes which is crucial to the detoxification process as it promotes blood circulation, reduces aches, and helps you relax. Ionization works best in hot water, so you should check for the heat settings on the machine you intend to use.
You may want to note that safety is a crucial element when choosing a detox machine. Ionic foot machines use electricity and water, which may be unsafe if there are no preventive tools in place. Amp-controlled detox machines allow you to watch the amount of electricity used during a session so you can modify it accordingly, making it a safe experience for you.
Now that you can pick the best foot detox machine with the help of our buying guide, here's explaining how this wonder product works to give you clean and healthy-looking feet.
How Ionic Foot Detox Machines Work
Foot detox machines use water to produce a negative potential field through which your feet absorb potassium and sodium into your body while detoxifying your skin. After a long day of standing on your feet, these machines won't just help you relax but also help you get rid of the toxins accumulated in your body. You can lead a balanced and healthy life free from toxins when you frequently use a foot detox machine. While there is no actual discomfort that comes with using these machines, those of you who feel ticklish might take some time to get used to the detox process.
When you switch on the device, the water in the basin often changes colors and further intensifies when you place your feet. The electrolytic mechanism of the water, salt, magnesium, and copper, tend to influence this change of water color. Additionally, this is what helps you get rid of dead skin cells, foot fungus, bacteria, and other impurities from your feet. Each user is different, which may also be why you can visibly see variations in the change of color with each use.
Are you confused as to how to use a foot detox machine? Don't worry. We have you covered with our next segment that explains how you must use a foot detox machine.
How To Use A Foot Detox Machine
Step 1: Pour the water into the basin upto ankle-level and add around 0.7 ounces of salt into the water to create your mixture.
Step 2: Connect the ion array to the machine and put it into the water basin.
Step 3: The next step would be to plug in the power cord and turn on the detox machine. For further instructions, turn to the user manual.
Step 4: Connect the wrist band and waist strap, if necessary.
Step 5: Adjust the time settings on your machine and begin soaking your feet for up to 30 minutes. You can also modify the ion detox time using the controls.
Step 6: Switch it off and dry your feet as you clear the toxin-filled water.
If you haven't added a foot detox machine to your skincare routine, we can enlist many benefits of using this machine for cleaner soles to help you make a firm decision to take extra care for your feet!
Benefits Of Using Ionic Foot Detox Machine
You can use ionic foot detox machines to soak your feet, while negative and positive ions provide you with overall health benefits. These machines can help remove the toxins from your body through your feet.
They can help in tackling body aches and pains.
They address blood sugar and blood pressure issues and help you maintain your overall general wellbeing.
Regularly using these detox machines also improves your sleep quality. The relaxing device enhances your blood flow levels throughout your body, making you feel calm and ready for bed.
Why Trust StyleCraze?
Vaishnavi Kothuri is a skin care enthusiast who is passionate about evaluating skin care products. She has compiled this list of the top foot detox machines that are durable, budget-friendly, and efficient after reading several user reviews on various forums. In addition, the pros and cons of each item have been mentioned. This post also includes a buying guide, instructions for using the machine, and answers to some frequently asked questions to assist you in making the right decision.
Frequently Asked Questions
Does the foot detox machine work?
Yes, but it may take a while for you to see visible results. Like all good things, getting visible results from this detox machine will take time. Make sure to be patient and regular with your detox sessions.
Does Epsom salt foot soak remove toxins?
Yes, salts play a role in removing foot toxins. Adding salt to your detox machine does aid in the detox process. Epsom salt helps to exfoliate dead skin from the feet. The foot soak can help to soften the feet and reduce roughness.
How often should you do an ionic foot bath?
2 times a week is ideal for an ionic foot bath. Make sure to be regular to notice visible differences over some time.
How much salt should I use for an ionic foot bath?
The amount of salt depends on the amount of water you add to the machine. There may also be variations based on the type of water used, whether you use distilled water or hard water. Make sure to read the instructions that come with the detox machine for the best results.
How long will it take to start seeing results from taking ionic foot soaks?
Various factors may affect how efficient the detoxing process is for you. If you have more toxins in your body, the results may be delayed when compared to someone who frequently uses the machine.
Does using a foot detox machine help you lose weight?
There is no evidence that detox foot machines aid in weight loss. Detox foot pads take toxins out of your body as you sleep. Detox foot pads, according to some manufacturers, also alleviate high blood pressure, headaches, cellulite, depression, diabetes, and sleeplessness.
Can apple cider vinegar detox your feet?
Yes. Apple Cider Vinegar is well-known for its numerous health benefits, and studies reveal that it has antibacterial and antifungal qualities. As a result, ACV is an excellent ingredient to use in a foot soak or foot bath detox treatment.
Recommended Articles