8 Best Foot Exfoliators, Peels, And Scrubs For Soft And Smooth Feet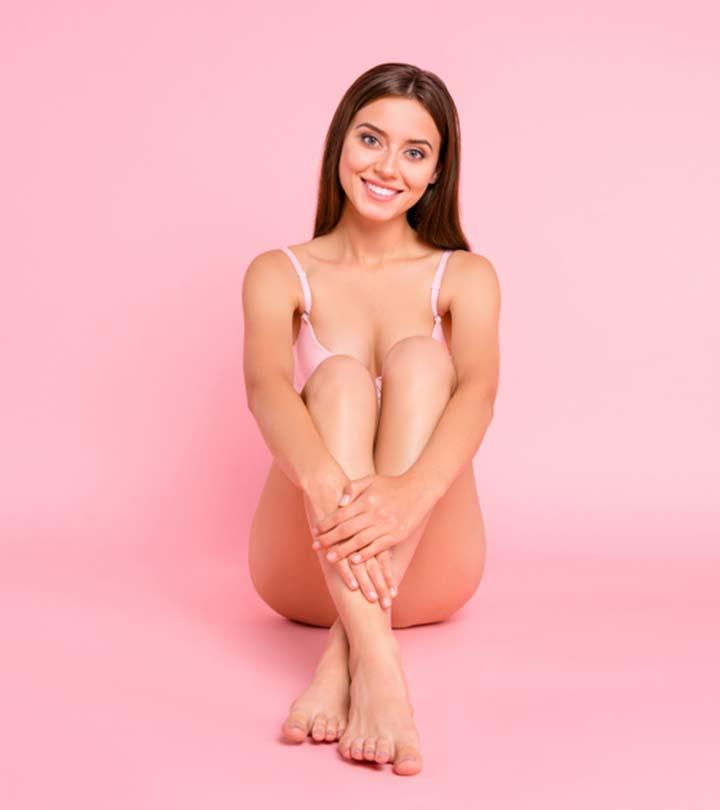 Isn't having smooth, supple feet on everyone's wish list? Not only do they look great in the shoes we put them in, but also instills confidence when we step out. Unfortunately, not all of us are naturally blessed with great feet. Sometimes we need a little help, and that's when foot exfoliation tools come to our rescue.
If you're on the lookout for the best foot exfoliator, you have reached the right place. Having combed the Internet, we have compiled the 8 best foot exfoliators, peels, and scrubs. These products contain effective ingredients, which help remove dead and dull skin from the surface, leaving you with smooth, untextured feet. They help keep your feet clean, provide moisture, and remove any existing odors. So, what's the hold up for? Take a look at our list, find your perfect match, and strut the world with happy feet!
8 Best Foot Exfoliators, Peels, And Scrubs You Need For Beautiful, Soft Feet
The solution to baby-smooth feet is here! This exfoliant foot peel is enriched with 16 natural extracts, including tea plant extract, camel grass, and horsetail herb, which help exfoliate the foot's epidermis. It also contains lemon extracts, which aids in eliminating any odors, and orange and grapefruit extracts, which provide moisture and repair cracked heels. All it takes is 3 easy steps and an hour for the formula of this foot exfoliate peel to start working. Within a week's time, you will achieve glowing, soft baby feet with this exfoliating foot treatment.
Pros:
Enriched with 16 natural extracts
Exfoliates and moisturizes skin
Eliminates unpleasant odors
Results show in 1 week
Cons:
May not be suitable for sensitive skin
Cracked and calloused feet keeping you down? Well, not anymore. Give this foot mask a try and notice results in a little over a week! This mask is packed with rose and lavender extracts to eliminate hardened dead skin and improve skin vitality. It contains shea butter, apple, and orange extracts, which help provide moisture, reduce cracks, and keep feet soft and smooth. It is free of salicylic acid and safe for frequent use.
Pros:
Eliminates hardened, dead skin
Improves skin vitality
Provides moisture
Free of salicylic acid
Safe for frequent use
Cons:
It may not be best suited for those with extremely sensitive skin. Please consult a dermatologist before using.
Get rid of dry and dead skin once and for all. The formula is a powerful blend of hyaluronic acid and cucumber extracts that remove old and dead skin. It also consists of essential oils and skin nutrients, which moisturize and hydrate the skin. Our favorite thing about this product is that it is formulated with walnut shell powder, loofah powder, and plant glycerin. All these ingredients help keep the skin soft while leaving behind a pleasant fragrance.
Pros:
Removes dead and dry skin from feet
Provides moisture and hydration
Enriched with essential oils and skin nutrients
GMO-free
Gluten-free
Not tested on animals
Cons:
You may need more than one application to effectively remove dead skin.
Everything you ever need to remove dry and dead skin from your feet is in this exfoliating foot cream by Bliss. The goodness of glycolic acid, alpha hydroxy acid (AHAs), and salicylic acid efficiently break the bonds between the outer layer of skin cells. It encourages a peeling effect that leaves you with exfoliated, smooth feet. This formula contains shea butter, aloe vera extracts, and peppermint oils, which work together to heal and hydrate dry and damaged skin on your feet. This product is super effective, even on the most demanding and challenging feet as it is powered with pro-vitamin B5. It not only provides moisture to the skin but also helps rejuvenate the topmost layer. Stinky feet? No problem! This foot exfoliator cream eliminates any unpleasant odors as it contains eucalyptus leaf oil.
Pros:
Encourages peeling of surface skin cells
Exfoliates, heals, and hydrates skin
Powered with pro-vitamin B5
Eliminates unwanted odors
Gentle for daily application
Free of parabens, phthalates, and SLS
Cruelty-free
Cons:
The scent may be overpowering for some. 
Are you looking for a good foot exfoliator that also doubles as a body scrub? If yes, you must give this scrub from Brooklyn Botany a try. The gentle formula exfoliates the skin and removes dead skin cells while promoting new and refreshed skin. This foot exfoliating scrub is enriched with Himalayan pink salt and effectively eliminates harmful toxins such as heavy metals from the body. It is packed with natural oils like jojoba, argan, and sweet almond oils, and hydrates and moisturizes the skin. Free from harsh chemicals, gluten, parabens, and alcohol, it can be used on the body too for dead skin exfoliation and reduces the appearance of stretch marks and cellulite.
Pros:
Can be used on the feet and the body
Eliminates harmful toxins
Hydrates and moisturizes the skin
Non-GMO formula
Free of chemicals, gluten, parabens, and alcohol
Suitable for all skin types
Cons:
Some may find it slightly greasy. 
Achieve soft, beautiful feet with these innovative exfoliating sugar cubes. It takes only 1-2 cubes to effectively exfoliate the dead and damaged surface of the entire body. It contains organic and vegan oils and butters like mango butter, shea butter, and lavender oils to cleanse, nourish, and moisturize the body. The sugar granules scrub clean the surface layer, while vitamin E protects your skin from the harmful effects of the sun. It is suitable for sensitive skin and clears blocked pores and blackheads, prevents in-grown hair, and wards off blemishes.
Pros:
Shaped as sugar cubes for easy exfoliation
Cleanse, nourish, and moisturize the body
Protects skin from harmful effects of the sun
Suitable for sensitive skin
Ethically-sourced ingredients
Cons:
The sugar cube may take a while to dissolve.
Next on our list is this exfoliating scrub made with gentle exfoliating granules to help get rid of rough and dry skin on the feet. Its non-greasy formula contains baking soda and AHA exfoliators, which restore the feet with soft, silky skin. It is also enriched with coconut oil, which is abundant in nourishing fatty acids and helps hydrate cracked feet. Suitable for all skin types, this professional foot exfoliator comes attached with a no-touch massaging brush for a mess-free application.
Pros:
Non-greasy formula
Restores healthy, soft skin
Hydrates cracked feet
Suitable for all skin types
Enabled with a no-touch massaging brush
Cons:
May not effectively ward off unpleasant odors
This all-in-one product helps combat dry and flaky skin. It is safe for use on the hands, feet, and body and contains a powerful blend of glycerol and sugar granules to exfoliate dead skin and encourage refreshed soft skin. Made from essential oils and creamy butters, it provides ample moisture and hydration. This vegan formula is gentle for daily use and reduces wrinkles, age spots, and cellulite. If you need more convincing, this scrub has cucumber melon extracts, which leaves behind a delightful aroma.
Pros: 
Encourages the growth of refreshed soft skin
Provides moisture and hydration
Reduces wrinkles, age spots, and cellulite
Vegan formula
Pleasant fragrance
Cons:
Consistency may be too thick and feel like gel 
And that was our list of the 8 best foot exfoliators, peels, and scrubs. If you still have questions about how they work or how to use them, read on!
How Do Foot Exfoliators Work?
Foot exfoliators contain effective ingredients like AHA's, sugar granules, and Himalayan pink salt, which help remove dead and decaying skin cells, and leave you with soft and supple feet. The outer, hardened surface layer is the first to go along with dirt and other impurities. This is followed by a process of peeling, which encourages new skin cells to form. Some scrubs may also contain ingredients like shea butter, apple, and orange extracts, which help moisturize the skin, and soften it.
How To Use A Foot Exfoliator
Follow these simple yet effective instructions to completely exfoliate the dead skin off your feet.
Foot scrub
Step 1: Soak feet in warm water for 5-10 minutes.
Step 2: Take a handful of the foot exfoliating scrub of your choice and gently rub it on the surface layer.
Step 3: Scrub your feet until you feel the dead, dry skin come off.
Step 4 (Optional): You can use the help of a pumice stone or an exfoliating brush.
Step 5: Rinse clean with warm water.
Foot peel
Step 1: Wash your feet thoroughly with warm water.
Step 2: Secure the peeling product safely on the skin.
Step 3 (Optional): You may use the help of adhesive tape to secure the mask or booties.
Step 4: Allow your feet to rest and absorb the formula for the required time period mentioned on the product packaging.
Step 5: Rinse the product off completely with lukewarm water.
Beautiful feet are always in! While most of us pamper our faces and bodies with high-quality products and formulas, our feet are often neglected. This leads to an unusual build-up of dead skin cells, resulting in ungroomed, dirty, and textured feet. Feet exfoliators, scrubs, and peels are a Godsend when it comes to keeping our feet healthy, clean, and soft. They make sure that dry and flaky skin is effectively exfoliated and leaves feet soft and smooth. To help you achieve your dream of having silky, uncracked feet, we've put together a well-researched list of the 8 best foot exfoliators, peels, and scrubs.
Recommended Articles
The following two tabs change content below.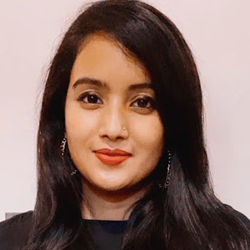 Kirtana developed a deep passion for writing ever since she was a little girl after reading the brilliant works of Enid Blyton and Roald Dahl. She completed her Master's in Mass Communication and Journalism from St. Joseph's College, Bengaluru and has chosen a career that is driven by creativity. A fashion enthusiast who believes in communicating effectively with a personal touch, she writes about beauty, skin care, fashion, and just about anything else.