10 Best Foot Massagers To Help Deal With Diabetic Peripheral Neuropathy – 2023
Bid farewell to the numbness in your legs and hands with these pain-relieving gadgets.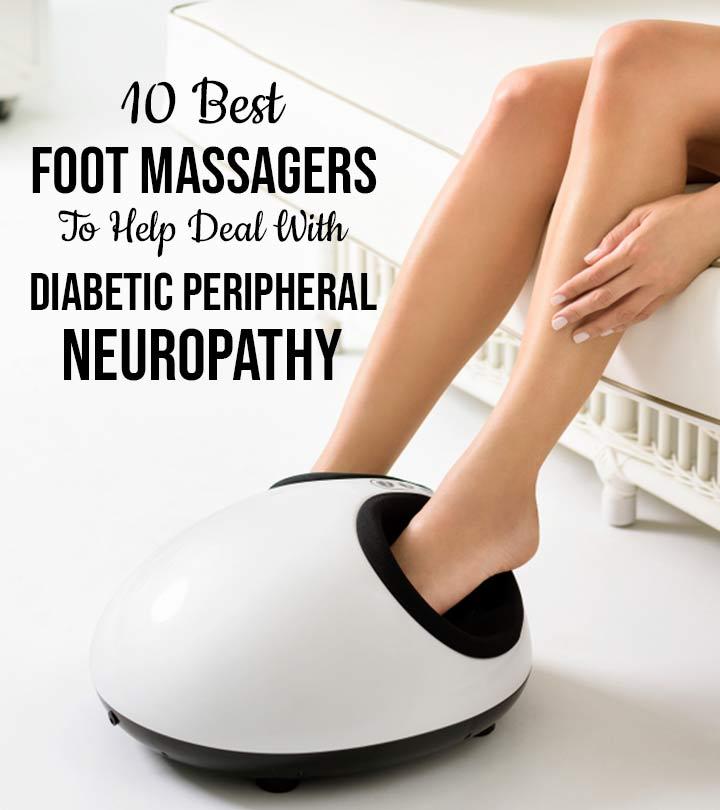 Health issues can be a pain when we have so many things to accomplish and fulfill, and diabetes is the leading cause of problems for many. Diabetic Peripheral Neuropathy is another branch of issue that occurs in diabetic people. This is basically nerve damage initiated by an acute rise in blood sugar levels. If this occurs, it affects the hands and legs, causing uncomfortable numbness, and you need the best foot massager for diabetes to help prevent this.
The concept of foot massagers was inspired by Shiatsu, a pressure-inducing Japanese massage style. The technology is engineered to replicate that technique by releasing infra-red heat that keeps the excruciating pain at bay. This smooth movement helps relieve the pain. Scroll through these 10 best foot massagers and find your solace.
Top 10 Foot Massagers For Diabetic Peripheral Neuropathy
This is a sShiatsu foot massager that givprovides deep kneading massages. It keeps the feet warm with its heat settings and increases the effectiveness of the massage. This foot massager has two foot chambers with five air pressure settings and two wireless remotes.
It has reflexology rolling nodes that target the pain points on your feet and help relieve discomfort and pain. It is perfect for relieving muscle tension, plantar fasciitis, diabetes, and neuropathy. Here's an honest video review of this product.
Pros
Washable foot liners
Wireless operation
Temperature control
Power adapter
Cons
Not much focus on the heels.
Price at the time of publication: $129.0
The Renpho Foot Massager machine has a rotation ball, a rolling stick, along with heating and compression to give you a deep-kneading shiatsu massage. It helps relieve pain through foot nerve reflex, improves blood flow, and promotes relaxation. The ergonomic design of the foot massager ensures comfortable foot massage sessions.
Pros
3 massage modes and intensities
Adjustable air compression
Auto-timer
Foot tip to heel kneading
Detachable and washable fabric
Touch button
Non-slip rubber pad
Cons
The heat intensity is very low.
Price at the time of publication: $129.99
The Homedics Triple Action Shiatsu Foot Massager delivers a warm shiatsu massage in a circular kneading pattern that goes up and down the entire length of your feet. This helps to relax your feet from toe to heel. It has triple rotational heads with heat features that literally melt your discomfort. It has a large platform design to accommodate people who have large feet.
Pros
Easy to use controls
Breathable fabric to prevent overheating.
Cons
The kneading may not feel intense to some.
Price at the time of publication: $49.99
This electric massager is designed for therapeutic usage and is perfect for those who have severe foot pain and discomfort. You can adjust the motor speed and intensity as it offers motor control between 1000 rpm to 3700 rpm to give you maximum comfort. It helps to stimulate circulation and eases muscle tension, swelling, and joint pain. The footpad is designed to provide your feet with the optimal angle for a complete pain-relieving massage.
Pros
1-year full replacement
Manufactured in ISO-certified facility
11-speed settings
Oscillating footpad with arch bar
Cons
Price at the time of publication: $239.0
The Neckteck Foot Massager offers air compression massage along with heating to promote blood flow in your legs and feet. It offers soft and hard rolling, kneading, scraping massages to relieve fatigue. It has three different massage modes and pressure settings for your comfort. It targets the acupressure points in your feet to give you maximum benefit. It has an auto shut-off feature that lets you enjoy your massage worry-free. In addition, the handheld design makes the massager user-friendly and portable. Check out this detailed review of the product here.
Pros
3 massage modes
Handheld design
Touch panel
Auto shut-off feature
Washable sleeves
Cons
Price at the time of publication: $109.99
This electric foot massager has a comfortable angle and provides deep-kneading shiatsu massage. It has adjustable settings for heat, air compression pressure, and vibration and helps relieve soreness in your feet, legs, ankles, and calves. It is an open-toed machine and fits almost all feet sizes.
Pros
Quiet mode
Adjustable bar for changing the massager position
3 levels of intensity
Automatic timer (15 minutes)
Cons
Manually operated
The timer cannot be extended.
Price at the time of publication: $359.99
This leg massager covers your feet and calves. It has 2×2 airbags inside that massage your feet and calves to relieve pain and discomfort. It has two modes and two massage intensities that can be controlled using a handheld controller. The maximum calves size that it can fit is 2.5 inches. It also offers two size extensions.
Pros
10 massage techniques
Easy-to-use controls
Available in multiple sizes
Cons
Doesn't work until both air pumps are attached.
Price at the time of publication: $88.99
Soothe your pain with the Belmint Shiatsu Foot Massager Machine. It is specially designed to provide circulation in the legs for neuropathy, arthritis, walking/standing, diabetic symptoms, and plantar fasciitis. This machine has 3 different modes and 5 pressure levels. You can also use combination settings to relax your legs. The timer and auto shut-off feature ensures that you don't overdo the massage. In addition, the air compression therapy relieves you from pain.
Pros
Removable and washable mesh inserts
Timer
Personalized massage settings
Anti-skid base
Cons
None
Price at the time of publication: $104.99
The Best Choice Products Machine Shiatsu Foot Massager is a high-quality feet care tool that helps you relax and soothe tired and achy feet. This foot massager is designed with a variety of techniques, which specifically targets all areas of your feet to help with different parts of the body, including pulsing, kneading, and rolling. The combination of these massage techniques helps to relieve tension and soreness in your feet, leaving them feeling refreshed and rejuvenated.
This foot massager is lightweight and compact, making it easy to move and store when not in use. It is also easy to clean and maintain, ensuring that it stays in excellent condition for years to come.
Pros
Easy to use
LCD screen
Three modes of use
Ergonomic design
High-intensity rollers
Easy to clean
Cons
None
Price at the time of publication: $89.99
Rejuvenate your muscles with the Human Touch Reflex SOL. This massager is designed to comfort your calf and feet with Warm air technology and CirQlation technology. They help to improve circulation in your feet, relieve tension and soreness, and promote healing power. It comes with two intensity settings that assist in selecting the required power for foot massage. In addition, the adjustable tilt base ensures an ideal massage angle.
Pros
Adjustable tilt base
Removable sleeves
Ergonomic design
Cons
None
Price at the time of publication: $258.29
A foot massager is a necessity for those who have diabetic peripheral neuropathy. Here are a few things you need to keep in mind before picking a foot massager for them.
Things To Consider While Buying Foot Massagers For People With Diabetes
Construction And Durability: Check the battery settings, battery power, and other electrical features to make sure it works properly and lasts longer.
Heating and Air Compressors: Adjusting the heat and air compressor functions are key for any good foot massager. A good foot massager should have different modes and intensities to provide proper heating, vibration, and kneading pressure.
Ease Of Operation: Even if the foot massager is good, it is of no use if it is not easy to use and has complex settings. Check the ease of use before buying one.
Weight: A lightweight foot massager is ideal. However, additional features and functionalities may add some weight to the machine. Make sure that at the end of the day, you can lift it or transport it easily.
Using a foot massager comes with a lot of benefits.
Benefits Of Using A Foot Massager For Diabetic Neuropathy
A good foot massage helps:
Improve blood circulation.
Reduce pain and numbness caused by neuropathy.
Reduce inflammation.
Stimulate nerve endings to minimize discomfort.
Relieve bunion pain by massaging the arches and bottom of your feet.
Relax not only your feet but also the entire body.
Strengthen the ankles and feet by reducing soreness.
Reduce fluid retention in your legs caused by longer periods of standing or sitting.
However, if you have diabetic neuropathy, you need to be careful while using a foot massager.
Risk Factors Associated With Using A Foot Massager For People With Diabetes 
Since diabetic neuropathy causes numbness and lack of sensation in the legs, there is a probability that the heat generated by the massager may cause burns, and you may not notice it instantly.
Also, vigorous massages may also cause circulation issues, especially if you have any condition that affects your circulatory structure.
That is why you need to be extra cautious while using a foot massager. It is best to consult your doctor before going for a foot massage or buying a foot massager.
Why Trust Stylecraze?
Aditi Naskar, the author, has a diploma in health and wellness and in this article she advocates the importance of foot massagers for Diabetic Peripheral Neuropathy. After conducting a thorough research and going through various user reviews, she has carefully picked the best ones for her readers. She recommends using these foot massagers because they come with adjustable settings and relieve excruciating pain.
Frequently Asked Questions
Can diabetics use home foot spas?
Yes, foot spas help in taking care of the skin on your legs and also relieve pain and discomfort.
How long should you use a foot massager for diabetics?
It depends on the severity of your condition. Massaging your feet excessively and vigorously may worsen the condition. It is best to consult your doctor.
Will a foot massager help with neuropathy?
Yes, a foot massager helps reduce the pain and symptoms of the patients and enables them to sleep better.
Is it OK to massage a diabetic's feet?
Yes, it is okay to massage a diabetic's feet to reduce the symptoms of diabetic neuropathy.
How do you fix neuropathy in your feet?
Take care of your feet with massages and spas, and exercise regularly.
Does vibration help neuropathy?
Yes, vibration not only helps reduce neuropathy but also reduces chronic pain associated with it.
Can diabetics use leg compression massagers?
Yes, diabetics can use leg compression massagers because they help with the blood flow in your feet and calf.
Can you use a foot massager while pregnant?
Yes, a foot massager is the best alternative therapy for pregnant women.
How long does a foot massage last?
A foot massage can last for 10-20 minutes.
Recommended Articles