13 Best Foot Massagers For Tired Feet, Based On Reviews (2023)
These incredible foot massagers will open the doors to a new world of relaxation.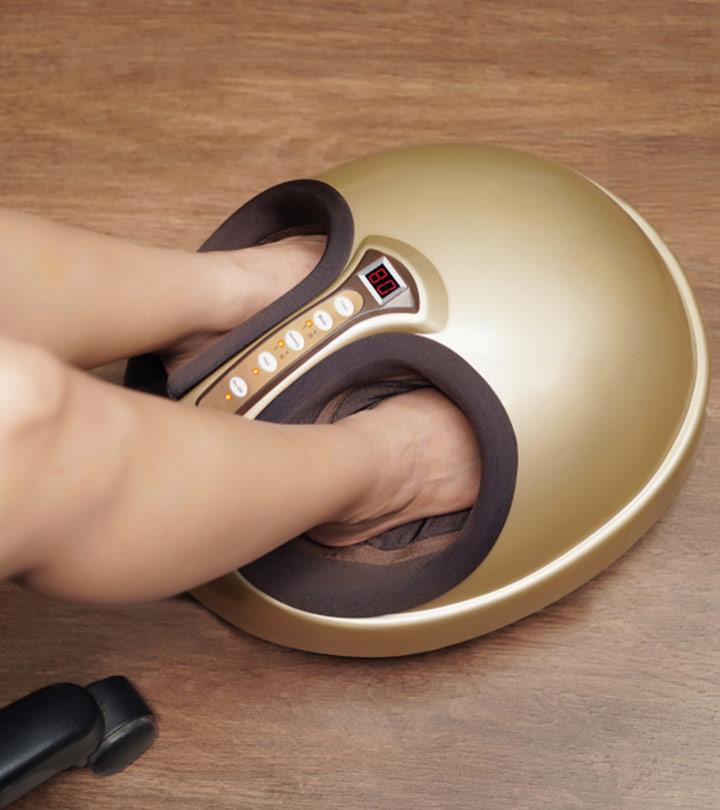 Every girl admires the adoring spa sessions and massage from a private masseuse, especially when the feet are tired from stress due to 9-to-5 jobs or jobs that require standing for prolonged hours. But that is not always possible. Instead, you can get the best foot massager that helps soothe the sore muscles, improving flexibility, promoting circulation, and boosting energy levels. In addition, a foot massager helps to have a good night's sleep, get rid of foot tension, and promote oxygen and circulation to your body. It can also lower blood pressure, relieve muscle tension, keep muscle tissue healthy, and make your feet feel pampered.
Viktoria Hamma, a chronic pain and weight loss coach, says, "The feet are one of the body's biggest sensory organs and give the rest of the body information about balance, mobility and more. Massage is one of the best ways to encourage activity in the nervous system to keep your feet healthy and communicating well with the rest of the body."
From the pool of foot massagers available in the market, you will need to find the right one that will bring bliss to your tired feet. To help you out with the selection, we have put together a list of the 13 best foot massagers. Scroll down and check them out!
The Internet's 13 Best Foot Massagers Available This 2023
Built with 6 massage heads and 18 powerful rotating massage nodes, Neckteck provides sore feet with the perfect deep tissue penetration after a long, weary day. The airbags and rolling balls are designed to supply optimum vibration to regulate blood flow in the lower limbs. It also boasts of beautiful, breathable fabric that is friendly to one's skin. What's more, its built-in heating feature is a soothing hug to high heels-fatigued feet. Additionally, the heating feature can be manually switched on and off at your convenience, so foot massages don't get sweaty and icky during the summer. You can treat yourself every day, all year round! Go through this video for an unbiased review of the Nekteck Foot Massager With Heat.
Pros
Easy to operate
Built-in handles
Adjustable height to 3 levels
Deep tissue foot massager
Heating feature
Cons
Insufficiently hot for some
Price at the time of publication: $37.99
Engineered with a rolling stick, rotation ball, and built-in heating system, the RENPHO Shiatsu foot massager experience is akin to a professional foot massage. Users have the option to manually control 3 squeezing and 3 kneading intensities that gives incredibly satisfying deep tissue penetration to your foot, toes, heels, and arches – making it a suitable foot massager for flat feet. It may also provide relief to those suffering from other foot disorders such as plantar fasciitis and neuropathic foot numbness. Boasting of an ergonomic design and spacious foot room, this portable bad boy also possesses an easily removable fabric, which can be washed so that your foot massager never accumulates that horrid dirty, old sock smell— always a win, we say! Click this video for a detailed review of the RENPHO Shiatsu foot massager.
Pros
Can accommodate large foot sizes (up to size 12 in men)
Heat settings
Washable and hygienic
Multiple intensity levels
Infrared foot massager
Cons
May be too big for those with small feet
Price at the time of publication: $129.99
If you want your foot massager to also serve as an eye candy, Best Choice Products' glamorous burgundy therapeutic shiatsu foot massager will be right up your alley! With sleek, glossy exteriors and an LCD touch screen panel, this is one machine that looks as good as it makes you feel. Using reflexology therapy and the shiatsu technique, this foot massager perfectly rolls, pushes, and kneads every knot in your arch, sole, and toes. The brightly lit LCD screen also makes this beauty an absolute delight to use if you happen to be technologically challenged. Additionally, Best Choice Products has made cleaning convenient by also equipping it with a removable and washable sleeve. Call us a fan already. Take a look at this video for more information on the Best Choice Products' Therapeutic Shiatsu Foot Massager.
Pros
Comes in a variety of stylish colors: grey, black, and burgundy
Anti-skid pad and non-slip bottom safety
Digital screen panel
Wireless remote control
Cons
Relatively intense massage
Price at the time of publication: $89.99
If you don't mind splurging a little extra to invest in a truly quality product, Miko's Shiatsu Foot Massager Machine is the perfect treat to pamper feet. A veritable high-tech offering, this luxurious foot massager comes with a patented massage technique and in-built heat to deeply knead, compress, and roll all parts of your feet, melting away pain and stress. The shiatsu nodes may also serve to alleviate pain from diabetic neuropathy, plantar fasciitis, muscle strain, and other chronic complaints. The convenient and comfortable design also uses air pressure to optimize circulation in your feet.
Pros
Foot massager for plantar fascia
Washable and hygienic
Good for foot pain
Remote control
Full 1-year warranty
Cons
May not accommodate small feet
Price at the time of publication: $129.0
Is your back as bad as your feet after a long day of running around? Then it would probably be wise to look for a massager that can multitask, and the Snailax's Shiatsu 2-in-1 foot massager is here to meet your needs. This affordable, portable marvel not only shiatsu massages and kneads your feet but also your back. Additionally, its smart heating system allows it to be also used as a cozy foot warmer when winters grow cold enough to gnaw at your poor toes. The ergonomic design ensures that you receive heated kneading and rolling from toe to heel. Say hello to blissful backs and pampered feet!
Pros
2-in-1 foot warmer massager
Removable and washable sleeve
Flexible massage that fits your foot
Button panel that can be controlled with toe touch
Cons
Price at the time of publication: $45.88
Some days, a plain ol' foot rub isn't good enough. What you yearn for is a good soak and an authentic spa experience. On such days, Ivation's Foot Spa Massager is your best friend! This compact, portable foot spa has massage rollers engineered at the bottom of its tub, which allows users to thoroughly work their feet as they soak in toasty, warm water that can be heated up to 122 degrees Fahrenheit. Furthermore, the foot spa comes with multiple soothing water jets that along with the vibrating, motorized rollers, help to serve a truly stress busting, bubbly treat. Add a drop or two of aromatic essential oils into your bathwater, and voilà— a true-blue spa day is here.
Pros
Quick heating
LED screen display
Spa massager with pedicure features
Cons
Price at the time of publication: $79.99
Ever tried metaphorically spoiling your feet but ended up (quite literally) spoiling your back instead? We have. And, yikes. Bending down to tweak the control panel settings on a foot massager is not always fun. Nor is rummaging your house in search of lost cords to power up the device. If you are a convenience queen who prefers smart solutions to first-world problems, Medcursor is here to make your life easier. With its onboard, built-in cord storage, and toe touch-sensitive control panel, you never have to strain already sore muscles again.
This shiatsu foot massager also comes with 6 massage heads and 18 massage nodes that will target your essential acupressure points to knead away the pain. The heat therapy function adds to soothe deep tissue massaging, relieve pain and muscle spasms, as well as aid in improving the circulation to your feet.
Pros
Targeted acupressure design
Adjustable height
Carry handle for convenience
Optional heating feature
Cons
Not cordless
Less foot arch action
Price at the time of publication: $43.99
If you have tired feet but happen to be on a budget, the Belmint Shiatsu Foot Massager with Heat is a great option. This automatic massager also comes with six massage heads— three for each side of your foot, as well as rotating deep massage nodes that target your best acupuncture points and work out the tension from the pads of your feet. Bonus? The massager automatically turns off after 15 minutes of gentle kneading. So, if you happen to be lulled into a well-earned nap amidst a session, you don't have to worry about safety. Nap away!
Pros
Height can be adjusted
Switches off automatically
Flexible fit for the curve of the foot
Cord storage and toe touch-sensitive
Cons
Price at the time of publication: $55.99
The Human Touch Reflex SOL Foot & Calf Massager is a premium quality massage device that provides a therapeutic and relaxing deep kneading massage to the feet and calves. Its advanced mechanism uses a patented Figure-Eight Technology that delivers a multi-dimensional massage, and also features a warming function that provides soothing heat for foot muscle relaxation and improved blood circulation. The Reflex SOL uses reflexology massage, a well-liked natural and complementary therapy to help reduce stress and discomfort in other areas of the body as well as to promote general health. Most foot sizes, up to men's size 12, can fit in the expanded foot wells. The massager comes equipped with removable and washable sleeve inserts that make it easy to clean and maintain.
Pros
Easy to use
Comfortable
Figure-Eight and CirQlation Technology
Warm Air Technology
Adjustable angle alignment
Cons
Price at the time of publication: $258.29
Beurer's FM60 is another great candidate for Shiatsu foot massage therapy to relieve pain and to bust stress. Its 18 rotating massage heads incorporate infrared light plus heat technology to knead deep tissues and optimize the blood circulation in your foot. It comes in 2 different massage modes, which can be easily switched between by tapping your foot. Additionally, its glossy white and chrome exterior makes for a stylish addition to any modern home.
Pros
Optional heat mode
Adjustable height and incline angle
Easy to use
Foot reflexology
Cons
Price at the time of publication: $62.1
The HoMedics Shiatsu Deluxe Foot Massager is a portable device designed to provide a relaxing and therapeutic experience in the comfort of your own home. It features 4 revolving heads and 10 massage nodes that target the acupuncture points on each foot to provide a soothing massage from heel to toe. This deep-kneading Shiatsu foot massager has an optional heating feature that helps to penetrate sore feet muscles, making the heated massage even more calming and revitalizing. Its compact size and lightweight design makes it easy to store and transport, so you can take it with you wherever you go.
Pros
Easy to use
Deep-kneading massage
Soothing heat
Convenient switch settings
Portable
Cons
None
Price at the time of publication: $48.99
The HoMedics Shiatsu Air 2.0 Foot Massager is a state-of-the-art device designed to provide a relaxing and therapeutic massage to tired and sore feet. This device combines shiatsu massage techniques with air compression to deliver a deep, kneading massage that soothes and rejuvenates the feet. You have the options to choose from three speed options: low, medium, and high. It also features an optional heat function that provides additional comfort and relaxation to tired and sore feet. It comes with adjustable settings for intensity, heat, and air compression, allowing you to personalize your massage to your preference. This foot massager is also designed with user comfort in mind, featuring a removable and washable cloth cover to keep the device clean and hygienic. It is compact and lightweight, making it easy to store and transport.
Pros
Easy to use
Comfortable
Suitable for large feet sizes
Convenient
Easy to clean
Cons
None
Price at the time of publication: $139.48
KYY's closed-design foot massager with heat is engineered to combine air compression, infrared heat, and deep kneading to deliver a satisfying deep tissue massage every time. The wide, smart control screen offers a greater range of control buttons compared to other foot massager models such as timer, intensity, heating, modes, and air, to name a few. The big independent rolling massage heads and multiple smaller heads target all areas of your feet and heels in an upgraded version of shiatsu therapy. Meanwhile, the air pressure control can be used to enjoy some contactless massage.
Pros
Removable and washable foot sleeves
Easy to install and sanitary zipper design
Can accommodate big feet
Variety of settings
15 and 30-minute automatic timer
Cons
Price at the time of publication: $126.11
So, what are you waiting for? Banish blues and say hello to bliss with our favorite foot massagers that the Internet has deemed the best of 2023! However, if you're overwhelmed by the myriad of options online and could use some tips on purchasing the best foot massager machine for you, don't you worry, Chica. We got you! Scroll through our buying guide to learn more.
A Busy Gal's Buying Guide To The Best Foot Massager!
How To Choose A Good Foot Massager?
Keep in mind the following features when investing in a quality foot massager:
#1 Take Into Account The Massaging Technique
Generally, foot massagers can come in a variety of tissue massaging techniques. Here's a list of the most common terms you'll come across when buying professional foot massager machines:
Air Pressure Foot Massager:
Most of the closed-design models available in the market use this massaging technology. They utilize this deep tissue massaging technique to undo knots and relieve tension on the sides of your foot and within the arches. Usually, these models are equipped with airbags within their walls, which rhythmically inflate then deflate in order to provide the most satisfying massage experience.
Open as well as closed-design foot massagers employ this technique of massage. Again, this technique too targets the arches and sides of your fatigued foot. A few of the models will execute this technique with the use of massage heads and varying massage nodes, which regularly spin clockwise then counter-clockwise to thoroughly knead the deep tissue in your soles.
A lot of new models have begun to add this technology to their foot massagers. The level of heat generated usually differs from model to model – some will produce only a mild, gentle heat, while others can get downright toasty. The latter option isn't usually safe for patients suffering from numbness or neuropathy as it could lead to burns. But if you aren't suffering from loss of sensation in your lower limbs, a heating system can usually enhance your massage experience. Additionally, it's a great companion for frosty feet during the winter season.
Once again, both closed and open-design foot massagers utilize this type of massaging technique. Shiatsu is a massage therapy that was, for the most part, pioneered in Japan. Its name is derived from a Japanese phrase that implies "finger pressure," and it entails the targeted and rhythmic application of pressure to specific anatomical points on your body. In fact, it feels uncannily like a finger massage, where each point is held for 2-8 second intervals. Shiatsu practitioners consider these pressure points to be associated with pathways known as "meridians." If one stimulates said points with gentle pressure, one can allegedly improve their "chi" (read: vital energy) and optimize healing. Interestingly, in traditional Chinese medicine, several chronic illnesses are attributed to impediments in one's chi flow. Check out our list above to find the best shiatsu foot massager for you.
#2 Look Out For The Design Type
The design of your foot massager can significantly impact your overall massage experience. In a nutshell, there are two options available:
These portable foot massagers are generally more quieter, making them travel-friendly. However, they will only massage the soles of your feet, which means no attention to your ankles and calves. It is also not as efficient at massaging the arches. Nevertheless, it's usually low maintenance and budget friendlier.
Suffering from tight calves and ankles? This is the model for you! A highly popular design, this form of foot massager will work the sides of your foot, arches, heels, ankles, and calves. However, it requires more upkeep and can be rigidly erect, which some of the elderly who have problems with bending over and straightening may find uncomfortable. Its effectiveness may also vary with foot sizes.
#3 Deduce The Purpose
To decide which foot massager is the right fit for you and your lifestyle, you must first decide what function you require from it. For example, some models are designed to supply therapeutic effects like pain relief, inflammation and sores alleviation, and blood circulation improvement. Meanwhile, other models, such as an electronic foot ankle massager will simply deliver stress relief while easing tension in the muscles of your feet.
So, if you have an active lifestyle that involves regular jogging or running, or if you frequently dress in high heels, you are more likely to suffer from foot aches. This makes you a candidate for an advanced model that provides therapeutic benefits, such as a foot and calf shiatsu massager.
How To Use A Foot Massager?
This entirely depends on the type of foot massager you purchase.
These are cylindrical or round-shaped devices that one can manually roll their feet on. They come in single rollers or multiple rollers that cover the entire length of your foot.
These foot massagers don't demand manual exertion from its users. Instead, they do all the work for you! Using rolling as well as oscillatory movement, they are designed to cloud massage both feet simultaneously. All you require to do is switch it on and relax.
These involve the use of water in the form of water jets. Some come with manual foot rollers, others have motorized rollers that just require the customer to relax. The addition of essential oils into the water can give a more fragrant, spa-worthy experience.
Benefits Of A Foot Massager Machine
Improves blood circulation to the feet.
Improves ankle mobility and alleviates soreness induced by overuse, thereby preventing injuries.
Relieves stress and aids in decreasing anxiety levels.
Reduces cortisol (read: stress hormone) levels.
Alleviates pain and muscle spasms, especially in conditions like plantar fasciitis.
Manages edema (read: swelling) of the feet and ankles, especially in the third trimester of pregnancy.
Why Trust StyleCraze?
Aditi Naskar is a health & fitness enthusiast who believes that after long working hours, you need the best foot massagers that help soothe the sore muscles, improve flexibility, promote circulation, and boost energy levels. She has conducted thorough research and read multiple reviews to help her readers make the best pick. The products included in the list will get rid of foot tension and help you get a good night's sleep.
Frequently Asked Questions
Do foot massagers work?
Yes, they do. For most electrical foot massagers, all you require is a power outlet.
How long can I use a foot massager?
Ideally, foot massagers should be used for 20-30 minutes during each session. You could use it for longer if you think it will aid your condition.
Are foot massagers good for health?
An effective session can help reduce tension, stimulate muscles, and improve circulation, thereby alleviating pain and facilitating healing. Additionally, it can help relieve stress, lower one's blood pressure, and improve sleep.
Do foot massagers help with neuropathy?
Some foot massager models are good for diabetics suffering from neuropathy in their feet as it aids in improving blood circulation. However, always consult a physician prior to using any foot massager.
Who should not use a foot massager?
Anyone who is pregnant, has high blood pressure, has heart disease, or is fitted with a pacemaker or automatic implanted cardiac defibrillator must not use a foot massager without consultation from a certified doctor.
How many times a day should you use a foot massager?
You can safely enjoy using a foot massager up to 3 times daily. But start off slowly with one massage daily and gradually increase it to two and three.
Recommended Articles