10 Best Foot Massagers To Buy In 2020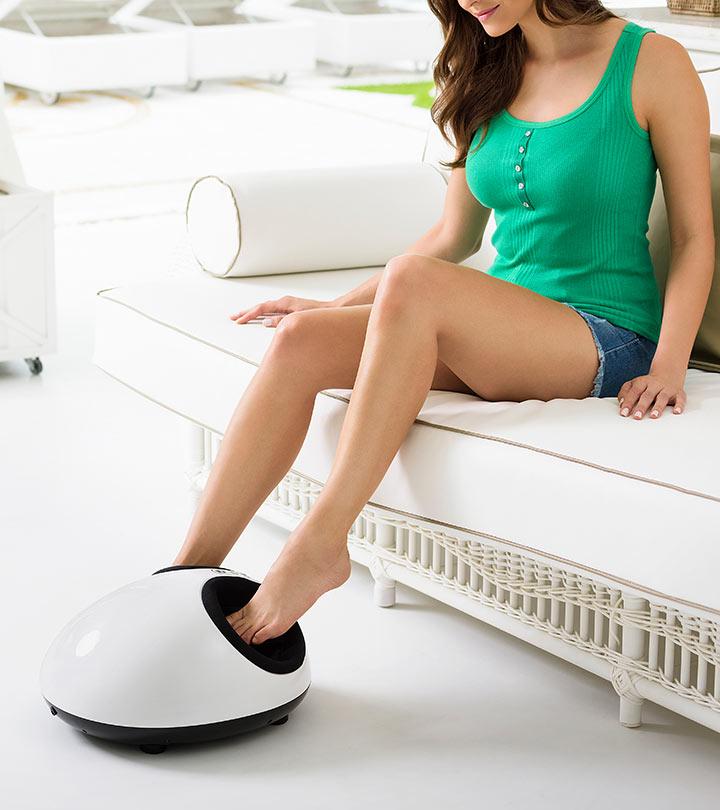 After a long day at work, nothing can be more comforting than a relaxing foot massage. If you are constantly on your feet all day or workout hard, a foot massage can help soothe your tired feet. No, you don't have to go to a spa or hire someone to do it. Here's an inexpensive way to pamper yourself – foot massagers.
Foot massagers relieve knots, stress, and soreness in your feet, promote blood circulation and stimulate your muscles. These devices are best for people with diabetes, and plantar fasciitis as the pulsing nodes send subtle vibrations into the deep tissues. We have compiled a list of the 10 best foot massagers after doing extensive research.
Before we get to the list, let's look at the different types of foot massagers.
Types Of Foot Massagers
Electrical Foot Massagers – These massagers are equipped with motors that vibrate in oscillatory motion. The rolling heads provide a deep kneading massage experience with the help of heat. They are powered by batteries.
Shiatsu Foot Massagers – Shiatsu massagers run on the Japanese deep kneading method. They use three or more modes like vibrators, rotating heads, and heating nodes. These massagers provide the experience of a therapist's hands.
Infrared Foot Massagers – These massagers are for the feet and calves. They use infrared and heat to heal sore muscles.
Let's now take a look at the top 10 foot massagers that can offer instant relief and relaxation.
Top 10 Foot Massagers For Instant Pain Relief
This foot massager is designed to relieve tightness and stress in the pressure points of your feet. It massages the bottom and sides of your feet by delivering soothing heat to the tired muscles. It features independent foot chambers that deliver shiatsu massage with gentle vibrations. You can select the heat settings independently for each chamber. This device is perfect for rejuvenating tired feet and aching leg muscles. The personalized message settings allow you to select the magnitude of strength, the message type, and temperature. Just switch on the device, kick back, relax, read a book or watch a movie, and let the device do its magic.
Pros
Has 5 adjustable pressure levels
Portable and compact
Washable cloth cover
Includes a wireless remote
Cons
None
HoMedics Triple Action Shiatsu Foot Massager delivers circular kneading shiatsu massage along the length of your feet. The device features triple rotational heads that massage the bottom of your feet thoroughly, delivering a human-like massage experience. It emits a subtle amount of heat to melt away tension and stress from your feet. The heat helps stimulate blood circulation and promote quick healing. This device is ideal for people with large feet as it has a spacious platform that can accommodate any shoe size. Another interesting feature is this foot massager is equipped with integrated controls that can be operated with your toes.
Pros
Easy to use
Portable
Instantly relaxes tense muscles
No discomfort or pain
Cons
None
Relax your feet with Belmint's Shiatsu Foot Massager. It comes with six massage heads for the feet and heels. This device is perfect for you if you have chronic pain or plantar fasciitis. You can enjoy a deep kneading foot massage experience with the touch of a button. This device is designed with a built-in heat function to give a warm sensation and improve blood circulation in your feet. It also has 18 deep-kneading nodes that are designed to target acupuncture points in your feet.
Pros
Diffuses tension and stress
Portable
Provides a warm massage experience
Reaches all sections of your feet
Cons
None
This electric foot massager is designed for therapeutic use. It has 11 variable speed settings with high motor control from 1,000 rpm to 3,700 rpm. This massager can be of great help to those with severe blood circulation issues. It eases muscle tension and alleviates joint pain. This foot massager is designed at an optimal angle for 100% comfort.
Pros
Oscillating foot massager
Promotes healthy blood flow
Easy and reliable
Relieves pain quickly
Cons
• Expensive
This compact design allows you to store it easily or carry along during travel. It has four pre-programmed massages for complete relaxation. The primary function of this foot massager is to specifically target pressure points in your feet through various techniques like pulsing, kneading, and rolling. It covers the toes, heels, and sides of your feet. It also has customizable modes that help create a personalized massage experience. You can choose from one of the four modes that use different massage motions to target specific areas.
Pros
Wireless remote control
Adjustable speed and mode settings
Relaxes stiff muscles instantly
Cons
• Can break easily
Renpho foot massager is equipped with a rotation ball, a rolling stick, and air compression. It relieves foot pain from plantar fasciitis, improves blood circulation, and promotes better sleep. The device is equipped with three deep kneading intensities and three adjustable air pressure levels. This one-touch device can be operated with a remote.
Pros
Promotes quick blood flow
Easy to maintain
Compact and portable
Durable
Cons
This automatic foot massager has four optional modes with multiple massage treatments like kneading, rolling, and rotating. These help release the pressure on feet and improve blood flow. You can easily operate this device as it features manual settings for speed, power, and direction.
Pros
Easy to store
Includes detachable fabric foot covers
Relieves chronic pain
Cons
This foot massager runs entirely on the remote control. You can set the power, control the heat settings, change time, and select the mode of foot massage. The kneading massage mode has a 15-minute auto shut-off timer with overheat protection to ensure your safety. This massager is perfect for people with plantar fasciitis.
Pros
Easy to use and clean
Removes knots on the foot
Cost-effective
Cons
This foot massager has two-speed settings, two heat levels, and two auto modes. It has six air pressure levels for different users. You can choose from a light foot massage to a deep kneading foot massage. It comes with a safety adapter with universal voltage. The massager can fit up to size 11.
Pros
15 minutes auto shut-off function
Easy to clean
Portable
Durable
Cons
This foot massager has two separate massage panels, equipped with 18 nodes. It targets specific pressure points to relieve pain and stiffness. The four massage modes help relieve stress in your toes, arches, and heels. It increases blood flow in your feet and helps you cope with plantar fasciitis. This massager is suitable for people with nerve damage, tired feet, and aching toes. It is the best foot massager for plantar fasciitis.
Pros
The heat helps relax your muscles.
Compact and easy to store
Affordable
Cons
Show your feet some TLC by investing in any of these foot massagers. Let's now understand what features you need to look for while purchasing one.
Features To Consider Before Purchasing A Foot Massager
The design of the foot massager plays a huge role in influencing your massage experience. Every foot massager has specific massage types and modes. Some massagers allow you to place your feet comfortably on the deck without enveloping them completely. They are usually lightweight and portable. These devices mainly focus on the soles of your feet. Other closed massagers work on the sides, soles, and arches of your feet. They combine two or three massage techniques for maximum benefits. These models are expensive and require more maintenance. Some models have a remote control feature with which you can personalize the massage technique.
Pick a massager that compliments your needs. If you are a busy person, high-intensity foot massagers are best. But if you require therapeutic massages regularly, pick a water-based foot massager. If you have chronic pain or plantar fasciitis, go for shiatsu foot massagers as they target the deep tissues. Some foot massagers are specifically designed to improve blood circulation and loosen tight muscles. But if you are looking for a variety of options, some foot massagers accommodate features like oscillating massage, deep kneading massage, combined with shiatsu massage, and heat massage.
Some massagers have rapid speed control, while others have medium speed control. These settings depend on the message type. If you choose a therapeutic foot massager, the speed settings are minimal. High-intensity foot massagers have high-speed control. However, it is always better to begin with, lower speed to help your feet get accustomed to the device.
Heat therapy helps relieve muscle pain and relax tightened joints. It brings instant relief to the arches of the feet by distributing the blood evenly.
Not all foot massagers are portable. If you wish you take the massager to your office or on your trip, pick an open design foot massager as it comes with a bag. Closed design massagers are comparatively heavier and bigger.
Keeping these points in mind, pick your favorite product from the list. Try it out and let us know how it worked for you by commenting below.
Recommended articles