Say Yes To Flawless Feet With These 10 Best Foot Soaks For Toenail Fungus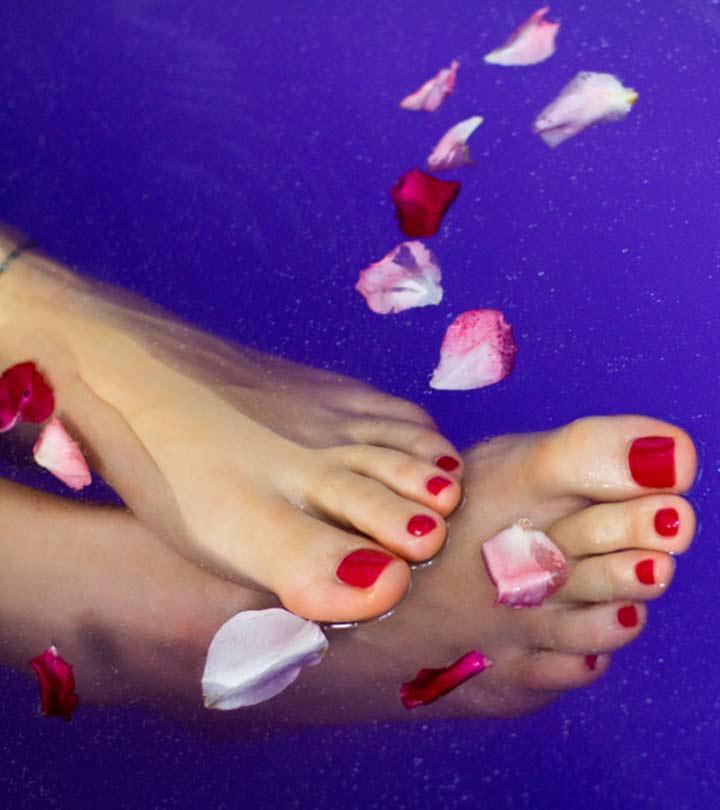 Foot infections, pretty much like any other infection, can make your daily living a challenge. Infections such as toenail fungus and athlete's foot can cause pain, and to make it worse, they can constantly make it difficult for you to pick a pair of shoes that you genuinely love. But the good news is that foot soaks infused with therapeutic ingredients such as Epsom salt and tea tree oil, when used regularly, can be life-changing. You'll see your symptoms improve, and you'll soon be able to witness feet that look and feel healthy and beautiful.
If you're ready to beat toenail fungus and pick your favorite pair of heels to take on the world, we recommend you try foot soaks, which are an easy and effective home remedy. And to make the search for a good foot soak for toenail fungus relatively easy for you, we're here to help with our carefully curated list of the 10 best foot soaks for toenail fungus.
10 Best Foot Soaks For Toenail Fungus – Our Top Picks
If your feet are stuffed in your shoes for most part of the day, getting little ventilation, this foot soak for nail fungus is all you need. Bid adieu to smelly feet with this tea tree oil and Epsom salt-infused foot soak that combats nail fungus and remediates athlete's foot. It is rich in ingredients such as peppermint oil, cajuput oil, camphor oil, rosemary oil, among other essential oils that moisturize and soften cracked heels, giving you healthy-looking feet. This foot soak for toenail fungus is suitable for those with sensitive skin and can also be used for managing eczema and psoriasis. Whether it is callus patch, heel pain, or foot discomfort, this foot soak is the right solution to opt for.
Pros
Softens skin
Provides relief from cracked heels
No synthetic fragrance
Free of dyes
Cons
If you're tired of constant foot aches from too much walking, this antibacterial foot soak for fungal infections can solve your problem. It is a blend of Epsom sea salt, sea salt, eucalyptus, lavender, spearmint, cajuput, and rosemary oil that provide instant relief from pain and irritation. This foot soak is worth the pick when you're addressing a range of foot issues such as odor-causing bacteria, toenail fungus, rashes, calluses, and athlete's foot. When you use this foot soak, you get to nourish your feet with natural ingredients sans fillers and binders. Just put on your favorite music, soak your feet in a blend of this foot soak and water, and unwind.
Pros
Battles fungus
Relieves aches and pains
Smooths skin
Eliminates odor
Free of preservatives
No artificial fragrance
Free of additives and harsh chemicals
Cons
The salt rocks may take some time to dissolve in water.
This potent combination of tea tree, Epsom salt, and mint can effectively ward off toenail fungus and bacteria, making your feet look and feel healthy and beautiful. These elements also help deodorize and refresh your feet while addressing aches. This unique blend of 7 oils makes a great detox blend that helps relax tired, dry, and sore feet. While Epsom salt and sea salt work on the muscles to remediate pain, the oils help moisturize the feet and get rid of cracks and patches when used regularly. If all you've been praying for is baby-soft feet, this tea tree oil foot soak for nail fungus is the answer to your prayers.
Pros
Providers rapid relief
Ideal for all skin types
Made in USA
Free of harsh chemicals
Cons
Some may not like the scent.
This tea tree oil soak for toenail fungus from M3 Naturals stands out from the rest for its rich formulation that constitutes stem cell and coconut oil. This unique blend not only fights toenail fungus with its antifungal properties but also promotes natural collagen production to make your feet look younger and healthier. It is also enriched with Dead Sea salt, Epsom salt, lavender, chamomile, rosemary, and spearmint essential oil that penetrate deep into the layers of the skin to keep your feet nourished. It also delivers anti-inflammatory and anti-aging benefits while increasing skin cell longevity— all that your feet require to look and feel flawless and free of fungus and bacteria.
Pros
Infused with essential oils
Boosts natural collagen production
Offers anti-aging benefits
Cruelty-free
Cons
May not offer intense moisturization
If you're prone to toenail infections, you need to consistently care for your feet, and this foot soak for athletes' foot and toenail fungus can help you do just that. It is a blend of powerful ingredients such as 100% pure essential oils, therapeutic Epsom salt, and Dead Sea salt that help refresh and rejuvenate your feet after a long and tiring day. While its therapeutic properties help combat toenail fungus, it is also a useful solution against odor and irritations. So, pick your favorite pair of peep-toe heels with full confidence as you use this foot soak as a toenail fungus treatment regularly for smooth and silky soft skin.
Pros
Extra strength formula
Skin-safe
Suitable for sensitive skin
100% natural formula
Fights bad odor
Eliminates calluses
Cons
No products found.
This is the foot soak recipe for toenail fungus that you need to eliminate fungi-nail, athlete's foot, and stubborn odor. Made from top-quality ingredients, this formula helps energize your feet so you can put them to work the next day without any aches and pains. Components such as Australian tea tree oil, eucalyptus oil, peppermint oil, rosemary oil, and lavender oil replenish the lost moisture and smoothness in your skin. This gentle formula can be conveniently added to your skin care routine at any time of the day. Just add it to a tub filled with water and let your feet soak in the goodness of the therapeutic ingredients in the foot soak.
Pros
Deodorizes
Gentle formula
Improves cracked heels
Antibacterial and antifungal
Cons
Some may find the scent intense
This antifungal foot bath infused with Epsom salt and tea tree essential oil is the holy grail you need for stress relief. While it helps banish toenail fungus and reduces inflammation, you can also use this effective foot soak for aromatherapy. Very often, foot odor is caused by fungus and bacteria, and this foot soak targets these odor-causing agents to relieve your feet of the funky smell. This foot soak also helps combat magnesium deficiency and offers relief from inflammation from sunburns and bug bites. Add a teaspoon of this foot soak to a tub filled with warm water and soak your feet to revitalize and relax them.
Pros
Exfoliates
Soothing to the senses
Can be used for DIY bath bombs
Free of additives and preservatives
Cons
Some may find the scent too faint.
This pleasant-smelling foot and bath soak from Pure Body Naturals is a powerful source of enzymes and antioxidants that help heal cracked skin and banish foot odor. Supercharging the goodness of Epsom salt are tea tree oil, eucalyptus oil, rosemary oil, and peppermint oil that are therapeutic in nature and help fight toenail fungus and symptoms of athlete's foot. It is suitable for all skin types including sensitive skin as it is free of preservatives, harsh chemicals, petroleum, and soy. Run some warm water in your bath and add this soak to enjoy an effervescent bathing experience.
Pros
Non-allergenic
Paraben-free
Vegan
Gluten-free
No GMO ingredients
Soy-free
Cons
The salt grains may take more time to dissolve.
If perfect feet seem like a far-fetched dream, this antiseptic foot soak is here to make it possible. Made from Epsom salt, sea salt, and a blend of 7 essential oils, this foot soak for toenail fungus can help repair dry skin, alleviate joint pain, athlete's foot, and get rid of unpleasant cutin. This certified all-natural sea salt foot soak for toenail fungus is free from synthetic fragrances, dyes, parabens, and preservatives. Soaking your feet in a tub filled with warm water by dissolving this foot soak is all you need to unwind and say goodbye to foot aches and lethargy.
Pros
Paraben-free
Free of alcohol
Cruelty-free
GMPC and SGS-certified
Cons
Some may not like the scent.
This foot soak from Foot Sense infused with tea tree oil naturally conditions and soothes tired feet, providing relief after a long day of walking and standing. Made from specially selected ingredients such as Epsom salt, eucalyptus oil, rosemary oil, peppermint oil, and a host of other essential oils, it helps loosen stiff muscles and blesses your feet with its antispasmodic and analgesic properties. It is also an ideal remedy for various skin ailments like ringworm, jock itch, and athlete's foot, providing relief from foot odor and leaving your feet smelling fresh and heavenly. If you have dry and patchy skin on your feet, it can also help moisturize and eliminate dryness. Give this natural foot soak for toenail fungus a try and get ready to flaunt beautiful-looking feet in your favorite pair of sandals.
Pros
Moisturizes
Talc-free
Eliminates odors
100% natural ingredients
Cons
May not be suitable for extremely sensitive skin
Buying the right foot soak for toenail fungus involves making an informed decision. You need to consider various factors, and we're here to help you with that with our buying guide.
How To Select The Best Foot Soak For Toenail Fungus
Foot soaks are a blend of salts and essential oils, and the most therapeutic ingredients include Epsom salt, Dead Sea salt, tea tree oil, lavender oil, eucalyptus oil, among various other essential oils. These oils have antiseptic, antibacterial, antifungal, and anti-inflammatory properties, and Epsom salt relieves aches. Ensure that your foot soak is ingredient-rich and has natural elements.
A foot soak for toenail fungus can also address various other skin issues when it contains additional ingredients meant for the specific skin issue. If you have psoriasis, eczema, foot aches, dry patches, cracked heels, etc. make sure that your foot soak has the right ingredients to remediate the skin problem.
Foot soaks contain salts. And sometimes, when the salt granules are too big, it might take more time for the granules to dissolve in the water. In fact, certain kinds of salts may not entirely dissolve when they're too big. This is why ensure that the size of the granules in your foot soak is such that they easily dissolve and let you enjoy a relaxing foot soak.
Since you will be leaving your feet to soak in the blend of foot soak for toenail fungus and water for around 15 minutes, you need to make sure that your foot soak is free of harsh chemicals that could irritate your skin. It is recommended that you look for a foot soak that is free of added fragrance, petroleum, dyes, preservatives, etc.
Now that you know how to pick the right foot soak for toenail fungus, here's a guide on how to use your foot soak the right way for best results.
How To Soak Feet For Toenail Fungus At Home?
Start off by running warm water in a tub.
Now mix about 1 teaspoon foot soak in the water and blend it to mix the salt granules well.
Soak your feet for 15 to 20 minutes.
Clean your feet with a towel and apply your favorite moisturizer to keep your feet hydrated and soft.
Toenail fungus can be hard to deal with, but with the right kind of foot care routine, a good foot soak, and a medical treatment (if needed), you can get rid of toenail fungus and keep your feet healthy. So, make the right decision and pick an effective product from our list of the 10 best foot soaks for toenail fungus. What's more? Soaking feet for toenail fungus by consistently using a good foot soak made from natural, therapeutic ingredients can also help dodge other foot-related problems such as psoriasis, calluses, cracked heels, and so much more! So, go head, lay your hands on the best foot soak, and say yes to beautiful-looking feet.
Frequently Asked Questions
Is soaking feet in Epsom salt good for toenail fungus?
Epsom salt can help relax your feet and increase the efficacy of various antifungal essential oils such as tea tree oil, neem oil, etc. Thus, Epsom salt is a beneficial ingredient for banishing toenail fungus.
How do you get rid of thick toenail fungus?
The best way to get rid of thick toenail fungus is by using extra strength tea tree oil foot soak infused with other essential oils and using it twice a day regularly for about 4 weeks.