The 10 Best Foot Soaks For Toenail Fungus You Can Try In 2023
Protect your toenails from pesky microbes by dipping them in these liquid products.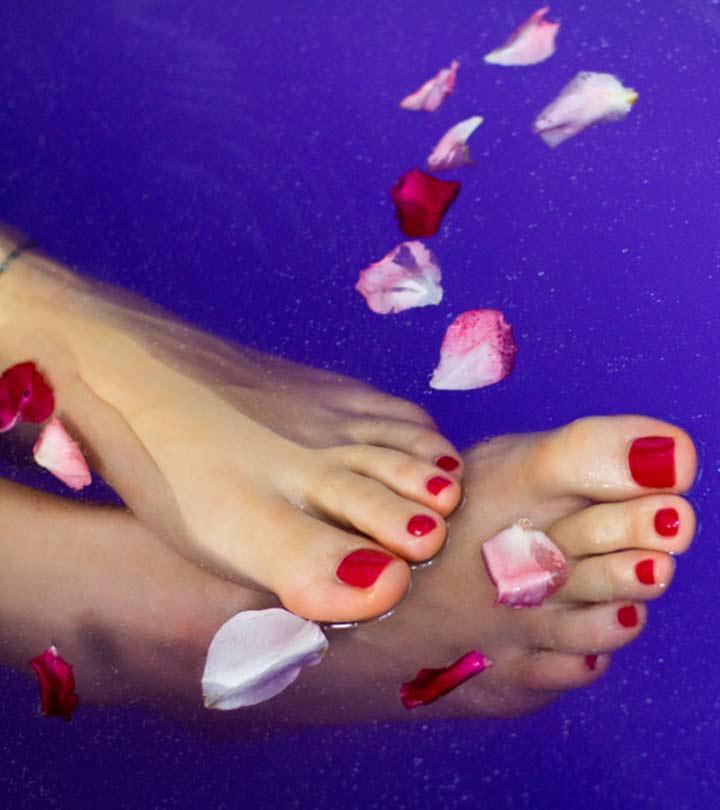 Our feet come into contact with dirt and microorganisms that can cause serious infections like toenail fungus. Apart from treatments and creams to reduce these infections, you can also use foot soaks. In fact, you can treat your feet to the best foot soak for toenail fungus elimination right in your house! Because we are on our feet almost every hour of every day (except when we sleep, of course!), when we get foot infections, it becomes painful. Even wearing your favorite pair of shoes becomes a challenge. But your knight in shining armor, aka foot soaks, is here to help!
Foot soaks contain ingredients like tea tree oil, lavender oil, and Epsom salt that have therapeutic effects. With regular use, you'll notice your infections decrease. You may even expect some skin care benefits like smoother and healthier foot skin. Keep reading to take a peek at the 10 best foot soaks for your infected feet! So say goodbye to infected skin, and hello to smooth and soft foot skin!
10 Best Foot Soaks For Toenail Fungus – Our Top Picks
Pros
Softens skin
Provides relief from cracked heels
No synthetic fragrance
Free of dyes
Cons
Price at the time of publication: $15.78
Pros
Battles fungus
Relieves aches and pains
Smooths skin
Eliminates odor
Free of preservatives
No artificial fragrance
Free of additives and harsh chemicals
Cons
The salt rocks may take some time to dissolve in water.
Price at the time of publication: $15.67
Pros
Providers rapid relief
Ideal for all skin types
Made in USA
Free of harsh chemicals
Cons
Some may not like the scent.
Price at the time of publication: $18.99
Pros
Infused with essential oils
Boosts natural collagen production
Offers anti-aging benefits
Cruelty-free
Cons
May not offer intense moisturization
Price at the time of publication: $24.99
If you're prone to toenail infections, you need to consistently care for your feet, and this foot soak for athletes' foot and toenail fungus can help you do just that. It is a blend of powerful ingredients such as 100% pure essential oils, therapeutic Epsom salt, and Dead Sea salt that help refresh and rejuvenate your feet after a long and tiring day. While its therapeutic properties help combat toenail fungus, it is also a useful solution against odor and irritations. So, pick your favorite pair of peep-toe heels with full confidence as you use this foot soak as a toenail fungus treatment regularly for smooth and silky soft skin.
Pros
Extra strength formula
Skin-safe
Suitable for sensitive skin
100% natural formula
Fights bad odor
Eliminates calluses
Cons
Price at the time of publication: $10.97
Pros
Relieves pain
Suitable for dry, cracked feet
Tackles foot odor
Removes calluses
Cons
Price at the time of publication: $29.99
Pros
Suitable for everyday use
Enriched with natural oils
Treats cracked heels
Softens calluses
Cons
None
Price at the time of publication: $12.95
Pros
Non-allergenic
Paraben-free
Vegan
Gluten-free
No GMO ingredients
Soy-free
Cons
The salt grains may take more time to dissolve.
Price at the time of publication: $12.95
Pros
 Easy to use
 Relaxed
 Calming
Cons
Price at the time of publication: $27.88
Pros
Contains natural essential oils
Additives-free
Cruelty-free
Removes dead skin
Pleasant tea tree scent
Suitable for everyday use
Cons
None
Price at the time of publication: $9.75
Buying the right foot soak for toenail fungus involves making an informed decision. You need to consider various factors, and we're here to help you with that with our buying guide.
How To Select The Best Foot Soak For Toenail Fungus
Foot soaks are a blend of salts and essential oils, and the most therapeutic ingredients include Epsom salt, Dead Sea salt, tea tree oil, lavender oil, eucalyptus oil, among various other essential oils. These oils have antiseptic, antibacterial, antifungal, and anti-inflammatory properties, and Epsom salt relieves aches. Ensure that your foot soak is ingredient-rich and has natural elements.
A foot soak for toenail fungus can also address various other skin issues when it contains additional ingredients meant for the specific skin issue. If you have psoriasis, eczema, foot aches, dry patches, cracked heels, etc. make sure that your foot soak has the right ingredients to remediate the skin problem.
Foot soaks contain salts. And sometimes, when the salt granules are too big, it might take more time for the granules to dissolve in the water. In fact, certain kinds of salts may not entirely dissolve when they're too big. This is why ensure that the size of the granules in your foot soak is such that they easily dissolve and let you enjoy a relaxing foot soak.
Since you will be leaving your feet to soak in the blend of foot soak for toenail fungus and water for around 15 minutes, you need to make sure that your foot soak is free of harsh chemicals that could irritate your skin. It is recommended that you look for a foot soak that is free of added fragrance, petroleum, dyes, preservatives, etc.
Now that you know how to pick the right foot soak for toenail fungus, here's a guide on how to use your foot soak the right way for best results.
How To Soak Feet For Toenail Fungus At Home?
Start off by running warm water in a tub.
Now mix about 1 teaspoon foot soak in the water and blend it to mix the salt granules well.
Soak your feet for 15 to 20 minutes.
Clean your feet with a towel and apply your favorite moisturizer to keep your feet hydrated and soft.
Why Trust StyleCraze?
Kirtana Divakar has a keen interest in skin care and loves to try on different skin care products. She has done extensive research on various foot soaks that tackle toenail fungus, read many customer reviews online, and compiled the list of best foot soaks for toenail fungus, making your choice easy. These foot soaks are made with ingredients that have therapeutic effects and help manage the infection at home.
Frequently Asked Questions
Is soaking feet in Epsom salt good for toenail fungus?
Epsom salt can help relax your feet and increase the efficacy of various antifungal essential oils such as tea tree oil, neem oil, etc. Thus, Epsom salt is a beneficial ingredient for banishing toenail fungus.
How do you get rid of thick toenail fungus?
The best way to get rid of thick toenail fungus is by using extra strength tea tree oil foot soak infused with other essential oils and using it twice a day regularly for about 4 weeks.
What do toenail fungus infections do to your toenails?
Toenail fungus is an infection that enters the nail through gaps or cuts in the skin and causes the nails to thicken, be discolored, and be weak.
How to treat toenail fungus?
To cure the fungus, you can use antifungal creams, gels, nail paint, and oral antifungal medicine.
Does vinegar soak work for toenail fungus?
Yes, the antifungal qualities of vinegar, as well as its acetic acid component, aid to whiten discolored toenails and prevent infection from spreading to other toes.
How long does apple cider vinegar take to cure toenail fungus?
It can take 2-3 weeks or more for apple cider vinegar to cure toenail fungus.
Recommended Articles: