13 Best Foot Soaks To Relax Your Tired Feet – 2023
Conquer foot fatigue with these organic, therapeutic, and detoxifying foot soaks.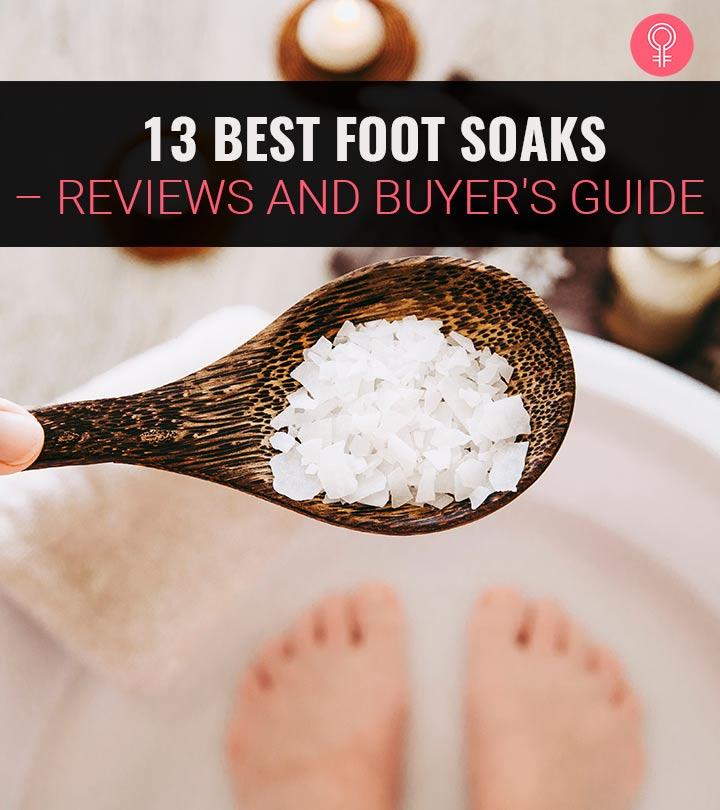 Foots soaks instantly relax and rejuvenate your feet and soul. The best foot soaks are effective, safe, therapeutic, and convenient. They help soothe aching and tired feet. They also help improve blood circulation and promote collagen production. Dry, cracked, rough, and callused skin can be easily removed by dipping your feet in a good foot soak. The healing properties of foot soaks moisturize the skin deeply and make the feet soft and smooth. They also help exfoliate dead skin cells, cleanse, and detoxify the skin. Foot soaks have antimicrobial properties that keep fungal infections and foot odor at bay.
Clearly, a good foot soak can help take care of your feet in every way. Here is a list of the best foot soaks you can buy right now. Scroll down!
13 Best Foot Soaks Available Right Now
FineVine Organics Tea Tree Oil Foot Soak helps in treating various foot ailments, including toenail fungus, calluses, athlete's foot, and smelly feet. This unique proprietary blend of seven oils – tea tree, peppermint, eucalyptus, camphor, cajuput, lavender, MSM, and rosemary – is perfect for relieving aching feet and softening calluses. The Epsom and sea salts in it are a perfect remedy for exhausted, sore feet. This foot soak is easy to use and perfect for pedicures. It is antifungal and helps you get soft, healthy feet.
Pros
Treats athlete's foot and fungal infections
Softens calluses and cracked skin
Soothes sore and tired feet
Suitable for pedicures
Deodorizes smelly feet
Made with all-natural and organic products
Cons
None
Price at the time of publication: $16.97
This 100% natural tea tree foot soak is therapeutic. It helps alleviate toenail fungus, athlete's foot, and stinky foot odor. It has rosemary oil, oregano oil, and Epsom salt that helps in softening dry, callused heels. This foot soak is free from synthetic fragrances as it is formulated with 100% natural ingredients. It gently refreshes your feet and helps soothe sensitive skin. It can be used to relieve itchiness from psoriasis or eczema. It is a perfect remedy for people who spend long hours standing and have pain due to plantar fasciitis or ingrown toenails.
Pros
100% natural
No synthetic fragrance
Gentle formula
Suitable for skin with eczema and psoriasis
Keeps your feet odor-free
Cons
None
Price at the time of publication: $15.78
Epsoak Tea Tree Oil Foot soak is made with nine natural ingredients that help treat fungal infections, calluses, corns, and rough heels. The fine-grain blend of Epsom and Dead Sea mineral salts dissolves quickly to create the perfect foot soak. Essential oils of tea tree, eucalyptus, lavender, camphor, and rosemary along with MSM help in soothing tired feet and eliminating foot odor. This foot soak helps in relieving itchy feet and softening cracked heels so your feet feel soft, rejuvenated, and clean.
Pros
Professional quality
Cruelty-free
Relieve tired, achy, and itchy feet
Treat symptoms associated with athlete's foot and nail fungus
Soften corns, calluses, and rough heels
Dissolves quickly in warm water
Cons
None
Price at the time of publication: $9.75
Tru Remedy Naturals Funga-Tree Foot Soak is enriched with organic oils such as peppermint oil, wintergreen oil, spearmint oil, eucalyptus essential oil, tea tree oil, menthol, and mineral salts. It has a refreshing minty fragrance that helps in soothing tired, achy, and itchy feet while deodorizing any foul smell. This foot soak is made with high-quality ingredients that are helpful in healing cracked heels, athlete's foot, and nail infections. It is easy to use, dissolves quickly, and can be used safely in any foot spa, foot bath, foot basin, or soaker.
Pros
Natural ingredients
Dissolves quickly
Premium quality
No synthetic fragrances or dyes
Cruelty-free
Gluten-free
Paraben-free
Cons
Price at the time of publication: $11.99
FineVine Organics Daily Remedy Calming Lavender Foot Soak leaves your feet clean and healthy. It has moisturizing ingredients like jojoba oil, aloe vera, and vitamin E that soften calluses and cracked heels. Aloe vera also has anti-inflammatory properties that help in relieving aches and pains. The skin-friendly, natural, antifungal ingredients in this foot soak fight infections without causing any irritation.
Pros
Soothes the feet
Antifungal properties
100% natural
Moisturizes the skin
Vegan
Paraben-free
Gluten-free
Doctor-approved
Cons
None
Price at the time of publication: $16.97
ASUTRA Magnesium Chloride Bath Flakes get absorbed by the skin more quickly than Epsom salts (magnesium sulfate). These flakes are more effective than oral pills as they can be absorbed through the skin. The therapeutic properties of this foot soak include soothing muscle cramps, alleviating the symptoms of PMS, and providing relief from aching feet, headache, anxiety, and stress. It is recommended by doctors for soothing psoriasis and eczema as it stimulates collagen production. Magnesium also helps in boosting the immune system, relieving constipation, and regulating bladder function. You will also feel refreshed and rejuvenated after using these bath flakes as they increase the energy levels in the body.
Pros
Soothes aching feet, muscle cramps, and joint pains
Provides relief from stress, anxiety, and headache
Gets absorbed quickly
Recommended by doctors
Soothes eczema and psoriasis
Non-greasy
Effective and fast-acting
Promotes good sleep
Cons
None
Price at the time of publication: $19.99
Foot Cure Tea Tree Oil Foot Soak is a blend of Epsom salts and essential oils that pamper your tired feet. They are made with natural ingredients, so they do not cause any skin irritation or skin problems. In fact, they soften and smoothen dry calluses and cracked heels and soothe inflamed skin. The antibacterial and antifungal properties of this foot soak help in getting rid of pesky foot infections such as athlete's foot, toenail fungus, etc. It also hydrates the skin so your feet feel soft to touch.
Pros
Soothes tired, sore, and itchy feet
Fights fungal infections
Combats foul odors
Fast-acting
Softens feet and toenails
100% natural ingredients
Gentle and skin-friendly
Cruelty-free
Cons
None
Price at the time of publication: $12.97
Better Bath Better Body Lemon & Peppermint Detox Foot Soak is made with ethically sourced natural ingredients such as Epsom salts and certified pure essential oils. The fine grain of this foot soak dissolves quickly. Thus, it acts more efficiently to help detox and soothe the body. It has four therapeutic essential oils – lemon, lavender, frankincense, and peppermint – that also serve as aromatherapy. The vitamin C crystals help in neutralizing the chlorine and ammonia in the water.
Pros
All-natural ingredients
Fine grains dissolve quickly
Certified pure essential oils
Handmade
Comes in a BPA-free pouch
Easy pres-and-lock seal
Ethically sourced
Cons
Need to use huge quantities for optimum results
Price at the time of publication: $17.95
Johnson's Foot Soap Quick Dissolving Powder helps soften corns and calluses. It also relieves soreness, itching, and burning sensation. The baking soda in it neutralizes unwanted odors and refreshes your feet. Simply dissolve the powder in warm water and soak your aching, tired feet for 10-20 minutes in it. The soak will melt away all your tiredness and exhaustion while making your feet feel soft and healthy.
Pros
Dissolves quickly
Soothes tired, aching feet
Softens corns and calluses
Relieves soreness, itching, and burning
Refreshes the feet
Cons
None
Price at the time of publication: $19.93
ASUTRA Freshen Your Feet Therapeutic Foot Soak contains Dead Sea salts that have more than 20 natural healing minerals which can detox and revitalize your feet. This foot soak softens corns and calluses while the essential oils help in improving the blood circulation. This helps in calming and relaxing the body so you don't feel stressed or anxious. Itching, bad odor, and infections can also be kept at bay by using this foot soak regularly. It comes with a pumice stone that gently exfoliates your skin, leaving behind smooth and beautiful feet.
Pros
Natural pumice stone included
Improves blood circulation
Hand-blended
Promotes sleep
Reduces swelling
Reduces stress and anxiety
Relieves itching and burning
Fights foot odor
No artificial ingredients
Cons
Poor-quality pumice stone
Price at the time of publication: $15.99
Sky Organics Tea Tree Foot Soak has an invigorating fragrance that can lift up your spirits instantly! It is made with a blend of essential oils – lavender, eucalyptus, tea tree, and peppermint – that soothe and revitalize the feet. This foot soak contains Epsom salts and Dead Sea salts that have therapeutic benefits. It can help soften calluses, corns, cracked heels while relieving aching, tired feet. This premium foot soak is responsibly made with safe ingredients.
Pros
Softens feet
Soothes pain and aches
Vegan
Cruelty-free
Gentle formula
Refreshing scent
Organic
Fast-dissolving formula
Can be used as an exfoliating scrub
Cons
None
Price at the time of publication: $9.99
Dr. Teal's Epsom Salt Foot Soak is made with 100% natural and pure magnesium sulfate that soothes tired feet and neutralizes foot odor. This therapeutic foot soak relaxes muscles, promotes sleep, and softens the skin while cleansing it gently. Heal your rough, callused feet with this natural remedy.
Pros
Revitalizes the feet
Cruelty-free
Soothes tired and aching feet
Eliminates foot odor
Made with 100% pure magnesium sulfate
Cons
Price at the time of publication: $11.86
Lilliuma Relaxify Foot Soak is made with pure Mediterranean sea salt that rejuvenates your feet. It is blended with the essential oils of lavender, frankincense, and chamomile that pamper your feet and offer a relaxing aromatherapy experience. It is made with high-quality natural ingredients in the USA.
Pros
Soothes the feet
Relax the body
Cruelty-free
No animal products
BPA-free packaging
Pleasant fragrance
Cons
None
Price at the time of publication: $17.95
Those were our picks of the best foot soaks available right now. Let us now look at the things to consider before choosing a foot soak.
Foot Soak – Buying Guide
The most important thing to consider is the ingredients of the foot soak. Make sure that they are natural and free of toxic chemicals. Ensure that you are not allergic to the essential oils used in the preparation of your chosen foot soak. Generally, foot soaks are safe to use and do not irritate the skin. Some of the common ingredients found in foot soaks are:
Epsom salt
Dead Sea salt
Tea tree oil
Lavender essential oil
Eucalyptus essential oil
Peppermint oil
Camphor
Rosemary
Baking soda
Foot soaks are primarily used for relaxation as they improve blood circulation and relieve pain. They are effective in fighting fungal infections such as athlete's foot and toenail fungus. They also reduce stress and soften calluses and corns. Foot soaks can help in promoting sleep and even cure constipation. They are known to soothe inflamed skin conditions such as eczema and psoriasis. Muscle cramps, headaches, and anxiety are also relieved by foot soaks. So, make sure you check out the therapeutic benefits offered by a foot soak before you buy it.
Why Trust StyleCraze?
The author of this article Shiboli Chakraborti is a certified skin care coach. She loves to explore different products used in skin care and always comes up with the best for the readers. The list of best foot soaks was curated by her after thorough research. These foot soaks have multiple benefits and are made with ingredients that exhibit a therapeutic effect to rejuvenate you after a stressful day.
Frequently Asked Questions
What is a good foot soak for diabetics?
The Purely Northwest Tea Tree Oil Foot & Nail Soak is a good foot soak for diabetics. It contains Epsom salt, a recommended ingredient in foot soaks for people with diabetes.
Can you soak your feet in hydrogen peroxide?
Yes, take one part hydrogen peroxide and three parts lukewarm water to soak your feet. This process helps prevent athlete's foot fungus and softens stubborn calluses.
What is a good foot soak for yellow nails and athlete's feet?
Use baking soda and water for yellow nails and athlete's feet. You may also use Tru Remedy Naturals Funga-Tree Foot Soak to get rid of nail infections and soothe itchy feet.
Is it OK to soak feet in Epsom salt every day?
No, soaking your feet in Epsom salt every day may cause dryness and itchiness.
Does soaking your feet in apple cider vinegar help neuropathy?
Yes, soaking your feet in apple cider vinegar helps ease nerve pains and offers temporary relief to neuropathy.
Recommended Articles