10 Best Foot Spas Massagers Of 2022 To Soothe Your Feet
Treat your feet with refreshing and nourishing foot soaks at the end of long days.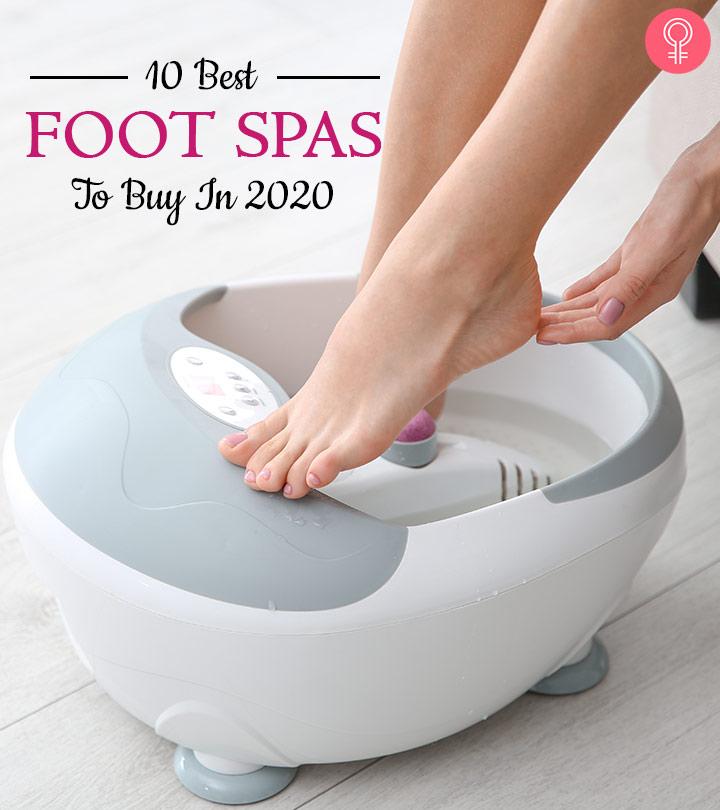 Our feet go through more than we imagine. Be it tolerating the burden of walking on heels, staying enclosed in shoes, or walking on the cold surface all day, it all leads to hardening your soles and wrinkling of the skin. Owning the best foot spa can help you relax your weary feet and get them pretty again because just a pedicure is not enough to revive the feet muscles and relax the tension. To make sure you have happy feet again, here are the 10 highest-rated foot spas to invest in. 
Top 10 Foot Spas Of 2022
Conair Active Life Waterfall Foot Spa pampers and revitalizes your feet with a massage and spa experience in the comfort of your home. It has a flowing waterfall feature that relaxes the top of your feet with a gentle massage. The massaging foot rollers on the base of the foot spa help soothe the soles of your feet.
The Conair foot spa has three modes to give you maximum relaxation – heat, bubbles, and waterfall. The package also includes three pedicure attachments – a scrub brush, a pumice stone, and a soft-touch massager. There are two exfoliating loofah disks on the top surface of the foot spa that can be used to soften rough skin and massage tired feet.
Pros
3 toe-touch push-buttons
3 pedicure attachments
2 loofah discs for exfoliation
LED lights
Waterfall feature for complete relaxation
Foot rollers for massaging the soles
Non-slippery
1-year warranty
Deep reservoir helps fully immerse feet
Lightweight
Cons
None 
Ivation Foot Spa Massager boasts of multiple features that make it one of our top contenders for the best foot spa category. It has two rollers that massage your tired soles and an intense vibration that helps boost blood circulation in your feet. The oxygenating bubble action helps relieve pressure and pain from your feet.
You can control the water temperature and intensity of the massage. Several water jets create thousands of calming bubbles and help soothe pain and pressure. If you are an athlete or someone who works on their feet all day, you are going to cherish this foot spa for all its incredible foot-loving benefits.
Pros
Easy to use
LCD
Motorized rollers
Vibrating massage
Comes with time feature to track duration
Suitable for large feet
Includes pumice stone and brush
Contains acupressure pedicure attachments
Adjustable temperature setting
Provides heat, bubble and massage options
Cons
None 
ArtNaturals Foot Spa Massager feels like a mini-whirlpool with an elegant yet attractive design. It is perfect for relaxing your feet after a long and tiring day. After spending the entire day working on your feet, this foot spa from Art Naturals is the perfect excuse to kick back and relax with a glass of wine or your favorite book in your hand.
The nodes and rollers help ease out any tension in knots or sore spots on your feet. You can also add foot salts or your favorite essential oils for a more therapeutic or authentic spa experience as you desire. The inbuilt digital display and temperature controls allow you to customize your spa time perfectly. Watch an honest review of this product in this video.
Pros
Built-in digital display
Built-in red light
Easy to use
Can be used with essential oils or foot salts
Adjustable temperature settings
Lightweight
Portable
Made with BPA-free materials
Heats water rapidly
Maintains water temperature
Cons
May not work for larger feet.
Kendal All In One Foot Spa Bath Massager is a popular choice that combines 3 modes of treatment to help you relax and unwind at home – heat therapy, high-frequency vibration massage, and oxygen bubbles massage. It helps stimulate blood circulation, improves your metabolism, and relieves exhaustion.
Another highlight of this device is that it is self-draining, and comes with a drainage hose for this purpose. So you don't have to worry about lifting a massive tub, and tilting it to drain the water without spilling and creating a mess. It also heats your water quickly and maintains a constant temperature so you can enjoy your pedicure in peace. Click here to watch an honest review of this product.
Pros
Removable massage rollers
Wheels for portability
Heats quickly
Maintains constant temperature
Quiet operation
Self-draining device with drainpipe
High-temperature resistance
ETL certified device
Soothes arthritic feet
Cons
Pamper your feet with the Plohee Foot Spa Massager. This massager relieves fatigue, promotes blood circulation, and improves metabolism. The massager is equipped with a Shiatsu roller, sole and side scraping, and customized temperature control. A user-friendly control panel assists in easy operation.
You can add any essential oil to the medicine box to enjoy the pleasant fragrance.  The scraping tools help remove unwanted dead skin cells, while infrared light disinfectors improve circulation and sterilize effectively. Additionally, the foot massage helps to have a relaxed sleep and detoxed body.
Pros
Self-drainage
Movable wheels
Noiseless operation
Portable handle
Dustproof cover
Cons
Some users experienced leaks
Enjoy a comfortable foot massage at your home with the ACEVIVI Foot Spa. It is equipped with motorized massage rollers, a rotating pedicure stone, and a temperature controller. Relieve fatigue and stress from your body with its heating therapy and oxygen bubbles.
This foot spa comes with three massage modes to comfort your toes, heels, and ankles. The PTC heater maintains a consistent temperature by providing overheating protection. Additionally, you can customize the water temperature ranging between 35℃ to 48℃. Similarly, you can also set the massage time between 10 minutes to 60 minutes. Here's an honest review of this product.
Pros
Self-drain system
Retractable handle
Dust cap
Detachable wheels
Cons
Some experienced less strength in rollers
HoMedics Bubble Mate Foot Spa claims to treat your feet with an invigorating bubble massage and soak all the tiredness from your feet. It contains raised nodes for a gentle foot massage. The best part is, it claims to maintain the water temperature and keep the water warm until the end of your massage session.
The foot spa also features a removable pumice stone that you can use to soften calluses and remove dead skin. The design prevents spills and splashing, so you carry it around without worrying about any mess. The toe-touch control lets you work the machine efficiently without having to reach down to make any adjustments.
Pros
Easy to use
Toe-touch control
Removable pumice stone
Bubble massage
Integrated splash guard
Raised nodes to soothe feet
Affordable
Spacious and comfortable for larger feet
Cons
Water cools quickly.
Not durable
Loud operation
Guisee Foot Spa Bath Massager provides warmth and comfort to tired heels, toes, ankles, and arches. It is perfect for athletes and professionals whose work requires them to be standing or moving for most of the day. The Guisee foot spa has automatic motorized massage rollers that apply pressure on acupuncture points on your feet to help you relax.
The therapy used in this foot spa massager blends shiatsu, acupressure, red light, heat, and oxygen bubble massage to improve metabolism and relieve exhaustion. All features are customizable according to your needs for a more personalized experience. Set the temperature between 35℃ to 48℃, and enjoy a perfectly relaxing massage anytime you want.
Pros
Wheels for easy portability
Drainpipe to empty the tank after use
Ergonomic design
Quiet operation
Automatic motorized massage rollers
Adjustable temperature controls
Extra compartment for adding bath salts
Cons
Expensive
Quality control issues
May be unsafe to use.
Nursal Foot Spa Massager has a unique and effective heating system. The speed heating technology quickly heats the water and maintains it at a constant level. You don't need to add hot water during the massage session. The oxygen bubbles help in relieving fatigue, stimulating blood circulation, and improving metabolism.
The 11 mini multi-rollers give your tired feet a kneading massage and provide relief from aches and soreness. However, these rollers are not motorized, so you will have to move your feet to massage them properly. The digital control buttons and LED display let you tweak the settings so you can enjoy a massage perfectly customized to your needs.
Pros
Heat-resistant plastic body
Multi-insulation protection
Digital control buttons
LED display
Removable foot massagers
Heats water quickly
Maintains constant temperature
Cons
Non-motorized massage rollers
Bubbles are not very strong.
Noisy operation
Not suitable for large feet.
Relieve pain while pampering your feet with the Galvolt Foot Spa Massager. It is equipped with a pumice stone, Accu-point nodes, temperature/mode control, and a massage roller. The massager kit also includes foot soak salt that offers luxurious spa treatment.
It is made with high-quality translucent ABS material that allows you to see the water level precisely. This massager provides bubble action, vibration, and heat massage to remove stress, relieve fatigue, and pamper your feet. In addition, the Accu-notes present at the bottom of the tub relieves tension, and the massager is designed to provide quick heating.
Pros
User-friendly controls
Removable massage rollers
Ergonomic and elegant design
Wheels for portability
Cons
May experience water spillage
That was our round-up of the best foot spas of 2022 that you definitely need to check out. But before you do that, take a look at this comprehensive buying guide that will surely help you make the right choice when it comes to purchasing a foot spa machine to use at home. 
A Complete Buying Guide For Foot Spa Machines
If you are wondering whether or not a foot spa or a bath massager is worth investing, here are a few of the benefits it offers.
Surprising Benefits Of Foot Spas 
1. Decrease Stress Levels
A foot spa helps relieve tension that accumulates in our feet from standing and walking all day. Soaking your feet in warm water is extremely beneficial. At the end of the spa session, you will feel significantly more relaxed, and your stress levels will also be much lower than before using the foot spa.
2. Improve Blood Circulation
Using a foot spa stimulates blood circulation in the feet and legs. The massaging rollers on the base of the foot spa are specially designed to promote blood circulation, which helps increase your energy levels.
3. Relieve Arthritis-Related Pain
A foot spa is relaxing and helps get rid of pain and tension in the joints and muscles, which is why it is particularly useful for people with arthritis. Using a foot spa every morning and evening can help soothe pain in the joints, especially with some seaweeds added to the water.
4. Reduce Headaches
There are several nerve points on the soles of your feet. Even a simple foot massage can stimulate these nerve endings and lead to less frequent headaches. It is a helpful tool for migraine patients, who can use foot spas to reduce the frequency and intensity of their headaches.
5. Treat Indigestion And Acidity
As mentioned above, a foot massage stimulates nerve endings in your feet. A significant effect of this is improved metabolism due to reduced acidity in the stomach. If you have trouble with indigestion and acidity, a foot spa may be a fun and relaxing way to treat it.
6. Help Treat Insomnia
The particularly stressful lives that many of us are living today thanks to corporate culture is a huge pain. But a foot spa may help us deal better with this issue. The relaxing benefits of a foot spa can help you relax enough to sleep better, primarily when used before bedtime.
7. Aid Detoxification
Along with blood circulation, foot spas are also helpful in eliminating toxins from your body, mainly through lymphatic drainage. Detoxification helps your body maintain a healthy pH balance and strengthens your immune system.
Check out our comprehensive guide on how to do a foot spa at home here.
Read on to know the different features and purposes of varying foot spa models. It will help you narrow down your choices and pick the product that suits you best.
What To Look For When Buying A Foot Spa Machine
1. Ease Of Use
A foot spa is usually reasonably easy to use. The controls should be simple to operate, and the user manual should ideally clear any remaining doubts. The device should have adjustable settings for both temperature and massage intensity.
2. Budget
Foot spas come priced differently based on the brand value and the kind of features they offer. Higher-priced models may boast high-end features, such as motorized massage rollers. Make your choice based on which product provides maximum value for money.
3. Heat Function
Some foot spas have an inbuilt heater that warms your water no matter how cold it is when filled. Others have a small heating element that is more focused on maintaining a constant temperature for the 15-20 minutes it is used. A foot spa with an inbuilt heater will obviously be more expensive, so pick one based on how important this feature is to you.
4. Size
While foot spas have a standard size, there are a few models where users have complained that the tub wasn't spacious enough for their feet. If your feet run large, it might be best to try a foot spa for size before purchasing one for your home.
5. Massage Rollers
All foot spas have massage rollers on the base to provide a stimulating massage to the soles of your feet. Depending on the models, what changes is the number of rollers and the fact of whether the rollers are manual or motorized. The difference lies in your experience of the machine: in manual rollers, you will have to move your feet forwards and backward for the massage to be effective.
6. Drainage Function
Some foot spas have a drainpipe or a drain hole that helps empty the tank without you having to lift the tub and tilting it over. It makes cleaning up a lot more convenient.
7. Noise
The massage and bubble function in foot spas is not entirely silent, but choosing a less noisy product is better, so you can enjoy other activities without being disturbed by the machine.
A foot spa is quite a low-maintenance device. Here are a few tips on how to care for your foot spa.
Foot Spas – Cleaning And Maintenance 
Do not pour water accidentally over the power button or controls, especially while filling or emptying the basin.
Allow the device to cool down completely before cleaning it.
Use a mild cleanser and wipe the unit with a soft clean cloth.
Never submerge the unit in water.
Avoid using a foot spa for longer than the recommended time as it may cause overheating and lead to safety hazards.
If your busy schedule is making your feet hurt, a foot spa is the most relaxing quick-fix for it. A warm foot soak and massage is an excellent way to drown your tiredness. Get one today and pamper your feet! Which of these foot spas did you like best? What is your preferred method of doing a foot spa at home? Let us know your thoughts in the comments section below.
Why Trust StyleCraze?
The author, Sakshi Bahal, loves to review lifestyle and wellness products. She went through numerous reviews on multiple online forums and brand websites to curate this list of the best foot spa massagers for her readers. The products in this article help relax your weary feet and rejuvenate them. They may also decrease stress levels, improve blood circulation, and aid in detoxification.
Frequently Asked Questions
Is foot spa safe during pregnancy?
Yes, foot spa is recommended during pregnancy. It relaxes and soothes your body while relieving you from pregnancy-related discomfort.
Are foot spas good for plantar fasciitis?
Yes, foot spas are good for plantar fasciitis. They help in eliminating strain in your feet and reduce soreness.
Are foot spas and foot massagers the same thing?
Yes, but a foot spa offers a wider experience than a foot massager. In fact, an overall foot spa therapy involves a foot massager along with immersing your feet in hot water and removing dead skin cells from your feet. However, a foot spa equipment and a massager both help eliminate soreness from your feet.
How long should I use a foot spa machine?
You may use a foot massager for 10 to 15 minutes. Use it up to three times a day for the best results.
Are all foot spas heated?
No, not every foot spa has a heating element. Some work with heating therapy while some offer oxygen bubbles massage and high-frequency vibration therapy.
Recommended Articles