10 Best Forest Essentials Products In India (2023)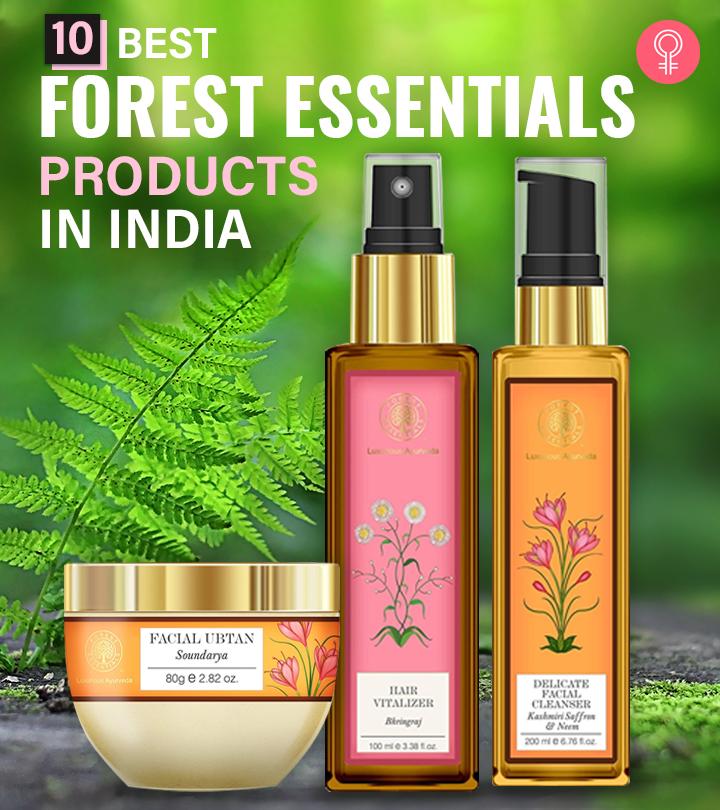 Forest Essentials is a luxury Ayurvedic skin care brand that blends traditional and modern beauty techniques. It was founded by Mira Kulkarni in 2000. Forest Essentials products are known for being organic, cruelty-free, and all-natural. They are made with seasonal ingredients while maintaining utmost purity and high quality. They are a blend of organic oils, Indian herbs, and their pure extracts and are filled with nothing but goodness. Despite being slightly expensive, these Forest Essentials products are worth every penny! We have put together a list of all the best Forest Essential products from their wide skin care and hair care range. Scroll down and check them out! 
Top 10 Forest Essentials Products In India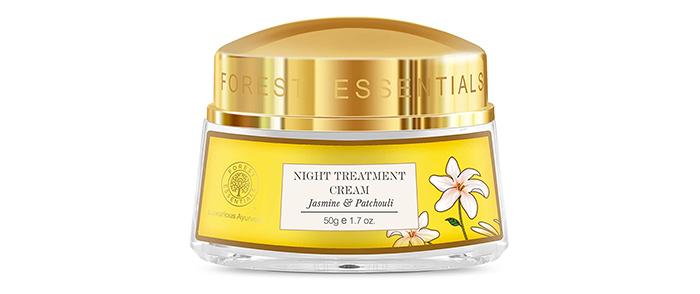 Forest Essentials Jasmine &Patchouli Night Treatment Cream is formulated especially for oily skin. This night cream encapsulates the richness of herbs, moisturizers, and enzymes that include jasmine and patchouli. These ingredients help in soothing the skin while neutralizing the oil production to give you an even skin tone. This cream also hydrates and balances the nourishment levels and slows down skin aging. The rice bran and organic olive extracts focus on tightening, retaining, and improving the elasticity of the skin. It also contains the goodness of sweet almond oil, kokum butter, and turmeric extract.
Pros
Moisturizes and rejuvenates the skin
Regulates sebum production
Evens out the skin tone
Improves the skin texture
Slows down skin aging
Sweet jasmine fragrance
Makes the skin softer and smoother
Diminishes redness on sensitive skin
Suitable for oily and combination skin
Cons
Price at the time of publication: ₹3150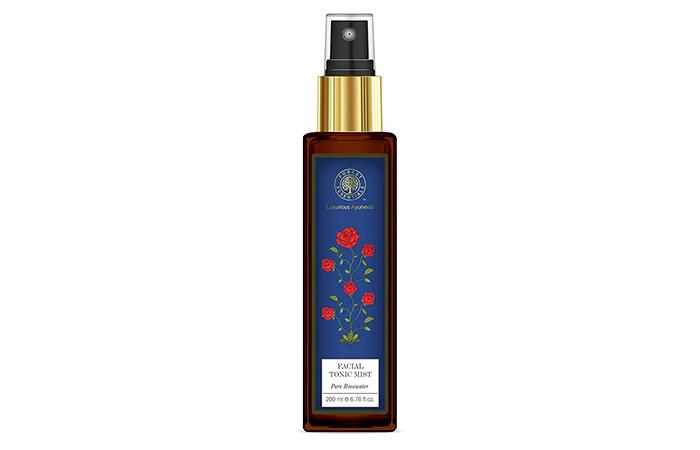 Forest Essentials Pure Rose Water Facial Toner is sourced from the high-quality roses from the luxuriant city of Kannauj. This pure extracted rose water is steam distilled from rose petals. This toner is extremely light on the skin. It naturally hydrates your skin while leaving behind an amazing lingering fragrance. Every spritz of this rose water toner is moisturizing, cooling, and soothing. It ensures to deeply hydrate and tone your skin and prepare it for a nourishing skin care routine.
Pros
Hydrates the skin
Increases skin elasticity
Revives and replenishes dull skin
Minimizes enlarged pores
Cons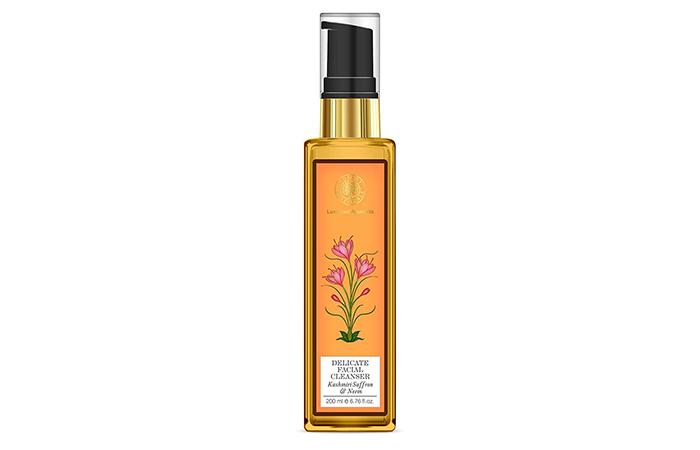 Forest Essential Kashmiri Saffron & Neem Delicate Facial Cleanser is the secret to achieving flawless skin. This facial cleanser thoroughly removes dead cells and toxins to unclog your pores. It also helps in removing makeup without stripping away the skin's natural oils and moisture. Neem helps control acne and heals the skin, and saffron adds natural radiance and glow while infusing moisture into the skin. This cleaner is gentle and an exceptional alternative to the harsh sulfate-based cleansers. It is specially formulated for sensitive, oily, combination, and acne-prone skin. It leaves your skin glowing and balanced after each use, and does not dry out or irritate it.
Pros
Controls sebum production
Prevents acne
Unclogs pores
Reduces blemishes and redness
Deep cleanses the skin
Adds a natural radiance
Minimizes enlarged pores
Removes makeup
Retains the skin's moisture
Sulfate-free
Paraben-free
Petrochemical-free
Cons
Leaky nozzle
Not suitable for oily skin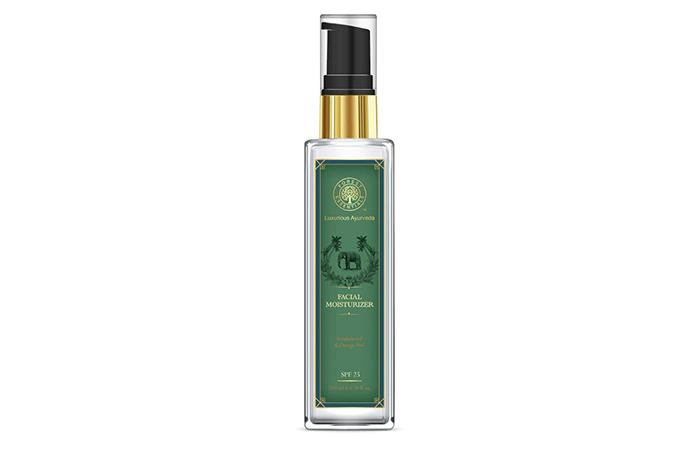 Forest Essentials Sandalwood & Orange Peel Facial Moisturizer is loaded with antioxidant, healing, and moisturizing properties. It contains the richness and goodness of basil, ashwagandha, sandalwood, orange peel, and barley protein. All these natural extracts help in reducing the harmful effect of free radicals and in providing hydration and nourishment to the skin. This lightweight moisturizer gets absorbed easily. It penetrates deep into the skin to provide essential nourishment, restore elasticity and firmness, and provide moisture to the skin. It also contains SPF 25 that helps in protecting the skin from the harmful effects of UVA and UVB radiations.
Pros
Hydrates the skin
Moisturizes the skin
Increasesskin elasticity
Restores the skin's natural radiance and firmness
Works as a sunscreen
Reduces blemishes
Evens out the skin tone
Smoothens the skin
Soothes damaged skin
Cons: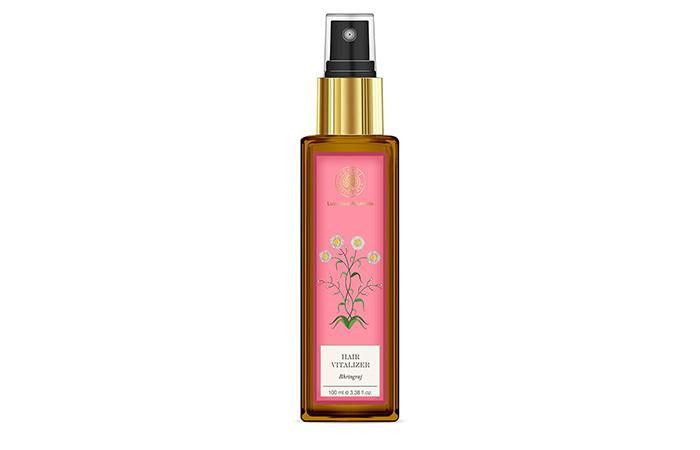 Forest Essentials Bhringraj Hair Vitalizer is formulated to stimulate hair growth and restore your hair's vitality and strength. This multifunctional hair spray is enriched with the goodness of Ayurvedic herbal extracts like bhringraj, green tea, hibiscus, fenugreek seeds, amla, aloevera, and arnica. It also prevents your hair from breaking and strengthens the hair follicles. This clear honey-colored liquid can easily be sprayed on your scalp every day to get lustrous and healthy tresses.
Pros
Stimulates hair growth
Strengthens the hair follicles
Controls hair fall
Non-greasy
Sulfate-free
Paraben-free
Petrochemical-free
Easy to apply
Cons:
Makes hair slightly frizzy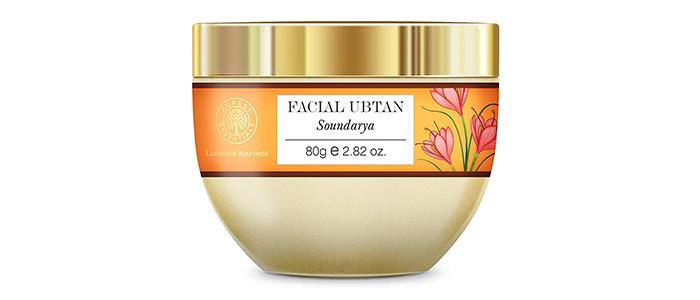 Forest Essentials Soundarya Facial Ubtan is formulated with 100% natural ingredients that help in clearing your skin to make it radiant and flawless. It is a gentle exfoliating ubtan that contains 52 Ayurvedic sun-dried and hand-pounded herbs like fennel seeds, turmeric, star anise, fenugreek seeds, saffron, rose, and lemon peel amongst many others. These amazing ingredients smoothen and soften the underlying tissues of the skin to enhance its health. It also prevents your skin from aging and forming premature fine lines, while deeply cleansing it to give you a natural radiance.
Pros
Imparts radiance
Prevents premature fine lines
Improves the skin texture
Soothes redness of the skin
Lightens pigmentation and scars
Exfoliates and cleanses the skin
Cons
May not be suitable for sensitive skin

Forest Essential Vitamin E Velvet Silk Body Cream is an ultra-nourishing cream that makes your skin supple and soft. It contains sweet almond oil that not only moisturizes your skin but also adds a subtle natural glow to it. The wheat germ extract in this cream repairs and heals dull and dehydrated skin, while vitamin E protects it from any harmful UV rays and environmental damage. Kokum butter has moisturizing properties that do not make your skin feel greasy or oily while it replenishes and regenerates the skin cells. Avocado butter contains various rich vitamins like A, C, and E.
Pros
Softens the skin
Deeply moisturizes the skin
Increase skin's elasticity
Stimulates the regeneration of skin cells
Deeply nourishes and repairs the skin
Subtle fragrance
Non-greasy
Non-oily
Gets absorbed instantly
Cons
None
Price at the time of publication: ₹2250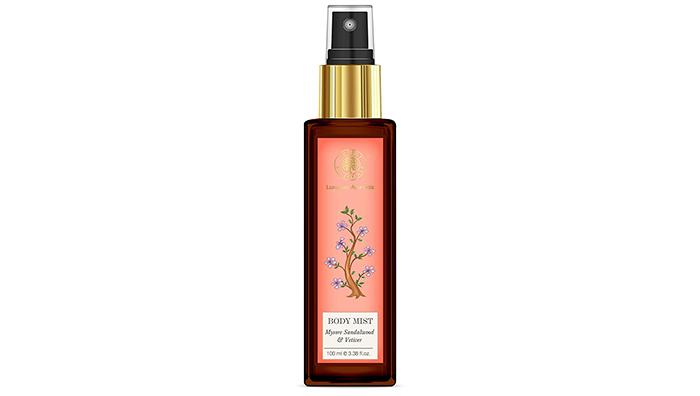 Forest Essentials Sandalwood & Vetiver Body Mist is a fresh flower-infused mist that has an aromatic fragrance. It has an uplifting and sensuous fragrance that calms nerves and has a cooling effect. It contains sandalwood which is valued in Ayurveda for its toning, purifying, cooling, antiseptic, and soothing qualities. Vetiver is detoxifying and cooling on the skin. The aloe vera in retains moisture and stimulates the regeneration of the skin. This body mist is sure to soothe and calm your nerves while leaving behind a pleasant lingering fragrance.
Pros
Hydrates the skin
Soothing and cooling effect
Mild and subtle fragrance
Uplifts your mood
Cons
Fragrance is not long-lasting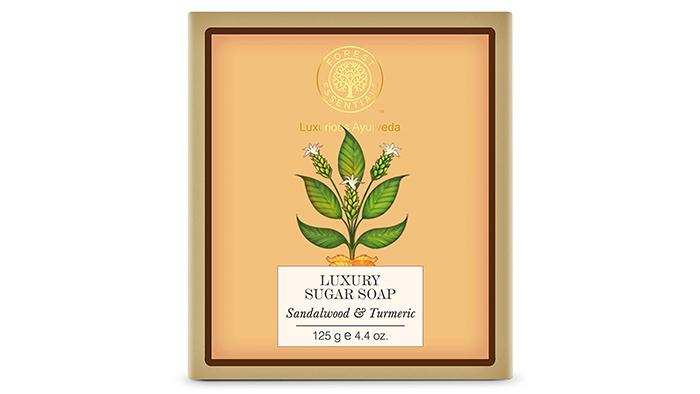 Forest Essentials Sandalwood & Turmeric Luxury Sugar Soap is handmade using the traditional cold-press method. It is infused with the goodness of pure sandalwood oil which is aromatic and famous for its soothing and therapeutic properties. The turmeric in this luxurious soap is renowned for its antiseptic qualities. Raw cane sugar is infused in this soap for its exfoliating property and for being a natural humectant that aids in retaining and locking moisture in your skin. This soap is also infused with natural plant and fruit extracts and pure essential oils of coconut, palm, and vitamin E. All of these rich and luxurious ingredients leave your skin feeling supple and radiant.
Pros
Moisturizes the skin
Gentle exfoliation
Makes skin shiny, supple, and radiant
SLS/SLES-free
Paraben-free
Petrochemical-free
Smoothens the skin
Cons
Price at the time of publication: ₹550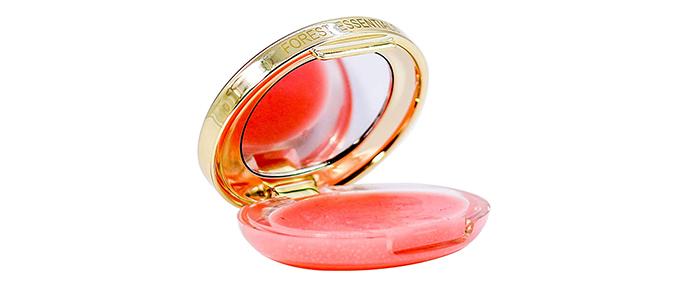 Forest Essentials Luscious Sugared Rose Petal Lip Balm replenishes, hydrates, and softens dried and chapped lips. It is infused with ultra-nourishing ingredients like kokum butter, organic beeswax, and pure rose extract that is made by dipping rose petals in honey. It hydrates your lips and seals in their moisture to make them soft, glossy, and supple. It heals and soothes dry and chapped lips.
Pros
Smells like fresh roses
Smoothens and deeply moisturizes the lips
Gently heals and soothes the lips
Repairs dry and chapped lips
Cons
Very strong fragrance
Unpleasant taste
Price at the time of publication: ₹795
Forest Essentials products are all about luxury and using rich Ayurvedic ingredients in their purest forms. This brand is loaded with organic ingredients that are skin-friendly. The Forest Essentials products listed above are chemical-free, natural, organic, and cruelty-free. If you have always been curious about this luxury skin care brand, then you might as well splurge a little to pamper yourself. Grab some of the Forest Essentials products listed above and indulge yourself in the goodness of this luxurious Ayurvedic brand! 
Frequently Asked Questions
Are Forest Essentials products good?
Indeed. Forest Essentials products contain organic Ayurvedic ingredients in their purest forms, which makes them very good for your skin and hair.
Are Forest Essentials really natural?
Most of the Forest Essentials products are chemical-free and 100% natural. However, some of their product's ingredients lists do not disclose the synthetic and chemical components that go into them.
Recommended Articles
The following two tabs change content below.