17 Best Foundation For Dry Skin That Keep It Looking Fresh – 2023
Keep your makeup from looking cakey with these lightweight, nourishing foundations.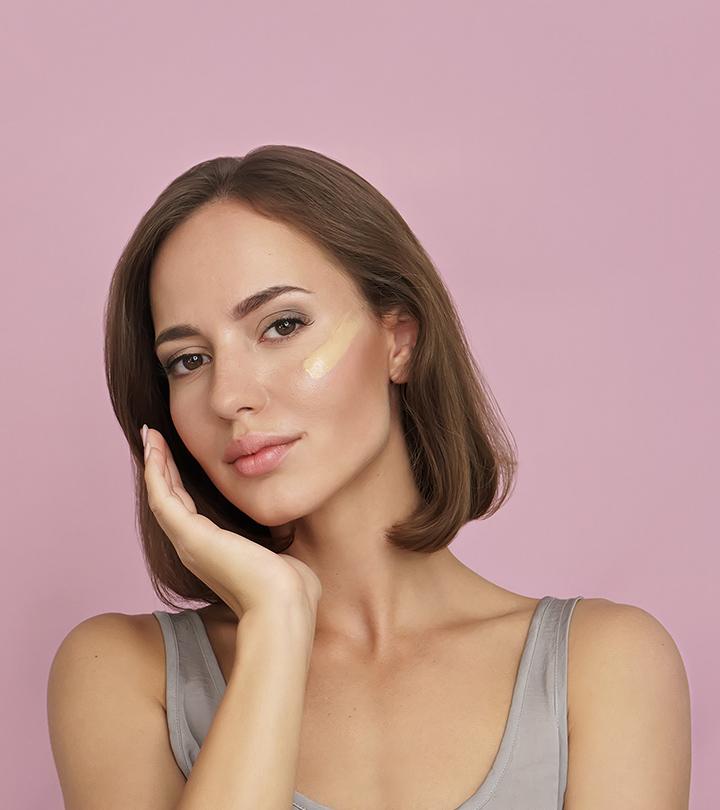 The search for the best foundation for dry skin is never easy, as only people who have dry skin know the struggle of wearing makeup all day long and withstanding the cracks and rashes. Dry and dehydrated skin can keep you up all night, and the problems only increase when you have to cover your skin up with makeup. Using just any foundation will only get into your pores and soak whatever moisture is left in your skin. Thankfully, the makeup industry has changed over the years, and people are equipping themselves with products that are made particularly for their skin types. Now whatever you apply not only gives you a flawless look but also nourishes your skin while it's on your face. If you thought finding the proper foundation is all about matching it with your skin tone, you are only halfway there. You need to find one that suits your skin type and texture too. So, if you have been having nightmares about your broken skin reacting with the foundation, we have something that will keep it to rest. We have a list of 17 hydrating foundations specially crafted for dry skin needs. It will tackle all your skin problems and leave your skin feeling radiant and supple.
17 Best Foundations For Dry Skin With Hydrating Benefits
The collaboration between a cosmetics giant and a makeup brand can only result in a good foundation for dry skin. You can see for yourself in this product that combines powerful ingredients like hyaluronic acid that amps up the moisture in your skin and vitamin C, this is your magic potion for a clear makeup base. Also containing niacinamide, a form of vitamin B3, which helps brighten the skin, this luminous silk foundation conceals dark circles and spots. You may find it challenging to find the right foundation for dry and mature skin, but you can stop your search at the CoverGirl + Olay liquid foundation, which helps soften the appearance of wrinkles and fine lines. The Soft Honey shade lends a soft glow to your skin, and there are up to 17 shades to choose from to spoil your skin. Trust us when we say that this is one of the best foundations for dry, mature skin out there! You can also check this YouTuber's detailed review to know more about the results after using this product.
Pros
Contains brightening and firming ingredients
Suitable for mature skin
Helps conceal skin imperfections
Cruelty-free
Moisturizes skin
Non-greasy formula
Cons
Price at the time of publication: $14.47
This hydrating foundation for dry skin by Maybelline New York is ideal for covering those patches of rough skin you might find troubling. Aided with SPF 18, this liquid foundation works best on normal to dry skin types without clogging your pores. Vitamin E in this formula not only moisturizes the skin but helps heal dry skin issues like flakiness, redness, and itching. While you're going about your day with flawless skin thanks to this drugstore foundation, rest assured that it also works internally to give you healthier skin. The resultant finish is luminous and dewy for a healthy glow! The foundation is easily absorbed by your skin, won't look cakey, and offers medium coverage. The Classic Ivory shade has a slight pinkish undertone, but there are 24 shades available so that you can take your pick! For a thorough review of the product, have a look at this YouTuber's video.
Pros
Allergy-tested
Non-comedogenic
Dermatologist-tested
Fragrance-free
Long-wear formula
Cons
Price at the time of publication: $3.42
If you find yourself wondering, "What is the best foundation for dry skin?", you no longer have to wonder as soon as you get your hands on this multitasking foundation, which also doubles as a fantastic concealer! This waterproof wonder product offers the illusion of flawless, clear skin while improving your skin's texture. This full-coverage foundation gives a luminous finish and has a creamy consistency that is not heavy. Even though people with all skin types can use it, it works its magic, especially if you have dry skin. The concealer covers up blemishes, spots, pigmentation, and under-eye circles so you can show off your even-toned skin. Perfect for daily use, this foundation-concealer combo is available in 36 colors for various skin tones. Check out this YouTuber's review of the product if you require more details.
Pros
Lightweight
Cruelty-free
Non-greasy
Full-coverage formula
Water-resistant
Thicky consistency
Cons
May not be transfer-proof
Price at the time of publication: $8.97
One of the best makeup foundations for dry skin, L'Oreal Paris brings to you a foundation that will soon become your new favorite makeup product. If you want a buildable, medium-to-full coverage, this creamy formula will stay put the whole day without budging. The thin consistency glides smoothly and absorbs quickly without clogging your pores makes this ideal for acne-prone skin. A stellar choice for your 'no makeup' look days, it is available in a whopping 40 shades and the formula blends beautifully and evenly without requiring multiple touch-ups. The Infallible 24 Hour Fresh Wear Foundation will keep you looking fresh, come sweat or water. Our favorite feature is the broad spectrum SPF 25 it offers because you can never have too much sun protection!
Pros
Breathable formula
Transfer-resistant
Non-comedogenic
Comes equipped with SPF
Waterproof
Lightweight
Provides full coverage
Cons
Price at the time of publication: $12.97
On the lookout for a foundation for very dry skin? Allow us to introduce you to Revlon's ColorStay Makeup that is a must-have in your makeup kit. With a natural finish and buildable medium-to-full coverage that lasts for up to 24 hours, this liquid foundation will work wonders in keeping your skin's dryness in check. The formula is rich with key ingredients like vitamins A and E, which provide antioxidant benefits, silk for moisture and anti-aging, white lily, and orchid extracts to renew skin and boost immunity. You don't have to work too hard at blending as the formula is easy to work with and offers a clear makeup base. There are 23 shades available, and whether you have light, olive, or deep skin tones, there's bound to be something suitable for you!
Pros
Highly pigmented
Buildable medium coverage
Oil-free formula
SPF 20
Resistant to sweat, humidity, and water
Mask-friendly
Blends easily
Cons
People with mature skin may find that fine lines are exaggerated
Price at the time of publication: $9.0
One of the top foundations for dry skin, the Catrice Cosmetics HD Liquid Coverage Foundation softly conceals blemishes, under-eye circles, and redness to help you wave hello to a complexion that's as clear as a summer's day. This high-coverage foundation lasts for up to 24 hours and gives you a natural-looking matte finish. If you're a perfectionist and like to keep your vanity or makeup pouch mess-free, the dropper applicator is hygienic and convenient for daily use. There are 21 shades available, catering to skin tones from fair to deep. The formula is free from parabens, oil, gluten, or microplastics if you want healthy skin. Rest assured your skin is in good hands with this best foundation for dry skin and pores.
Pros
Alcohol-free
Matte finish looks natural
Conceals skin imperfections
Vegan
Cruelty-free
Fragrance-free
Cons
Price at the time of publication: $10.0
One of the best foundations for very dry skin, the Neutrogena liquid foundation is packed with hyaluronic acid that amps up the moisture and hydration levels in your skin to make it plump and soft. The breathable, water-based formula glides beautifully and hydrates your skin for up to 24 hours. It is weightless and won't clog your pores. The coverage isn't too heavy, and the product blends well to help even out your complexion. Available in 10 shades that disappear into your skin without leaving a trace, you can never go wrong with this hydrating foundation!
Pros
Amply hydrates and moisturizes skin
Non-comedogenic
Oil-free
Lightweight formula
Easy to blend
Cons
May not offer buildable coverage
Price at the time of publication: $8.75
If you're hearing us scream in delight, it's most likely because we've found one of the best foundations for dry skin. This high-performance unscented foundation cream glides on your skin like silk and leaves it feeling fresh and even! Kaolin clay present in this cream detoxifies your skin, extracts all impurities, and controls oil production. The Dermablend Professional Cover Creme offers 16-hour wear without smudging and deeply hydrates your skin. We love this jar of golden goodness because a dermatologist and a makeup artist made it, so we know that this formula is a steal. The high-quality pigments will help you cover birthmarks, burns, scars, hyperpigmentation, and vitiligo. And to shield you from the harmful rays of the sun, it comes with SPF 30 protection.
Pros
Strengthens the skin barrier
Available in 21 shades
Allergy-tested
Velvety finish
Safe for people with sensitive skin
Waterproof
Non-comedogenic
Doesn't contain parabens, phthalates, triclosan, and SLS
Cons
Price at the time of publication: $34
One of the best hydrating foundations for dry skin comes from the well-loved brand Wet N Wild. The hydrating formula is intensely nourishing and moisturizes your dry skin. Seeping beautifully into the skin, the sheer formula helps cover tiny bumps and brown spots, redness, and flakiness to help you achieve a smooth base. It offers easily buildable medium to full coverage, so you can quickly transition from a stressful day to an exciting night with barely any retouching. The matte foundation gives a clean look that looks great under any lighting, so that you can say goodbye to filtered selfies! Available in 19 shades, this creamy formula gives you a hydrating glow. You can't go wrong with this one, as it's one of the best budget foundations for dry skin.
Pros
Matte finish
Free from gluten and talc
Vegan
Cruelty-free
Lightweight formula
Reduces the appearance of pores
Cons
As it contains fragrance, it may not be suited for those with extremely sensitive skin
Price at the time of publication: $4.98
This hard-working liquid foundation by Clinique is a creamy formula that brightens your skin tone with a natural finish. Miraculous ingredients in this foundation such as grapefruit extract tones the skin, birch extract purifies and hydrates and murumuru seed butter provide intense hydration. These star ingredients are what makes this product one of the best foundations for dry, patchy skin. Additionally, the pigments present are high-performance and stay the same throughout wear without fading. The coverage remains put for 24 hours, and SPF 15 prevents your skin from seeing sun damage. And what's even better is that this cream foundation for severely dry skin is resistant to both humidity and sweat. Developed by dermatologists, this formula is known to lessen dark spots in around 12 weeks visibly.
Pros
Moderate-to-full coverage
Protects skin from hyperpigmentation
For healthier skin
Alcohol-free
SPF 15
Gluten-free
Free from talc, SLS, synthetic colors
Cons
Not available in a shade for dark skin tones.
Price at the time of publication: $20
The best products not only give the illusion of healthy skin, but they work behind the scenes to improve your skin quality and strengthen the skin's barrier. And if you've been looking for the best hydrating foundation for dry skin, we have a superstar for you. The BOURJOIS Paris Healthy Mix Anti-Fatigue Foundation contains a hyaluronic acid derivative, which keeps your skin hydrated all day. There are also spherical powders that blur the appearance of blemishes and spots to give you an even, dewy coverage. Available in 13 shades, this is an excellent foundation for dry, mature skin, as you can find a cocktail of vitamins like C, E, and B5 that give an anti-fatigue effect, supply antioxidants, and tone your skin. The anti-aging benefits coupled with medium coverage that lasts up to 16 hours result in a natural, dewy finish.
Pros
Hydrating formula
Deeply nourishing vitamin blend
For an even complexion
Ideal for mature skin
Weightless formula
Does not contain any scent
Cons
Offers only a semi-matte finish
Price at the time of publication: $3296
You'll find that Maybelline New York is one such brand that somehow finds its way into every woman's makeup kit! The Dream Radiant Liquid Foundation comes in an attractive bottle and vows to quench the thirst of dry skin and transform it to appear plump and youthful. You can choose from a range of the best cheap foundations for dry skin on the market with this moisturizing formula of hyaluronic acid and collagen. Hyaluronic acid present in the formula reduces the appearance of fine lines and wrinkles by supplying ample moisture to your skin whereas collagen firms up the skin while adding elasticity. This foundation is incredibly lightweight and softens and smoothes skin texture to better absorb the product without clogging your pores. The powerhouse ingredients make it one of the most hydrating foundations for dry skin that you can count on!
Pros
Gives plump and youthful skin
Medium coverage
Easy to apply
Creamy texture
Weightless formula
Dermatologist-tested
Non-comedogenic
Cons
May not be transfer-resistant
Price at the time of publication: $11
Get your glow on with this 24 hour-wear brilliant foundation from L'Oreal Paris. The formula hydrates your skin from the inside and lends it a subtle sheen that lasts all day long. This lightweight cream glides easily and is a dream to blend. It does a great job of covering up your skin imperfections to make them look subtle and soft as a makeup base. It also comes with SPF 15 to protect your skin from the sun and delay signs of aging. The Creamy Natural shade makes it one of the best foundations for wheatish dry skin tones.
Pros
Blurs fine lines and spots
Medium coverage
SPF 15
Radiant, dewy finish
Lightweight formula
Available in 12 shades
Cons
Some may find the consistency slightly runny
Price at the time of publication: $3.24
When curating this list we extensively also thought of what foundation is good for dry skin, and we couldn't skip the Studio Skin Hydrating Foundation by Smashbox. This potent, high-performance liquid base makeup gets a perfect score from us for its hyaluronic acid-packed benefits. Formulated without oil, this foundation for severely dry skin is breathable on your skin and sets like a dream without making your lines look more prominent. It offers buildable coverage and the matte finish looks natural without being cakey. 22 shades abound in this range, catering to both fair and deep skin tones, along with shade-specific undertones.
Pros
Oil and sebum control
Transfer-resistant
Doesn't contain oil
Cruelty-free
Vegan
Doesn't oxidize
Resistant to sweat and humidity
Cons
Some may find the smell slightly off-putting
Price at the time of publication: $25.98
This foundation comes with a skin-strengthening blend of hyaluronic acid that hydrates and plumps, along with vegan squalene that helps reduce the redness of dry skin. If you've been wondering about which foundation to use for dry skin, this one is good in our books as it moisturizes your skin while helping improve your complexion. The sheer-to-medium coverage is ideal for daily use and imparts a subtle, natural glow to your skin. The semi-matte finish will ensure that your skin doesn't look too greasy and also softens the look of wrinkles and dark circles. The Fair shade is just 1 among 8 which you can choose from to match your skin tone and undertone for a healthy look. This vegan foundation for dry, uneven skin will do nothing but serve you well!
Pros
Buildable formula
Cruelty-free
Fragrance-free
Semi-matte finish
Non-greasy application
Doesn't contain parabens
Cons
May not be transfer-proof
Price at the time of publication: $5.11
This best-selling water-based foundation contains ingredients your skin will love and thank you for. With emollients that provide dry skin with hydration for up to 12 hours and vitamins C, E, and F that moisturize and protect your skin from environmental stressors, this foundation does it all. Antioxidants present in the formula protect your skin by fighting against free radicals which make your skin prematurely. This Cover FX foundation is formulated without any mineral oils, talc, sulfates, phthalates, and gluten to keep your skin healthy from the inside out. The N110 shade is perfect for deep ebony skin with neutral undertones.
Pros
Paraben-free
Fragrance-free
Natural finish
Contains squalene that moisturizes skin
Blends easily
Available in 38 shades
Cons
Some may find this formula to be slightly heavy and sticky.
Price at the time of publication: $18.67
Some serious hydration power is brought to your dry, flaky skin by this Moisturizing Mineral Foundation by ILLUMINARÉ. A multitasking product, the cream comes in 5 shades to choose from and works to give you a smooth base for your makeup and also helps conceal dark circles, spots, and signs of aging to provide you with a clear complexion. The finish is dewy, and the medium coverage can be built to full, depending on your preference. Formulated without any parabens, talc, artificial dyes, animal derivatives petroleum, and mica, this just might be the best foundation ever for dry skin.
Pros
Suitable for sensitive skin
Contains no perfume
Buildable formula
Vegan
Cruelty-free
Cons
Price at the time of publication: $33
Now that we've looked at some of the best foundations for dry skin let's get into how you can use the product to achieve the best look.
How To Apply Foundation If You Have Dry Skin
Step 1: Prepare your skin before applying foundation by exfoliating and moisturizing with a high-quality lotion to ensure that your base is already soft.
Step 2: If your skin is too dry and needs a long-wearing look, use a primer for the best results. Doing this will ensure that your foundation sits well without smudging and patching due to sweat.
Step 3: Choose a foundation that provides medium-to-full coverage and also offers hydrating benefits at the same time.
Step 4: Dab the cream in a few areas of your face at precise locations— along the bridge of your nose, on the cheekbones, in the middle of your forehead, and your jaw.
Step 5: Using your fingers or a makeup sponge, start blending the cream up and outwards on your face. This ensures that your muscles work against gravity and defy the early onset of aging.
Step 6: You can dab a bit of the product under the eyes and even out your complexion.
Step 7: You can follow this up with a concealer, blush, or setting powder to set the look.
Choosing a foundation that suits your dry skin can be a little confusing as there are so many options in the market. Read our guide to find out what to look out for in the best dry skin foundation.
How To Choose The Best Foundation For Dry Skin
Coverage can be light, medium, or full. Dry skin types fare better with lightweight coverage or medium, as they have a breathable formula. Full coverage might work if you have a long day ahead, but they can cause your skin to look cakey. Buildable coverage is ideal as you can change the thickness of your foundation according to how much consistency you want for the day.
Since dry skin lacks moisture, looking for products with hydrating components like hyaluronic acid, ceramides, lactic acid, and vitamins will help keep your skin plump even with makeup on. Hydrating foundations go deep into the skin to moisturize and strengthen the skin barrier. Dry skin types will also need to steer clear of stripping ingredients like alcohol, salicylic acid, sulfates and fragrances.
You must be especially careful choosing the right shade for dry skin types because selecting the wrong one can make you look pasty and give an uneven skin tone. The problem is amplified with dry skin as it is prone to dry patches, redness, and flakiness. You can swap the shade on your wrist or neck to check how right it matches, along with the undertones. Warm complexions usually have yellow undertones and the veins in the wrist appear green. Cooler complexions with pinkish undertones will have blue-colored veins. A mix of blue and green in the veins signifies a neutral undertone. These days, a specific brand's official website comes equipped with 'shade finders' to help you find the right shade in their specific range.
Oil-based foundations serve dry skin well by providing moisturizing benefits instead of water-based ones that may not help. However, powders, compacts, and mousse foundations can add to the dryness and flakiness of your skin, so it's better to avoid them altogether.
Why Trust StyleCraze?
We have curated this list of the best foundations for dry skin for you after sifting through a wide range of options available on the market. The products were shortlisted after extensive research. We checked the formulation of the products to ensure they contain hydrating ingredients and are suitable for dry skin. We also checked user reviews and positive feedback to shortlist the best ones.
Frequently Asked Questions
Should you use a liquid or powder foundation for dry skin?
Use liquid foundation on dry skin. It moisturizes and hydrates your skin, whereas a powder foundation can block pores and make your face look dryer.
Does foundation help dry skin?
Yes, a hydrating, moisturizing foundation helps revive dry skin. It also acts as an extra barrier against heat, dust, and free radical damage.
Is cream foundation better for dry skin?
Cream foundations are suitable for dry skin but are prone to creasing and require to be blended very thoroughly.
How can you make your makeup last all day if you have dry skin?
To help makeup last all day on dry skin, use a hydrating face primer and moisturizer before applying it, and afterward, use a setting spray.
Recommended Articles: