17 Best Foundation For Dry Skin That Keep It Looking Fresh – 2023
Keep your makeup from looking cakey with these lightweight, nourishing foundations.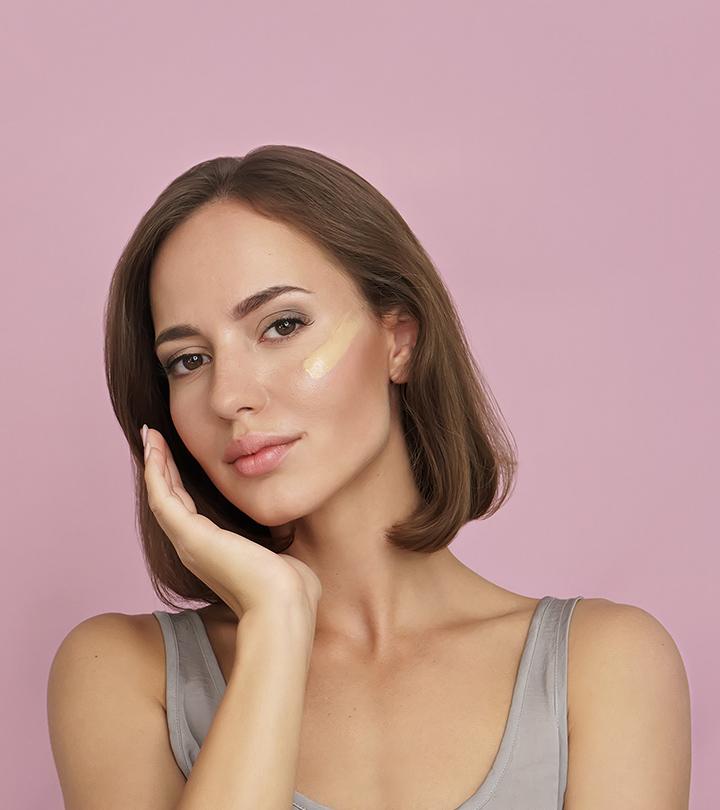 The search for the best foundation for dry skin is never easy, as only people who have dry skin know the struggle of wearing makeup all day long and withstanding the cracks and rashes. Dry and dehydrated skin can keep you up all night, and the problems only increase when you have to cover your skin up with makeup. Using just any foundation will only get into your pores and soak whatever moisture is left in your skin. Thankfully, the makeup industry has changed over the years, and people are equipping themselves with products that are made particularly for their skin types. Now whatever you apply not only gives you a flawless look but also nourishes your skin while it's on your face. If you thought finding the proper foundation is all about matching it with your skin tone, you are only halfway there. You need to find one that suits your skin type and texture too. So, if you have been having nightmares about your broken skin reacting with the foundation, we have something that will keep it to rest. We have a list of 17 hydrating foundations specially crafted for dry skin needs. It will tackle all your skin problems and leave your skin feeling radiant and supple.
17 Best Foundations For Dry Skin With Hydrating Benefits
Pros
Contains brightening and firming ingredients
Suitable for mature skin
Helps conceal skin imperfections
Cruelty-free
Moisturizes skin
Non-greasy formula
Cons
Price at the time of publication: $14.47
Pros
Allergy-tested
Non-comedogenic
Dermatologist-tested
Fragrance-free
Long-wear formula
Cons
Price at the time of publication: $3.42
Pros
Lightweight
Cruelty-free
Non-greasy
Full-coverage formula
Water-resistant
Thicky consistency
Cons
May not be transfer-proof
Price at the time of publication: $8.97
Pros
Breathable formula
Transfer-resistant
Non-comedogenic
Comes equipped with SPF
Waterproof
Lightweight
Provides full coverage
Cons
Price at the time of publication: $12.97
Pros
Highly pigmented
Buildable medium coverage
Oil-free formula
SPF 20
Resistant to sweat, humidity, and water
Mask-friendly
Blends easily
Cons
People with mature skin may find that fine lines are exaggerated
Price at the time of publication: $9.0
Pros
Alcohol-free
Matte finish looks natural
Conceals skin imperfections
Vegan
Cruelty-free
Fragrance-free
Cons
Price at the time of publication: $10.0
Pros
Amply hydrates and moisturizes skin
Non-comedogenic
Oil-free
Lightweight formula
Easy to blend
Cons
May not offer buildable coverage
Price at the time of publication: $8.75
Pros
Strengthens the skin barrier
Available in 21 shades
Allergy-tested
Velvety finish
Safe for people with sensitive skin
Waterproof
Non-comedogenic
Doesn't contain parabens, phthalates, triclosan, and SLS
Cons
Price at the time of publication: $34
Pros
Matte finish
Free from gluten and talc
Vegan
Cruelty-free
Lightweight formula
Reduces the appearance of pores
Cons
As it contains fragrance, it may not be suited for those with extremely sensitive skin
Price at the time of publication: $4.98
Pros
Moderate-to-full coverage
Protects skin from hyperpigmentation
For healthier skin
Alcohol-free
SPF 15
Gluten-free
Free from talc, SLS, synthetic colors
Cons
Not available in a shade for dark skin tones.
Price at the time of publication: $20
Pros
Hydrating formula
Deeply nourishing vitamin blend
For an even complexion
Ideal for mature skin
Weightless formula
Does not contain any scent
Cons
Offers only a semi-matte finish
Price at the time of publication: $3296
Pros
Gives plump and youthful skin
Medium coverage
Easy to apply
Creamy texture
Weightless formula
Dermatologist-tested
Non-comedogenic
Cons
May not be transfer-resistant
Price at the time of publication: $11
Pros
Blurs fine lines and spots
Medium coverage
SPF 15
Radiant, dewy finish
Lightweight formula
Available in 12 shades
Cons
Some may find the consistency slightly runny
Price at the time of publication: $3.24
Pros
Oil and sebum control
Transfer-resistant
Doesn't contain oil
Cruelty-free
Vegan
Doesn't oxidize
Resistant to sweat and humidity
Cons
Some may find the smell slightly off-putting
Price at the time of publication: $25.98
Pros
Buildable formula
Cruelty-free
Fragrance-free
Semi-matte finish
Non-greasy application
Doesn't contain parabens
Cons
May not be transfer-proof
Price at the time of publication: $5.11
Pros
Paraben-free
Fragrance-free
Natural finish
Contains squalene that moisturizes skin
Blends easily
Available in 38 shades
Cons
Some may find this formula to be slightly heavy and sticky.
Price at the time of publication: $18.67
Pros
Suitable for sensitive skin
Contains no perfume
Buildable formula
Vegan
Cruelty-free
Cons
Price at the time of publication: $33
Now that we've looked at some of the best foundations for dry skin let's get into how you can use the product to achieve the best look.
How To Apply Foundation If You Have Dry Skin
Step 1: Prepare your skin before applying foundation by exfoliating and moisturizing with a high-quality lotion to ensure that your base is already soft.
Step 2: If your skin is too dry and needs a long-wearing look, use a primer for the best results. Doing this will ensure that your foundation sits well without smudging and patching due to sweat.
Step 3: Choose a foundation that provides medium-to-full coverage and also offers hydrating benefits at the same time.
Step 4: Dab the cream in a few areas of your face at precise locations— along the bridge of your nose, on the cheekbones, in the middle of your forehead, and your jaw.
Step 5: Using your fingers or a makeup sponge, start blending the cream up and outwards on your face. This ensures that your muscles work against gravity and defy the early onset of aging.
Step 6: You can dab a bit of the product under the eyes and even out your complexion.
Step 7: You can follow this up with a concealer, blush, or setting powder to set the look.
Choosing a foundation that suits your dry skin can be a little confusing as there are so many options in the market. Read our guide to find out what to look out for in the best dry skin foundation.
How To Choose The Best Foundation For Dry Skin
Coverage can be light, medium, or full. Dry skin types fare better with lightweight coverage or medium, as they have a breathable formula. Full coverage might work if you have a long day ahead, but they can cause your skin to look cakey. Buildable coverage is ideal as you can change the thickness of your foundation according to how much consistency you want for the day.
Since dry skin lacks moisture, looking for products with hydrating components like hyaluronic acid, ceramides, lactic acid, and vitamins will help keep your skin plump even with makeup on. Hydrating foundations go deep into the skin to moisturize and strengthen the skin barrier. Dry skin types will also need to steer clear of stripping ingredients like alcohol, salicylic acid, sulfates and fragrances.
You must be especially careful choosing the right shade for dry skin types because selecting the wrong one can make you look pasty and give an uneven skin tone. The problem is amplified with dry skin as it is prone to dry patches, redness, and flakiness. You can swap the shade on your wrist or neck to check how right it matches, along with the undertones. Warm complexions usually have yellow undertones and the veins in the wrist appear green. Cooler complexions with pinkish undertones will have blue-colored veins. A mix of blue and green in the veins signifies a neutral undertone. These days, a specific brand's official website comes equipped with 'shade finders' to help you find the right shade in their specific range.
Oil-based foundations serve dry skin well by providing moisturizing benefits instead of water-based ones that may not help. However, powders, compacts, and mousse foundations can add to the dryness and flakiness of your skin, so it's better to avoid them altogether.
Why Trust StyleCraze?
We have curated this list of the best foundations for dry skin for you after sifting through a wide range of options available on the market. The products were shortlisted after extensive research. We checked the formulation of the products to ensure they contain hydrating ingredients and are suitable for dry skin. We also checked user reviews and positive feedback to shortlist the best ones.
Frequently Asked Questions
Should you use a liquid or powder foundation for dry skin?
Use liquid foundation on dry skin. It moisturizes and hydrates your skin, whereas a powder foundation can block pores and make your face look dryer.
Does foundation help dry skin?
Yes, a hydrating, moisturizing foundation helps revive dry skin. It also acts as an extra barrier against heat, dust, and free radical damage.
Is cream foundation better for dry skin?
Cream foundations are suitable for dry skin but are prone to creasing and require to be blended very thoroughly.
How can you make your makeup last all day if you have dry skin?
To help makeup last all day on dry skin, use a hydrating face primer and moisturizer before applying it, and afterward, use a setting spray.
Recommended Articles: