The 11 Best Foundations For Winter That'll Protect Dry Skin – 2022
Let your skin glow with these non-greasy, lightweight, and hydrating foundations.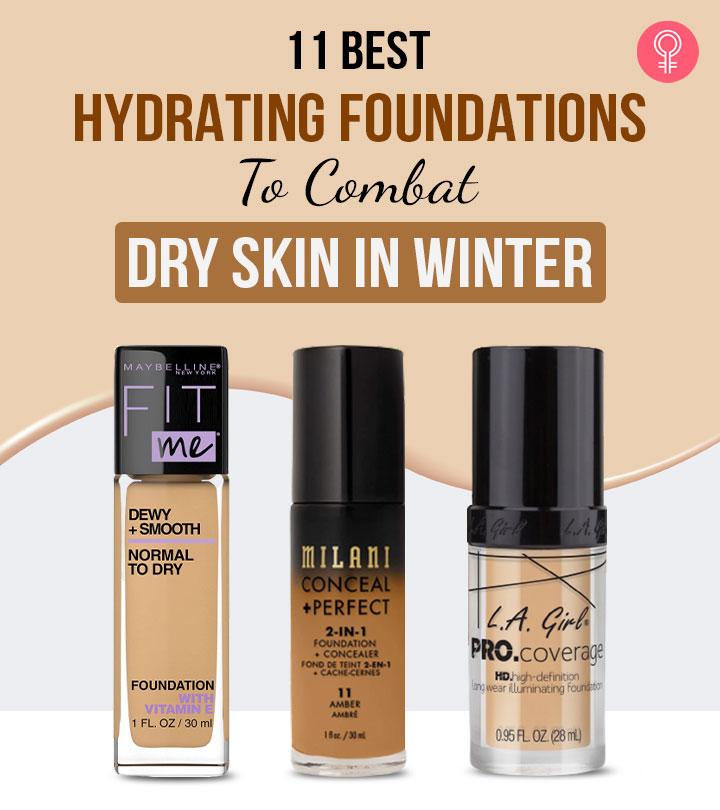 Winter is one of the best seasons, and it brings in the holidays as well. Along with the cold and festivities comes the dryness. To beat the cold and look your best, you need to get your hands on the best foundation for winter. These specially formulated foundations enriched with vitamin E and minerals help moisturize your skin and give it a radiant glow. Suitable for covering your blemishes and dark spots, special winter foundations are a must-have. To know how you can get the best foundation for winter, scroll down to our list now!
11 Best Hydrating Foundations To Combat Dry Skin In Winter
The Fit Me Dewy + Smooth Foundation by Maybelline New York forms a protective layer on the skin to prevent sun damage. The non-comedogenic formula is perfect for normal to dry skin. The 220 Natural Beige shade is suitable for light skin and gives a natural-looking finish. It blends well and leaves the skin with a rich and luminous look. The foundation is enriched with vitamin E that hydrates and nourishes your skin during the winters. It reduces skin darkening, blemishes, dark circles, and spots. If you are an absolute beginner, this video review might be useful.
Pros
 Non-comedogenic
 Fragrance-free
 All-day wear
 Breathable
 Blends well
 Allergy tested
Cons
Milani offers a 2-in-1 foundation that conceals open pores and hides blemishes and dark spots. This foundation blends well and provides light coverage for picture-perfect skin. It is water-resistant and has a creamy formula that forms a hydrating layer over the skin surface and prevents dryness without being cakey. This non-greasy foundation lasts all day without fading and provides full coverage and a silky-smooth finish. Check out this review for a detailed understanding about the product.
Pros
 Waterproof
 Non-greasy
 Lightweight
 Cruelty-free
 Oil-free
 Blends well
Cons
None
The L.A Girl Pro. Coverage is a high-definition long-lasting foundation that adds a dewy glow to your skin. It provides full coverage and feels light on the skin without settling down in the fine lines. This foundation for dry skin is formulated with antioxidants that nourish and hydrate it. It blends easily with the help of a brush and leaves the skin with a flawless, natural look. The lightweight formula offers intense color payoff keeping in mind the makeup needs of women. This video review will help you understand more about the product.
Pros
 Does not crease
 Easy to blend
 Lightweight
 Long-lasting
 Not cakey or chalky
 Paraben-free
Cons
 Makes your skin look oily
Hourglass offers a foundation stick that has an innovative lightweight formula. The waterproof stick foundation glides easily and provides full coverage for 12 hours. It smoothens the skin, making it look softer and silky to touch. It contains more pigments than the regular foundations, which adjust according to the body temperature to blend effortlessly.
Pros
 Waterproof
 Vegan
 Non-comedogenic
 Long-lasting
 Lightweight
 Cruelty-free
 Paraben-free
 Mineral oil-free
 Phthalate-free
 Triclosan-free
 Gluten-free
Cons
This foundation from Graftobian Cosmetics has a professional HD formula that feels light and looks natural. The long-lasting foundation is ideal for print ads, and professional photoshoots. It is weightless, perfect for everyday use, and provides light coverage by hiding imperfections. This foundation gives a flawless finish while brightening your complexion. The formula is soft, silky, and gentle even for sensitive skin.
Pros
 Lightweight
 Long-lasting
 Light coverage
 Offers photo ready look
Cons
The Liquid Coverup Foundation & Concealer by Vasanti Cosmetics offers excellent coverage by concealing blemishes, scars, and other imperfections. The V4 shade of this multifunctional formula has a medium golden hue, which is ideal for tanned skin tones. The special undertone hydrates and brightens your skin to match the skin tone. The chemical-free foundation evens out your skin tone instantly and rejuvenates your skin. The lightweight formula is gentle and suitable for sensitive skin as well.
Pros
 Lightweight
 Vegan
 Oil-free
 Gluten-free
 Paraben-free
 Cruelty-free
Cons
The Nykaa Skingenius Sculpting & Hydrating Foundation sets well and brings out a flawless and natural look. The weightless product conceals all imperfections and brightens your skin. The formula is made with Polyfit Technology and hyaluronic acid that hydrates the skin and restores the moisture. It also contains UV filters that protect your skin against sun damage.
Pros
 Weightless
 Long-lasting
 Full coverage
 Paraben-free
 Fragrance-free
Cons
None
The Neutrogena Hydro Boost Hydrating Tint contains hyaluronic acid, which helps plump the skin by keeping it hydrated all day. The oil-free foundation is formulated with a long-lasting water-gel formula to deeply hydrate your skin. It is weightless, oil-free, and non-comedogenic. This foundation reduces breakouts and is suitable for everyday use during the winters.
Pros
 Blends easily
 Fade-proof
 Long-lasting
 Lightweight
 Oil-free
 Non-comedogenic
Cons
The Revlon Photo Ready Candid Foundation feels light and comfortable on the skin and imparts a natural look. The creamy foundation blends well and provides smooth coverage. It is enriched with antioxidants and vitamin E, which soothe sunburn and deeply nourish the skin. The foundation contains natural ingredients that form a thick shield over the skin to protect it from environmental damages.
Pros
 Oil-free
 Paraben-free
 Mineral oil-free
 Phthalate-free
 Dye-free
 Fragrance-free
Cons
The Neutrogena Hydro Boost Hydrating Foundation Stick can be used for contouring and concealing the imperfections on your skin. It blends flawlessly and offers full coverage to blur all dark spots and blemishes. The weightless foundation has a creamy formula that softens your skin without settling into fine lines and leaves you with a natural look. It is infused with purified hyaluronic acid that deeply penetrates the skin pores and reduces the appearance of fine lines and wrinkles.
Pros
 Lightweight
 Easy to blend
 Hypoallergenic
 Non-comedogenic
 Dermatologist-tested
 Oil-free
Cons
None
The Dermablend Professional Foundation is one of the best formulas for dry skin. It is infused with SPF 25 to prevent your skin from getting tanned. The lightweight foundation spreads evenly and offers buildable coverage and 24- hour hydration to the skin.
Pros
 Hypoallergenic
 Allergy tested
 Transfer-resistant
 Lightweight
 Non-comedogenic
 Fragrance-free
Cons
Consider the following points while purchasing a full-coverage foundation for dry skin to get maximum benefits.
How To Choose The Best Full-Coverage Foundation For Dry Skin
Go for a liquid or cream foundation that hydrates the skin without being cakey. Such foundations fill in fine lines and wrinkles, making the skin look smooth and nourished. They are versatile and offer light coverage for even skin tone, medium coverage to hide blemishes, and heavy coverage to cover dark scars, open pores, and pigmentation.
 Choose A Product With Hyaluronic Acid
Opt for a foundation with hyaluronic acid since it binds with water to help retain moisture. It restores the lost moisture and reduces the appearance of wrinkles and redness to give your skin a firm and youthful look.
Foundations with chemicals might irritate your skin and over-dry it. Thus, avoid ingredients like parabens, phthalates, silicones, and mineral oils.
A foundation is worn to hide imperfections and give you a flawless complexion. Hence, it should stay on your skin for longer without smudging, caking, feeling patchy, and requiring touch-ups. Check whether the foundation is formulated for extended wear.
Those with fair skin tones can pick the pale, peachy, and lighter shades. In contrast, the darker shade foundations are suitable for those with medium to darker skin tones.
Why Trust StyleCraze?
The author of this article, Baishali Bhattacharya, is certified in makeup artistry. She conducted in-depth research on high-quality foundations that can combat dry skin. As a result, she curated the list of the best foundation for winter that provides long-lasting coverage and makes you look flawless. The given list of products is non-greasy, lightweight, and covers fine lines and wrinkles.
Frequently Asked Questions
Should the foundation be lighter or darker in winter?
In winter, your skin tends to go a shade lighter. So, you'll need to invest in a hydrating foundation that is one shade lighter than your usual shade.
Is liquid foundation good in winter?
The ideal option for winter is a liquid or creamy foundation. During this season, the skin tends to be drier, and liquid foundation can retain moisture better.
Should you change your foundation in winter?
Yes. Alter your foundation in the winter if your skin type changes from oily to dry or if your skin tone shifts from darker to lighter.
Does concealer or foundation go on first?
The foundation always goes on first before your concealer. The foundation is supposed to set a base for the makeup and even out your skin. Then, the concealer is used to conceal specific areas of your skin such as the under eyes, nose, etc.
Should you match the foundation to your neck or face?
For the best results, match the foundation to your jawline which is between the neck and face.
Why does my makeup look cakey in winter?
Your makeup will look cakey if you have dry/flaky skin in the winter. It could be because of a lack of moisture. Look for liquid formulas in your makeup to avoid this. Also, moisturize your skin before applying makeup.
Is matte foundation good for winter?
No. Unless you have extremely oily skin, a matte foundation is not recommended during the winter.
Should the foundation be lighter or darker than your skin?
Since foundations can oxidize during the day and you use bronzer/contour, the foundation should be lighter than your skin tone.
Recommended Articles