Top 15 Makeup (Foundation) Primers And Their Reviews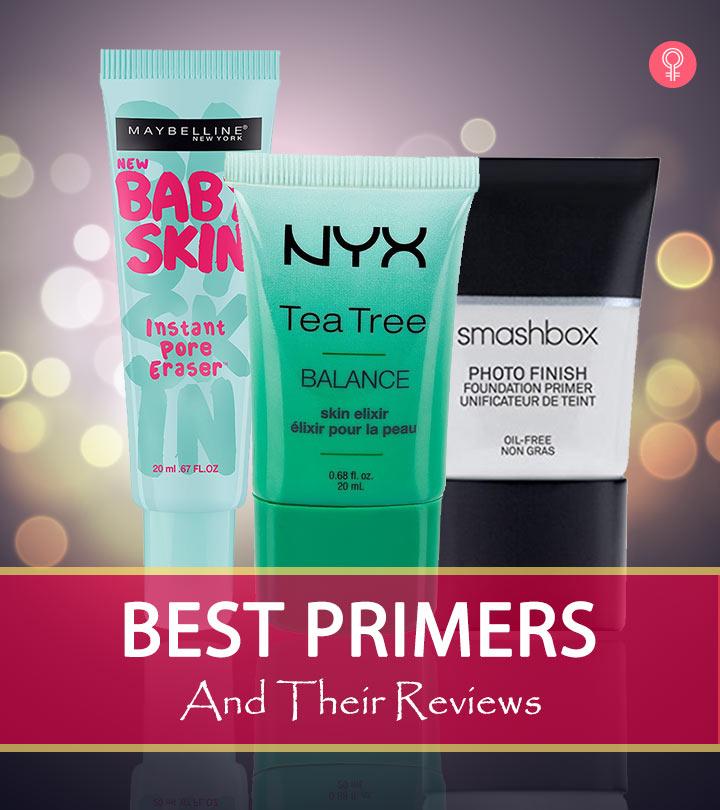 Think you don't need a primer? Think again! Prepping your skin before putting on your foundation is a major step. Here's why – adding this magical element to your daily makeup routine not only helps your makeup last longer but it also creates a protective barrier over your skin. The result is a smoother, more flawless makeup application. A good primer formula combines the benefits of both skin care and cosmetics and is always non-comedogenic. Want to know more? Read on to find out what your skin needs and which are the best makeup primers out there.
Best Foundation Primers And Their Reviews
These are our top picks of the best makeup primers for all your skin concerns. Here's what we've got.
Best Makeup Primers For Mature Skin
Pros
Leaves you with a dewy finish
Minimizes the appearance of large pores
Silicone-based formula
Makeup stays for up to 3-6 hours longer
Affordable
Cons
The formula claims to leave a subtle pink glow, but it does not
Review
The Maybelline Instant Age Rewind Primer for mature skin is one of the best formulas you'll find at a humble price at your local drugstore. This is the best primer for wrinkles as it's clear formula takes care of your issues by helping you create a smooth and soft surface. Also, if you have dull skin, it works great to add a healthy glow to your skin. A little goes a long way!
This comes in a single shade and is best suited for mature skin which leans towards a dry to combination skin type.
Similar Products:

Pros
Instantly minimizes the appearance of pores
Talc-free and oil-free formulation
Contains Vitamin E
Cruelty-free
Affordable
Cons
If you have very oily skin, you'll need to blot your face after three or more hours
Review
The NYX Pore Filler Primer has a light, peachy tint to it. If you're someone with a medium to dark skin tone, you might not like the effect it leaves on your skin. Its formula is lightweight and easy to apply, and it is the best primer for pores. It also helps control oil and keeps shine at bay.
If your skin concerns include fine lines, wrinkles, and large pores, this primer will do you good and is worth a try.
[ Read – How To Use NYX Pore Filler Primer ]
Similar Products:

Pros
Lightweight and non-greasy
Leaves your skin feeling smooth and hydrated
Minimizes the appearance of wrinkles
Travel-friendly packaging
Affordable
Cons
Using too much can result in a greasy feeling
Review
The Maybelline Baby Skin Instant Pore Eraser is one of the most popular drugstore primers, and we get why it's such a great product. From its price to its performance – everything is exceptional. The primer comes in a small, stylish blue tube and Maybelline wasn't kidding when they named it "Baby Skin" for it completely transforms the look and feel of your skin by making it incredibly soft.
The translucent gel primer is great for anyone looking to create a matte and flawless canvas – it fills in pores, hydrates your skin, and increases the longevity of your makeup for up to 6-7 hours. Mature skin that needs some extra hydration will love this stuff!
Similar Products:

Pros
Easy to apply
Lightweight and oil-free
Long lasting
Non-comedogenic
Leaves you with a beautiful, matte finish
Cons
Price may be a concern for some
Review
This long-lasting primer is a holy-grail primer not just for mature or aging skin but every skin type. It leaves your skin feeling silky and keeps shine at bay for most of the day. If you have textured skin, this does a lovely job of smoothening it out and creating an even, flawless surface. It's a transparent gel formula that also helps in eradicating redness and minimizing the appearance of blemishes and pores.
If you have a lot of fine lines on your skin, especially around the eyes, you need to try this as your skin will immediately look younger, more radiant, and invigorated.
Pros
Lightweight and oil-free
A blend of 15 vitamins, minerals, and antioxidants
Infused with 50% water
Formulated with Stila's Youth Revival Bio-Available Mineral Complex
Cons
If you have very oily skin, this may not work for you
Price may be a concern for some
Review
Are you worried about your skin looking dull, tired, and flawless? This primer by Stila instantly gives you the right amount of glow, while making it looking radiant and plump. If you have dry patches, it hydrates the areas and evens your skin out. Its consistency is perfect – neither too thick nor too runny and it's also fragrance-free.
If you have aging skin that's sensitive and more on the combination side, this one by Stila is a must-try!
Similar Products:

Best Makeup Primers For Sensitive Skin
Pros
Contains tea tree which is a blemish-fighting ingredient
Absorbs quickly
Minimizes the appearance of pores
Calms puffiness and redness
Affordable
Cons
Review
This primer from NYX is infused with tea tree oil, and it leaves your skin feeling cool once you apply it. It claims to rejuvenate and balance your skin. Its texture falls between a gel and lotion, which absorbs very quickly into the skin, leaving it hydrated. A little goes a long way – make sure you apply a pea-sized amount and spread it all over your face for a matte effect.
This primer by NYX is the best makeup primer for acne prone skin.
Pros
Reduces the appearance of lines and pores
Silky texture makes for easy blending
Lightweight and non-greasy
Suitable for all skin types
Great packaging
Cons
If you have dry skin, this may not work well for you
Review
The Benefit POREfessional Face Primer comes in an attractive and travel-friendly tube. Its formula has a silky texture which helps your foundation blend easily and stay put all day long. If your T-zone is very oily, this will help control oiliness and will also keep shine at bay.
This primer suits all skin tones and is highly recommended for oily to combination and sensitive skin types.
Rating: 4.9/5
Pros
Does not clog pores or aggravate acne
Contains salicylic acid
Foundations don't oxidize when applied over this primer
Contains hyaluronic acid and silicones
Cons
Not suitable for dry, dehydrated skin
Review
If you have an oily to combination skin and battle with shine for most of the day, this primer by Cover FX is just what you need. It keeps your skin looking shine-free and matte, decreasing the need to blot or powder. If you're prone to acne, this won't cure it, but it surely won't cause more issues or break you out as its formula is free of the inflammatory five.
Pros
Non-greasy
Fragrance-free
Clears up spots within a few days
Easy to apply
Cons
Review
This has a gel to lotion like consistency, which spreads beautifully. If your main skin concerns include redness, blemishes, and acne – this primer from e.l.f is something that you absolutely need to try! Once you apply it, your skin instantly feels smoother and calmer, so your foundation goes on flawlessly and lasts for longer. It contains Salicylic Acid, Vitamin E, and Tea Tree to help counter breakouts and blemishes.
This primer is highly recommended for oily to combination skin types.
Best Makeup Primers For Combination Skin
Pros
Diminishes the appearance of pores and fine lines
Illuminates skin
Helps with redness
Contains SPF 40
Cons
Contains alcohol and won't suit very dry skin
Review
This primer base from Chanel is designed to instantly brighten your complexion while evening out your skin texture. It's ranked high as the best makeup primer for combination skin in the market, and we see why – not only will it make your foundation application easy and flawless, but it will also help the foundation stay on through the day.
If you have combination skin and are looking to control shine on that T-zone while giving your skin the perfect glow, this is something you must absolutely check out!
Pros
Fully hydrates without any heaviness
Does not irritate skin
Paraben-free
Cruelty-free
Cons
Review
The Glossier Priming Moisturizer comes in a travel-friendly tube, and it has a thin, slightly runny consistency. It spreads effortlessly and absorbs well into the skin. Its formula leaves your skin looking healthy with a natural glow. This is the best moisturizing face primer as it works as an excellent base for powder foundation.
This is the best primer for combination skin types and works well even during the summers.
Pros
Easy to apply
Smoothes out imperfections
Oil-free
Lightweight
Cons
Not suitable for very oily skin
Review
This Lancome primer comes in a glass bottle with a pump dispenser. You only need a drop to cover your entire face. The formula feels incredibly light on the skin and instantly hydrates your skin, giving it a healthy appearance.
If you struggle with an oily T-zone, this serum-like primer formula controls oil and prevents that much-dreaded shine. Also, your makeup lasts longer even on hot days.
Best Water-Based Makeup Primers
Pros
Lightweight and oil-free
Allergy-tested
100% fragrance-free
Does not dry out skin
Cons
Does not provide sufficient oil control for very oily skin
Review
The Clinique Superprimer comes in the signature Clinique packaging – minimal and sleek. Its tube is functional and travel-friendly. The formula comes out white, but once you blend it into the skin, it's completely clear. When we talk about its texture, it's rather cream-like but it won't make your face look or feel greasy. Enriched with antioxidants, this non-comedogenic formula is great for sensitive skin and also leaves your skin looking hydrated and healthy.
This product from Clinique is the best makeup primer for dry skin.
Pros
Gives your skin a luminous glow
Easy to use
Cruelty-free
Quick-absorbing
Cons
Price may be a concern for some
Review
This primer spray from Smashbox is free of silicone, alcohol, and oil. You can use this before and after applying your makeup. The formula feels very refreshing, and it provides a veil of hydration to your skin without the greasy feeling. It's especially great for hot days when you want to keep your makeup to the minimal. Also, it's great for all skin types.
Pros
Easy to use
Contains green tea, cucumber, and chamomile
Gives your skin a boost of hydration
Can be used as a setting spray
Cons
Review
This water-based primer + setting spray from MAC is a very versatile product for anyone looking for a bit of dewiness and glow. To use – hold the bottle 12 inches away from your face and spray it to create a hydrated base with a little sheen.
This is the best water-based primer as it suits all skin types well and even more so on hot summer days.
To keep your skin healthy, using moisturizers, exfoliators, day and night creams, and high-quality foundations is very important. It is also just as necessary to use a makeup primer with some extra goodness when it comes to the ingredients of the formula for an ideal complexion. Find a primer that works for your skin type and addresses your skin concerns to make the best of it. That was our roundup of the 15 best makeup primers available in the market. Do you use a primer? If yes, which is your favorite one? Let us know in the comments section below.
Recommended Articles: