15 Best Makeup Primers For Women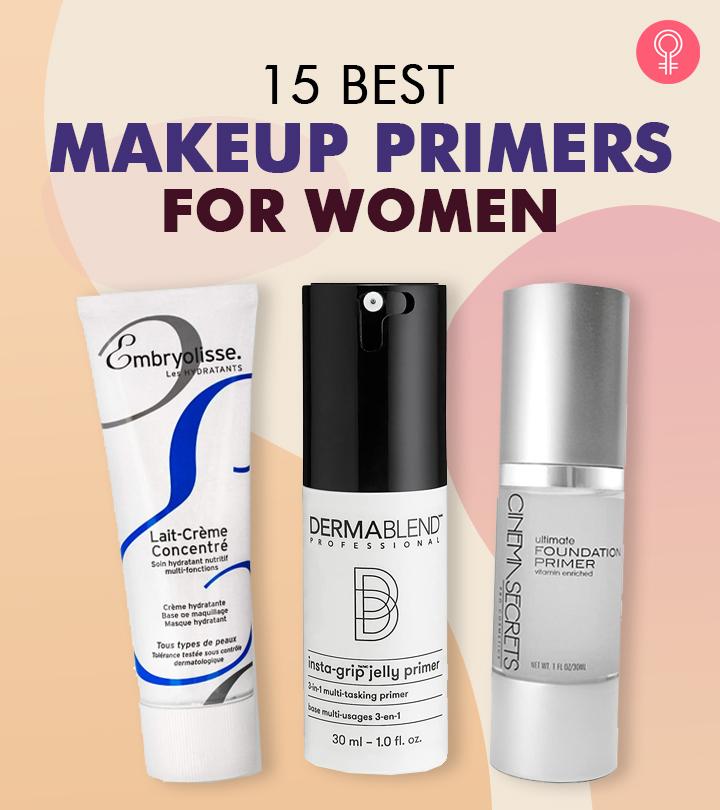 Do you think you do not need a primer? Think again! Prepping your skin before putting on your foundation is a major step. Here is why – adding this magical element to your daily makeup routine not only helps your makeup last longer but also creates a protective barrier on your skin. The result is a smoother and flawless makeup application. A good primer formula combines the benefits of both skin care and cosmetics and is always non-comedogenic.
Here, we have discussed makeup primers and listed the 15 best products on the market. Take a look!
What Are Makeup Primers?
A primer works as an extra layer between the makeup and skin. It makes the makeup last longer and also smoothens the skin's surface for a flawless makeup base.
Let us take a look at the best 15 makeup primers for women.
15 Best Makeup Primers For Women
The Covergirl Simply Ageless Makeup Primer is a liquid foundation that also works as a primer. The anti-aging primer will plump up your skin and instantly reduce the appearance of wrinkles. It also evens out skin tone and blurs other imperfections. The primer is formulated with hyaluronic complex and vitamin C that firm and hydrate the skin. The primer is available in multiple shades for you to choose from.
Pros
Lightweight
Moisturizing
Long-lasting
Reduces the appearance of wrinkles
Cruelty-free
Easy to use
Cons
None
The Embryolisse Lait-Crème Concentré evens and smoothens the texture of the skin. It also brightens the complexion. The product is suitable for all skin types. It works as a primer, face cream, and face mask. The primer leaves the skin calm, soft, and smooth.
Pros
Moisturizing
Ideal for all skin types
Cons
The Laura Geller Makeup Primer will help you create a flawless canvas. It color corrects the appearance of skin discoloration instantly. The product has a pinky-peach hue that will add a subtle soft-focus effect and minimizes the appearance of imperfections. It also delivers a radiant skin finish. The primer is formulated with ingredients that are beneficial for your skin. It enhances clarity and diminishes the appearance of dark spots.
Pros
Lightweight
Moisturizing
Diminishes appearance of dark spots
Cons
None
The Dermablend Professional Insta-Grip Jelly Primer is a 3-in-1 hydrating makeup primer that instantly moisturizes the skin. The primer is suitable for all skin types. It has a lightweight formula that absorbs quickly and provides a smooth canvas for a foundation and concealer. The product is dermatologist- and allergy-tested for safety. It is also suitable for sensitive skin. It is non-comedogenic and non-acnegenic. It is free from parabens, phthalates, sulfates, triclosan, and silicone. The primer is 100% vegan as well.
Pros
Long-lasting
Moisturizing
Suitable for all skin types
Lightweight formula
Easy to use
Dermatologist-tested
Allergy-tested
Non-comedogenic
Non-acnegenic
Paraben-free
Phthalate-free
Sulfate-free
Triclosan-free
Silicone-free
100% vegan
Cons
None
The Julep Black Canvas Primer is nourishing. It creates a smooth canvas for your foundation to glide on effortlessly. The primer has a lightweight formula, and it absorbs excess oil without leaving the skin dry. The primer is formulated with 18 plant and fruit extracts that provide long-term nourishing and brightening benefits.
Pros
Lightweight formula
Absorbs excess oil
Nourishing
Cons
None
The StriVectin Line Blurring Primer is formulated with skin-benefiting ingredients. It also contains blurring microspheres that fill and blur deep-set wrinkles. The primer has a lightweight and breathable formula that also helps prolong makeup wear. It also helps improve and smoothen skin texture. The optical blurring microspheres in the primer diffuse light to blur all imperfections. The primer also contains the patented NIA-114 technology that helps strengthen the skin barrier. It is paraben-free and not tested on animals.
Pros
Lightweight
Breathable
Improves skin texture
Blurs out wrinkles
Non-comedogenic
Paraben-free
Vegan
Cons
The Cinema Secrets Foundation Primer is a lightweight silicone-based primer. It is formulated with vitamins A and E and various essential oils that soothe skin and retain its moisture. The primer fills in fine lines and also extends the wear of foundation.
Pros
Lightweight
Soothing
Retains moisture
Fills in fine lines
Cons
None
The boscia Porefecting Primer is a mattifying skin-balancing treatment primer. It controls oil and shine on the face. The primer is formulated with binchotan white charcoal, witch hazel, and artichoke leaf extract. The witch hazel extract is a natural antiseptic that removes dirt and excess oil. It also has natural astringent properties that tighten enlarged pores without drying the skin out. The artichoke leaf extract increases skin elasticity. The binchotan white charcoal balances moisture levels for a perfected complexion.
Pros
Removes dirt and excess oil
Tightens enlarged pores
Increases skin elasticity
Cons
None
The Cover FX Gripping Primer is a clear gel primer that visibly firms the skin and grips makeup for all-day wear. The primer helps create a glass-like finish. It has an alcohol-free formula that smoothens the complexion. It is also filled with a micro-algae extract that reduces the appearance of fine lines and other signs of aging. The primer is vegan. It is formulated without parabens, phthalates, fragrances, gluten, talc, or mineral oil.
Pros
Long-lasting
Alcohol-free
Vegan
Firms the skin
Paraben-free
Phthalate-free
Fragrance-free
Gluten-free
Talc-free
No mineral oil
Cons
None
The Murad Skin Primer is a velvety-smooth, invisible face primer. It blurs, primes, and protects the skin for 12 hours of makeup wear. The primer glides over skin, and reduces the appearance of pores, fine lines, and uneven texture. The primer is non-comedogenic. It is formulated with mushroom peptides that fight the visible signs of aging and restore youthful-looking firmness and elasticity. The primer is formulated without parabens and mineral oil. It also is free from sulfates, gluten, animal-derived ingredients, formaldehyde, and petrolatum.
Pros
Non-comedogenic
Paraben-free
Sulfate-free
Gluten-free
No animal-derived ingredients
No formaldehyde
No petrolatum
Reduces appearance of fine lines
Restores skin elasticity
Cons
None
The dr. brandt Pore Refiner Primer will help you achieve flawless, photo-ready skin. It creates a great base for long-lasting makeup and well-preserved skin. The primer has a velvety formula that absorbs excess oil, minimizes pores, and blurs fine lines. It is also resistant to sweat and humidity.
Pros
Absorbs excess oil
Minimizes pores
Blurs out fine lines
Sweat-resistant
Humidity-resistant
Lightweight
Cons
The dermalogica Skin perfect Primer will help smoothen fine lines and brighten your skin. It has a velvety formula that contains soy protein. The soy protein evens out skin texture and creates a smoother skin surface. The primer also contains SPF to protect your skin from the harmful UV rays. The primer has a silky feel to it and also provides a smooth surface for a "soft focus" effect. The product is cruelty-free and is free of parabens and gluten.
Pros
Paraben-free
Gluten-free
Lightweight
Evens out skin texture
Protects from sun damage
Cons
The jane iredale Smooth Affair Facial Primer & Brightener preps the skin for makeup to glide on and last longer. It minimizes the appearance of pores and fine lines. It also helps maintain the skin's youthful appearance. The primer is formulated with grapefruit extract and green tea and white tea extracts. The grapefruit extract promotes luminosity and skin radiance. Green tea and white tea extracts provide anti-aging effects.
Pros
Long-lasting
Minimizes appearance of fine lines
Promotes skin luminosity
Anti-aging
Moisturizing
Cons
The Anna Sui Gel Foundation Primer is formulated to hydrate the skin, even out the complexion, and minimize pores. The primer helps achieve a flawless and long-lasting makeup look. It is a water-based primer that seals moisture. The primer contains hydrolyzed milk that boosts collagen production in the skin. It spreads easily and effortlessly. It is formulated without phthalates and sulfates.
Pros
Hydrating
Minimizes pores
Boosts collagen production
Easy to use
Sulfate-free
Phthalate-free
Cons
None
The philosophy Correcting Primer has a unique formula that helps polish skin and scrubs away impurities. It also removes dead skin cells effectively. It makes the skin feel clean and hydrated and even-toned. It helps blur imperfections and visibly fills in wrinkles and smoothens the skin.
Pros
Scrubs away impurities
Removes dead skin
Smoothens skin
Cons
None
There are the 15 best primers for women available on the market. Primers are available in different types. We have discussed them below.
Types Of Makeup Primers
Mattifying Makeup Primers: A mattifying makeup primer is a water-based primer that gives the skin a mattifying effect. It helps reduce shine on the face and minimizes the appearance of pores.
Strobing/Illuminating Makeup Primers: A illuminating makeup primer gives your face extra shine. It also evens out the skin tone and helps you achieve a smooth skin surface.
Color-Correcting Makeup Primers: A color-correcting makeup primer helps minimize the appearance of dark spots and dark circles.
The right primer ensures your makeup lasts longer. It also can hide other imperfections and make you look like an angel. Find a primer that works for your skin type and addresses your skin concerns. Pick your favorite from this list today!
Expert's Answers For Readers' Questions
Do I need a makeup primer?
If you want your makeup last longer, you will find a primer quite helpful.
What is the difference between a primer, a foundation, and a concealer?
A primer works as a layer between your skin and foundation. A foundation evens out your skin tone and brightens your face. A concealer is used to conceal acne and dark spots.
Recommended Articles