15 Best Foundations For Dark Skin, According To Reviews (2022)
Enhance your dusky complexion by framing your face with products just for you.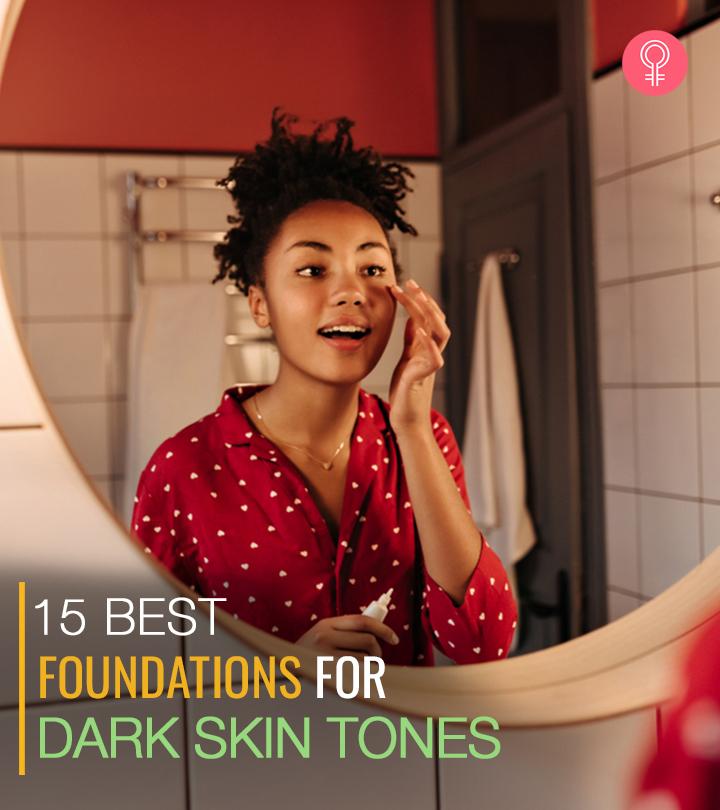 If you were looking for the best foundations for dark skin, you are at the right place. When choosing the proper foundation, darker skin shades are often difficult to attend to. If you are not precise with the shade, you will be left with a cake-like texture. We present 16 high-rated foundations that match your skin tone and give you a flawless, radiant finish to ensure there are no mistakes.
15 Best Foundations For Dark Skin Tones
The Dermablend Flawless Creator is an oil and water-free liquid makeup foundation. It is formulated with 10 ingredients and concentrated pigments that provide full coverage. This lightweight, non-comedogenic foundation is ideal for acne-prone and sensitive skin. It does not contain fragrances, parabens, or animal-derived ingredients and by-products. You may check more about this product in this video.
Pros
Lightweight
Non-comedogenic
Vegan
Paraben-free
Fragrance-free
Allergy-tested
Blendable
Transfer-resistant
Conceals discoloration and spots
Provides full coverage
Suitable for acne-prone and sensitive skin 
Cons
Oxidizes
Does not set without powder
Might cause breakouts
The Giorgio Armani Luminous Silk Foundation is made with micro-fil technology. It is oil-free, weightless, and offers an all-day sheer with buildable coverage. Its silky texture glides on the skin seamlessly and works well with all skin types. This product also acts as a hydrating fluid for the skin. Check out this video to learn more.
Pros
Provides moderate coverage
Buildable
Lightweight
Glides smoothly
Long-lasting
Suitable for all skin types 
Cons
Might get heavy and cakey
The Smith & Cult Veiled Threat is a micro blurring foundation that offers medium coverage without a cakey appearance. It softens the skin and leaves an illuminating finish. This velvety liquid is formulated with aloe vera, chlorophyll, and microsphere powder. Aloe vera gel keeps the skin hydrated and improves its texture. Chlorophyll brightens and soothes the skin. The microsphere powder allows smooth application and makes the skin silky. The transfer-resistant pigments keep the tone fresh and provide a soft-focus effect up to 12 hours. Watch this video for more information about the product.
Pros
Lightweight
Non-comedogenic
Gluten-free
No synthetic fragrances
Vegan
Provides medium coverage
Buildable
Oil-free
Matte finish 
Cons
Settles into fine lines and wrinkles
Might cause dryness
Might get cakey
The BLK/OPL True Color is a lightweight foundation with a pore-perfecting formula. This formula minimizes enlarged pores while refining the skin, leaving it dewy and flawless. The Shade ID technology balances multi-colored chromatic pigments that match your skin tone automatically and neutralize imperfections. The foundation contains shea butter that adds dewy hydration, while the antioxidants protect your skin from free radicals.
Pros
Non-drying
Lightweight
Oil-free
Fragrance-free
Cruelty-free
Long-lasting
Paraben-free
Suitable for all skin types 
Cons
Might get cakey
Might cause dryness
The Wunder2 Last & Foundation is formulated with hyaluronic acid that provides long-lasting hydration to the skin like a tinted moisturizer. The foundation offers full coverage with a natural-looking glow. This lightweight foundation is waterproof, smudge-proof, and adheres well to other makeup products. Moreover, it is easily blendable with either a brush or your fingers, and covers your imperfections well for a flawless glow.
Pros
 Cruelty-free
 Vegan
 Breathable formula
 Waterproof
 Smudge-proof
 Crease-proof
 Transfer-proof
 Moisturizes the skin
Cons
The L.A. Girl Pro Coverage provides medium to full coverage. It makes the skin flawless, luminous, and even-toned. This lightweight formula stays on the skin all day long and imparts a light dewy finish. It has added antioxidants that hydrate the skin and improve its appearance.
Pros
Paraben-free
Lightweight
Full coverage
Blends easily
Ideal for dry and normal skin
Satin-hydrated finish
Provides medium-high coverage
Buildable
Long-lasting
Affordable
Suitable for sensitive skin 
Cons
Might be cakey and greasy
Might cause breakouts
Unpleasant smell
This light natural shade from bareMinerals has a lightweight formula ideal for normal, combination, and oily skin types. It provides full coverage and a matte finish that lasts 24 hours long with its Mineral lock technology. It is formulated with papaya extracts that blur imperfections, and improves skin texture for a flawless appearance. Moreover the bamboo extracts even-tones your skin for a smooth wear.
Pros
 Suitable for oily, combination, and normal skin types
 Lightweight
 Blends easily
 Cruelty-free
 Paraben-free
 Vegan
 Talc-free
 SLS-free
 Fragrance-free
Cons
The Black Opal True Color Foundation is a unique pore-perfecting formula that minimizes pores and refines the appearance of the skin for a flawless, dewy look. It employs the Shade ID technology that balances multi-colored chromatic pigments to neutralize imperfections. It contains shea butter and vitamins C and E that hydrate the skin, while antioxidants protect it from free radicals.
Pros
Non-drying
Lightweight
Oil-free
Fragrance-free
Paraben-free
Cruelty-free
Long-lasting 
Cons
The Dermablend Cover Creme offers full coverage and covers skin imperfections, including dark spots, hyperpigmentation, and scars. It blends seamlessly and hydrates the skin with SPF 30 that lasts up to 16 hours. This lightweight creme is made with high purity pigments and is fragrance-free, non-comedogenic, and dermatologist, sensitive-skin, and allergy-tested.
Pros
Absorbed easily
Covers tattoos and acne scars
Long-lasting
Hydrates the skin
Provides full coverage
Contains SPF 30
Fragrance-free
Non-comedogenic 
Cons
Might feel sticky
Might get cakey
Might cause skin irritations
Contains mineral oil
The Maybelline Fit Me Matte + Poreless foundation provides medium, buildable coverage and is ideal for normal to oily skin types. It refines pores and imparts a natural-looking matte finish to the skin. This oil-free foundation is made with clay and can be removed by micellar water. It remains all day long and can be blended either with the fingers or an applicator.
Pros
Provides medium coverage
Matte finish
Buildable
Long-lasting
Conceals freckles
Softens the skin
Oil-free
Long-lasting
Dermatologist-tested
Non-comedogenic 
Cons
Might emphasize fine lines and pores
Might not suit all skin types
Oxidizes
The Revlon ColorStay Makeup is a liquid foundation and is ideal for normal and dry skin types. It creates a smooth base for applying makeup, concealing blemishes, and imperfections for flawless skin. It provides medium to buildable coverage and imparts a natural look. This oil-free formula contains SPF 20 and hyaluronic acid that hydrates the skin and lasts up to 24 hours.
Pros
Long-lasting
Sweat-resistant
Transfer-resistant
Blends easily
Contains SPF 20
Cons
Might get cakey
Oxidizes
Might feel heavy and sticky
The NYX Professional Makeup Bare With Me Tinted Skin Veil is a combination of concealer and moisturizer. It imparts a creamy, satin finish and natural glow to the skin. This weightless formula provides breathable coverage and hydration up to eight hours. Its skin tinting shades help even out the skin tone. It is best applied with a dual-fiber brush. 
Pros
Cruelty-free (PETA certified)
Long-lasting
Vegan
Buildable
Affordable
Transfer-resistant 
Cons
Might be oily
Might get cakey
Might cause irritations
The Smashbox Studio Skin Shaping Foundation comes with a full-sized foundation on one end and a soft contour shade on the other. This foundation offers medium and buildable coverage, leaving the skin with a natural finish. The contour side adds dimension with a balanced shade.
Pros
Provides medium coverage
Mess-free application
Blends easily
Lightweight
Conceals enlarged pores
Cruelty-free
Cons
Might feel oily
Might get cakey
The Covergirl TruBlend Matte Made Liquid Foundation is formulated with mattifying powders that absorb excess oil. It minimizes enlarged pores, imparting a smooth and polished appearance to the skin. The flexi-hold technology creates a strong yet flexible film on the skin. This transfer-resistant foundation stays up to 12 hours with a matte finish.
Pros
Cruelty-free (Leaping Bunny certified)
Provides full coverage
Matte finish
Covers spots
Adds shine
Transfer-resistant 
Cons
Might be flaky
Might cause breakouts
The L'Oreal Paris True Match Super-Blendable Makeup contains SPF 19 and provides medium coverage with a natural finish. It blends easily and makes the skin smooth and even-toned. The patented color technology, adjusts the shade to match exact skin tones. It contains vitamins A and C, wheat germ, and grapefruit extract that nourish and protect the skin, making it healthy.
Pros
Provides full coverage
Blends easily
Buildable
Contains SPF 19
Oil-free
Fragrance-free
Non-comedogenic
Long-lasting
Lightweight 
Cons
Might get patchy
Might cause rashes or breakouts
That was our round-up of the 15 best foundations for dark skin tones. Scroll down for the factors to consider while picking the right one for your skin.
Things To Consider While Buying A Foundation
Undertone: If you have dry skin, opt for a lightweight liquid foundation with buildable coverage. Using a regular foundation on dry skin can dehydrate it or make it sweat. Similarly, choose a powder-based foundation for oily skin to absorb the excess oil.
Coverage: Pick a foundation that provides the required coverage. Some skin tones and types require medium coverage, but the darker tones require full coverage. The best option is a foundation with buildable coverage so that you can customize it.
Finish: Choose a foundation based on how you want your skin to look – matte, dewy, or shiny. Also, remember the makeup products you will be using along with a foundation. If you want a natural glow, opt for a dewy finish foundation. But if you are building your look and adding more makeup, see what works best. Remember, dark skin reflects light, so going only with foundation and no other makeup can be tricky. Opt for a semi-matte formula that will impart a natural shine without looking extra.
Shade: It is imperative to try your makeup before buying. Do a patch test on the underside of your forearm. Since the skin color varies on different body parts, ensure your foundation matches them well. The best option is to try a sample on your chest.
Oxidation: Oxidation changes the color of your makeup. It is caused due to the reaction of the skin, natural oils, dirt, or ingredients with oxygen. The consistency of the foundation changes and separates the skin. Opt for water-based foundation or apply a primer to prevent this. Not all foundations oxidize, so keep checking foundations until you find the best one for you.
Why Trust StyleCraze?
The author, Baishali Bhattacharya, is a certified makeup expert. She reviews beauty-related products for StyleCraze based on her extensive research and a thorough analysis of feedback gathered from different trusted online platforms. This list of the best foundations for dark skin tones has been compiled considering their easy-blending and smudge-proof formula. Moreover, these foundations are transfer-proof and offer full coverage.
Recommended Articles