Always Put Your Best Face Forward With The 10 Best Foundations For Photos
Achieve picture-perfect skin with full coverage, waterproof, and non-comedogenic foundations.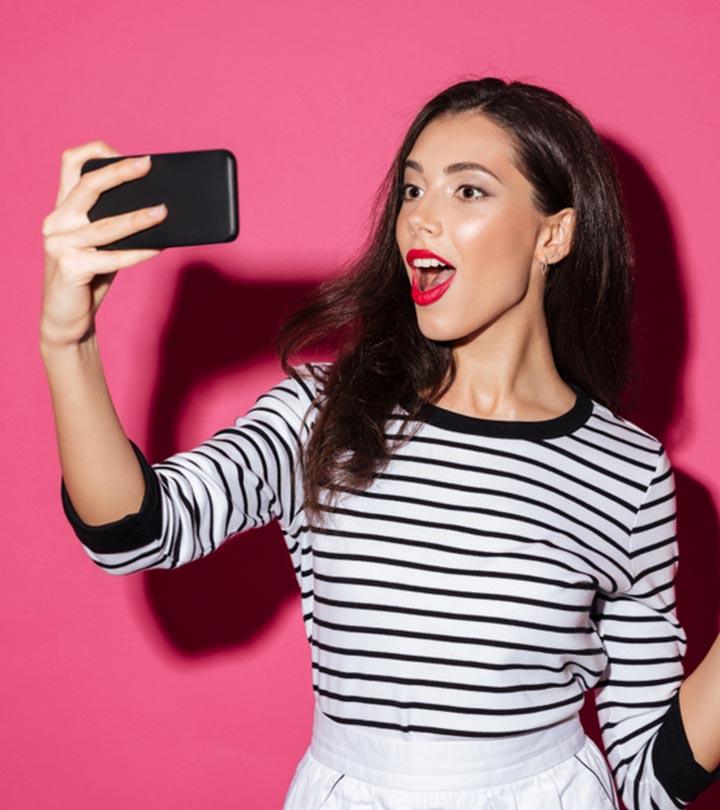 If you are someone who clicks the most likable selfies for social media, you need to own the best foundation for photos. While many filters make up for the pimples and uneven skin tone, people who opt for DSLR cameras have to be careful about maintaining their skin all the time. Foundations can be the best way to fight skin problems and keep them hidden for photos. No one needs to see the pimple that left a big mark on your left cheek! And not all foundations conceal your skin correctly. If you are not careful about getting yourself the proper foundation, it might look artificial or even make you look like a textured cake! Not to mention the trickle marks when they melt away in the heat or the remains of the makeup that the foundation on clothes. Thanks to the good brands, these foundations keep such embarrassment away while helping you maintain flawless skin in your pictures. Go through these 10 foundations that will keep you sorted for the photoshoots and help you flaunt radiant natural-looking skin in all your Instagram-worthy photos!
10 Best Foundation For Photos For A No-Filter Makeup Look In 2023
If you've got pimples or scars bothering you, there's no need to worry! With Wet N Wild's PhotoFocus Foundation, you can correct and conceal imperfections effortlessly. The formula offers a matte finish that glides on like a second skin, giving you a natural and youthful look. Formulated with a light-adjusting complex, it prevents a white-cast in photos in over 7 different light conditions, so you look your best regardless of where you go. Cruelty-free and affordable, you must add this photo foundation used by celebrity makeup artists worldwide to your makeup collection right away! This video review will help you learn more about the product.
Pros
Matte-finish
Full coverage
Formulated with a light-adjusting complex
Cruelty-free
Affordable
Cons
It is recommended you pair this with a moisturizer or hydrating primer as the formula may be drying.
Price at the time of publication: $4.99
Headed to the beach and want to look like a glowing goddess in all your photos? Take a chance with Dermablend's leg and body makeup with SPF 25 and flaunt your skin without inhibitions. The formula comes with buildable coverage and conceals stretch marks, scars, dry patches, and veins while evening your skin tone. Its SPF protection keeps you shielded from the sun and offers your skin much-needed hydration. If this was not all, you could also use this photo-friendly foundation to cover tattoos as well! When used with Dermablend's setting powder, the foundation provides a smudge-proof and transfer-proof finish that lasts all day long. Suitable for sensitive skin, the non-comedogenic formula is cruelty-free and is without SLS and phthalates.
Pros
Provides buildable coverage for entire body
Contains SPF 25
Hydrating formula
Suitable for sensitive skin
Phthalate, SLS, and cruelty-free
Non-comedogenic
Conceals tattoos and stretch marks
Cons
May take some time to dry
Price at the time of publication: $37
Be it a party, graduation, or a glorious wedding — wherever there are photo ops, you must be armed with a good foundation for photos. A worthy mention on our list of the best foundations for photos, Revlon's foundation formulated with high-definition filter technology softens flaws, leaving your skin looking radiant even without a filter! This drugstore foundation for photos comes with a built-in blender for a mess-free application and helps blur out wrinkles, fine lines, and dark spots effortlessly with medium coverage. With an SPF 20 included in its formula, be sure to take your sun-kissed selfies without worrying about sun damage. This video will help you make an informed decision about your purchase.
Pros
Medium, buildable coverage
SPF 20 protection
Built-in blender for convenient application
Twistable base to dispense foundation
All day wear
Affordable
Evens skin tone
Cons
May tend to settle into pores and fine lines
Price at the time of publication: $4.88
If you're on the hunt for the best foundation for photos and flash photography, get camera-ready with Dermacol's foundation that comes with an added benefit of SPF 30. Ideal for normal, dry, and combination skin, this photo foundation is waterproof, hypoallergenic, and preservative-free. Not only made for the face, but you can also apply this to your body for a luxurious, fresh glow. With over 50% color pigments included in this formula, this high-street foundation for photos ensures that any acne, pigmentation, blemishes, and under-eye circles will vanish within seconds of application, leaving you with a gorgeous-looking finish.
Pros
Waterproof
Contains SPF 30
Preservative-free
Hypoallergenic
Full coverage
Suited for normal, dry, and combination skin
Can be applied on body as well
Cons
Evening your skin tone for photoshoots won't be so time-consuming if you've got this camera stick foundation by True + Luscious. With a suitable formula for all skin types, this creamy makeup foundation for photos provides full coverage and can cover anything from scars to tattoos. The long-lasting wear product conceals and corrects any blemishes and is formulated with flex technology that moves with your skin for a natural finish that helps you achieve an airbrushed look. As one of the best foundations for photoshoots, it is easy to blend, offers full coverage, and is vegan.
Pros
Full coverage
Suitable for all skin types
Long-lasting wear
Conceals and corrects
Natural looking finish
Non-comedogenic
Vegan
Paraben and cruelty-free
Creamy, easy to blend formula
Cons
May look cakey after a while
Price at the time of publication: $32
If you prefer powder-based foundations, this Smashbox photo-friendly foundation may be the perfect fit for you! This velvety-soft foundation will give you up to 8 hours of wear and uses light filter technology to soften blemishes. Suitable for normal skin, the powder foundation is oil-free and provides you with buildable medium coverage. Smashbox has also made sure the formula is non-drying, so it doesn't cake or settle into your pores, leaving your skin with a flawless, dewy finish. Watch this video to get a detailed review of the product.
Pros
Powder-based foundation
Up to 8 hours of wear
Light filter technology to blur imperfections
Buildable, medium coverage
Suitable for normal skin
Non-drying, oil-free formula
Doesn't cake or settle into pores
Cons
May not be ideal for dry skin
Price at the time of publication: $24.95
Ditch the heavy, cakey foundations and trade it with this photo foundation with a weightless texture and a luminous finish. This creme skin tint from Mirabella provides medium coverage with an easy-to-apply mineral base for a natural skin feel that is always photo-ready. Infused with hyaluronic acid for all-day hydration, the water-gel formula is oil-free and keeps your skin from caking and drying. The formula is gluten, talc, and paraben-free, making it truly suitable for sensitive skin. With a silky-soft velvet finish, you can be sure your pictures are always fabulous! What's more, it instantly reduces redness with its anti-inflammatory properties and evens out skin tone as well.
Pros
Medium coverage
Mineral-based formula
Infused with hyaluronic acid
Water-gel formula
Gluten and talc-free
Paraben and oil-free
Has anti-inflammatory properties
Does not cake, crease, or fade
Cons
Price at the time of publication: $42
Airbrushed skin is something we all crave, and Farmasi's VFX Pro foundation helps get us one step closer to that skin goal! Not only does its formula reflect light to avoid a white overcast, but it also instantly increases luminosity, so your skin glows from within in pictures. This luminous silk foundation for photos also provides a natural and unblemished finish that looks like it's been retouched with photoshop! Its photo filter technology is the magic behind the formula that diffuses light for fabulous pictures. The matte-finish formula is long-lasting and delivers high coverage leaving you with smooth, radiant skin even in close-up shots!
Pros
Matte-finish formula
Diffuses light for great photos
Long-lasting wear
Full coverage
Ideal for close-up shots
Cons
May transfer onto clothes
Price at the time of publication: $29.99
Lights, camera, foundation! Always be one step ahead and be prepared for all photo ops with this foundation for photoshoots from Laura Mercier. Infused with moisturizing ingredients, its hydrating formula ensures your skin does not dry out and doesn't look like a flakey mess by the end of your photoshoot. With color-true pigments that virtually disappear on the skin, you can be assured that your skin looks gorgeous and perfect while looking naturally flawless. This one also has a long-lasting texture that stays up to a whopping 12 hours, and you can transition comfortably from morning meeting to a night out in the city without frequent touch-ups. Ideal for dry and normal skin, grab this easy-to-blend foundation before it's too late!
Pros
Moisturizing ingredients
Stays up to 12 hours
Full coverage
Evens skin tone and texture
Ideal for dry and normal skin
Cons
May not be suitable for oily skin
Price at the time of publication: $38
Get the best of both worlds using this photography foundation with anti-aging benefits that offers a natural, airbrushed finish. Formulated to brush over fine lines and wrinkles smoothly, this creamy foundation also comes with the goodness of SPF 28 to protect your skin from the sun. Enriched with hyaluronic complex and vitamin C for hydration and healthy-looking skin, the foundation gives you a youthful look while providing a wide shade range to suit different complexions. Trust us when we say this light coverage foundation for photos is just what you need for that most-liked Instagram selfie!
Pros
Anti-aging benefits
Contains SPF 28
Infused with hyaluronic complex and vitamin C
Smooths over fine lines and wrinkles
Cream-based foundation
Cruelty-free
Affordable
Cons
Formula may be cakey if not blended well with a damp beauty sponge
Price at the time of publication: $31.93
And that was all for our list on the best foundation for photos of 2023. If you're still confused about which of one these foundations is the perfect fit, here are a few things you need to keep in mind when choosing the best one for your skin.
How To Choose A Foundation For Photography?
When you're directly under the glare of heavy lights or flash photography, your skin tends to dry out much faster. And if you're subject to these kinds of photoshoots often, you may want to go for a more hydrating foundation that keeps your skin looking fresh all day long. Foundations also tend to flake and dry in cold winter months, so keep that in mind when picking one out. However, if your skin is already oily, you may not need a foundation that is non-comedogenic and oil-free. So, consider these points before making your purchase.
When it comes to dressing up for the camera, we certainly need coverage — but do we want light, medium, or full coverage is the question we need to contemplate. You may want to go for a full coverage foundation if you have tattoos, dark scars, marks, or even heavy acne. If you're just looking to even out your skin tone and give it an airbrushed look, then medium or sheer will work just as well for you.
As always, stay clear of harmful ingredients like parabens, sulfates, and talc. These ingredients can do more harm than good and will eventually strip your skin of the natural oils, leaving it dry and lifeless.
Why Trust StyleCraze?
The author, Chaitra Krishnan, is a makeup and beauty enthusiast. She understands how to achieve a perfect photogenic look using the right foundation. She has compiled the above list of the best foundations for photoshoots based on extensive research in various brand formulations and reviews from trusted online forums. These products help you get a natural-looking radiant look without breaking the bank.
Frequently Asked Questions
Is a matte or dewy foundation better for photos?
A semi-matte finish foundation is the best if you are going to take a lot of photos. It does not make your skin look too dry or oily in the pictures.
How should I do my makeup for a photoshoot?
Here are some tips to nail your photoshoot makeup looks.
•  Invest in good-quality products.
•  Prep your skin with a good cleanser and moisturizer duo. Pay attention to the areas around your eyes and mouth.
•  Choose the foundation shade closest to your natural skin complexion.
•  Avoid HD powders.
•  Use matte finish contour. And blend out well.
•  Highlight your cheekbones and cupid's bow.
•  Pluck out eyebrows a few days before the shoot to have defined brows but non-irritated skin.
•  Use a good setting spray that lasts long without getting oily.
What kind of foundations don't cause flashbacks?
Powder foundations or foundations with matte finish do not cause flashbacks.
Should I use a dewy skin tint or full coverage foundation for mature skin while clicking pictures?
Use a semi-matte or satin finish full coverage foundation for mature skin while clicking pictures.
How do you prevent foundation flashbacks?
Avoid ingredients like zinc oxide and titanium oxide (found in SPF) and silica, as they may show up as a white cast in photographs. Avoid highlighters and shimmery makeup and opt for matte formulas and looks instead. To top it all, blend makeup products very well to get perfect pictures without flashback.
Recommended Articles: