8 Best Foundations To Cover Tattoos Perfectly Well – Top Picks
Properly conceal your tats with affordable and skin-friendly makeup products.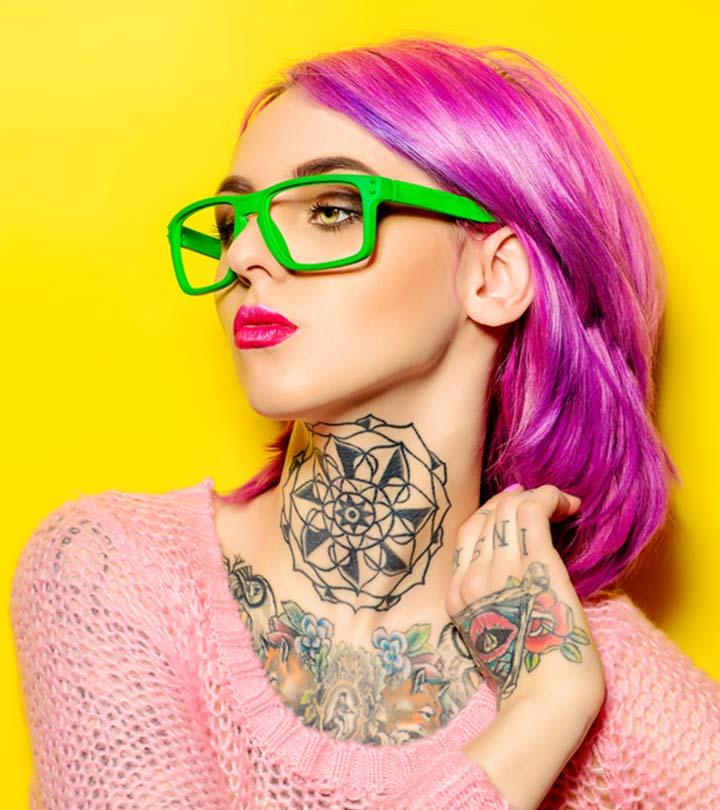 We love our ink – whether it is the minimal aesthetic we aspire for or the grand designs that speak volumes. However, certain occasions like formal work meetings and family gatherings call for the best foundations to cover tattoos that you otherwise love flaunting. These foundations come with full-coverage formulas that effortlessly conceal your tattoos without visible traces. Serving as a temporary fix, these can be easily removed once you are done with your stint. These products also contain rich and thick pigments that sit well with your skin tone and texture without looking cakey. If you are overwhelmed with the options in the market, take a deep sigh of relief. To help make your choice easier, we've compiled a list of the best foundations that effectively cover your tattoos without the hassle. We're sure you'll find the one!
8 Best Foundations To Cover Tattoos Flawlessly In 2023
It is a unique product that works just like a concealer and helps you hide all your skin imperfections like bruises, dark spots, skin discoloration, acne scars and tattoos too. Being available in multiple shades, the product can be used by people with almost all skin tones. It lasts all day long and helps you keep your skin completely flawless. Also, by using a small amount of this product, you can cover a large part of the skin.
Pros
Paraben-free
Hypoallergenic
No harmful chemicals
Free from preservatives
Cons
Might not be transfer-proof
Price at the time of publication: $6807
Dermablend is the experts' choice when it comes to covering up spots, stretch marks, varicose veins, bruises and tattoos. The brand has a wide range of products that make makeup easy and effortless. One such makeup product is this professional leg and body makeup foundation. Unlike other foundations, this one is designed exclusively for the body and not just the face. It helps conceal skin marks in a very simple manner. The product is allergy tested and thus evades the risk of allergies. Being extremely light in texture, this foundation builds even coverage that stays long and doesn't feel sticky. Induced with SPF 25, it is great for skin protection too. The foundation is transfer resistant which makes it a preferable option.
Pros
SLS-free
Cruelty-free
Triclosan-free
Fragrance-free
Phthalate-free
Contains high performance pigments
Cons
Price at the time of publication: $37
Pheora Liquid Foundation is an all-time favorite for getting that full coverage over your skin marks, acne scars, tattoos, and bruises totally invisible. With the versatile function of a concealer, foundation and skin corrector, this foundation excels at providing seamless camouflage. It has a matte texture that lasts long and is hydrating at the same time. The composition is formulated keeping in mind the hydration needs of the skin, making the product moisturizing enough for a soothing coverage. Offered in a variety of shades, this liquid foundation gives skin correcting options for all types of skin complexions. Its buildable formula is easy to spread and keeps the skin refreshed with a perfect airbrushed look.
Pros
Adds shine
Oil controlling
Lightweight formula
Provides ultra-smooth finish
Cons
Price at the time of publication: $9.99
For tackling those dark tattoos and stubborn dark circles, you need this skin perfecting foundation from Veronni that works like magic. Loaded with pigments, the formula keeps you covered from skin imperfections. It serves as an excellent skin corrector that suits spots, blemishes, acne scars, bruising, pigmentation, etc. Not only this, it also provides you with a flawless makeup base that enhances your skin tone and also keeps your skin moisturized. Since the formula is comfortable to wear, your skin feels relaxed even during long hours. Its prime feature is its pure natural plant formula that reduces the risk of allergies.
Pros
Versatile use
Hypoallergenic
Comes with SPF30
Waterproof formula
Cons
Price at the time of publication: $6.88
Dermablend Quick-Fix foundation stick is exclusively designed to give you flawless skin without any marks or scars. It does a pretty decent job at concealing tattoos and enhancing skin texture. From concealing birthmarks and blemishes to correcting skin tone, this versatile makeup stick has the potential to do it all. The non-drying texture of this foundation can last up to 16 hours when used with a setting powder. When wishing to get that seamless finish that looks natural and non-cakey, this foundation stick comes really handy. Its non-comedogenic formula suits sensitive skin.
Pros
SLS-free
Cruelty-free
Triclosan-free
Fragrance-free
High performance pigments
Cons
Might be slightly greasy for some
Price at the time of publication: $30
This is a unique product designed exclusively for covering tattoos on the skin. The product comes in the form of a foundation spray and is super easy-to-use. It lasts for around 18 hours and gives you transfer-free full coverage. The formula is highly buildable due to its light texture. When you use it on your body, it doesn't feel sticky or heavy. In fact, there is no cakiness associated with it as it is with other foundations. Bairly Sheer High Intensity Airbrush Body Cover is dermatologist tested and suitable for sensitive skin. When you want to conceal your tattoos, birthmarks, bruises or scars in just no time, simply spray it over the skin. It blends naturally and provides you with a perfect airbrush kind of application.
Pros
Alcohol-free
Paraben-free
Cruelty-free
Water based formula
Cons
Slightly unpleasing fragrance
Price at the time of publication: $12.95
KVD Beauty Lock-It Foundation is suitable for exceptional coverage. It lasts all day long and provides you with a transfer-resistant finish. Formulated with vegan pigments, this foundation is perfect to cover the tattoos. The product absorbs the excess oils from the skin and lends a beautiful, soft finish. Available in two different sizes, the foundation is suitable for travels. A small amount of this full coverage tattoo foundation can go a long way in concealing tattoos. With glycerin and calcium in it, the formula is great for the skin.
Pros
Liquid form
Vegan formula
Blends smoothly
Available in multiple shades
Cons
Appears cakey when overused
Price at the time of publication: $31.42
Suitable for delivering medium to ultra full coverage, this foundation is perfect to cover tattoos and bruises. It doesn't need any setting powder and still provides a seamless matte finish. Being water and sweat resistant, it lasts long. The product blends flawlessly and adds freshness to the skin. Interesting part is that it can target stubborn skin issues like sun spots, acne scars and vitiligo. It can even be used to even out your skin tone and make your skin look ageless.
Pros
No oil
No talc
Silicone-free
Paraben-free
Cons
Needs to be used with an airbrush machine
Price at the time of publication: $20
So, these are a few top foundations to cover tattoos. Each one of these have special traits. You can choose any as per your requirement, but before making the purchases, take some time to go through the points mentioned below that might help you get hands on the best product for your needs.
How To Choose The Best Foundation To Cover Tattoos?
Choosing the right foundation shade is essential to cover the tattoos properly. The foundation shade needs to be slightly lighter to seamlessly blend into your skin tone. There has to be proper application of primer and concealer beneath the foundation, to let foundation do its job precisely.
Coverage really matters, as only with the right coverage can you cover the tattoos flawlessly. If you are someone who doesn't like heavy full-coverage, opt for foundations that are buildable and provide seamless coverage. In case you are scared of greasiness, look for matte foundations which absorb oil from the skin. People who sweat a lot, must opt for water or sweat resistant foundation. In case you have pores on your skin, foundations with an airbrush finish will be more suitable for you.
A good foundation that covers tattoos is not enough. It should last long and must not look patchy with passing hours. Also, water and sweat resistance foundations are good for keeping tattoos concealed without letting them fade after sweating. So, such products must be considered.
How To Cover Tattoo With Foundation?
Clean your skin before applying makeup on your tattoo.
Apply a primer to ensure that your makeup stays long on your skin.
Then try neutralizing your skin tone with a color corrector to tone down the shade of your tattoo.
Apply some concealer after the color corrector to provide better coverage. Try dabbing the concealer instead of rubbing it for better coverage.
Then select your shade of foundation. Apply it generously and blend it with a damp beauty blender.
Set it with a setting powder for that long-lasting matte finish.
For large sized tattoos, try opting for a liquid foundation that can blend well and doesn't seem patchy. Apply the foundation generously and directly on the skin or after using a corrector. Use a blending brush or sponge and apply in tapping motions. Tapping or dabbing motions tend to add a lot of pigment that eventually can conceal your tattoo perfectly well. Rubbing, on the other hand, can mess up the process. So, dab the foundation with light hands for that perfect look.
Why Trust StyleCraze?
Chaitra Krishnan, the author of this article, is a makeup and fashion expert and loves to try different beauty products. She read numerous online reviews and user feedback to curate a list of the best foundations to cover tattoos. Chaitra considered different skin tones, coverage, and longevity to select the products mentioned in the list. These foundations are lightweight, non-greasy, blend smoothly, and cover the tattoos effortlessly.
Frequently Asked Questions
Can I use foundation to cover tattoos?
Yes, a full-coverage foundation camouflages your tattoos without any traces.
What makeup do actors use to cover tattoos?
Actors use setting spray, powder, concealer, and foundation to cover their tattoos.
Is concealer or foundation better to cover tattoos?
Both are good for covering tattoos. Choose the right formula considering the ink color, skin tone, skin type, and finish.
What foundation covers tattoos?
A full-coverage foundation with mild ingredients and free of harsh chemicals helps cover tattoos, acne marks, hickeys, and uneven skin tone without damaging the skin.
Recommended Articles
Best Tattoo Cover-Up Makeup Products – Top Picks
Best Tattoo Concealers According To Reviews
Best Full-Coverage Foundations Suitable For All Skin Types
Best Foundations And Concealers
Best Body Makeup Products That You Need To Try