13 Best Foundations You Must Add To Your Makeup Arsenal – 2022
It's time to introduce more advance and unique formulations to your makeup regime.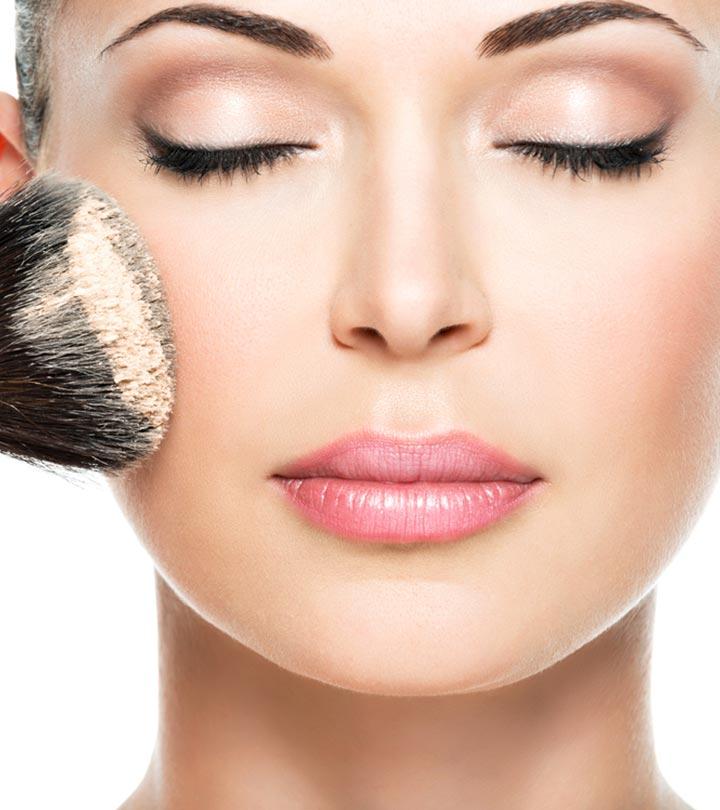 A foundation is a must-have item in your beauty kit. These are available in various formulas – liquid, powder, or cream – and ensure that you achieve a consistent skin tone. Most of the foundations are enriched with moisturizing ingredients that combine skin care and makeup to give you radiant skin. Here, we have listed the 13 best foundations for different skin tones. Check them out and pick the shade closest to your skin tone.
13 Best Foundations
The Maybelline New York Fit Me Matte+ Poreless Liquid Foundation is a lightweight formula that mattifies and refines pores. It leaves your skin with a natural, seamless finish. The foundation contains micro-powders that absorb excess oil and offer a matte and poreless looking finish.
It provides medium coverage with long-day makeup wear. It is dermatologist-tested and non-comedogenic. It contains skin-friendly ingredients. You can choose your shade from a diverse variety to match your skin tone.
Skin Type:
Pros
Lightweight
Long-lasting
Non-comedogenic
Hypoallergenic
Dermatologist-tested
All-day wear
Absorbs excess oil
Cons
Leaves a cakey appearance
May stain clothes
The Revlon ColorStay Liquid Foundation wears for up to 24 hours. It offers the best coverage with SPF 15. The smooth texture glides on the skin effortlessly and leaves you with a gorgeous appearance. It also withstands the oil and greasiness.
The foundation does not settle into fine lines. Its time-release technology, specially formulated for combination or oily skin, controls oil secretion and shine and leaves a matte finish. The foundation is available in 43 different shades ranging from light to medium to dark.
Skin Type:
Pros
Lightweight
Protects skin from sun damage
24-hour long makeup-wear
Minimizes large pores
Absorbs excess oil
No cakey appearance
Oil-free
Absorbs shine
Cons
None
The bareMinerals Barepro Powder Foundation is a skin-improving formula with full coverage. It leaves you with a matte finish. It stays on to the skin for up to 12 hours. This pressed powder is formulated with 90% natural ingredients powered by vitamins and minerals that offer full and flawless coverage.
This high-performance foundation does not clog skin pores. It leaves skin breathable, ultra-smooth, and silky. The velvety smooth foundation powder effortlessly glides on the skin for superior customizable coverage. It has been clinically shown to improve skin clarity, reduce pore size, and control shine.
Skin Type:
Pros
Lightweight
Full coverage
12-hour long makeup wear
Ultra-smooth texture
Reduces pore size
Cons
None
If you are looking for a liquid foundation for your mature skin, The Covergirl + Olay Simply Ageless formula is your right pick. The dual formula reduces the appearance of fine lines, wrinkles, and other symptoms of premature aging. It is formulated with hyaluronic acid that rejuvenates skin and restores radiance.
This antioxidant-rich foundation is infused vitamin C that firms the skin and delivers optimum hydration. It also contains nicotinamide (or vitamin B3) to strengthen the skin's natural protective barrier. The velvety smooth texture easily glides on to the skin. It evens out the skin tone and blurs the appearance of dark spots and other skin imperfections. Check out this video on YouTube for a detailed understanding of the product.
It is cruelty-free and 100% vegan. It is available in various shades to match your complexion.
Skin Type:
Pros
Lightweight
100% vegan
Cruelty-free
Reduces fine lines and wrinkles
Suitable for sensitive skin
Firms the skin
Strengthens skin's protective barrier
Cons
None
The L'Oreal Paris Infallible Pro-Matte Foundation gives you a matte finish. It also keeps excess skin oil at bay for up to 24 hours. It is lightweight and smooth. It is creamy in texture and glides effectively on the skin for a flawless finish. It has medium coverage and is perfect for everyday use. It blurs the skin's imperfections. It is available in 28 different shades to match your skin tone.
Skin Type:
Pros
Lightweight
Long-wearing
Holds makeup for 24 hours
Transfer-resistant
Shine-control
Cons
Leaves a streaky orange finish
If you want a multi-tasking formula with a dewy finish, high coverage, and something that also blurs imperfections, The Miliani Conceal+ Perfect 2-in-1 Foundation is the ideal beauty edition. It is a lightweight, oil-free formula that reduces dark undereye patches and unwanted skin redness.
It blurs other skin imperfections and blemishes with just a tap. It is a water-resistant concealer and foundation that gives you a bright, bold finish and retains your natural appearance. This smart formula serves all purposes and evenly blends with the skin tone. It brightens your appearance.
It provides a medium to full coverage and long-day makeup wear. Just pick your favorite blender and pump out one dollop of your favorite shade for a silky-smooth finish.
Skin Type:
Normal, dry to combination skin
Pros
Long-wearing
Lightweight
Water-resistant
Reduces dark circles
Cruelty-free
Glides smoothly
Cons
None
The Rimmel Stay Matte Foundation is lightweight. It has an airy mousse texture that will keep your skin from feeling oily or greasy throughout the day. It blends in well with the skin and minimizes pores.
It does not sink down into the fine lines or wrinkles. Neither does it leave a cakey appearance. The oil-free, silky-smooth formula offers an all-day shine-free and natural finish.
Skin Type:
Pros
Lightweight
Fragrance-free
Full-coverage formula
Reduces the appearance of pores
No cakey appearance
Does not settle into fine lines or wrinkles
Long-lasting
Cons
Leaves oranges streaks
Could dry the skin out
Consistency is too thick
A heavyweight, sticky foundation leads to acne-breakouts. The e.l.f. Flawless Finish Foundation is a lightweight, oil-free formula that blends naturally into the skin for a beautiful, semi-matte finish. It gives full coverage and absorbs oil for a shine-free look.
The liquid formula restores the natural shine and uneven skin tone for a brighter complexion. It provides SPF 15 to protect the skin from sun damage. It is cruelty-free and made of 100% vegan ingredients. It is available in a wide range of shades that complement all skin tones.
Skin Type:
Pros
Lightweight
Oil-free
Cruelty-free
100% vegan
Paraben-free
Phthalate-free
Contains SPF 15
Long-lasting makeup wear
Cons
The NYX Professional Makeup Can't Stop Won't Stop Foundation is a lightweight, waterproof, highly pigmented formula that provides full coverage for long makeup wear. This comfy, long-wearing liquid comes in a variety of shade ranges that do not transfer.
This creamy liquid effortlessly glides on skin and delivers a matte coverage that stays up to 24 hours. This oil-free formula mattifies the skin and controls the shine for a natural finish.
Skin Type:
Normal, oily, combination, and sensitive skin
Pros
Ultra-lightweight
Provides full coverage
Highly pigmented
Waterproof
Long-wearing
Does not transfer
Shine-control formula
100% vegan
Cruelty-free
Available in 45 shades
Cons
None
If you are looking for a long-lasting color with a natural finish that stays perfect during sultry weather or marathon workdays, try the Almay Truly Lasting Color Liquid Makeup Foundation. It is formulated with vitamin E and lemon extract that keep your skin smooth and bright, protecting it from free radical damage.
The long-lasting color keeps your makeup intact for up to 16 hours without a touchup. It provides light to medium coverage and blends seamlessly. It produces a naturally luminous finish. It helps cover dark circles under the eyes. It is a dermatologically-tested, fragrance-free formula.
Skin Type:
Pros
Cruelty-free
100% vegan
Dermatologically-approved
Fragrance-free
Lasts all day
Seamless blend
Hypoallergenic
Blurs dark circles
Cons
Consistency may be too thick
May cause allergic reactions
If you are looking for a natural finish that will not clog your pores and instead give you light coverage, The Neutrogena Hydro Boost Hydrating Tint Moisturizing Foundation is your right pick. This lightweight water-gel formula features hyaluronic acid that plumps the skin, restores skin hydration, and reduces the appearance of fine lines and wrinkles.
This oil-free makeup foundation does not clog pores or cause any breakouts. It provides 24-hour wear and blends easily for a healthier look. It creates a healthy, natural, moisturized skin with a fresh look. It is available in 10 blendable shades.
Skin Type:
Pros
Breathable
Blends easily
Does not clog pores
Oil-free
Improves skin suppleness
Does not settle into fine lines
Reduces the appearance of fine lines
Plumps the skin
Cons
If you want a two-in-one foundation that brightens your look and conceals imperfections, the Phoera Oil-Control Liquid Foundation is the right pick. This waterproof foundation provides full coverage with a soft matte finish. It is lightweight and easy to blend.
It contains whitening and moisturizing ingredients that correct an uneven skin tone and plump your skin. This liquid foundation can mask fine lines and wrinkles and even reduce pore size. It boosts radiance for 24 hours and leaves skin feeling silky smooth and shine-free.
Skin type:
Pros
Lightweight
Waterproof
Easy to wear
Reduces pore size
24-hour makeup wear
Long-lasting
Easy to blend
Oil-controlling formula
Cons
None
If you want to cover your varicose veins, stretch marks, scars, and age spots, try the Dermablend Professional Skin Perfecting Foundation. The lightweight high-performance pigment fades away all the scars, marks, and skin redness with its buildable coverage.
It is formulated with octisalate (3.2%) and octocrylene (6%) with broad-spectrum SPF 25 that protects skin from sun damage. The foundation provides a smudge- and transfer-resistant makeup wear that lasts for up to 16 hours. You would love to try out 12 true-to-tone, fade-proof shades.
Skin Type:
Pros
Lightweight
Transfer-resistant
Smudge-proof
Fadeproof
Provides buildable coverage
Protects against sun damage
All-day hydration
Cons
None
These are the 13 best foundations available online. Let us take a look at the different types of foundations you can use as per your skin type.
Types Of Foundations
Liquid Foundation: It comes in both oil-based and water-based formulations. Normally, liquid foundations are best suited for dry skin and for makeup beginners as they are easy to apply. But they can go with all skin types and provide 3-4 hours of wear. Such foundations offer a matte, dewy finish with light, medium, and full coverage.
Powder Foundation: If you have oily skin, a powder foundation would be your best choice. These are talc-based formulae and their microparticles tend to absorb excess oil. They do not settle into fine lines and offer light to medium coverage.
Creamy Foundation: This emollient formula is perfect for dry skin. It nourishes the skin and provides full coverage. This high definition (HD) cream foundation lasts up to 10 hours without creasing or caking. It gives dry, dehydrated skin a new lease of life by providing proper hydration. It can also hide blemishes and fine lines to restore radiance.
Mousse Foundation: It is ultra-lightweight and contains microbubbles that make it airy. It offers medium to full coverage. It does not settle into the ridges or accentuate lines and wrinkles.
Serum Foundation: This is among the most popular foundations suitable for oily skin types. It has the lightness of a tinted moisturizer and the coverage of a foundation. This silicone-based formula is lightweight, watery, and thin. It easily blends with the skin tone.
Foundation Stick: As the name suggests, this solid foundation is attached to the stick and delivers more pigment and coverage. It is perfect for those who do not want to mess with the liquid or creamy formula but desires a HD finish.
The following buying guide will help you choose the right foundation for your skin type.
Choosing The Right Foundation – A Detailed Buying Guide
Oily Skin: If you have oily skin, use a powder foundation that can absorb oil to leave a shine-free look. The mineral foundation also works well on oily skin as the dry particles tend to absorb shine for a matte finish. An oil-free liquid foundation will not clog your pores. It instead provides long-lasting makeup wear.
Combination Skin: An emollient formula with full coverage and high protection is the best pick for those who have an oily T-zone with dry cheeks and chin.
Sensitive Skin: An oil-free foundation with natural ingredients and a paraben-free, sulfate-free formula will be the right pick for those with sensitive skin.
Getting The Shade Right: Pick the right shade for your skin tone. Check with the shade by applying on the neck or the jawline. It should look like a near-flawless blend into your skin and not leave any cakey appearance.
Check The Finish: If you have oily skin, go for a matte finish foundation that will give a shine-free look. If you are planning for subtle makeup, a dewy foundation will be your right choice.
Why Trust StyleCraze?
Baishali Bhattacharya is certified in makeup techniques and loves reviewing different makeup products. She has carefully selected these foundations for different skin tones, which have been closely reviewed and selected based on user reviews and feedback available on multiple forums and brand websites. The products listed in this post are enriched with moisturizing ingredients that combine skin care and makeup to give you radiant skin.
Frequently Asked Questions
What is the right formula for me – liquid, powder, cream, or stick?
The texture of the foundation depends on your skin type. If you have dry skin, go for liquid or cream foundation. Oily skin needs a powder or oil-free foundation. The stick foundation is perfect for combination or normal skin type.
What is a finish and how do I know which one is for me?
The final look of the foundation application is known as finish. It can be matte, dewy, and luminous. If you have oily skin, go for a matte finish. A hydrating formula quenches dry skin and leaves a luminous finish. Dewy skin suits combination skin.
Why do I look so much old with foundation?
Identifying the undertone is important for the foundation to blend your skin perfectly. You tend to look older if the foundation settles into the fine lines and wrinkles.
Is liquid or powder foundation better?
Liquid foundations offer more coverage than powder foundations. They even last long on your skin. But, liquid formulas tend to dry out the skin, unlike powder foundations. So, choose a formula according to your skin and needs.
What is the best way to apply liquid foundation?
• Pour some liquid foundation on the back of your clean hand.
• Dot your face with the foundation.
• Spray some water on your foundation brush.
• Use stamping motion, spread the foundation on your face with the damp brush.
• Take a damp sponge and blend the foundation on the face to soak up any excess product and even out the brush lines.
Are foundations good for teenage skin?
Yes. Teenagers can use foundations to cover their spots and blemishes. However, opting for products free of toxins is recommended.
Can you use concealer as a foundation?
No. Concealers provide high coverage and a thick texture. Using them all over your face can make your skin look cakey.
How long does a foundation last if you use it every day?
Depending on the quantity of the foundation, it usually lasts between four to eight months if you use it daily.
Does applying foundation every day cause acne?
No. Foundations containing non-comedogenic ingredients do not develop acne. But, if you fail to clean your face at the end of the day, the foundation can clog your pores and causes acne.
Does foundation darken skin?
Yes. The acidic pH level of your skin triggers the oxidation process of your foundation and makes it appear a few shades darker. So, use a primer and a finishing powder before and after applying the foundation to preserve the true tone of your skin even after applying a foundation.
Recommended Articles