10 Best Fragrance-Free Body Washes
Switch to these unscented products and make a positive contribution to your skin's health.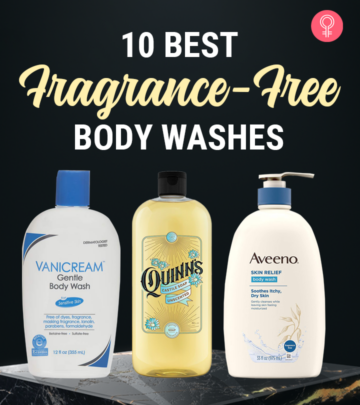 Many people prefer using fragrance-free body washes as artificial fragrance is one of the most common skin irritants. So, if you are looking for the best fragrance-free body wash, we can help you pick one.
Fragrances that otherwise smell soothing can contain additives and other chemical ingredients that irritate and cause breakouts on the skin. You may get complimented by people about how good you smell, but the results are far from satisfactory. Whether you have sensitive or healthy skin, switching to perfume-free body washes is best to avoid skin issues. Here, we have prepared a list of the 10 best fragrance-free body washes for you. Scroll down to check it out.
10 Best Fragrance-Free Body Washes
The Aveeno Skin Relief Body Wash is a gentle cleanser designed to remove dirt, oil, and bacteria from your skin and leave it smooth and soft. This fragrance-free body wash is suitable for people with dry skin and is safe for daily use. It is formulated using colloidal oatmeal, which is rich in vitamins, minerals, antioxidants, and emollients that nourish your skin and strengthen its natural moisture barrier. The body wash restores moisture, relieves dryness, and soothes itchiness in sensitive skin. This cleanser is a great way to get balanced, hydrated, and overall healthy-looking skin.
Key Ingredients: Colloidal oatmeal
Pros
Value for money
Gentle
Natural
24-hour moisturization
Hypoallergenic
Allergy-tested
Dye-free
Soap-free
Cons
Contains SLS
Does not lather much.
The Quinn's Castile Unscented Soap is designed for multiple purposes, including head-to-toe skincare, baby care, pet grooming, laundry, and household cleaning. The absence of harmful chemicals makes it an excellent choice for people with sensitive skin. This organic fragrance-free body wash helps nurture the most delicate skin without stripping its natural oils. It is enriched with the nourishing properties of hemp, olive, argan, and jojoba oils that add radiance and reduce pimples and acne. This body wash has a soothing effect and can be used as a shaving cream.
Key Ingredients: Argan oil, Jojoba oil, and Hemp oil
Pros
Value for money
Suitable for sensitive skin
Kid-friendly
100% organic
Chemical-free
No foaming agents
Synthetic detergent-free
Gentle
Multipurpose
Cons
Highly concentrated
Leaves a soapy residue.
Designed for 18 versatile uses, the Dr. Bronner's 18-In-1 Hemp Baby Unscented Pure-Castile Soap is ideal for face and body skincare, baby care, haircare, laundry, dishes, and multipurpose cleaning. It is chemical-free and made using 90% organic oils and plant-based ingredients that makes it a boon for people with sensitive skin. This formula is three times more concentrated than its counterparts and is enriched with emollients that nourish your skin. This video will give you a better insight into the product.
Key Ingredients: Water, Saponified coconut and olive oils, Hemp oil, Jojoba oil, Citric acid, and Vitamin E
Pros
Multipurpose
Lathers well
Cruelty-free
No synthetic preservatives
No foaming agents
Detergent-free
Vegan
Cons
The Vanicream Gentle Body Wash is a highly effective yet mild cleanser designed to remove germs, dirt, impurities, and excess sebum from your skin without stripping it of its natural oils. This fragrance-free body wash is created to perfectly balance the skin's pH while keeping it moisturized. It is accepted by the National Eczema Association and is dermatologically tested to be safe for sensitive skin. Watch this video for a thorough understanding of the product.
Key Ingredients: Purified water, Glycerin, and Citric acid
Pros
Sulfate-free
Gluten-free
Formaldehyde-free
Soap-free
Preservative-free
Kid-friendly
Oil-free
Paraben-free
Lanolin-free
Cocamidopropyl betaine-free
Dermatologist-tested
Dye-free
Betaine-free
Cons
The Eucerin Skin Calming Body Wash is a soap-free and gentle formula designed for people with dry and sensitive skin. This fragrance-free body wash is enriched with menthol that provides a cooling sensation and oatmeal that soothes dryness and itchiness. It also contains omega oils and natural lipids that nourish the skin and restore its natural moisture balance. Click here to check out a detailed personal review of this product.
Key Ingredients: Menthol and Oatmeal
Pros
Mild
Rinses off easily
Dye-free
Soap-free
Cons
Cetaphil has long been popular among skincare enthusiasts and dermatologists alike. The Cetaphil Ultra Gentle Body Wash is a mild formula that gently cleanses your skin without stripping its natural oils. It leaves your skin feeling clean, soft, and nourished. This body wash is infused with natural ingredients like aloe vera and vitamin B5 that help replenish your skin and boost moisture retention, thereby strengthening its moisture barrier.
Key Ingredients: Aloe vera and Vitamin B5
Pros
Gentle
Non-comedogenic
Hypoallergenic
Dermatologist-tested
Softens the skin
Cons
This body wash from Dove is a top drugstore find that cleanses bacteria and nourishes your skin from within. It is clinically proven to be non-irritating and accepted by the National Eczema Association as suitable for people with eczema and psoriasis. This fragrance-free body wash is infused with glycerin, which acts as a humectant to draw water into the skin, and sunflower oil that seals in moisture. These, along with skin-natural lipids and a blend of plant oils, work together to deliver essential nutrients deep into the skin layers, leaving you with softer and silkier skin.
Key Ingredients: Glycerin and Sunflower oil
Pros
Paraben-free
Sulfate-free
Soap-free
Dye-free
Cruelty-free
Dermatologist-tested
Cons
Expensive
Does not rinse off easily.
The Oilatum Shower Gel is designed to treat various dry skin concerns, including itchiness and irritation, and conditions like dermatitis and eczema. It features light liquid paraffin, an emollient that locks in moisture, prevents water loss, strengthens the skin's moisture barrier, and relieves itchiness. This fragrance-free body wash is great for sensitive skin, and it soothes and conditions the skin to make it appear soft and supple.
Key Ingredients: Light liquid paraffin 70% w/w
Pros
Kid-friendly
Non-greasy
Lathers well
Cons
May leave a film on the skin.
Gently cleanse your sensitive skin without irradiation with the Tree To Tub Soapberry For Body. This unscented body wash is effective in removing dirt and impurities without leaving any residue. It offers good lather and maintains your skin's pH at an ideal value of 5.5. In addition, the shea butter infused in the body wash helps to moisturize the dry skin, and aloe vera soothes inflammation and makes you feel refreshed.
Key Ingredients: Soapberry
Pros
Chemical-free
Sulfate-free
Paraben-free
Silicone-free
DEA-free
Eco-friendly
Vegan
Cons
None
This fragrance-free body wash from ATTITUDE is designed for people with ultra-sensitive skin and fragrance sensitivity. The mild, natural formula softens your skin. It is enriched with oatmeal that melts away dirt and impurities while providing damage protection and restoring the skin's natural moisture. This product is dermatologically tested and hypoallergenic, which makes it suitable for daily use.
Key Ingredients: Oatmeal
Pros
EWG-verified
Dermatologically tested
Cruelty-free
Gentle
Vegan
Hypoallergenic
Cons
Fragranced body washes can be off-putting for people with sensitive skin, both because of the smell and the harsh synthetic content. Getting a fragrance-free skincare product is a great way to keep your skin texture unaltered and safe from allergens. When looking for the best fragrance-free body wash, keep below the pointers in mind.
How To Choose A Fragrance-Free Body Wash – Buying Guide
1. Pick The Right Type Of Body Wash For Your Skin
Body washes come in several different textures that include gels, creams, scrubs, and foams. Let us look at which of these are right for you based on your skin type.
Shower Gel: Most of these are water-based, so they are gentle on all skin types. They usually contain additional ingredients that offer instant yet lightweight hydration.
Shower Cream: For people with dry and sensitive skin, a cream-based body wash can prove to be highly beneficial. This is because they offer a thick, rich, and buttery formula to nourish your skin and boost hydration. Ensure that you look for one that does not leave your skin feeling sticky post shower.
Body Scrub: A scrub-based body wash gives you the benefits of both a body wash and a scrub in one. It exfoliates your skin and usually contains tiny granules to remove the dirt, excess oil, and dead skin. Make sure you don't overdo it by using it daily. Just twice a week should be enough to get younger-looking and radiant skin.
Foam Wash: When you want a rather relaxing and luxurious bath, foamy washes are the ones to go for. As the name suggests, they have a frothy consistency and are extremely gentle for people with sensitive skin. However, you might end up finishing the bottle sooner than expected, so choose one that offers good value for money.
2. Fragrance-Free Vs. Unscented
Many products are labeled fragrance-free but still have a scent, such as lavender essential oil. When it comes to synthetic fragrances, look for ingredients like parfum, perfume, linalool, citronellol, aroma, essential oils, eucalyptus, cinnamal, limonene, and cinnamon.
All unscented products are not essentially 'fragrance-free.' They can contain masking fragrances like the ones mentioned above, which hide the smell of the other ingredients in the body wash. Hence, choose products that are completely 'fragrance-free' instead of going with 'unscented.'
Why Trust StyleCraze?
Shiboli Chakraborti is a certified skin care coach who has expertise in reviewing and recommending the best products for your skin. Here, she has prepared a list of the best fragrance-free body washes for people who have a sensitive nose and are allergic to fragrances. She has meticulously checked the ingredients in the products and checked online reviews and brand websites to ensure she recommends only the best products to her readers.
Recommended Articles