15 Best Fragrance-Free Hair Products For Show-Stopping Locks
Give your skin relief from harsh fragrances and try these premium hair products instead.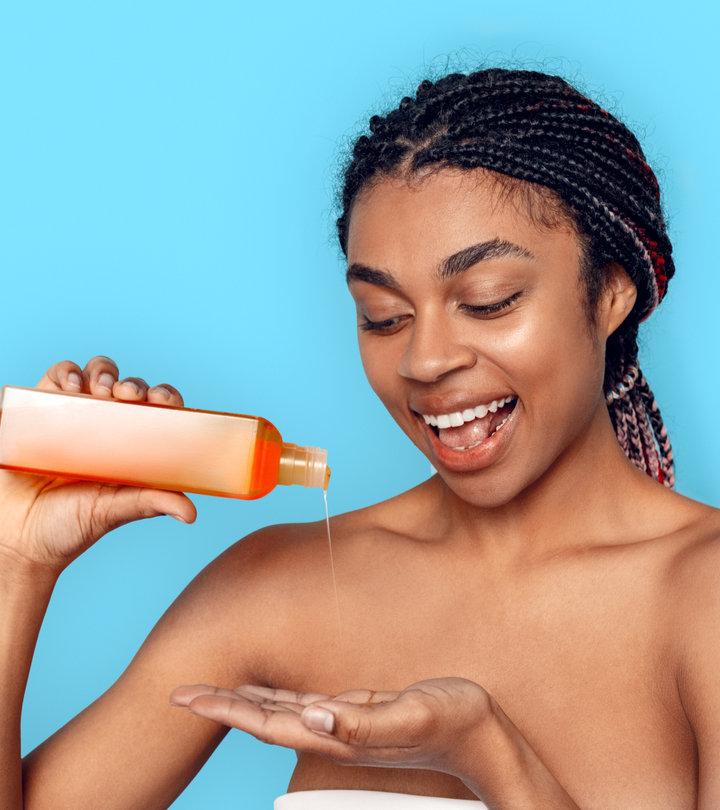 If you have grown up with fragrance-laden hair products, which most of us have, then the concept of fragrance-free might seem alien to you. But, in reality, for some people, fragrance can be irritating due to certain sensitive skin issues. So, if you use hair products filled with synthetic fragrances, then it is time for you to ditch those and switch to the best fragrance-free hair products.
As most hair products in the market are filled with fragrances, finding ones devoid of artificial fragrances might be challenging. However, keeping in mind the health of your strands, we have curated a list of the 15 best fragrance-free hair products that you can use irrespective of your hair type and texture. Scroll down to know more!
15 Best Fragrance-Free Hair Products For Every Hair Concern In 2023
One of the best unscented hair products, Olaplex's No.3 Hair Perfector is a popular at-home treatment that revives your hair. It helps with reduced breakage and visibly strengthened hair, giving it an overall healthy look. Their patented technology repairs broken bonds and hair structure to make it stronger from within. While vitamins C and E provide antioxidant benefits, jojoba oil moisturizes your tresses, making it softer. No matter what your hair type, this pH-balanced formula will restore your hair back to life. Wash away the hair treatment with a fragrance-free shampoo and conditioner. This fragrance-free hair treatment has received over 81,500 rave Amazon ratings, and most reviewers have pointed out that the product has left their hair soft, smooth, and silky. Check out the tester's experience if you want to find out more about this product and its usage in this review on YouTube.
Pros
 Cruelty-free and vegan
 Repairs all hair types
 Free of gluten, nuts, and phosphate
 Made without phthalates, parabens, and sulfates
 pH-balanced formula
 Moisturizes and strengthens hair
Cons
Sky Organics' fragrance-free hair oil is made with 100% pure and cold-pressed castor oil to support the health of your locks. With the help of nourishing fatty acids, get deeply conditioned hair and silky tresses. If you happen to suffer from a dry scalp that often causes itchiness — castor oil in the formula helps combat that, too! This scalp-friendly versatile formula will serve you as a pre-shampoo hair mask for fuller hair and you could also use it for hair growth on lashes and eyebrows. This castor oil has received over 55,500 rave reviews on Amazon. Most customers have praised the oil as it improves lymphatic circulation and increases hair growth.
Pros
 Cruelty-free
Non-drying formula
 Vegan
 Made with 100% pure and cold-pressed castor oil
 Combats dry scalp
 Can be used on brows and lashes
 Nourishes hair
Cons
 Some may not like its sticky consistency
Arvazallia's salon-quality fragrance-free conditioner and hair mask use cosmetic-grade argan oil enriched with nutrients. This moisturizing treatment is a pick-me-up for dry and damaged hair that needs to be restored and revitalized. Both your hair's elasticity and manageability are turned up a notch along with its strength, thereby leaving it with a decreased likelihood of damage. This product is very popular among hair enthusiasts and has received over 41,000 rave ratings. The customers have achieved strong tresses after using it and have left informative comments in favor of the mask. If you find your hair weakened due to heat or chemical exposure, using this fragrance-free hair conditioner and mask weekly can work like a charm.
Pros
 Suits all hair types
 Sulfate-free
 Paraben-free
 Strengthens and repairs weak hair
 Increases hair elasticity
 Softens hair
Cons
 Might have a very thick consistency
One of the best fragrance-free shampoos, Free & Clear is a non-medicated formula that is directed towards sensitive skin types. Issues such as scaling, flaking, and oily hair and scalp can easily be taken care of with Vanicream's scentless shampoo containing high-quality botanical elements. Product build-up from conditioners, serums, or protectants is removed gently as your hair is left super clean and manageable. This no-fragrance shampoo doesn't contain formaldehyde releasers or harsh cleansing agents present in regular shampoos, giving you healthier locks. This affordable shampoo calms scalp bumps and irritations and has received more than 8,500 ratings on Amazon.
Pros
 pH-balanced and dermatologist-tested formula
 Free of essential oils and botanical extracts
 Free of dyes, lanolin, and parabens
 Non-irritating, clean formula
 Made without protein, gluten, and sulfates
 Helps in product build-up removal
 Combats scaling, flaking, and oiliness
Cons
 Might be difficult to lather up
Vanicream's hair gel for sensitive skin gives a long-lasting and firm styling control with no chemical ingredients. With the Free & Clear hypoallergenic hair gel can help in static control with added fullness and volume, rendering easier hair management and styling. Use it daily on wet or dry hair to hold a style in place and we guarantee you won't be disappointed with this mild formula. No greasy or dull residue to worry about with this fragrance-free hair gel, either! This anti-clumping hair styling gel is loved by many due to its odorless and full-coverage formula. It has received over 5,000 rave ratings on Amazon.
Pros
 Dermatologist-tested
 Alcohol-free
 Free of dyes, gluten, lanolin, and parabens
 Formulated without formaldehyde releasers, botanical extracts, or essential oils
 Doesn't leave residue
 Controls static
Cons
One of the best fragrance-free hair styling products, this mist enhances curls with its light texture. If you dream of frizz-free, 'no-crunch', and bouncy curls, this is definitely the pick for you! Those with Type 2 waves and type 3 curls who find it hard to manage can use Color Wow's product for added moisture. Among unscented hair styling products, this one works like magic for frizzy, dehydrated, dry, and color-treated hair. So, if you've been on the hunt for fragrance-free hair products for curly hair types, bag this one, folks! If you need further convincing, check this YouTuber's review out.
Pros
 Citrus-free
 Sulfate-free
 Free of solar-distorting preservatives
 Doesn't contain essential oils or extracts
 Dye-free
 Adds definition to curls
Cons
 Might cause build-up owing to the silicones
Vanicream's unscented conditioner removes tangles, so you can manage hair better. The formula is easy to rinse and doesn't leave excess residue or product build-up. Adding both volume and body to your tresses, this unscented hair conditioner keeps your hair feeling healthy and clean. If you wish to avoid harsh irritants present in regular hair products, the dermatologist-tested Free & Clear scent-free conditioner will definitely be to your liking.
Pros
 pH-balanced and dermatologist-recommended
 Free of botanical extracts and essential oils
 Formulated without lanolin, dyes, parabens, and gluten
 Protein-free and oil-free
 Can be used daily
 Ideal for sensitive skin
Cons
 Might have a clumpy consistency
TruePure's fragrance-free hair serum contains biotin as the main ingredient, which enhances hair protein, adds volume, and reduces scalp inflammation. A sublime serum is created with a combination of red clover extract and an organic ingredient, caffeine, that revitalized that revitalizes hair follicles by providing root-deep nourishment. For healthy hair growth, coconut oil is also present while saw palmetto reduces hair loss. No matter what your hair type, you can count on this serum to remove sebum with the help of jojoba oil.
Pros
 Cruelty-free
 Free of parabens and sulfates
 Reduces hair fall
 Strengthens hair follicles
 Improves blood flow
 Reduces scalp inflammation
Cons
 Some might not like the watery consistency
This unscented mousse adds a generous dose of luminosity, flexibility, and shine to your tresses. Offering long-lasting hold and bounce for all types of curls, this hypoallergenic mousse by No Nothing Very Sensitive is a must-have. UV and humidity protection allow your hair to be free of worries whenever you're outside for a good time. This fragrance-free mousse is creamy and gives your curls a confidence boost.
Pros
 Cruelty-free
 Gluten-free
 Paraben-free
 Formulated without colorants and irritating ingredients
 Soy-free
 Hypoallergenic
Cons
The Super Strong Hold fragrance-free hairspray offers an impressive hold no matter what hairstyle you're planning to sport. With added humidity and UV protection, your mane's shine is also boosted for a salon-like finish. To keep elaborate hairdos from falling flat, this hypoallergenic hairspray is all you'll need. Just a single spritz of this hairspray is enough to control your hair from going wild in the middle of the day!
Pros
 Gluten-free
 Soy-free
 Paraben-free
 Colorant-free
 Cruelty-free
 No soy or irritating ingredients
Cons
Briogeo's leave-in detangler is enriched with skin-friendly ingredients like aloe vera, oat extract, and natural oils offer a soothing effect. With a lightweight finish, these elements work to calm, nourish and hydrate your hair. You can spritz this formula before blow-drying to achieve a glorious lustre. The dermatologist-approved solution is perfect for those that have skin sensitivities and struggle with knotted hair.
Pros
 Ideal for straight, wavy, curly, and coily textures
 Gentle formula
 Cruelty-free and vegan
 Can be used on relaxed or color, chemically, and keratin-treated hair
 Free of essential oils
 Free of lactose, soy, and gluten
 Recyclable packaging
Cons
Kristin Ess' fragrance-free detangler helps loosen up knots and tangles while also calming down frizz. For a successful blow-drying session, tangles are the last thing you need. So, this formula that caters to all types of hair is ultra-lightweight and allows your comb to move through like butter. With this star fragrance-free hair detangler, you can also add some moisture, soften and strengthen, and enhance the shine of your strands.
Pros
 Cruelty-free and vegan
 Free of color and keratin
 Doesn't contain sulfates, parabens, silicones, or phthalates
 Lightweight
 Adds shine
 Tames frizz
Cons
If you're scent-sensitive, Nonscents' Condition & Shine Daily Conditioner will be right up your alley. With the restorative and strengthening benefits of this formula, your strands can withstand any damage. This formula seals your hair cuticle with protein and nutrients that keep it healthy. With no build-up, you'll find that Condition & Shine also improves hair suppleness and texture. Get ready for fuller, shinier, and more manageable hair with regular use!
Pros
 Suitable for all hair types
 Restores moisture
 Strengthens hair
 No build-up
 Improves hair texture
 Cruelty-free
Tested by hairstylists
Cons
Cliganics' unrefined and cold-pressed unscented hair oil penetrates the scalp and each strand for an optimum dose of hydration. Softening, moisturizing, and adding a glossy finish, with an organic argan oil formulation which is truly a treat for weak and dry hair types. Quick-absorbing and lightweight, this all-natural formula with a blend of oils can also be used to beautify sensitive skin, hair, or nails. You can use it to relieve dry skin symptoms, on facial hair, or as a carrier for other essential enhancing oils.
Pros
 Cruelty-free
 Chemical-free
 Alcohol-free
 Additive-free
 100% cold-pressed and unrefined
 Can be used on the skin, nails, and hair
Cons
 Some may find it to be too greasy
The SEEN Hair Shampoo is a non-comedogenic, hypoallergenic product created by dermatologists that is mild yet effective. It produces a rich lather that rinses off readily without stripping off your hair and sensitive scalp of natural oils, thanks to the absence of sulfates. The restorative extracts in it reduces frizz, gives you smoother and shinier hair, and is safe for sensitive skin, acne-prone skin, as well as eczema-prone skin. This gentle cleansing product is formulated without silicones, parabens, phthalates, dyes, formaldehyde-releasing preservatives, or gluten. It is suitable for everyday use, and remains keratin-safe and color-safe. The shampoo is gentle on the hair and contains the active ingredient bisabolol, which has natural skin-soothing properties, and hemisqualane, which protects the hair from heat, reduces frizz, and maintains smoothness.
Pros
Sulfate-free
Paraben-free
Gluten-free
Vegan
Cruelty-free
Safe for sensitive skin
Ideal for daily use
Clinically tested
Cons
None
*The prices provided in this article are based on the latest available information. However, they may vary due to changes in pricing by the seller and/or promotional offers.
Now that we've looked at some of the hottest fragrance-free hair products on the market, it's time to dive into how you can pick some for your needs.
How To Choose The Best Fragrance-Free Hair Products
No hair type, texture, or length is created equal. Even if everyone in the world chose unscented products, the kind they pick out would differ according to their needs. Figure out what your hair's issues are, and tackle that with a product formulated to combat it.
If your hair gets knotted or tangled easily, you could try a detangling solution. These also work great to prep hair before blow-drying or styling in general.
Blonde, highlighted, or balayage tresses need a purple or blue shampoo to neutralize brassiness. Following this up with a conditioner of the same color can help keep color-treated ir natural blonde hair in great shape.
If your hair is exposed to heat, chemicals, or the sun on the regular, you might find it dry, weak, and brittle. For this, try a deep conditioning treatment or a hair mask. You can find these readymade or make your own by warming up organic argan oil. Following this once a week can restore life back into your strands. You could also add a leave-in serum to your routine that hydrates hair after a shampoo. These can also be useful in reducing hair fall and aiding hair growth.
For hair that just refuses to stay put no matter how long you spend styling it, a fragrance-free hairspray is your best option.
For anyone with a head full of curls, a curl-enhancing solution works like a charm at bringing back the bounce, softness, and hold. You can try these out if you find your hair to be frizzy and that the curls or waves don't hold shape.
If you're sensitive to fragrance or are avoiding it for other reasons, it doesn't hurt to re-check the other ingredients in your products. It's always best to avoid hair products laden with chemicals as they can dry hair out and make them weak. Keep an eye out for silicones, parabens, phthalates, sulfates, petroleum, mineral oils, and other harsh irritants. Check the expiry dates on the products you're purchasing as some may turn rancid and cause a reaction if used past the date.
Always opt for products that are vegan, chemical-free, and made with organic or natural ingredients. Not only are they safe for your hair, but they improve its quality in the long run. Some hair-friendly and nourishing ingredients are argan oil, keratin, aloe vera, coconut oil, and chamomile extract among many others. These ingredients impart a natural fragrance to the products that uplift the mood and remain non-irritant.
Why Trust StyleCraze?
Krati Darak, the author of this article, is a hair care enthusiast. Her recommendations are based on studying the products in detail and reviewing user feedback. The best fragrance-free hair products are perfect for achieving show-stopping locks. They help moisturize your hair and keep it soft and healthy.
Frequently Asked Questions
How to choose the best fragrance-free hair products?
Ensure that the product you're choosing is formulated for your hair type. Read the ingredients list to confirm that there are no harsh chemicals that can cause damage to hair.
Is fragrance-free the same as unscented?
No, fragrance-free means the product does not contain any artificial fragrances but may contain natural scents, and unscented means it does not have any obvious odor.
Is fragrance-free better for the hair?
Yes. Fragrance-free products contain no synthetic perfumes and chemicals and are better for your hair.
Are organic hair products fragrance-free?
Yes, most organic hair products contain natural ingredients and do not have artificial fragrances.
Are fragrance-free hair products safe for all hair types?
Yes, fragrance-free hair products suit most hair types as they impose less risk of allergies, dryness, and frizz.
How often should you use fragrance-free hair products?
You can use fragrance-free hair products 2-3 times a week. The frequency of product usage depends on your needs and hair care regime.
Recommended Articles
Best Fragrance-Free Shampoos Available In The Market
Best Fragrance-Free Skincare Products For Those With Skin And Nose Sensitivity
Best Eco-Friendly Hair Products For Every Women