11 Best Fragrance-Free Hair Sprays For Sensitive Skin
Best selection of fragrance-free hairsprays to keep allergies and irritation at bay.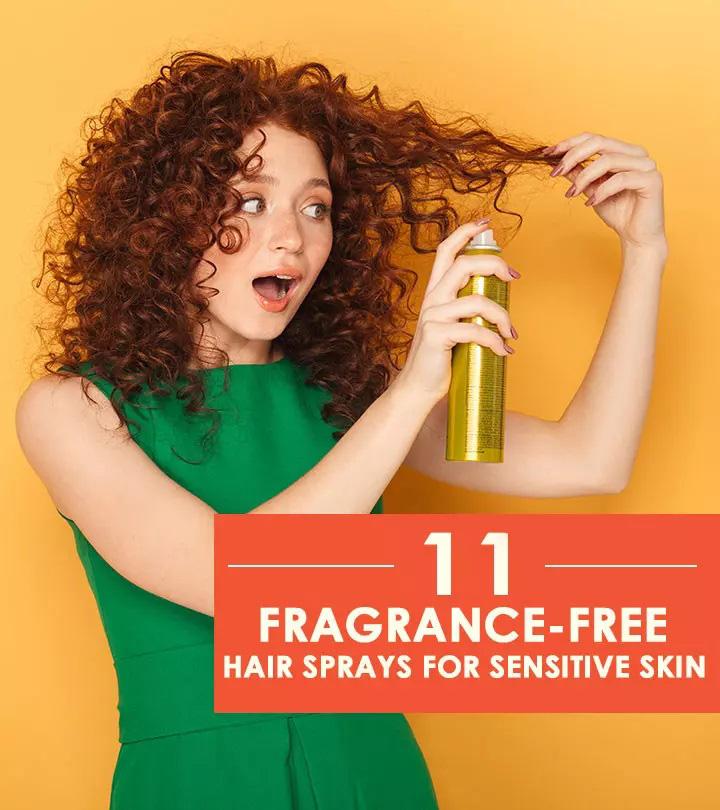 Those with sensitive skin get the short end of the stick when it comes to beauty products. Thankfully, that's not the case in hair care because the best fragrance-free hairsprays come to the rescue to keep rashes and allergic reactions at bay. Formulated specifically for hypersensitive skin, these hairsprays are not only safe to apply but also help you look like a bombshell who "woke up like this". Check out our top picks below!
11 Best Fragrance-Free Hairsprays
This unscented hair spray is formulated for those who want to avoid common chemical irritants found in regular hairsprays. It is a preservative-free and sensitive skin formula that is suitable for all hair types. The formula is free of parabens, formaldehyde, sulfates, dyes, and gluten. It leaves your hair feeling natural without stiffness for a clean and fresh look. 
Pros
Dermatologist-tested
Reasonably priced
Safe for daily use
Holds styles
Tames frizzy hair
Cons
None
L'Oreal Paris Elnett Satin Hairspray is a great choice for red carpet events, cover photo shoots or parties. It is a micro-diffuser spray that leaves a clean, fresh, soft, and shiny finish on your tresses. The formula is so fine and light that it disappears at the stroke of a brush. It provides a long-lasting brushable hold to keep your style in place. Whether you want voluminous curls or sexy beachy waves, this product will help you achieve your desired style. This video review will help you learn more about the product.
Pros
Travel-friendly
Safe for color-treated hair
Suitable for dry and damaged hair
Adds volume and stronghold
Nourishes your hair
Cons
None
The St. Botanica Pro-Keratin & Argan Oil Hair Nourishing Spray provides instant conditioning and nourishment for your hair. It actively moisturizes your hair and leaves it feeling smooth and shiny. You can effectively use it for detangling your tresses, taming fly aways, and controlling frizz. The hydrolyzed keratin helps repair damaged hair, making it stronger and less prone to breakage or split ends.
Pros
Lightweight formula
Safe for daily use
Silicone-free
Mineral oil-free
Cruelty-free
Cons
White Rain Extra Hold Hairspray from the brand's new Active Botanicals Styling Products Collection will help you achieve the style you crave while protecting your hair and scalp against allergies. It contains natural ingredients like white lily extracts, green tea extracts, and hydrolyzed wheat protein that can improve the texture of your hair and tame frizz and flyaways. This video will help you make an informed decision about your purchase.
This hairspray can secure any style with a hold that lasts all day. 
Pros
Controls dryness
Makes your hair more manageable
Lightweight formula
Doesn't weigh down your hair
Cons
This finishing spray is formulated to hold hairstyles in place. If you have sensitive scalp and skin, this product is the ideal choice for you. It adds volume, natural bounce, and a healthy shine to your hair that last all day. It also claims to protect your hair from humidity, moisture loss, and dryness.
Pros
Free of parabens, formaldehyde, alcohol, and preservatives
Suitable for all hair types
Improves your hair texture
Safe for daily use
Conditions hair
Cons
Enhance your hair's natural body and texture with Alberto VO5 Crystal Clear Hairspray. It provides instant fullness with a strong hold that lasts for up to 14 hours. It is packed with 5 essential vitamins that nourish your hair for stronger and healthier locks. It is a water-free formula that dries faster than most hairsprays. It also protects your hair against humidity and static.
Pros
Tames flyaways
No flaking
Lightweight formula
Doesn't leave residue
Cons
If you want natural-looking hold without squandering on expensive hairsprays, this budget-friendly product is a perfect choice. It locks your hair with a strong hold that lasts all day. The formula is packed with vitamins and proteins that protect your hair against breakage. It adds volume, body, and lift at the roots and provides shine that lasts all day. It tames frizz and makes your hair more manageable. Watch this video to get a detailed review of the product.
Pros
Suitable for all hair types
Provides maximum coverage
Effect lasts long
Pocket-friendly
Cons
This one is for all the curly-haired beauties. Jessicurl Gelebration Spray is a curl enhancer and volume booster. It provides the right amount of hold for those with fine curls and waves without weighing them down. It gives your curls definition along with intense lustrous shine.
Pros
Cruelty-free and vegan
Does not build up
Contains exotic plant extracts
Suitable for daily use
Cons
Does not provide effective hold for styling.
Salon Grafix Professional Shaping Hair Spray has been in the business for 30 years now. If you are looking for a salon-finish hold, this hairspray is the perfect choice for you. It provides flexible, super hold for versatile hairstyles that lasts all day. It is a lightweight and non-sticky formula and is suitable for all hair types. 
Pros
Little amount required
Doesn't require touch up
Tames flyaways
Controls frizz
Long-lasting effects
Cons
No Nothing Very Sensitive Moisture Mist is a conditioning mist that softens and hydrates your hair with avocado oil, leaving it nourished, shiny, and more manageable. You can also use it as a detangler, a heat protectant spray before blow-drying, or to refresh dull hair. The formula also contains UV protection and removes static.
Pros
100% vegan and cruelty-free
Hypoallergenic
Gluten and soy-free
Free of artificial colorants
Safe for daily use
Cons
Less quantity for the price.
Aqua Net Super Hold Unscented Professional Hairspray provides strong hold all day long, through all weather conditions. It is a crystal-clear, non-sticky formula that gives your hair extra voluminous body without being too stiff or greasy. It won't flake or build up. This hairspray is suitable for fine and fragile hair.
Pros
Lightweight
Holds your hair for long hours
Gives a polished look
Controls frizz
Cons
Hair sprays are necessary styling products that are a must-have in your hair care kit. But, for those with sensitive skin, the struggle to find the right fragrance-free product is quite real! There are a few factors to consider while picking the best fragrance-free hair sprays for sensitive skin that will help avoid allergic reactions. Check them out below.
How To Choose The Best Fragrance-Free Hair Sprays For Sensitive Skin
While choosing the best fragrance-free hair sprays, consider your hair concerns and thoroughly go through the ingredients list to make sure you pick the best. You may opt for products that are made of natural or organic ingredients and go chemical-free. Choose hair sprays that contain ingredients like argan oil, aloe vera, vitamin E, coconut oil, keratin proteins, green tea extracts, avocado oil, or chamomile extracts. These have soothing and calming abilities that will cater to sensitive scalp well. These ingredients also have moisturizing and strengthening properties that improve overall hair health.
It is best to pick a formula that is clean, vegan, and toxin-free. Chemically loaded hair sprays tend to dry out your hair, while causing rashes, redness or other allergies. Keep an eye out for parabens, phthalates, silicones, sulfates, petroleum, mineral oils, and other harsh irritants. Pick a formula that is quick-drying and has a good hold that lasts up to 5-7 hours minimum. Also, it is best to pick a water-free formula that dries faster than most hairsprays and also protects your hair against humidity and frizz caused by static.
Make sure the product you pick provides the right amount of hold for your tresses without weighing them down. Choose a light, medium, or strong hold hair spray depending on your needs. While light hold sprays offer an everyday natural look, strong hold sprays are perfect for elaborate hairdos for fashion runways and weddings. If you have thick hair, go for a firm-hold hair spray. For thin and fragile hair, a lightweight hair spray works the best. Also, pick a product that enhances your hair texture, boosts volume and protects your hair against breakage.
Additional Features And Benefits
Several brands now offer hair sprays that are safe for colored or chemically-treated hair. Choose hair sprays that enhance the vibrancy of your hair color, maintain the shade, and prevent dryness. If you spend hours out in the sun, pick a product that offers UV protection and humidity-resistance to prevent frizz.
Why Trust StyleCraze?
Pooja Karkala, the author of this article, is a hair care enthusiast. She enjoys curating lists about top-rated beauty products to help her readers make informed shopping decisions. She has handpicked the best fragrance-free hairsprays after carefully reviewing user feedback from trusted sources and brand websites. These products are ideal for hypersensitive scalp, and they ensure you have a good hair day every day.
Frequently Asked Questions
Does hair fragrance damage hair?
Yes, hair-fragrance sprays can adversely affect your hair as they contain harsh chemicals and alcohol, resulting in hair loss and depleting hair growth.
How can I make my hair smell nice naturally?
The best way to get rid of foul smells and achieve naturally scented hair is to use natural oils such as hibiscus and jasmine. You can also try essential oils available in vanilla and orange fragrances.
What precautions should be taken while using hairspray?
• Always use toxin-free hair sprays to avoid hair damage.
• Avoid inhaling hair sprays, as they can cause ingestion.
• Use fragrance-free hair sprays for better hair care.
• Avoid eye contact with sprinkles, as it can irritate your sensitive skin.
Do I need to wash my hair after hairspray?
No, there is no need to wash your hair after using a hair spray.
Recommended Articles